Lost Ark Gold for Sale - Lost Ark Gold Shop
Experience the grandeur of the epic MMORPG, Lost Ark, now with NA servers. Players can get an edge by buying Lost Ark gold from online sellers on trusted online marketplaces. Gold provides quality of life improvements and extra gold can significantly decrease the time it takes to gear up and get to the end game.
Latest News: Lost Ark will be introducing new Jump-Start servers, AGS announced in September, which gives players a fresh new gameplay experience.
SELL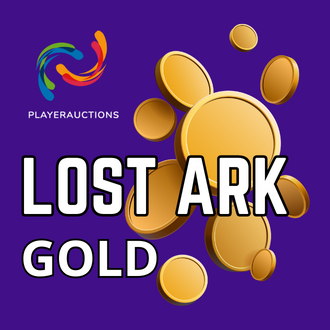 About Buying Lost Ark Gold
Lost Ark is the long running MMO that is breaking concurrent player count records on Steam after its Western release. Players in NA are swarming to the game and buyers looking to get an advantage are buying Lost Ark gold to get to the end game as quick as they can. The game offers a new experience for many MMO-starved fans who are looking for a fresh release in the genre that has, in recent years, becoming increasingly stale. Lost Ark provides that new experience thanks to the massive world filled with quests, dungeons, and vast oceans (which players can explore with their own ship).
Many newcomers are already calling it not only the best MMO, but also one of the best games they've ever played. To maximize the experience and enjoy the game, some buyers consider Lost Ark gold. One of the benefits of buying Lost Ark gold is that the player won't need to worry about grinding for certain items and weapons to complete quests—they can just enjoy the game's story to the fullest (and it's quite a story). Despite being competitors with other MMORPGs, Lost Ark is a novel experience, blending elements of ARPGs with the progression and gameplay loop of theme-park MMOs.
Gold Farming in Lost Ark
Gold is a precious commodity in Lost Ark. Gold is needed to upgrade gear, skills, buy consumables, among many other gold sinks. Players must grind for hours to get the required amount of gold that they want. Whether it's for purchasing a shiny new weapon or a few potions, it can be draining. This is one of the main reasons marketplaces for Lost Ark exist, to help alleviate players from that exhausting grind and get to the fun parts of Lost Ark, exploring Arkesia and killing demons.
What do Players Need Lost Ark Gold For?
With Lost Arks western release, new gamers from North America, South America, Western and Central Europe can now play the game. While the game is fresh, it will take time for players and the general economy to stabilize and make Lost Ark gold buying consistent price-wise. Prices haven't reached an equilibrium and noone knows what state the in-game economy, via the region-locked Auction Houses, will be, long-term. This is the perfect time for players to buy Lost Ark gold and get an early edge on crafting mats and end game gear.
Besides that, they've also added in-game microtransactions to Lost Ark, enabling players to monetize more of the game's tradeables and gold should they plan to be involved in Lost Ark trading. The game involves plenty of different currencies including Peons, which represent an overhead transaction cost on Auction House trades. There's never a short of Lost Ark currency that players will need.
Have fun in the world of Lost Ark!
Based on the total ratings of 11866 orders in the past year
great seller, very patient
300000 Lost-Ark Gold
12/07/2023
fast and good communication
80000 Lost-Ark Gold
12/07/2023
good seller
160000 Lost-Ark Gold
12/07/2023
got what i paid for just needs to work on communication all in all good seller
200000 Lost-Ark Gold
12/07/2023
PlayerAuctions makes it safe to buy video game currencies from our members by securing your payment and guaranteeing delivery.
Buyer creates order and send payment to PlayerAuctions
PlayerGuardian secures payment
Seller completes delivery within delivery guarantee
Buyer confirm delivery
Seller receives disbursement
Option 1: In-game, Face to Face Delivery
Sellers will select this method of delivery if they intend to meet your character in-game with one of their own characters. Usually a seller will coordinate a time and location in-game to meet your character.
Tips:
Be sure to confirm the time to account for time zone differences
Confirm which Shard or Server the delivery is to take place in case your game world has more than one.
Never, under any circumstances, return gold, item, etc. to the delivery character if ever asked. In the event the seller asks you to, please take A screenshot and report this to PlayerAuctions Customer Support.
Option 2: In-game Mailbox delivery.
Some sellers will select the option to deliver gold or items directly to an in-game mailbox. This option is less popular for larger Games like WoW, but is still viable amongst other games. This option can be convenient for smaller orders because you do not need to coordinate time of delivery.
Low Prices: Prices set by other players or PowerSellers on PlayerAuctions are significantly lower than the high markups you would find on expensive retail sites.
Guaranteed Security: PlayerAuctions is quite simply the most secure place to buy and sell MMO game assets. Through PlayerGuardian, you are 100% guaranteed full and as-described delivery, or your money back.
Reliable Delivery Speed: PlayerAuctions calculates each seller's average delivery speed from the seller's latest successfully completed deliveries, which gives you a clear idea of how fast the seller will deliver your order.
To see how quickly the seller may deliver your order, refer to the seller's delivery guarantee period, which is their promise to complete delivery within a certain timeframe after your payment is securely sent to PlayerAuctions and is successfully verified. Each seller sets their delivery guarantee period independent of PlayerAuctions. In the event that the seller is not able to complete the delivery within their guaranteed time, you may cancel the order without penalty for a hassle-free refund from PlayerAuctions.
PlayerAuctions guarantees that the seller will deliver your order, or your money back. The overwhelming majority of transactions through our site occur successfully. As for the very exceptional cases, you can rest assured that they have been carefully considered by our systems and processes, and we are well prepared to handle them in the rare event that they do occur. Read more.
Lost Ark Gold Guide/Farming/Making 101
Just like in any MMO these days, knowing how to make money or farm currency in Lost Ark is crucial if a player wants to enjoy their time playing the game. There are multiple currencies in the game such as Lost Ark coins, gold, shillings, crystals, peons, and blue crystals, resulting in Lost Ark having an in-depth system that can look intimidating for those who are used to having just one main currency. All of the currencies in Lost Ark can be traded and used for different things, but out of all of them, gold is the one that plays the most important role. Thankfully, there are several activities in the game that players can complete to earn it. However, most of the tasks are time-gated, meaning the quests are only active for a certain amount of time before they're gone. As a result, players are on a constant wild goose chase when it comes to completing all of the missions that the game has given them before they disappear. Luckily, there are still some stable ways through which players can earn their Lost Ark gold without having to break a sweat.
Collect the Tokens of the Ephonian Union
Players can get gold in exchange for the Tokens of the Ephonian Union that they've stocked up by visiting a merchant from any major city. All of the merchants accept Tokens of the Ephonian Union for gold coins, making it easy for folks to simply look for the nearest merchant within their city or location to do the swap. The Tokens of the Ephonian Union can be earned by completing the weekly and daily quests of the Ephonian Confederation. In doing so, players get to receive points. Daily tasks yield 2 points, while weekly tasks give players 12 points. Once they're able to get 70 points in a week, players can collect all of the Tokens of the Ephonian Union.
Players can also trade their plates and/or ingots through the merchant, to which they'll receive a fair amount of gold. Should players trade in a light gold plate, they'll be given 100 gold in exchange. As for a heavy gold plate, the merchant will trade them 1,000 gold for it. Finally, a gold bar can be exchanged for a cool 10,000 gold. As you can see, there are many ways to earn gold in Lost Ark
The Akrasia Express Missions: Perfect for Beginners
The Akrasia Express missions are perfect for players who are still relatively new to the game. These are special tasks that reward starting players valuable resources and, of course, gold. The gold is usually used by gamers to harden their equipment, but since the missions are quite abundant, they can save up the currency for future uses down the line. The only caveat that the Akrasia Express missions have, compared to other gold farming methods in Lost Ark is that it's only available for beginners. Nonetheless, it's still a great way to get gold easily, especially for newcomers to the game.
Getting the Most Out of One-Time Deals
Lost Ark has a lot of activities for which players can get gold once per account. A prime example would be when a player raises their reputation with an NPC and gets gold as a reward for their efforts. Since there are a lot of NPCs in the game, players can simply raise their reputation with all of them to earn the currency. Another one-time deal that players can do is to collect the Masterpieces of Painting collection. There are a whole lot more small quests and "odd jobs" that players can undertake to earn gold in Lost Ark, and while they don't necessarily give a lot of gold, they're relatively simple and easy to do.
Completing Raids to Earn Lost Ark Gold
For those that already have a high level and/or gear rating, then going to raids is arguably the best choice. The Abyss Raids is one of the more popular options in Lost Ark, mainly because players have to battle only one Guardian Argos. So long as a player has a gear rating of 1370 or higher, then they should be able to handle it. By completing the Abyss Raids, they can earn up to 3,300 gold per week.
Another choice would be doing raids on the Lords of Fetrania, provided that they have a gear rating of 1415 or higher. Three bosses are available to choose from, Ku-Satot, Volan, and Belakis. Each of the bosses has several battle phases that players will need to get through if they want to get their reward. The rewards from doing raids on the Lords of Fetrania can be received once a week.
PlayerGuardian Buyer Protections
PlayerAuctions is the most secure place to buy and sell MMO game assets. Our proprietary security technology, PlayerGuardian, keeps you, your payments, and your trades protected and private. The protections below are provided to all PlayerAuctions buyers.
Guaranteed Payment Security
Convenient & Worry-Free Trading
A Secure, Trusted Trading Community
Guaranteed Full and As-Described Delivery, or Your Money Back
Guaranteed Seller On-Time Delivery, or Your Money Back
Information Privacy
PlayerAuctions After Sale 100% Support Guarantee
Transparent Seller Service Ratings
Bank-Level Data Security
Read more
PlayerAuctions is an independent player-to-player marketplace for buying and selling virtual video game property. PlayerAuctions is NOT endorsed by, directly affiliated with, maintained, authorized, or sponsored by Lost Ark or its trademark owner.
Select server and Faction