New World Coins for Sale - NW Gold Market
Currency is necessary for survival, whether in-game or in real life. New World's Aeternum is no exception. Whether it's New World Coin or New World Gold, it's necessary for a player to continue surviving in the hostile island. It is easy to skip the grind to get the equipment they want, but they'll have to get a lot of New World MMO currency first. Find your server: US West, US East, AP Southeast, EU Central, SA East.
Latest News: New World patch 2.0.5 released on September 12th, players can expect minor gameplay rebalances as well as gameplay changes.
SELL

benkitty666
202279440
Best deal among sellers with a fair amount of ratings and feedback score.
SovereignRendezvous
202282801
theflash247
202267054
Best deal among sellers with a fair amount of ratings and feedback score.
nightelf89
202266700
Best deal among sellers with a fair amount of ratings and feedback score.
SovereignRendezvous
202282804
SovereignRendezvous
202282803
Best deal among sellers with a fair amount of ratings and feedback score.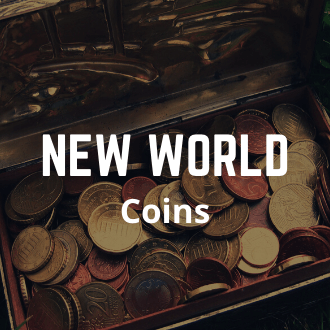 Getting New World Gold
New World is Amazon Studios' very first attempt at making a game, and it's safe to say that people are quite eager to play it and earn some New World Coins! This part-MMO, part-survival game lets you build forts with other people in real time where it feels like you're in a simulation. Gamers have been treated to a lot of survival games over the recent years, whether it's a zombie apocalypse, the return of dinosaurs and other extinct animals, or just the plain survive in the wilderness kind of game, and there hasn't been a formula that we've seen that hasn't been done already. New World doesn't really do anything special to try and cultivate a new genre of some sort; it instead tries to win the hearts of gamers through familiarity. Posing as a game that's like a home away from home, New World caught people's eyes because of how it presents itself as a great game to play if you want to take a break from the taxing MMORPG style.
Getting gold for New World right from the get-go is a wise choice—and you shouldn't be ashamed of it. Not only will it help you get the items that you need, but it could lead you to ultimately having a grander time than you're already having. There are a lot of benefits to purchasing gold for a game that's just at its infant stages. If you don't have the time to look for resources and craft the ones that you need, you can just easily purchase them with the gold that we offer here. With everything in the world of the game to be built by players, it's best to be ready and stock up on some Coins. Get your Amazon Game New World Currency here at PlayerAuctions now and have a grand time playing the game!
How Do Players Purchase New World Gold or New World Coins?
To buy New World Gold, buyers are first required to find a seller that they trust trading with. Most buyers look to online resources to find a seller, these could be sites such as forums, social media, or player-to-player trading websites. While social media might seem convenient to a lot of first-time buyers, they may feel uneasy transacting directly with a seller with no protection. The same goes for forums, with can also be intimidating for inexperienced buyers as it requires searching through posts upon posts as they try to compare different sellers with little guidance.
Most buyers prefer buying New World Coins from player-to-player marketplaces, as these feature a lot of different offers from different sellers clearly laid out on a single easy to read page. Buyers are also able to few feedback left for sellers by previous traders, allowing them to review which ones are the most trustworthy and best to trade with. Once a buyer has found a seller and offer that suits them, they buy the coins which opens an order with the seller, communicate delivery details, and wait to receive them. All they have to do is remember to confirm delivery afterwards, so that the seller can receive payment.
The Most Important Reason Players Get New World Gold
Besides the usual items players can get from the shop, there are many more important things that they can use New World Gold for: buying their very own house! Player Housing is one of the most exciting additions to New World, and with great reason. By owning a house, gamers not only the opportunity to decorate your comfort zone, but also gain a rest house for players as well. Although the houses can only be seen by players who own them, they can invite a maximum of four guests over to their houses. The price of housing varies, depending on the size, down to any nifty features they want to have installed. Being able to customize a home is great, but purchasing furniture and other ornamental items can really burn a hole in a settler's pocket. Players also have to worry about property tax which requires them to pay a certain amount of coin every week for house maintenance.
One of the benefits of owning a house is that it can be used as a recall point. Since Aeternum is a pretty expansive place, being able to recall home at any time can save gamers the trouble of trying to find a city, especially when neck-deep in danger!
What Should Players Spend New World Coin On?
Buyers find themselves short of New World coin for a variety of reasons, not least of all being the number of things that gold is required for, we've provided a list (although not exhaustive) below:
Taxes

A large percentage of a player's income will, just like in real life, go towards taxes. Owning property in New World comes with a massive overhead. The base tax of a house is 10% of the value of the house. The tax period is 5 days, meaning you'll have to pay the fee every five days. This is on top of other calculations that we won't bore players with here. Suffice it to say that owning property isn't cheap. New World wanted to have a realistic, player-based economy, represented in their game and they've certainly succeeded with their system of taxation, albeit a little too well.

Repairs

The cost of reparing damaged or broken equipment starts off reasonable but quickly becomes exorbitant or flat-out impossible to pay. At the level cap repair costs start approaching hundreds of coin per full repair. Another factor is the numerous bugs affecting durability. In many cases, equipment will take durability loss from being unequipped, or upon rolling. Leading to a spike in repair costs. In addition to New World Coin, repair parts are also required, which are obtained from salvaged gear, further increasing the overhead.

Town upkeep

Players who want to engage with the settlement system will inevitably have to deal with town upkeep. It essentially represents another tax, on top of property tax, that Governors of towns must pay. They can charge a percentage rate to use services, such as crafting, in towns they own. This leads to costs rising for players that want to use services in any player-owned settlements. This is another significant expenditure required of players.

Respecing weapon masteries

Respecing weapon masteries is New World's version of changing classes, doing it below level 20 is free, while anything above starts costing progressively more and more gold. And once your New World weapon mastery reaches level 10, it will start costing Azoth. Every time you respect a weapon, the price is a static 25.

Player housing

Player housing is one of the primary draws of New World, however the entry cost is prohibitive. A tier one house costs 5,000 gold, tier two costs 10,000 gold, and tier three, the highest, costs 15,000 gold. It costs significantly more besides to furnishas well. And this is just the base cost of the house, there's also a recurring property tax which we mentioned earlier.

Consumables

Consumables such as potions are crucial for any adventurer in New World. There are some that are useful, and others that are indisputably PvE meta. Items such as bandages, antidotes, burn balm, shock extractor, or disease cure are essential for dealing with status effects and handling elite or boss level mobs. However, consumable prices are typically high due to the levels of demand since every player requires them.
Based on the total ratings of 25982 orders in the past year
PlayerAuctions makes it safe to buy video game currencies from our members by securing your payment and guaranteeing delivery.
Buyer creates order and send payment to PlayerAuctions
PlayerGuardian secures payment
Seller completes delivery within delivery guarantee
Buyer confirm delivery
Seller receives disbursement
Option 1: In-game, Face to Face Delivery
Sellers will select this method of delivery if they intend to meet your character in-game with one of their own characters. Usually a seller will coordinate a time and location in-game to meet your character.
Tips:
Be sure to confirm the time to account for time zone differences
Confirm which Shard or Server the delivery is to take place in case your game world has more than one.
Never, under any circumstances, return gold, item, etc. to the delivery character if ever asked. In the event the seller asks you to, please take A screenshot and report this to PlayerAuctions Customer Support.
Option 2: In-game Mailbox delivery.
Some sellers will select the option to deliver gold or items directly to an in-game mailbox. This option is less popular for larger Games like WoW, but is still viable amongst other games. This option can be convenient for smaller orders because you do not need to coordinate time of delivery.
Low Prices: Prices set by other players or PowerSellers on PlayerAuctions are significantly lower than the high markups you would find on expensive retail sites.
Guaranteed Security: PlayerAuctions is quite simply the most secure place to buy and sell MMO game assets. Through PlayerGuardian, you are 100% guaranteed full and as-described delivery, or your money back.
Reliable Delivery Speed: PlayerAuctions calculates each seller's average delivery speed from the seller's latest successfully completed deliveries, which gives you a clear idea of how fast the seller will deliver your order.
To see how quickly the seller may deliver your order, refer to the seller's delivery guarantee period, which is their promise to complete delivery within a certain timeframe after your payment is securely sent to PlayerAuctions and is successfully verified. Each seller sets their delivery guarantee period independent of PlayerAuctions. In the event that the seller is not able to complete the delivery within their guaranteed time, you may cancel the order without penalty for a hassle-free refund from PlayerAuctions.
PlayerAuctions guarantees that the seller will deliver your order, or your money back. The overwhelming majority of transactions through our site occur successfully. As for the very exceptional cases, you can rest assured that they have been carefully considered by our systems and processes, and we are well prepared to handle them in the rare event that they do occur. Read more.
New World Servers Explained: Knowing Which Server to Join
The world of Aeternum is finally open! With New World officially opening its beta testing, players are excited to finally dive into the game that's garnered a lot of attention. Over the years, Amazon's entry into the world of MMOs has suffered multiple delays with its release. Adding to the fact that Amazon isn't exactly the first thing that would come up when talking about video games, there are a lot of expectations being put on their shoulders. Thankfully, things seem to be trending to the inevitable launch date and players can finally rest easy knowing that they'll finally be able to try out the game for themselves. But first thing's first, they have to pick which server they want to join. Now, that's quite a difficult task considering there are 68 servers (based on the open beta) to pick and choose from. So just which is the right choice?
The Number of Server Locations
There will be plenty of New World servers available at launch for folks over Central Europe, Australia, North America East, North America West, and South America. Besides some servers having suggested languages, they otherwise have no certain aspects that make one better than the other, PvP and roleplay-wise. The decision where to make your character settle makes it all the more confusing. For the open beta, there were 68 servers live for players to choose from. However, the number of servers will change with more being added once the game has been officially released. The developers have stated that there are bound to be more than a hundred servers after the open beta! Listed down below are some of the main servers for each region with more to follow down the line.
Central Europe
| | | |
| --- | --- | --- |
| Bensalem | Barri | Nog |
| Glyn | Ketumati | Idavoll |
| Cagyn | Tir | Iroko |
| Baltia | Na | Murias |
| Urdarbrunn | Naxos | Thule |
| Penglai | Saena | Elysium |
| Abaton | Jotunheim | Styx |
| Asgard | Antillia | Hellheim |
| Nav | Jor | Fae |
| Duat | Annwyn | Harmonia |
| Midgard | Niflheim | Amenti |
| Lyonesse | Inferni | Romancia |
| Hyperborea | Bifrost | Eurytheia |
| Muspelheim | Bengodi | Albraca |
| Hades | Vimur | Finias |
| Utgard | Ganzir | Thrudheim |
| Silpium | Ravenal | Runeberg |
Australia
| | | |
| --- | --- | --- |
| Ferri | Fusang | Adiri |
| Buzhou | Utopia | Alakapurri |
North America East
| | | |
| --- | --- | --- |
| Minda | Royllo | Scheria |
| Valhalla | Oceana | Themiscyra |
| Orun | Adlivun | Olympus |
| Ruach | Dominora | Orofena |
| Calnogor | Heliopolis | Vingolf |
| Silha | Sitara | Pleroma |
| Eden | Loloi | Maramma |
North America West
| | | |
| --- | --- | --- |
| Kshira Sagara | Lilliput | Mag Mell |
| Camelot | Dis | Celadon |
| Laputa | El Dorado | Theleme |
South America
| | | |
| --- | --- | --- |
| Naraka | Atlantis | Eugea |
| Modun | Dunnu | Apsu |
| Albur | Aratta | Tamag |
| Irkalla | Svarga | Kukku |
How Do New World Servers Work When Trading Gold?
The best way to think about how the servers in New World work is that they're an unclaimed land of opportunity for many. Since New World is all about progressing, organizing, and claiming the territory, the servers can be thought of as a large community for the players. Since different servers will launch at different times when the official release is finally live, it's something that might be worth noting to players that are looking to secure a specific in-game name that they have in mind. Since the names are global in New World, there may be a bit of a scramble in the server queues for the players that want to try and get their in-game names before anyone else.
When it comes to gold, players in New World will only be able to trade with the players that are only on their server. This is an important factor for those that are looking to get their knees deep into the world of trading. As such, gamers that like to buy and sell gold tend to typically go to servers that they know have a high population of players.
Server Population: How Many Players Can Stay?
According to the developers of New World, only 1,000 players can inhabit a single server in Aeternum. This means that if there are 170 servers at a launch, then the game could handle managing 170,000 players should they be equally spread across the other servers. Note that some servers have suggested languages. This essentially means that specific servers might have a significant population of a certain ethnicity. For example, there's a large number of players on the Hypberborea server. Consequently, the suggested language for it is Russian.
Choosing the Best Server to Buy New World Gold
To always have a healthy amount of gold circulating, it's important to stay in a server that has a healthy and active population. After all, it's no use having 1,000 people on a server already if they're not playing all that much in the first place. To have a thriving, trading population, players ought to choose a server that follows their country's time. By doing so, they'll be able to see lots of players immediately upon logging in compared to choosing a server that mainly has players that live on the other side of where they are. Gold is extremely vital to one's survival in New World. Without it, they wouldn't be able to last a single day, which is why players must consider which server is the best fit for them. This goes the same for finding a seller that sells New World gold since trading across servers isn't possible.
There's also the matter of ping. If players want to experience the best in terms of gameplay, then it's highly recommended that they go to a server that's nearest to their country. If they decide to jump to the servers that are in a different region, they may experience lag or a higher ping rate compared to the other players in it. It's like experiencing 250ms while the rest of the other folks are playing New World at a buttery smooth 20ms.
PlayerGuardian Buyer Protections
PlayerAuctions is the most secure place to buy and sell MMO game assets. Our proprietary security technology, PlayerGuardian, keeps you, your payments, and your trades protected and private. The protections below are provided to all PlayerAuctions buyers.
Guaranteed Payment Security
Convenient & Worry-Free Trading
A Secure, Trusted Trading Community
Guaranteed Full and As-Described Delivery, or Your Money Back
Guaranteed Seller On-Time Delivery, or Your Money Back
Information Privacy
PlayerAuctions After Sale 100% Support Guarantee
Transparent Seller Service Ratings
Bank-Level Data Security
Read more
PlayerAuctions is an independent player-to-player marketplace for buying and selling virtual video game property. PlayerAuctions is NOT endorsed by, directly affiliated with, maintained, authorized, or sponsored by New World or its trademark owner.
Select server and Faction