Path of Exile Divine Orbs for Sale - PoE Currency Shop
Divine Orbs are used to re-roll the values of explicit mods on an item – critical for many endgame builds. However, with the Forbidden Sanctum expansion, Divine Orbs have soared in value as drop rates have been decreased across the board and they've now surpassed Exalted Orbs as the king of PoE currencies, at least for this league. Stock up on this important currency by buying PoE Divine Orbs for sale from trusted sellers in preparation for Trial of the Ancestors 3.22.
SELL
GGboost
201871353
Best deal among sellers with a fair amount of ratings and feedback score.
playerfirst
200675824
Best deal among sellers with a fair amount of ratings and feedback score.
playerfirst
201499447
Best deal among sellers with a fair amount of ratings and feedback score.
SunnySmile
202041608
Best deal among sellers with a fair amount of ratings and feedback score.
EveryoneBuysFromUs
201569596
playerfirst
201225631
Best deal among sellers with a fair amount of ratings and feedback score.
playerfirst
201925429
Best deal among sellers with a fair amount of ratings and feedback score.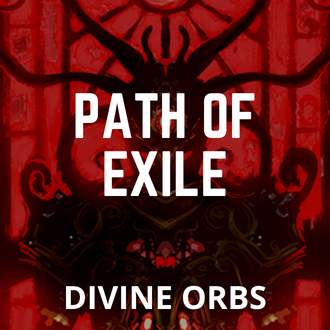 Why Buy Path of Exile Divine Orbs?
With the most recent changes in PoE's Forbidden Sanctum expansion, players must get used to the new dynamics in the game due to significant rebalancing of the currencies. Divine Orbs has Exalted Orbs as the top currency in the game, which has a lot of implications. From being the main currency for trading to crafting large and powerful items, Divine Orbs have become one of the most essential currencies in the game. Unfortunately, its newfound status does come at a high cost, which is what makes buying PoE Divine Orbs from a trusted seller so enticing.
Divine Orbs have become even rarer and harder to get by. Previously, players could acquire one from selling six link vendor recipes. With the recent changes, this is no longer the case, so gamers must farm these items for even longer periods of time. It can be frustrating for Exiles to grind for hours and hours and not get any Divine Orbs. Fortunately, gamers can acquire Divine Orbs with real-world money on an online marketplace.
Instead of spending time and effort farming Palaces and Maps, players can choose to exchange with Path of Exile Divine Orbs sellers to have a guaranteed way of getting these currencies instead of relying on PoE's notoriously finnicky RNG while farming.
Based on the total ratings of 21299 orders in the past year
Great seller
350 Path-of-Exile Divine Orb
12/01/2023
quick and efficient. thank you
300 Path-of-Exile Divine Orb
12/01/2023
TY so much for the smooth transaction :)
200 Path-of-Exile Divine Orb
11/30/2023
great seller
100 Path-of-Exile Divine Orb
11/30/2023
PlayerAuctions makes it safe to buy video game currencies from our members by securing your payment and guaranteeing delivery.
Buyer creates order and send payment to PlayerAuctions
PlayerGuardian secures payment
Seller completes delivery within delivery guarantee
Buyer confirm delivery
Seller receives disbursement
Option 1: In-game, Face to Face Delivery
Sellers will select this method of delivery if they intend to meet your character in-game with one of their own characters. Usually a seller will coordinate a time and location in-game to meet your character.
Tips:
Be sure to confirm the time to account for time zone differences
Confirm which Shard or Server the delivery is to take place in case your game world has more than one.
Never, under any circumstances, return gold, item, etc. to the delivery character if ever asked. In the event the seller asks you to, please take A screenshot and report this to PlayerAuctions Customer Support.
Option 2: In-game Mailbox delivery.
Some sellers will select the option to deliver gold or items directly to an in-game mailbox. This option is less popular for larger Games like WoW, but is still viable amongst other games. This option can be convenient for smaller orders because you do not need to coordinate time of delivery.
Low Prices: Prices set by other players or PowerSellers on PlayerAuctions are significantly lower than the high markups you would find on expensive retail sites.
Guaranteed Security: PlayerAuctions is quite simply the most secure place to buy and sell MMO game assets. Through PlayerGuardian, you are 100% guaranteed full and as-described delivery, or your money back.
Reliable Delivery Speed: PlayerAuctions calculates each seller's average delivery speed from the seller's latest successfully completed deliveries, which gives you a clear idea of how fast the seller will deliver your order.
To see how quickly the seller may deliver your order, refer to the seller's delivery guarantee period, which is their promise to complete delivery within a certain timeframe after your payment is securely sent to PlayerAuctions and is successfully verified. Each seller sets their delivery guarantee period independent of PlayerAuctions. In the event that the seller is not able to complete the delivery within their guaranteed time, you may cancel the order without penalty for a hassle-free refund from PlayerAuctions.
PlayerAuctions guarantees that the seller will deliver your order, or your money back. The overwhelming majority of transactions through our site occur successfully. As for the very exceptional cases, you can rest assured that they have been carefully considered by our systems and processes, and we are well prepared to handle them in the rare event that they do occur. Read more.
About Path of Exile Divine Orb
Why are Divine Orbs Important?
Aside from trading, the real value of Divine Orbs comes from their newfound purpose in metacrafting. Previously, Exalted Orbs were the ones that were used for crafting gear on the crafting bench. Divines are taking over and will be the tokens needed to create customized high-end equipment: critical in endgame builds. In Path of Exile, 3.20 Forbidden Sanctum, Divine Orbs are more important than ever.
Metacrafting is an essential aspect of the game because it allows players to customize their own builds without relying on Unique Items to set up their gear. However, making one's items have the perfect affixes requires several attempts to get the right ones, so gamers need copious amounts of Divine Orbs. Due to the changes, these tokens are harder to come by, so Exiles will have a more challenging metacrafting.
Aside from crafting, Divine Orbs are used for augmenting Unique items. These types of things have pre-determined stats, names, and mods. Divines are used to re-roll the values of these augments until players get their desired outcome.
How to Get Divine Orbs?
Previously, the primary method of acquiring Divine Orbs was to sell six-linked items to Vendors. However, this recipe has now been removed, so players must rely on farming these tokens. Here are the only two ways to obtain Divine Orbs:
Slaying Monsters
Trading x10 The Sepiroth Divination Cards
PlayerGuardian Buyer Protections
PlayerAuctions is the most secure place to buy and sell MMO game assets. Our proprietary security technology, PlayerGuardian, keeps you, your payments, and your trades protected and private. The protections below are provided to all PlayerAuctions buyers.
Guaranteed Payment Security
Convenient & Worry-Free Trading
A Secure, Trusted Trading Community
Guaranteed Full and As-Described Delivery, or Your Money Back
Guaranteed Seller On-Time Delivery, or Your Money Back
Information Privacy
PlayerAuctions After Sale 100% Support Guarantee
Transparent Seller Service Ratings
Bank-Level Data Security
Read more
PlayerAuctions is an independent player-to-player marketplace for buying and selling virtual video game property. PlayerAuctions is NOT endorsed by, directly affiliated with, maintained, authorized, or sponsored by Path of Exile or its trademark owner.
Select server and Faction