Buy Warframe Platinum - Warframe Plat Market
With lots of content to touch base and a chunk of gear to farm, the fun never ends in Warframe. Similar to every MMO, grinding can be tedious! Thankfully, with enough Warframe Platinum in your hands, you can simply ignore the high prices set by the market and gear up faster than you can say "Soma Prime!" Get your plat today!
SELL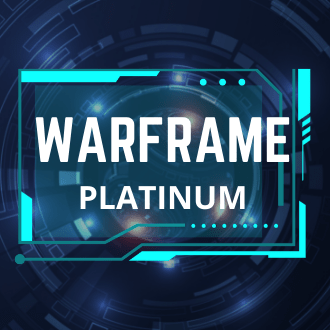 Buy Warframe Platinum Cheap
Warframe is a free cooperative 3rd person sci-fi shooter. Unlike many free titles, Warframe actually has pretty decent graphics, and the IP is entirely original.
Why You Need Warframe Platinum
The premise of Warframe revolves around a group of aliens called Tenno, which, having been in a cryo sleep for centuries, awoke to find that they are at war with various factions, seemingly caught in the middle. The Tenno have unique psionic abilities, which they use in combat being enhanced and channel through special suite armor called Warframes. Each one has its own advantages and disadvantages in battle, so it's important for players to choose and buy wisely.
There are different ways to get Warframes. One of them would be through building them from items, or by buying them using Warframe Platinum; some items used to build Warframes can also be bought by Warframe Platinum. Warframe Platinum, on the other hand, can be obtained by trading, running void missions, collecting loot, and selling maxed-out or rare mods. The problem, however, is that these methods only yield a small amount; enough to only purchase a few parts and not a whole Warframe. Login rewards and giveaways can also augment one's Warframe Platinum, but not by much.
So if you're not getting enough Warframe Platinum with those methods, you can choose to buy Waframe plat from fellow players. The problem with that, however, is that there is a danger of you getting scammed this way. But it doesn't have to be that way, because you can always come to us, PlayerAuctions, for your Warframe Platinum fix.
PlayerAuctions: Buy Warframe Platinum
PlayerAuctions is a player-to-player online trading platform, an online site where players can buy and sell among each other online game-related items, accounts, and currency, including Warframe Platinum for sale. So if you want to buy Warframe plat, buy them from here.
We understand how important security is for our members; thus we have the PlayerGuardian system in place to protect on-site transactions and personal information. Additionally, we have the five-tier Power Seller system, which our clients can use to see which of our sellers are trustworthy and therefore they should transact with. And lastly, should our clients encounter any issue with our site or our services, we have a customer support service that they can reach .
They say that time is gold. But in Warframe, whether it's Tenno clock or way past it, time will always be for Platinum. With PlayerAuctions, however, it can simply be put in playing, because you can leave the Warframe Platinum hunting to those other gamers who have enough time to farm for you.
Based on the total ratings of 2413 orders in the past year
Hella Fast seller. instant respond now to wait and see
3000 Warframe Platinum
01/24/2022
Communication was awesome,transactions was effortless even in different Timezone
1000 Warframe Platinum
01/24/2022
PlayerAuctions makes it safe to buy video game currencies from our members by securing your payment and guaranteeing delivery.
Buyer creates order and send payment to PlayerAuctions
PlayerGuardian secures payment
Seller completes delivery within delivery guarantee
Buyer confirm delivery
Seller receives disbursement
Option 1: In-game, Face to Face Delivery
Sellers will select this method of delivery if they intend to meet your character in-game with one of their own characters. Usually a seller will coordinate a time and location in-game to meet your character.
Tips:
Be sure to confirm the time to account for time zone differences
Confirm which Shard or Server the delivery is to take place in case your game world has more than one.
Never, under any circumstances, return gold, item, etc. to the delivery character if ever asked. In the event the seller asks you to, please take A screenshot and report this to PlayerAuctions Customer Support.
Option 2: In-game Mailbox delivery.
Some sellers will select the option to deliver gold or items directly to an in-game mailbox. This option is less popular for larger Games like WoW, but is still viable amongst other games. This option can be convenient for smaller orders because you do not need to coordinate time of delivery.
Low Prices: Prices set by other players or PowerSellers on PlayerAuctions are significantly lower than the high markups you would find on expensive retail sites.
Guaranteed Security: PlayerAuctions is quite simply the most secure place to buy and sell MMO game assets. Through PlayerGuardian, you are 100% guaranteed full and as-described delivery, or your money back.
Reliable Delivery Speed: PlayerAuctions calculates each seller's average delivery speed from the seller's latest successfully completed deliveries, which gives you a clear idea of how fast the seller will deliver your order.
To see how quickly the seller may deliver your order, refer to the seller's delivery guarantee period, which is their promise to complete delivery within a certain timeframe after your payment is securely sent to PlayerAuctions and is successfully verified. Each seller sets their delivery guarantee period independent of PlayerAuctions. In the event that the seller is not able to complete the delivery within their guaranteed time, you may cancel the order without penalty for a hassle-free refund from PlayerAuctions.
PlayerAuctions guarantees that the seller will deliver your order, or your money back. The overwhelming majority of transactions through our site occur successfully. As for the very exceptional cases, you can rest assured that they have been carefully considered by our systems and processes, and we are well prepared to handle them in the rare event that they do occur. Read more.
Items are an important part of any online game, and Warframe is no exception. And Warframe, despite being a game that's heavily oriented around action, also places much stock on the items players can collect in their game sessions; that's why important for players to have knowledge about the different items in the game. So if you are planning to get into the game, a relatively new player, or just simply need a refresher, then you've come to the right place. After all, you wouldn't want to spend your hard-earned Warframe Platinum on the wrong things.
Spend Your Warframe Platinum Right: A Little Item Info
In Warframe, there are different kinds of items. There is resources, and there is equipment. The former are raw materials for creating items that can be found in the Foundry, while the latter are items that enhance your Warframe or your weapons, allow navigation to certain areas, and make in-battle effects.
Resources fall under the following categories according to their drop quantity. There are the common resources, which, as the name implies, are found in abundance. They are yielded by lockers, breakables, normal enemies, and bosses. Then there are Uncommon – also dropped by lockers, breakables, normal enemies, and bosses. However, unlike common resources, they are only dropped in quantities of tens to thirties, some in fifties to a hundred at most. And lastly, there is the rare. Unlike the previous two, only one to three pieces of rare resources drop in a single instance. They are obtained by defeating bosses or a particular type of enemy, and are rarely dropped by common enemies and lockers.
Resources also fall into two categories according to their purpose. First would be the Research Resources, which are an important resource for Research - the process of making materials which are intended for the creation of weapons and items. They are uncommon drops from common enemies, which are dropped at around 2 to 3 pieces at a time. The other kind would be Navigators, resources that are necessary if you want to build keys. Navigators are further subdivided into three kinds: Nav Coordinates, which are usually dropped by storage containers; Lephantis Nav Coordinates, which can only be found in the Orokin Derelict; and Beacons, which are dropped by Guardsman Eximus.
Now let's go to the Equipment, which are items players use in order to upgrade their Warframes and its weapons, thrive in battle, and reveal locations that cannot be accessed without these particular items. There are four kinds of Equipment: superchargers, keys, gears, extractors, and boosters. Superchargers are used to modify Warframes and their weapons; keys enable players to go to locations that are not part of the basic star chart; gears are equipped on a Warframe's "gear" so that they can be used during battle; extractors help players to collect resources even though they are not logged in; and boosters double the materials and other rewards players gain.
Earning Warframe Plat: Here's How
A lot of equipment can only be bought by Warframe Platinum, so you have to gather this currency. First off, you can do trading. By running void missions, collecting loot, and selling maxed-out or rare mods, you can make a decent amount of platinum. It's not going to be a lot, but it definitely will be enough for you to buy what you need. And for extra tips on how to make this method work for you, you can check out forums and chatrooms. You can also gain platinum via login rewards and giveaways, but these are not reliable sources, so you shouldn't count on them.
Last but definitely not least, you can purcahse Warframe plat from your fellow players. It'll save you the time needed to farm and sell, and you'll no longer have to rely on luck; all you need is to find a legit seller online. The problem, however, is that a lot of them are out there looking to scam other players. Good thing PlayerAuctions is still around.
PlayerGuardian Buyer Protections
PlayerAuctions is the most secure place to buy and sell MMO game assets. Our proprietary security technology, PlayerGuardian, keeps you, your payments, and your trades protected and private. The protections below are provided to all PlayerAuctions buyers.
Guaranteed Payment Security
Convenient & Worry-Free Trading
A Secure, Trusted Trading Community
Guaranteed Full and As-Described Delivery, or Your Money Back
Guaranteed Seller On-Time Delivery, or Your Money Back
Information Privacy
PlayerAuctions After Sale 100% Support Guarantee
Transparent Seller Service Ratings
Bank-Level Data Security
Read more