Buy WoW EU Gold - World of Warcraft Europe Market
Reality has been ripped to shreds and Shadowlands has finally arrived! You'll need extraordinary bravery and skills to help your Covenant in defeating the enemy, but above all - you'll need heaps of gold. And what's the best way to get heaps of gold, if you play on a WoW EU server? Try PlayerAuctions! Our player-to-player trading platform is 100% safe, reliable and user-friendly - it's time stack up on some gold now, your Covenant needs you! Play Vanilla? Buy WoW TBC gold and Classic gold here.
SELL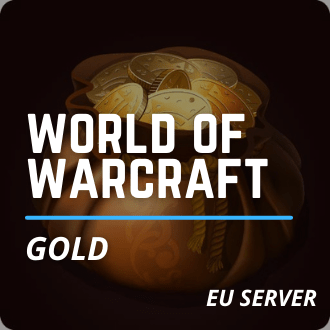 Why Do Players Buy WoW EU Gold?
There's no denying that World of Warcraft is a fast-paced game with an ever-changing environment. And in a world that's constantly changing, spending many hours on end just farming and grinding for gold with the intention to get new gear, a fancy mount or even to exchange it for a WoW token EU, is just too much work for some players.
As a result, many of these players have starting looking for a way to simply enjoy this amazing game, without worrying about gold ever again. For some of these, the answer was to buy WoW EU gold from sellers online. Doing so allows them to spend less time gold farming, and more time shopping for all of the gear they want and playing through their favourite content in the game.
How Do They Find WoW EU Gold?
One of the primary concerns of a player when they decide that they want to buy gold for WoW EU from an online seller is avoiding fraudsters and scammers. A way in which they avoid being scammed is by choosing a platform that they trust to trade on. Generally, forums and social media aren't the safest options out there as sellers are not often verified, and might not have any feedback. Marketplaces such as this one allow buyers to view feedback given to a seller from their previous transactions. This allows a buyer to identify the most trustworthy traders on the site.
Another concern for buyers is the price of the WoW gold that they are purchasing. Buying from a site with a large userbase allows buyers to compare offers, giving them lots of options when it comes to pricing. They usually look for the cheapest seller with the best reviews.
Before trading, players should make sure that they have read the game's rules and policies. If there is anything they are unsure of, they should read our User Agreement, or contact the developers with further questions.
Based on the total ratings of 107 orders in the past year
PlayerAuctions makes it safe to buy video game currencies from our members by securing your payment and guaranteeing delivery.
Buyer creates order and send payment to PlayerAuctions
PlayerGuardian secures payment
Seller completes delivery within delivery guarantee
Buyer confirm delivery
Seller receives disbursement
Option 1: In-game, Face to Face Delivery
Sellers will select this method of delivery if they intend to meet your character in-game with one of their own characters. Usually a seller will coordinate a time and location in-game to meet your character.
Tips:
Be sure to confirm the time to account for time zone differences
Confirm which Shard or Server the delivery is to take place in case your game world has more than one.
Never, under any circumstances, return gold, item, etc. to the delivery character if ever asked. In the event the seller asks you to, please take A screenshot and report this to PlayerAuctions Customer Support.
Option 2: In-game Mailbox delivery.
Some sellers will select the option to deliver gold or items directly to an in-game mailbox. This option is less popular for larger Games like WoW, but is still viable amongst other games. This option can be convenient for smaller orders because you do not need to coordinate time of delivery.
Low Prices: Prices set by other players or PowerSellers on PlayerAuctions are significantly lower than the high markups you would find on expensive retail sites.
Guaranteed Security: PlayerAuctions is quite simply the most secure place to buy and sell MMO game assets. Through PlayerGuardian, you are 100% guaranteed full and as-described delivery, or your money back.
Reliable Delivery Speed: PlayerAuctions calculates each seller's average delivery speed from the seller's latest successfully completed deliveries, which gives you a clear idea of how fast the seller will deliver your order.
To see how quickly the seller may deliver your order, refer to the seller's delivery guarantee period, which is their promise to complete delivery within a certain timeframe after your payment is securely sent to PlayerAuctions and is successfully verified. Each seller sets their delivery guarantee period independent of PlayerAuctions. In the event that the seller is not able to complete the delivery within their guaranteed time, you may cancel the order without penalty for a hassle-free refund from PlayerAuctions.
PlayerAuctions guarantees that the seller will deliver your order, or your money back. The overwhelming majority of transactions through our site occur successfully. As for the very exceptional cases, you can rest assured that they have been carefully considered by our systems and processes, and we are well prepared to handle them in the rare event that they do occur. Read more.
How Shadowlands Has More Players Wanting WoW EU Gold
Since the brand new World of Warcraft expansion brings a lot of fresh gameplay changes and innovations, it's only logical for players to start coming in their droves to get gold. New expansions bring a lot of players back to the game, attracting new players too, meaning that there's more people farming, selling, and buying gold.
WoW Shadowlands brought a lot of changes to WoW, including a level squish (with the new cap being 60), five new zones, new dungeons and raids, Covenants, and more. When a new expansion like Shadowlands hits the market, gold becomes a precious commodity, more so than it already was. Every player needs it to help them level, train, and buy gear that allows them to progress through the expansion.
PlayerGuardian Buyer Protections
PlayerAuctions is the most secure place to buy and sell MMO game assets. Our proprietary security technology, PlayerGuardian, keeps you, your payments, and your trades protected and private. The protections below are provided to all PlayerAuctions buyers.
Guaranteed Payment Security
Convenient & Worry-Free Trading
A Secure, Trusted Trading Community
Guaranteed Full and As-Described Delivery, or Your Money Back
Guaranteed Seller On-Time Delivery, or Your Money Back
Information Privacy
PlayerAuctions After Sale 100% Support Guarantee
Transparent Seller Service Ratings
Bank-Level Data Security
Read more