[Steam-EUC inanna] 1485 Shadowhunter 3 Relic set (+20 Relic Weapon +97 Quality). (PVE+PVP/GVG Inc.) x2 T3 alts: Deathblade & Glaivier OPEN TO OFFERS
I Want to Sell
Lost Ark-Central Europe-Inanna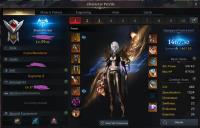 Jul-25-2022 05:20:26 AM

16 time(s)

20 Minutes

30-Day Seller Performance

Total orders

Lost Ark
account reviews

Total rating

Lost Ark
account rating

Total orders: 0

Member since: 2017

0.0

Lost Ark account : Seller Rating

(0)
1. Check out and complete the payment
2. Receive an email with the Game Account details
3. Log in to the Game Account and verify description
4. Confirm the delivery
5. Seller gets paid
I will update photos for 1485 soon!
1. CHARACTER PROFILE
101 Roster Level / 59 Character Level / 366 Skill Points
1.1 Gear (PVE + Open World PVP/GVG)
1.1.1 PVE
Highest Main Stats
Legion Raid (Valtan Hard Mode) +20 Relic Weapon with +97 quality which is pretty impressive i proud of that tbh.
Also i have 2 other Relic Armor with same set bonus equiped and also have bunch of Valtan's bones for extra crafting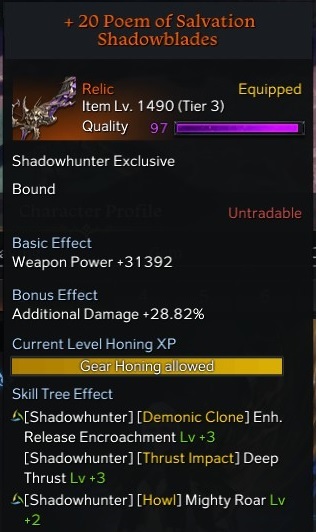 The Best 4x3 Engravings without Minus Stats. I do not suggest to use Grudge engraving with Shadowhunter. Because Hit Master gives +%16 ATK power and Shadowhunter can benefit from that %100 up time and no down times. But with Grudge you will have +%20 ATK power against boss only and -%20 incoming damage which will get you kill with 1 shot in Legion Raids (Real end game content).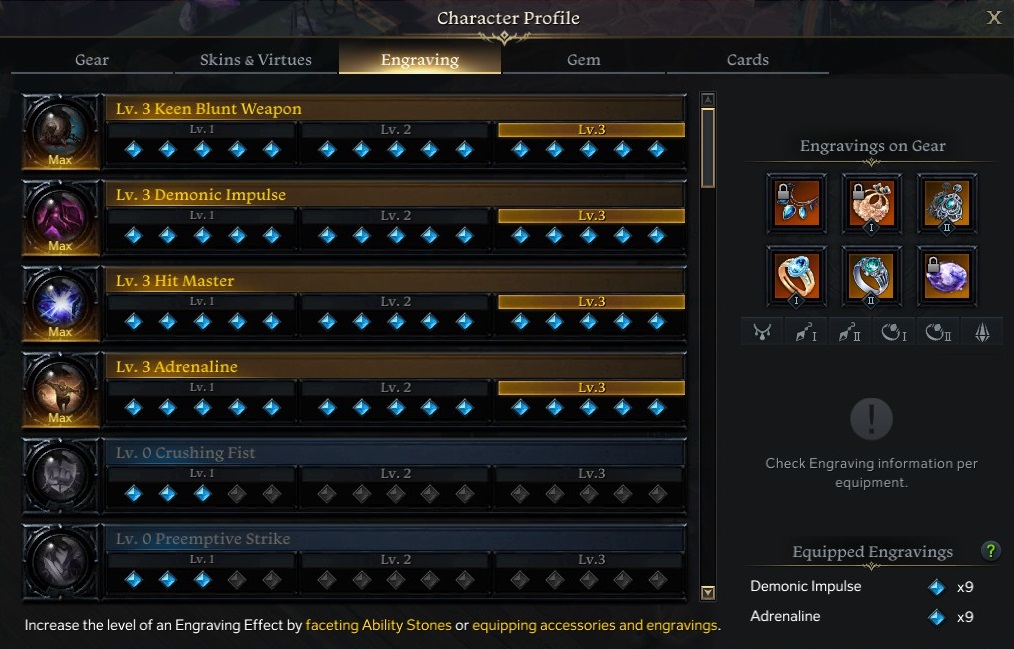 In Demonic build only 2 gems needed to activate all of your skills set. Because of that i used level 9 legendary gem with %30 buff otherwise you can not get this kind of high level gems.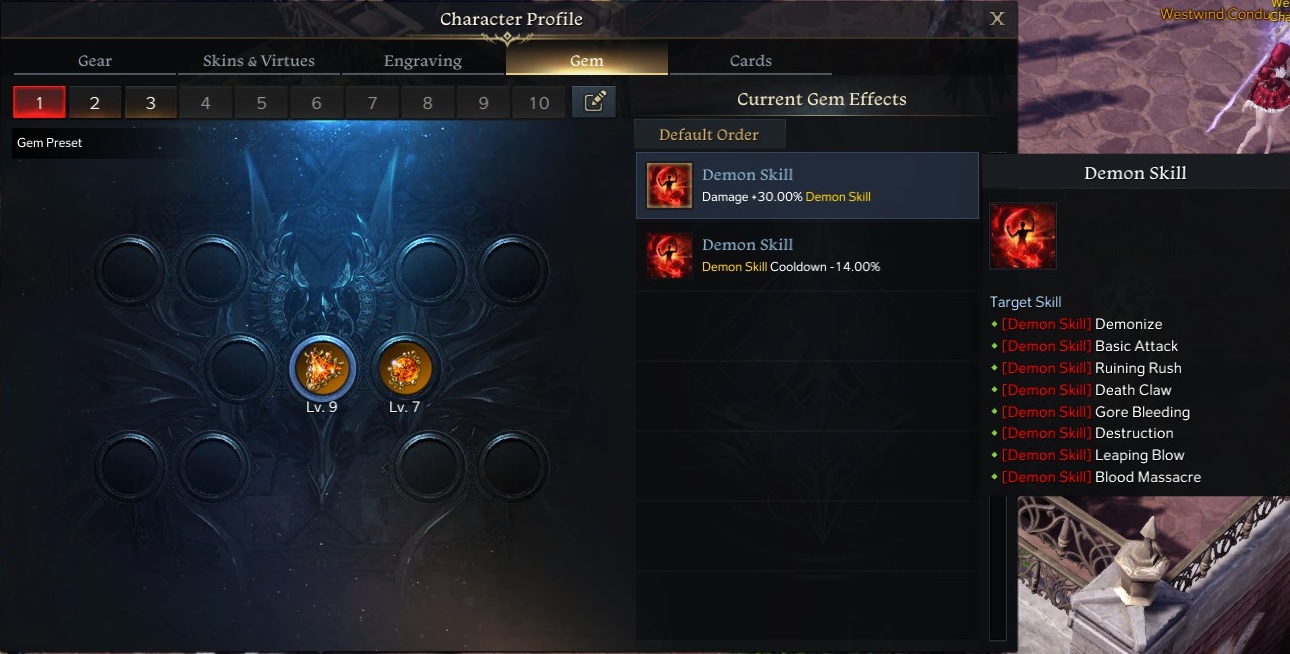 The Best Card Set Bonus over all end game. Pretty hard to get it since its RNG. I was very very very lucky with this ngl. When game continues more (it started already) people will reject you if you dont have proper card set bonus!!! Keep that in mind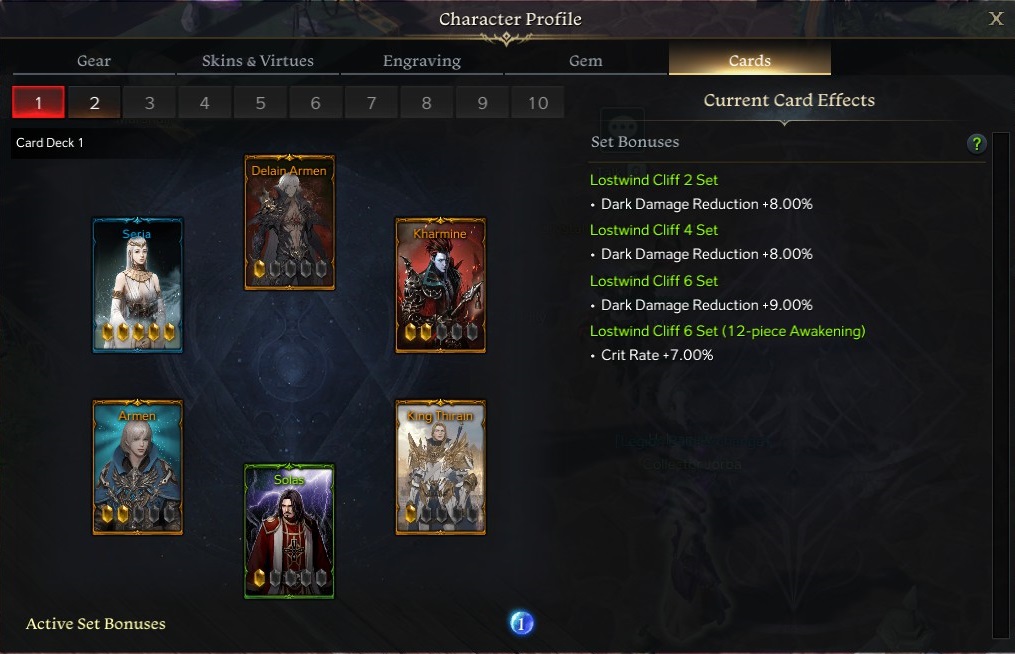 I have the most important Legendary Runes. You can use this Runes with other characters too not only main character and especially Wealth Runes are the most important ones in game and if your character have specialization stat as main that Legendary and Epic runes gonna change everything for your class thats for sure.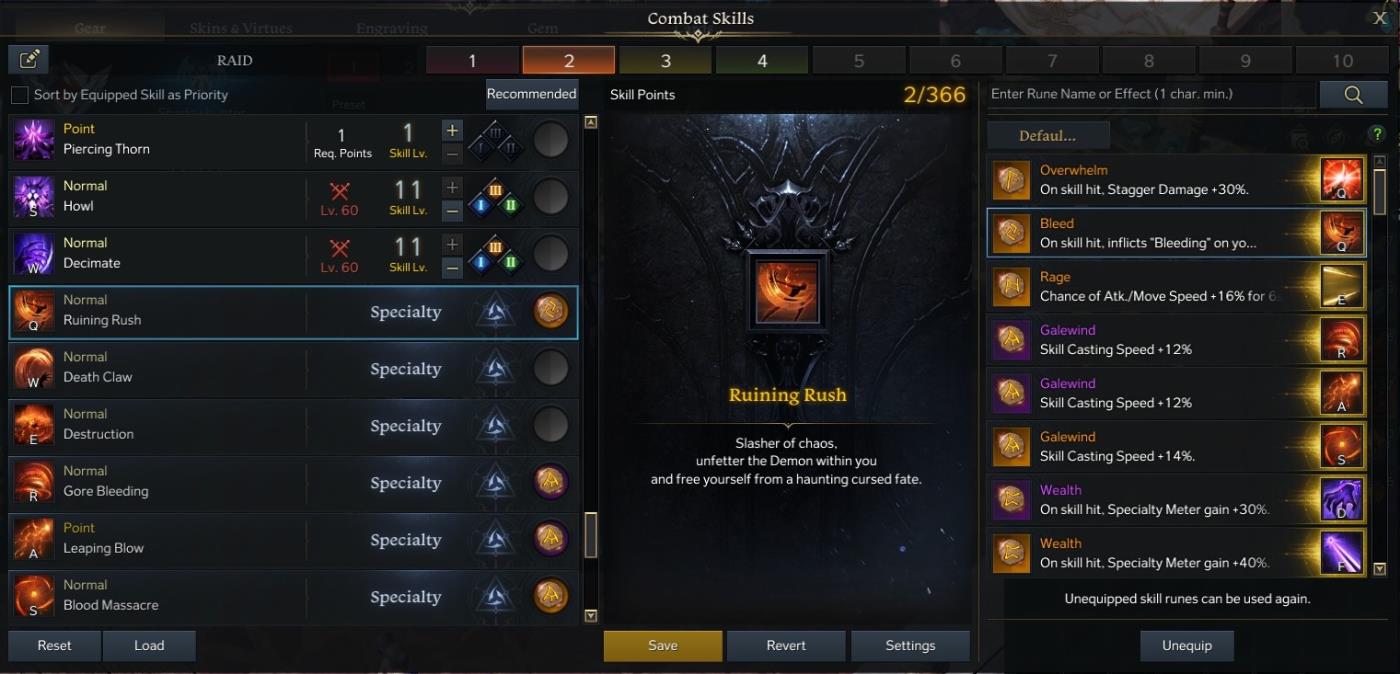 1.1.2 Open World PVP/GVG
The best stats for Open World PVP/GVG Specialization and Swiftness on different Relic Accessories and different Ability Stone. But they are worth it since Weekly Guild wars gives the winner guild 300k gold. Which divided to 16 ppl so i get around 18-19k gold per week from that open world guild pvp event.
Also comes with different 3x4 PVP Engravings such as Heavy Armor and Fortitude engravings for surviving. Ofc without minus stats again.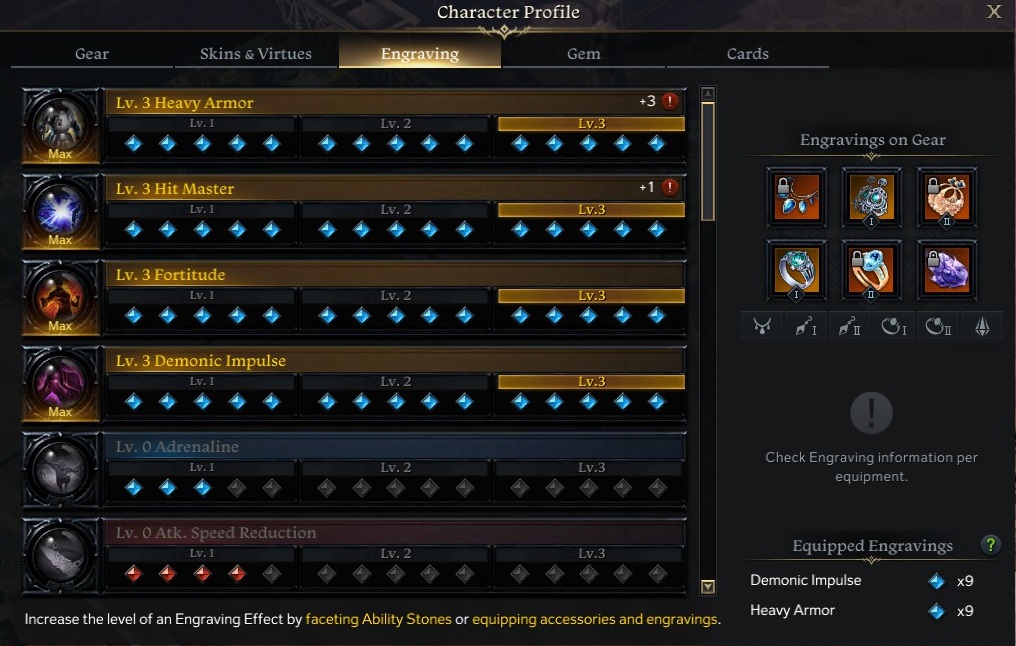 This is not everything. I will update this more very soon. If you want to know anything about this account don't hesitate to ask. I havent add any mounts or my items in inventory or other tones of things like other T3 characters. If you really know how this game works you will understand gear score is not everything. Some accounts have just gear score but not other qualities worth more than simply gear score. Also i give my personal steam account with purchased games available. ASK me anything if you want more info about anything.

Thank you for checking my offer,
Cheers.
| Feedback | Comment | From Buyer | Time |
| --- | --- | --- | --- |
PlayerAuctions makes it safe to buy from our members by securing your payment and guaranteeing delivery.
Buyer creates order and send payment to PlayerAuctions
PlayerGuardian secures payment
Seller completes delivery within delivery guarantee
Buyer confirm delivery
Seller receives disbursement
Option 1: In-game, Face to Face Delivery
Sellers will select this method of delivery if they intend to meet your character in-game with one of their own characters. Usually a seller will coordinate a time and location in-game to meet your character.
Tips:
Be sure to confirm the time to account for time zone differences
Confirm which Shard or Server the delivery is to take place in case your game world has more than one.
Never, under any circumstances, return gold, item, etc. to the delivery character if ever asked. In the event the seller asks you to, please take A screenshot and report this to PlayerAuctions Customer Support.
Option 2: In-game Mailbox delivery.
Some sellers will select the option to deliver gold or items directly to an in-game mailbox. This option is less popular for larger Games like WoW, but is still viable amongst other games. This option can be convenient for smaller orders because you do not need to coordinate time of delivery.
Low Prices: Prices set by other players or PowerSellers on PlayerAuctions are significantly lower than the high markups you would find on expensive retail sites.
Guaranteed Security: PlayerAuctions is quite simply the most secure place to buy and sell MMO game assets. Through PlayerGuardian, you are 100% guaranteed full and as-described delivery, or your money back.
Reliable Delivery Speed: PlayerAuctions calculates each seller's average delivery speed from the seller's latest successfully completed deliveries, which gives you a clear idea of how fast the seller will deliver your order.
To see how quickly the seller may deliver your order, refer to the seller's delivery guarantee period, which is their promise to complete delivery within a certain timeframe after your payment is securely sent to PlayerAuctions and is successfully verified. Each seller sets their delivery guarantee period independent of PlayerAuctions. In the event that the seller is not able to complete the delivery within their guaranteed time, you may cancel the order without penalty for a hassle-free refund from PlayerAuctions.
PlayerAuctions guarantees that the seller will deliver your order, or your money back. The overwhelming majority of transactions through our site occur successfully. As for the very exceptional cases, you can rest assured that they have been carefully considered by our systems and processes, and we are well prepared to handle them in the rare event that they do occur. Read more.
PlayerGuardian Buyer Protections
PlayerAuctions is the most secure place to buy and sell MMO game assets. Our proprietary security technology, PlayerGuardian, keeps you, your payments, and your trades protected and private. The protections below are provided to all PlayerAuctions buyers.
Guaranteed Payment Security
Convenient & Worry-Free Trading
A Secure, Trusted Trading Community
Guaranteed Full and As-Described Delivery, or Your Money Back
Guaranteed Seller On-Time Delivery, or Your Money Back
Information Privacy
PlayerAuctions After Sale 100% Support Guarantee
Transparent Seller Service Ratings
Bank-Level Data Security
Read more