Platinum Founders Pack 1445 Shadowhunter + 8x 1340 alts. 9 t3 characters. Karta NA East NAE - Valtan Hard Mode hm ready. 4x3 engravings!
I Want to Sell
Lost Ark-North America-East-Karta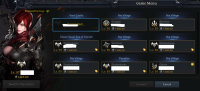 Jun-20-2022 14:11:21 PM

28 time(s)

Instant

30-Day Seller Performance

Total orders

Lost Ark
account reviews

Total rating

Lost Ark
account rating

Total orders: 50

Member since: 2021

0.0

Lost Ark account : Seller Rating

(0)
1. Check out and complete the payment
2. Receive an email with the Game Account details
3. Log in to the Game Account and verify description
4. Confirm the delivery
5. Seller gets paid
I am quitting the game because of real life responsibilities, have spent over 900+ hours on the account since launch and a fair bit of effort, this is the character sheet showing the ilvl of each character and class on the account. Comes with a whole bunch of stuff and gold/mats earning potential which can boost any current existing character 1340 to 1370+ in 1 week or less and have lots of leftover wealth.
Easily make lots of gold/mats per week.

I am also open to offers, feel free to throw me a reasonable offers, or if you have questions I will gladly answer them.
I will still be progressing the account while this post is up, so the currency/mats may fluctuate a bit.
Currently have on main or roster.
30k gold
30m silver
1500 royal crystals
Most alt characters have its character bound honor leapstone, shards to easily hit 1370+ if needed.
The super express pass has already been used up.
I am the original owner of the account.
If you have any questions regarding this account, feel free to drop me a message.
This is the character sheet showing the stronghold level, character lvl, and roster level.
This is the image of the character in it's current outfit along with virtues and ilvl.
This is the current list of engravings at 4x lvl 3 engravings.
This is the list of current mounts, theres additional 2 in the storage which is another cerberus selection untradeable box and a mokoboard selection chest.
Currently have a lvl 5 estoque, lvl 1 whitewind, lvl 1 sturmbrecher, lvl 5 eurus, lvl 7 astray, lvl 1 eiberns wound.
This is the current skins the account holds.
Currently owned crews for the Astray boat
List of current pets.
List of currently owned class engravings, max level demonic impulse. Also have a whole bunch of green/blue/purple grade class engraving boxes yet to be opened.
List of currently owned general engravings. Also have a whole bunch of green/blue/purple grade class engraving boxes yet to be opened.
Bunch of various engravings in storage.
Gem level of main.
Roster storage 1
Roster storage 2
Personal storage of main.
Inventory of main.
Trade skill levels.
Lostwind cliff progress.
Light of Salvation progress.
Currency.
Continent progression list.
Collectible progress.
Whole bunch of green/blue/purple class engravings unopened, whole bunch of green/blue/purple general engravings unopened.
Hundreds of battle item selection chests, healling battle item chests, utility battle item chests, offensive battle item chests unopened.
Full noble banquet outfit selection chest unopened.
2x Maze of the edge chestpiece skin chest unopened.
Whole bunch of blue/purple and 1 orange t3 maps and some t3 broad sea's adventure map.
Mount: mokoboard selection chest – mount
Cerberus mount selection chest – non tradeable one – mount
Some epic/legendary/relic rapport selection chests.
3 legendary card pack selection chest.
1445 – shadowhunter main - +17 hat, +17 shoulders, +17 body armor, +17 pants, +18 gloves, +16 weapon – full argos weapon/armor set all above 75% quality ranging from 75-94%, angry buck beak skin set + lofty little lady shadowblades
1340 – scrapper – full apocalypse omen set
1340 – berserker – full apocalypse omen set
1340 – sorceress – full creative element founder set
1340 – shadowhunter alt1 – full apocalypse omen set
1340 – shadowhunter alt2 – border shadow set + abyss shadowblades skin
1340 – shadowhunter alt3 – full unleashed demon founder set
1340 – shadowhunter alt4 – full lawmaker founder set
1340 – glaivier – initial sentiment set + lofty little lady spear
| Feedback | Comment | From Buyer | Time |
| --- | --- | --- | --- |
PlayerAuctions makes it safe to buy from our members by securing your payment and guaranteeing delivery.
Buyer creates order and send payment to PlayerAuctions
PlayerGuardian secures payment
Seller completes delivery within delivery guarantee
Buyer confirm delivery
Seller receives disbursement
Option 1: In-game, Face to Face Delivery
Sellers will select this method of delivery if they intend to meet your character in-game with one of their own characters. Usually a seller will coordinate a time and location in-game to meet your character.
Tips:
Be sure to confirm the time to account for time zone differences
Confirm which Shard or Server the delivery is to take place in case your game world has more than one.
Never, under any circumstances, return gold, item, etc. to the delivery character if ever asked. In the event the seller asks you to, please take A screenshot and report this to PlayerAuctions Customer Support.
Option 2: In-game Mailbox delivery.
Some sellers will select the option to deliver gold or items directly to an in-game mailbox. This option is less popular for larger Games like WoW, but is still viable amongst other games. This option can be convenient for smaller orders because you do not need to coordinate time of delivery.
Low Prices: Prices set by other players or PowerSellers on PlayerAuctions are significantly lower than the high markups you would find on expensive retail sites.
Guaranteed Security: PlayerAuctions is quite simply the most secure place to buy and sell MMO game assets. Through PlayerGuardian, you are 100% guaranteed full and as-described delivery, or your money back.
Reliable Delivery Speed: PlayerAuctions calculates each seller's average delivery speed from the seller's latest successfully completed deliveries, which gives you a clear idea of how fast the seller will deliver your order.
To see how quickly the seller may deliver your order, refer to the seller's delivery guarantee period, which is their promise to complete delivery within a certain timeframe after your payment is securely sent to PlayerAuctions and is successfully verified. Each seller sets their delivery guarantee period independent of PlayerAuctions. In the event that the seller is not able to complete the delivery within their guaranteed time, you may cancel the order without penalty for a hassle-free refund from PlayerAuctions.
PlayerAuctions guarantees that the seller will deliver your order, or your money back. The overwhelming majority of transactions through our site occur successfully. As for the very exceptional cases, you can rest assured that they have been carefully considered by our systems and processes, and we are well prepared to handle them in the rare event that they do occur. Read more.
PlayerGuardian Buyer Protections
PlayerAuctions is the most secure place to buy and sell MMO game assets. Our proprietary security technology, PlayerGuardian, keeps you, your payments, and your trades protected and private. The protections below are provided to all PlayerAuctions buyers.
Guaranteed Payment Security
Convenient & Worry-Free Trading
A Secure, Trusted Trading Community
Guaranteed Full and As-Described Delivery, or Your Money Back
Guaranteed Seller On-Time Delivery, or Your Money Back
Information Privacy
PlayerAuctions After Sale 100% Support Guarantee
Transparent Seller Service Ratings
Bank-Level Data Security
Read more