Buy ArcheAge Unchained Gold – AA Unchained Currency Market
Is farming gold too tedious of a task for you? Then buy ArcheAge Unchained gold for just a small fee right here, right now! Why work up a sweat trying to earn your way through the game when you can easily get the gold you need instead? PlayerAuctions has tons of offers to satisfy your every gaming need!
SELL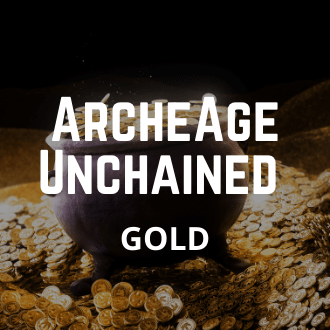 Why PlayerAuctions is the Best Place to Buy ArcheAge Unchained Gold
As the premier marketplace for everything in-game related, we continually strive to be the best source for all your gaming needs. We do so by building up a sizeable roster of trustworthy sellers from all around the world who are always ready to cater to you. Millions of transactions have already been made through our website, so we assure you that everything—from the order process right down to the payment methods—are safe and secure. If you're having problems with a seller or you just have some inquiries, you can check our FAQ or contact our customer service.
How Do I Get ArcheAge Unchained Gold for Sale?
Select the offer that you want to purchase and input the amount of gold you'd like to get.
Register/log in as a buyer.
Send the payment through our system and we will notify the seller to begin delivering the gold to you.
Arrange a time and place to meet up in-game with the seller.
Once you've met up with the seller and received the gold, confirm to our system to send in the payment.
Leave a review on the seller's profile about your transaction.
If you're planning to buy a huge stack of ArcheAge Unchained gold, select sellers that offer bulk discounts! That way you can save some extra money!
What to Buy ArcheAge Unchained Gold With
ArcheAge Unchained is a medieval fantasy-like MMORPG game that's marketed as "not a pay to win" game. But of course, like any other MMOs, everything you do will be grind-heavy unless you're willing to reach down into your pocket and open up your wallet. So you just bought a good amount of gold from us, what are your plans for it? Will you be buying the rare item you've always wanted? Or perhaps you're looking to spend it all on that equipment/weapon set you've been eyeing for some time? That's all fine and dandy, but at the end of the day you've got to learn how to budget your gold or else you'll go bankrupt in no time. Luckily for you, we'll show you what items to buy and what to do with them in order to get the most value for your money.
Buy Farms
When you're level 30 and above, you'll be given a questline that will provide you a basic house and all the materials needed to build it. While doing this, we recommend you buy a farm to get some fields going. This is because if you have fields, anything you plant is sellable in the market. As to what you should plant, corn rice is always a great option since it's one of those items that don't fluctuate in value.
Buy Items that are Cheap
If you're a fan of flipping an item over its head, then adapting to the market is the key to earning your money back and then some. The trick here is to buy a commodity that's very cheap to get, especially if you're going to buy them in bulk. Once the price rises, that's when you sell your items to the public. This method may take some time, though. You've got to be smart about how much of your money you're going to put in a single item. Unexpected drops happen in the market all the time, so make sure that whatever item you're investing in won't end up dropping lower than what you originally got it for.
Based on the total ratings of 2724 orders in the past year
PlayerAuctions makes it safe to buy video game currencies from our members by securing your payment and guaranteeing delivery.
Buyer creates order and send payment to PlayerAuctions
PlayerGuardian secures payment
Seller completes delivery within delivery guarantee
Buyer confirm delivery
Seller receives disbursement
Option 1: In-game, Face to Face Delivery
Sellers will select this method of delivery if they intend to meet your character in-game with one of their own characters. Usually a seller will coordinate a time and location in-game to meet your character.
Tips:
Be sure to confirm the time to account for time zone differences
Confirm which Shard or Server the delivery is to take place in case your game world has more than one.
Never, under any circumstances, return gold, item, etc. to the delivery character if ever asked. In the event the seller asks you to, please take A screenshot and report this to PlayerAuctions Customer Support.
Option 2: In-game Mailbox delivery.
Some sellers will select the option to deliver gold or items directly to an in-game mailbox. This option is less popular for larger Games like WoW, but is still viable amongst other games. This option can be convenient for smaller orders because you do not need to coordinate time of delivery.
Low Prices: Prices set by other players or PowerSellers on PlayerAuctions are significantly lower than the high markups you would find on expensive retail sites.
Guaranteed Security: PlayerAuctions is quite simply the most secure place to buy and sell MMO game assets. Through PlayerGuardian, you are 100% guaranteed full and as-described delivery, or your money back.
Reliable Delivery Speed: PlayerAuctions calculates each seller's average delivery speed from the seller's latest successfully completed deliveries, which gives you a clear idea of how fast the seller will deliver your order.
To see how quickly the seller may deliver your order, refer to the seller's delivery guarantee period, which is their promise to complete delivery within a certain timeframe after your payment is securely sent to PlayerAuctions and is successfully verified. Each seller sets their delivery guarantee period independent of PlayerAuctions. In the event that the seller is not able to complete the delivery within their guaranteed time, you may cancel the order without penalty for a hassle-free refund from PlayerAuctions.
PlayerAuctions guarantees that the seller will deliver your order, or your money back. The overwhelming majority of transactions through our site occur successfully. As for the very exceptional cases, you can rest assured that they have been carefully considered by our systems and processes, and we are well prepared to handle them in the rare event that they do occur. Read more.
About Archeage Unchained Gold
ArcheAge Unchained: It's the Economy
The role of gold in MMORPGs is pretty much self-explanatory. Same goes in ArcheAge Unchained. What varies from one game to another, however, is the economy. Compared to other MMOs, ArcheAge has a lot of gold sinks, a body of systems that require players to pay in gold for certain in-game features, such as auction house taxes, crafting requests, trade packs, and many others.
While these gold sinks can be seen as mere inconveniences that charges players for reasons unknown, they actually serve a purpose: to ensure inflation doesn't happen in the game. It's very likely for AA Unchained to have that problem, as you can practically make gold out of nothing, just like in a lot of MMOs. Add to that the fact that almost every item that isn't bought using microtransactions is tradable, and therefore be used to make more money.
No Deal: Archeage Unchained Cash Shop
On a side note, speaking of microtransactions, items obtained from the Archeage Unchained Cash Shop cannot be traded with other players. This is to ensure that nobody can buy them in order to sell them later on for gold, which in turn will cause even more inflation.
More Gold, Less Problems
In the future, it's not unlikely for the game to suffer from inflation, or at the very least, so much gold in the circulation. This drives up prices, so the same items that were cheaper then are much more expensive now. In turn, this means the need for more gold. While there are many ways to do ArcheAge Unchained gold making, they take much time.
Archeage Unchained Trade System Revamp
For example, you can run trade packs, which can earn you serious gold. However, due to how tedious it is and how different the Archeage Unchained Trade System is from the original, not a lot of players can do it. On the other hand, you can also try easier yet more time-consuming methods. Or better yet, you can always buy gold from a wide variety of sellers here in PlayerAuctions.
Don't worry about the prices. Because there are a lot of sellers, you're sure to find those that sell cheap ArcheAge Unchained gold as a way to attract potential buyers. Look for them here so you can get the most bang out of your bucks.
PlayerGuardian Buyer Protections
PlayerAuctions is the most secure place to buy and sell MMO game assets. Our proprietary security technology, PlayerGuardian, keeps you, your payments, and your trades protected and private. The protections below are provided to all PlayerAuctions buyers.
Guaranteed Payment Security
Convenient & Worry-Free Trading
A Secure, Trusted Trading Community
Guaranteed Full and As-Described Delivery, or Your Money Back
Guaranteed Seller On-Time Delivery, or Your Money Back
Information Privacy
PlayerAuctions After Sale 100% Support Guarantee
Transparent Seller Service Ratings
Bank-Level Data Security
Read more