Buy SWTOR Credits - Star Wars the Old Republic Gold Shop
Whether in a galaxy far, far away or in a room playing SWTOR, players are gonna need copious amounts of Star Wars the Old Republic credits. Channel the power of the Force; get cheap SWTOR gold via the online marketplace. Choose the most reliable and trustworthy sellers that are found in the good ones. May the Force be with you!
SELL
amh99
202223294
Best deal among sellers with a fair amount of ratings and feedback score.
amh99
202223295
Best deal among sellers with a fair amount of ratings and feedback score.
deny197
202210358
Best deal among sellers with a fair amount of ratings and feedback score.
SwtorCreditSeller
202207567
deny197
202210362
Best deal among sellers with a fair amount of ratings and feedback score.
SwtorCreditSeller
202207646
amh99
202223298
Best deal among sellers with a fair amount of ratings and feedback score.
amh99
202223299
Best deal among sellers with a fair amount of ratings and feedback score.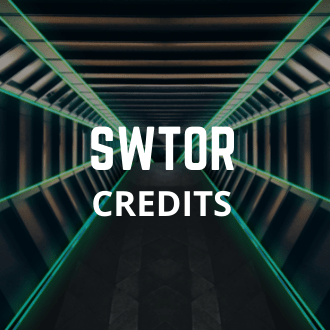 Types of SWTOR Currency
When there's trade, there's currency. While it can be rendered as goods or services (barter) it's more common to trade with money (currency). Even games have these systems in place, and the MMO Star Wars: The Old Republic isn't an exception. In-game money systems can come in denominations (those with gold, silver, and copper) or a unified single currency. Games can also have only one currency or more.
There are two kinds of currency in SWTOR. First are the Credits, the currency used by everyone in the game. Both players and NPCs use this for a majority of the transactions in-game. The second is the Commendation, a special currency used by certain vendors. It can be earned by completing missions, and as drops from certain mobs.
Why Buy SWTOR Credits?
Even with the Force's help, it can still prove to be difficult to acquire all the SWTOR Credits (sometimes referred to as SWTOR gold) needed. This is especially true if buyers don't have much time to play. It's a good thing that at the online marketplace, they can buy SWTOR Credits at affordable prices from other players. That means they get to save time, money, and effort required to farm and grind it out!
Is There a SWTOR Credit Cap/Limit?
If there are plans to buy SWTOR Credits, keep in mind that the game has a credit limit/cap. To be precise, the cap simply means the maximum amount of credits a player's character can hold at a given time. The rest of the credits go to an escrow account, which is only accessible if the buyer is a preferred player. Currently, it's 250,000 for free-to-play players, and 350,000 for preferred players. This is to ensure that the in-game economy is controlled and limited.
Due to this on-hand currency ceiling, players can only buy a limited amount of credits at any given time. It's a bit of a hindrance, but the convenience of purchasing instant SWTOR Credits very much outweighs that. To paraphrase Qui-Gon Jinn, (limited) credits will do fine.
Where to Buy SWTOR Credits
To minimize the risks of participating in this kind of trade, it's recommended to buy SWTOR Credits from trustworthy sellers on a reliable trading platform. It's safe, secure, cheap, and convenient.
Buyers should also be aware of the game's policies and terms about this method of trading. It's a good way to prepare for any accident that could happen, as people make mistakes. Enjoy SWTOR and the new riches!
Based on the total ratings of 1499 orders in the past year
Quick, nice and cheap. Just like my woman.
1000 M SWTOR Credits
12/06/2023
Fast and efficient service, clarified a query I had quickly. Seamless operation
1000 M SWTOR Credits
12/04/2023
Fast and easy!
500 M SWTOR Credits
12/03/2023
PlayerAuctions makes it safe to buy video game currencies from our members by securing your payment and guaranteeing delivery.
Buyer creates order and send payment to PlayerAuctions
PlayerGuardian secures payment
Seller completes delivery within delivery guarantee
Buyer confirm delivery
Seller receives disbursement
Option 1: In-game, Face to Face Delivery
Sellers will select this method of delivery if they intend to meet your character in-game with one of their own characters. Usually a seller will coordinate a time and location in-game to meet your character.
Tips:
Be sure to confirm the time to account for time zone differences
Confirm which Shard or Server the delivery is to take place in case your game world has more than one.
Never, under any circumstances, return gold, item, etc. to the delivery character if ever asked. In the event the seller asks you to, please take A screenshot and report this to PlayerAuctions Customer Support.
Option 2: In-game Mailbox delivery.
Some sellers will select the option to deliver gold or items directly to an in-game mailbox. This option is less popular for larger Games like WoW, but is still viable amongst other games. This option can be convenient for smaller orders because you do not need to coordinate time of delivery.
Low Prices: Prices set by other players or PowerSellers on PlayerAuctions are significantly lower than the high markups you would find on expensive retail sites.
Guaranteed Security: PlayerAuctions is quite simply the most secure place to buy and sell MMO game assets. Through PlayerGuardian, you are 100% guaranteed full and as-described delivery, or your money back.
Reliable Delivery Speed: PlayerAuctions calculates each seller's average delivery speed from the seller's latest successfully completed deliveries, which gives you a clear idea of how fast the seller will deliver your order.
To see how quickly the seller may deliver your order, refer to the seller's delivery guarantee period, which is their promise to complete delivery within a certain timeframe after your payment is securely sent to PlayerAuctions and is successfully verified. Each seller sets their delivery guarantee period independent of PlayerAuctions. In the event that the seller is not able to complete the delivery within their guaranteed time, you may cancel the order without penalty for a hassle-free refund from PlayerAuctions.
PlayerAuctions guarantees that the seller will deliver your order, or your money back. The overwhelming majority of transactions through our site occur successfully. As for the very exceptional cases, you can rest assured that they have been carefully considered by our systems and processes, and we are well prepared to handle them in the rare event that they do occur. Read more.
Star Wars: The Old Republic
From the stunning success of Disney's Star Wars Sequel Trilogy, to the unparalleled Star Wars Rebels television show, to the entrance of Star Wars into the MMO field with Star Wars: The Old Republic, the Star Wars fandom was gratified in a way it hasn't been since the series' inception back in the late 1970s.
It's really no surprise that a Star Wars MMORPG would exist, with the popularity of the universe and the tremendous amount of Star Wars games already out there. When SWTOR came out in 2011, big things were expected from the game. Big things were just what the fan community got from Star Wars: The Old Republic. With many praised updates to the game in the ensuing years and millions in overall revenue, SWTOR hasn't been just a bonafide hit MMO. It is actually the 'fastest-growing MMO of all time', gaining over one million subscribers within three days of its launch.
Backstory
Using the vaunted and beloved Star Wars universe as its background, SWTOR plays up the classic Star Wars conflict between the forces of good and evil, this time represented by the Galactic Republic and the Sith Empire. The story is set about 300 years after the game Star Wars: Knights of the Old Republic. SWKotOR itself is set thousands of years before the films. The conflict you partake in by playing the game involves the Jedi moving away from the capital city of Coruscant back to their original homeworld of Tython, where they seek to regather their strength after a long war. As the Sith Empire seeks to expand, and the Jedi and the Galactic Republic face conflict on their own planets such as civil wars and politics, a dangerous cold war begins in the galaxy.
Gameplay
Players find themselves dropped into the middle of this epic conflict, and while they choose either to be in the Republic or the Sith Empire, characters can actually be of any morality they like no matter which side they choose. Players can also choose between eight combat classes, which are based on traditional Star Wars universe character types, such as Jedi Knights, Smugglers, and Sith Inquisitors. Within each class, there are various subclasses and companion characters that can be accessed. In addition to class and faction, the player will choose from ten species. There's also an extensive storyline in the game through which the player can actually affect other players by completing quests and otherwise interacting with the world, which is an innovation the game boasts.
What is Star Wars: The Old Republic Credit?
The primary SWTOR currency is the Galactic Credit, which players use to buy everything in the game, including items from the Galactic Trade Network (SWTOR's virtual marketplace/auction house where players can spend SWTOR credits on items sold by other players) and from vendors on various planets the player visits.
SWTOR currency is earned in typical MMO fashion through completing quests and by selling items gathered during exploits, but also like other MMOs, this can be difficult and time-consuming if a player isn't an expert at the practice. Even excellent SWTOR players can find it hard to come by enough Galactic Credits to make the purchases they need. Typically, the players that make good money in this game spend hours upon hours staring at the Galactic Trade Network looking for ways to exploit changes in the market to make money, which is both hard to do and extremely tedious.
Buy Cheap SWTOR Credits from Online Marketplaces
Besides spending hours grinding quests or studying the Galactic Trade Network to become a Star Wars stock market genius, there's another way to get SWTOR currency.
This method is called the online marketplace, and it is the go-to destination for cheap SWTOR credits on the web. It's a service that provides SWTOR players a link to professional gamers who have SWTOR credits for sale. It makes it easy and, more importantly, totally safe to buy these credits from pro players.
Think of the system like eBay's: when customers buy something, their money is held in escrow until the transaction is completed on both ends. They can scout out the best sellers by checking the seller rating system. Their identification is kept secure at checkout by a special system. They can also hit up our customer support team at any time to get any issues resolved, or if there are any reservations or questions.
PlayerGuardian Buyer Protections
PlayerAuctions is the most secure place to buy and sell MMO game assets. Our proprietary security technology, PlayerGuardian, keeps you, your payments, and your trades protected and private. The protections below are provided to all PlayerAuctions buyers.
Guaranteed Payment Security
Convenient & Worry-Free Trading
A Secure, Trusted Trading Community
Guaranteed Full and As-Described Delivery, or Your Money Back
Guaranteed Seller On-Time Delivery, or Your Money Back
Information Privacy
PlayerAuctions After Sale 100% Support Guarantee
Transparent Seller Service Ratings
Bank-Level Data Security
Read more
PlayerAuctions is an independent player-to-player marketplace for buying and selling virtual video game property. PlayerAuctions is NOT endorsed by, directly affiliated with, maintained, authorized, or sponsored by Star Wars: The Old Republic or its trademark owner.
Select server and Faction