Buy & Sell MapleStory Mesos - MS Global Currency Market
Enjoy the fun of MapleStory in all its 2D glory. PlayerAuctions provides both buyers and sellers with a safe haven for their MapleStory Mesos trading needs. Check out our listings for the MS global currency market and get your groove on. Experience the wonders that await you on Maple World today.
SELL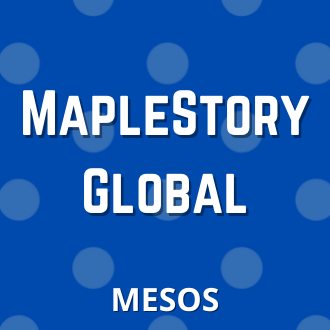 Buy Mesos at PlayerAuctions
Tired of grinding quests and events for mesos? Need Mesos to use the Beauty Salon? Want to start merchanting but don't have the capital? If the answers is yes, then PlayerAuctions is here to help!! Here in our marketplace you can buy all the Mesos you need.. And thanks to our player-to-player market, you can get cheap MapleStory Mesos quickly, easily and safely!
Make life easier with MapleStory Mesos
As fun as killing monsters in MapleStory is, the game is very "grindy". Meso is hard to save up. That is why the best players buy MapleStory Mesos. When you buy Mesos, you save time. Time that you can use to enjoy the game more!
But I already have a lot of MapleStory Mesos you say. Well, we have good news for you. PlayerAuctions can help you turn your digital riches into real money. With 1 million members, there will always be players willing to buy your mesos. Best of all, as a player to player marketplace, you get to set the price and get all the profit. Doesn't matter if you sell cheap Mesos or not. You'll earn money the fun and easy way!
Buy Mesos securely
Transacting with other players through the PlayerAuctions marketplace is safe and secure. Thanks to our PlayerGuardian Trading Protections, we ensure that all Mesos offer are genuine and that each purchase has been delivered before disbursement is issued.
There are so many reasons why trading at PlayerAuctions makes perfect sense. We offer the best prices for MapleStory Mesos and provide our friendly community with multiple payment options and 24 x 7 Customer Support. We have been keeping our members and their trades safe since 1999 and are a BCA accredited company.
If you have questions, concerns or suggestions, please do not hesitate to contact us. You can reach us through our 24x7 Customer Support, email, or fax. Happy trading!
Based on the total ratings of 198 orders in the past year
Seller was fantastic, quick and made the process very easy.
1000 M Maple-Story Mesos
01/19/2022
This seller was extremely fast, delivered in twenty minutes, covered taxes too.
440 M Maple-Story Mesos
01/16/2022
PlayerAuctions makes it safe to buy video game currencies from our members by securing your payment and guaranteeing delivery.
Buyer creates order and send payment to PlayerAuctions
PlayerGuardian secures payment
Seller completes delivery within delivery guarantee
Buyer confirm delivery
Seller receives disbursement
Option 1: In-game, Face to Face Delivery
Sellers will select this method of delivery if they intend to meet your character in-game with one of their own characters. Usually a seller will coordinate a time and location in-game to meet your character.
Tips:
Be sure to confirm the time to account for time zone differences
Confirm which Shard or Server the delivery is to take place in case your game world has more than one.
Never, under any circumstances, return gold, item, etc. to the delivery character if ever asked. In the event the seller asks you to, please take A screenshot and report this to PlayerAuctions Customer Support.
Option 2: In-game Mailbox delivery.
Some sellers will select the option to deliver gold or items directly to an in-game mailbox. This option is less popular for larger Games like WoW, but is still viable amongst other games. This option can be convenient for smaller orders because you do not need to coordinate time of delivery.
Low Prices: Prices set by other players or PowerSellers on PlayerAuctions are significantly lower than the high markups you would find on expensive retail sites.
Guaranteed Security: PlayerAuctions is quite simply the most secure place to buy and sell MMO game assets. Through PlayerGuardian, you are 100% guaranteed full and as-described delivery, or your money back.
Reliable Delivery Speed: PlayerAuctions calculates each seller's average delivery speed from the seller's latest successfully completed deliveries, which gives you a clear idea of how fast the seller will deliver your order.
To see how quickly the seller may deliver your order, refer to the seller's delivery guarantee period, which is their promise to complete delivery within a certain timeframe after your payment is securely sent to PlayerAuctions and is successfully verified. Each seller sets their delivery guarantee period independent of PlayerAuctions. In the event that the seller is not able to complete the delivery within their guaranteed time, you may cancel the order without penalty for a hassle-free refund from PlayerAuctions.
PlayerAuctions guarantees that the seller will deliver your order, or your money back. The overwhelming majority of transactions through our site occur successfully. As for the very exceptional cases, you can rest assured that they have been carefully considered by our systems and processes, and we are well prepared to handle them in the rare event that they do occur. Read more.
MapleStory Mesos: How to Earn
One of the best ways to earn MapleStory mesos would be through party quests (PQ), quests that parties can do together. Do note, however, that Party Quests have a time limit, so you and your party have to move quickly.
In the game, there are a lot of party quests, and each of them varies in the amount and quality of loot they yield. So when you're joining a Party Quest, make sure that you choose one that will give you proper loot. In addition, stick to Party Quests that are appropriate for your level.
For example, if you are between level 10-20, go for the Henesys Party Quest, because its bonus, Pig Park, drops noticeably rare items that you can sell at a great price. And when you're around 21-30, go for the Kerning Party Quest, as you can get DEX scrolls from it, which can sell for 200k-500,000 mesos; sometimes even 2 million!
On the other hand, if you're not a fan of Party Quests, especially if you're a soloist who isn't into dragging or joining other people, then you can take on Daily Bosses. Zakum, Hilla, Ranmaru, Von Leon, Easy Magnus, Easy Horntail and Easy Gollux are all good examples of bosses you can take down alone. They drop items like Sunset Dews, Power Elixirs, and Elixirs, which can be sold to NPCs for a high price. Sunset Dews sell for 5100 mesos each, Power Elixirs sell for 2500 mesos each, Elixirs sell for 1000 mesos each, and Reindeer Milk sells for 2750 mesos each; have enough of all of these and you can earn up to 2 million mesos. Conversely, you can use these items as healing items, allowing you to save up on your potions.
Or maybe the usual hunter-gatherer in order to kill monsters and sell their loot routine isn't for you. That's alright too, as there are two other ways for you to earn that much-needed mesos. You can choose to craft items that fetch a high price in the Free Markets. Good examples of these would be Dark, Black, WIS, or LUK Crystals, which sells for around 500K each. On the other hand, you can choose to be a true-blue merchant who controls the economy by buying and selling. Yes, buying, as the strategy behind this method is by buying out the stocks of certain items that are being sold cheap at the Free Market, and then selling them at a much higher price. Since you now have control of the supply, players who need the item have no choice but to buy it at the price you set.
Buy Mesos? Why Not
Last but definitely not least, you can buy Maplestory mesos. Yes, that's right; you can purchase Meso with real money. It's fast and you no longer have to go through tricky Free Market maneuvers or grind Party Quests or bosses. There is, however, one flaw to this method: there are lots of scam sites online, and they'll try to appear as legit as they can. There is one large Maplestory forum out there where they love to trade with each other. But if the amount of hoops and registrations, and captha's they make you go through are any indication, that they are just not professional enough to handle MapleStory Mesos scammers. It has in fact been reported to us by many members, that those forum owners benefit from the scams that happen to their own users, which is why they refuse to encourage their users to have PlayerGuardian act as a payment method. Don't be fooled, by fancy forums that tell you that DIRECT TRADING of virtual assets is completely safe without any level of security. And with forum accounts being actively traded between people for high dollar sums, you cannot trust a user's feedback on forums.
PlayerAuctions: Buy Maplestory Mesos
PlayerAuctions is an online player-to-player trading platform. That means if you buy Mesos on our website, you're not buying from us but from other players who have been gathering mesos4u.
We make sure that you, our buyer, are protected, so we put in place the PlayerGuardian system, which secures your gaming accounts, money, and personal info. In addition, you can see for yourself our five-tier Power Seller system. Through this, you can check the reputation of sellers. On the other hand, because we want to help our sellers earn what they deserve, we charge zero dollars for registration and have lower seller costs when compared to other sites. And whether buying or selling, you can contact our live customer service if you encounter any problems.
On the other hand, if you want to buy and sell items and currency in games other than MapleStory, then we're also the place to be, as we provide services to many online game titles. To see if we provide services for your game of choice, check out our home page.
The tale of your future wealth in MapleStory mesos is still being written. And with PlayerAuctions on your side, it could be written much faster.
PlayerGuardian Buyer Protections
PlayerAuctions is the most secure place to buy and sell MMO game assets. Our proprietary security technology, PlayerGuardian, keeps you, your payments, and your trades protected and private. The protections below are provided to all PlayerAuctions buyers.
Guaranteed Payment Security
Convenient & Worry-Free Trading
A Secure, Trusted Trading Community
Guaranteed Full and As-Described Delivery, or Your Money Back
Guaranteed Seller On-Time Delivery, or Your Money Back
Information Privacy
PlayerAuctions After Sale 100% Support Guarantee
Transparent Seller Service Ratings
Bank-Level Data Security
Read more