Buy Phantasy Star Online 2: New Genesis N-Meseta
While MMORPGs seek to be long-time escapes from reality, there is no escaping the need for currency in them. Same is true even in the futuristic Phantasy Star Online 2: New Genesis. Players in need of money in this interstellar action-MMO can buy PSO2 NGS N-Meseta from their fellow ARKS Defenders.
SELL
broomop
199043177
Best deal among sellers with a fair amount of ratings and feedback score.
broomop
199115155
Best deal among sellers with a fair amount of ratings and feedback score.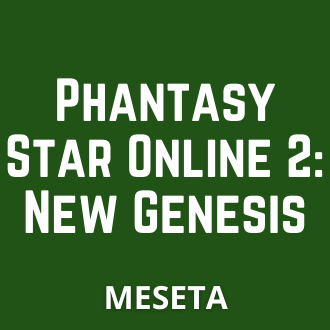 New Genesis' Changes from Phantasy Star Online 2
It's okay for both those completely new to the franchise and old-timers to be confused what Phantasy Star Online 2, as the details regarding its release is also vague at times. Players simply need to know that PSO 2 New Genesis is an offshoot of the original and exists alongside the latter. The game, however, is not a mere reboot, but a complete reworking of the space sci-fi action-MMO that sets itself apart in many aspects from the older version.
One of those is the combat, whose mechanics has been improved and streamlined, made simpler yet more exciting at the same time. Along with this, many of class skills has been revamped in line with these changes. Another is the story. Instead of being established graduating cadets of an intergalactic organization called Oracle, players in New Genesis are known as the Meteorn.
The Meteorn, arriving in the planet Halpha, have no memory of their past, but they are as talented and promising as their Oracle cadet counterparts. They also have a different enemy to take on: the DOLLS, strange, powerful, and seemingly innumerable and ever-regenerating beings that have been attacking the planet for many centuries.
What is PSO2 NGS N-Meseta
What has not changed is the use of in-game currency on almost everything. Apart from the usual item purchases, players also need N-Meseta to augment and upgrade weapons, as well as buy items from the Personal Shop – the game's version of the auction house. New Genesis is not exactly stingy of N-Mesetas. With how central the currency is to almost everything, it is only fair for the game to provide players a steady supply of it, lest many find themselves unable to progress. In fact, a wide variety of PVE content gives N-Mesetas, so players don't have to worry much about it.
At the same time, having enough is simply not enough for players that wish to be one of the most competitive players in their servers, or perhaps even the entire game. This is because much like other player-driven economies, items sold by other players can shoot up to six or even seven digits, especially on items that are rare and best in slot. The same goes for important crafting materials.
Why Buy PSO2 N-Meseta
Players can farm via regular means, but doing so takes much time and effort, something not a lot of players. It also doesn't help that even though older players are allowed to bring their characters from the original and into New Genesis, N-Mesetas are not carried over, as SEGA believes that allowing them to do so would break the balance and the economy of the player community early on in the game.
There is one way that some players get around farming for hours on end: by buying PSO2 NGS N-Meseta from other players. Players willing to buy from them will no longer have to worry about living in Halpha with just enough money, and will be able to buy rare and best in slot items.
Buying PSO2 NGS N-Meseta is viewed by some gamers as a better alternative to buying items. This, however, applies to a select number of items. Nevertheless, it always helps to be prepared and have N-Meseta.
The Price Players Buying PSO2 NGS N-Meseta At
The value of N-Meseta depends on the player-driven economy. If there is a lot of the currency in the community's circulation, it is expected to sell a lot for a lower price, and if there is not much then it is expected to be sold for a higher price. However, with how economies work in MMOs, it's expected that N-Mesetas will be cheaper as time goes on.
At the same time, sellers have the freedom to sell PSO2 NGS Mesetas at any price they want. With that in mind, it is important for buyers to wisely choose which offer to buy. This way, they can get the most N-Mesetas out of their hand-earned money.
Based on the total ratings of 399 orders in the past year
Great communication and goes above and beyond with the order. Thank you!
72 M PSO2NGS N-Meseta
09/20/2023
Fast delivery
25 M PSO2NGS N-Meseta
09/20/2023
Fast communication and Delivery speed will buy from again!
100 M PSO2NGS N-Meseta
09/19/2023
Fast Communication and Delivery will buy from again!!
35 M PSO2NGS N-Meseta
09/18/2023
PlayerAuctions makes it safe to buy video game currencies from our members by securing your payment and guaranteeing delivery.
Buyer creates order and send payment to PlayerAuctions
PlayerGuardian secures payment
Seller completes delivery within delivery guarantee
Buyer confirm delivery
Seller receives disbursement
Option 1: In-game, Face to Face Delivery
Sellers will select this method of delivery if they intend to meet your character in-game with one of their own characters. Usually a seller will coordinate a time and location in-game to meet your character.
Tips:
Be sure to confirm the time to account for time zone differences
Confirm which Shard or Server the delivery is to take place in case your game world has more than one.
Never, under any circumstances, return gold, item, etc. to the delivery character if ever asked. In the event the seller asks you to, please take A screenshot and report this to PlayerAuctions Customer Support.
Option 2: In-game Mailbox delivery.
Some sellers will select the option to deliver gold or items directly to an in-game mailbox. This option is less popular for larger Games like WoW, but is still viable amongst other games. This option can be convenient for smaller orders because you do not need to coordinate time of delivery.
Low Prices: Prices set by other players or PowerSellers on PlayerAuctions are significantly lower than the high markups you would find on expensive retail sites.
Guaranteed Security: PlayerAuctions is quite simply the most secure place to buy and sell MMO game assets. Through PlayerGuardian, you are 100% guaranteed full and as-described delivery, or your money back.
Reliable Delivery Speed: PlayerAuctions calculates each seller's average delivery speed from the seller's latest successfully completed deliveries, which gives you a clear idea of how fast the seller will deliver your order.
To see how quickly the seller may deliver your order, refer to the seller's delivery guarantee period, which is their promise to complete delivery within a certain timeframe after your payment is securely sent to PlayerAuctions and is successfully verified. Each seller sets their delivery guarantee period independent of PlayerAuctions. In the event that the seller is not able to complete the delivery within their guaranteed time, you may cancel the order without penalty for a hassle-free refund from PlayerAuctions.
PlayerAuctions guarantees that the seller will deliver your order, or your money back. The overwhelming majority of transactions through our site occur successfully. As for the very exceptional cases, you can rest assured that they have been carefully considered by our systems and processes, and we are well prepared to handle them in the rare event that they do occur. Read more.
PlayerGuardian Buyer Protections
PlayerAuctions is the most secure place to buy and sell MMO game assets. Our proprietary security technology, PlayerGuardian, keeps you, your payments, and your trades protected and private. The protections below are provided to all PlayerAuctions buyers.
Guaranteed Payment Security
Convenient & Worry-Free Trading
A Secure, Trusted Trading Community
Guaranteed Full and As-Described Delivery, or Your Money Back
Guaranteed Seller On-Time Delivery, or Your Money Back
Information Privacy
PlayerAuctions After Sale 100% Support Guarantee
Transparent Seller Service Ratings
Bank-Level Data Security
Read more
PlayerAuctions is an independent player-to-player marketplace for buying and selling virtual video game property. PlayerAuctions is NOT endorsed by, directly affiliated with, maintained, authorized, or sponsored by Phantasy Star Online 2: New Genesis or its trademark owner.
Select server and Faction