[1-75][PC] @ FORBIDDEN SANCTUM Softcore @ +10Acts+12Trials+3Labyrinths+All.Skillpoints FAST.SAFE.PROFESSIONAL.TRUSTED I'm.Available.For_Custom.Offers
I Want to Sell
Path of Exile
Apr-18-2023 04:19:33 AM

14 time(s)

Lvl 1

30-Day Seller Performance

Seller Lvl 1
Member since 2014

Total orders

Path of Exile
power leveling reviews

Total rating

Path of Exile
power leveling rating

Total orders: 1,586

Member since: 2014

5.0

Path of Exile power-leveling : Seller Rating

(146)
PlayerGuardian
Seller Paid Security Deposit
1. Buyer creates order and send payment to PlayerAuctions
2. PlayerGuardian secures payment
3. Seller completes delivery within delivery guarantee
4. Buyer confirm delivery
5. Seller receives disbursement
[ 1-75 ] [ PC ] +Complete 10 Acts +12 Trials +3 Labyrinths + All Skillpoints
FORBIDDEN SANCTUM softcore LEAGUE
IMPORTANT:
Send Me a Private Message Prior to Ordering To Check My Availability by using the "

Contact me

" button.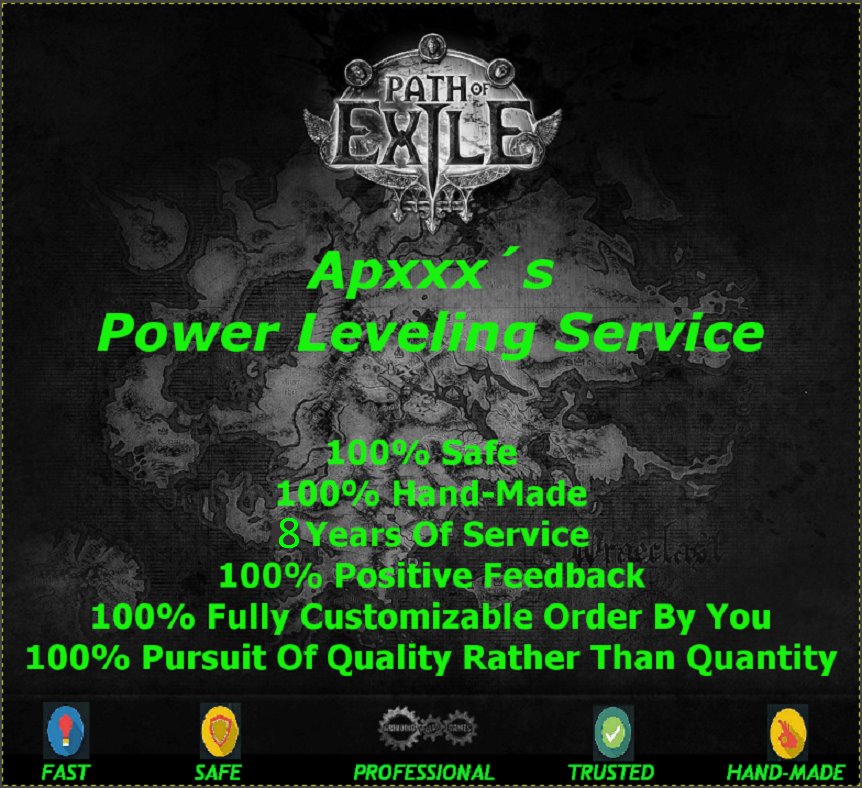 Hello, Exiles!




I am a private and individual power leveler that is not associated with any companies or websites and works completely alone!
I have been playing Path of Exile since the open beta and won't stop any time soon! I have done 32/32 challenges in the first month of Talisman, 38/40 Perandus, 36/40 Prophecy, 40/40 Essence, 40/40 Breach, 36/40 Legacy, 40/40 Abyss, 40/40 Bestiary, 36/40 Incursion, 40/40 Delve, 38/40 Betrayal, 37/40 Synthesis, 40/40 Legion, 37/40 Blight, 40/40 Metamorph, 38/40 Delirium, 39/40 Harvest, 40/40 Heist, 38/40 Ritual, 40/40 Ultimatum, 39/40 Expedition, 40/40 Scourge, 40/40 Archnemesis, 40/40 Sentinel, 40/40 Lake of Kalandra Challenge Leagues.
I've sold and given away numerous T15/T16/Guardians, Shaper, Elder, Uber Elder, Sirus, and Uber Atziri services (twinned and boss kills), full clear on any map, HotGM,80 Rigwald/Pale Council, etc. Done Uber Lab runs in around 5mins each on good layouts.
I have finished multiple races in the top 10, have some demigods, a bunch of Alt Art Uniques, and armor sets.
I got over 11000 hours spent in this game!





So here I am now, offering you my handmade Powerleveling service in ANY League.



I will NEVER use a bot or any automated software that can compromise your account.
Therefore I will not compensate you if you get your account banned after the service is done. If that happens while I'm leveling, you will get another account having the same service for free.
You will keep all valuable items found (currency, gear, div cards, gems, jewels, etc) throughout the Powerleveling.
I am offering you a chance to jump straight into the end game in close to no time. Skip all that tedious leveling, doing the same quests over and over and over again.
Enjoy the game in less than no time.

Whatever you need to know about Poe, just feel free to ask about it. I can help you with advice about building refining, passive trees (efficient pathing), gear options, flask management, mapping strategies, etc.


Estimated time of completion
Depends on your level and build.
The order process requires



1. Purchase the order and leave your account info on the seller's note.
2. Double-check that the payment is verified/completed by PlayerAuctions
3. Always double-check the login info that you provide me!
4. Wait for my response, I will contact you as soon as I am online.
5. I will let you know what time I can start your order.





Your account information requires



1. Account (E-Mail Address linked to the PoE)
2. Password
3. Character Name





Here are the details for this package



1. All leveling Service is done 100% by hand.
2. All valuable items will be saved in your storage.
3. All gems and materials will be saved in your storage.
4. All passive skill point quests will be done along the way.
5.
The 12 Trials + 3 Labyrinths
will be done.
6. For 1-75lv+ Leveling Service, I will kill Kitava act 10 final boss (Finished storyline).
7. For 1-75lv+ Leveling Service, The Atlas of Worlds will be Unlocked ( Maps Ready )
8. I use my own equipment for work, which will be removed from your character on completion of leveling.
9. All gems for your main active gem setup will be leveled for free.
10. You will get a Hideout with at least 2 masters For Free!
11. Your Account Information Will Not Be Shared With Third Persons!
12. 8 years of Service without any complaint, You Are Safe!
13. I will do it in one go.






Frequently Asked Questions



Q: Do I keep the currency and items gained while you play my character?
A: Of course you do.
You retain all currency and loots during the power leveling.
In addition, you will typically gain good equipment and substantial game currency.
I will sell useless items to vendors, but I will put the good ones (like rare or unique items) in the bank.


Q: How do you level my character?
A: I am a private gaming power leveler that is not affiliated with any company!
I have a lot of experience in the path of exile over 10000 played hours.
I will level your character only with my hands.
The entire service is legit, with No HUD nor disconnects *s, No Friend Boosting, just skills and music.


Q: Can I play with my character while leveling?
A: Logging into the account during the service is not permitted unless agreed upon to ensure the service is completed within the time frame and as fast as possible.
I will do 1-60 in one go!


Q: Can I get an update about my order every day?
A: You may contact me by PA message to get an update anytime if you want.






You may pm me to check my availability if needed.
I will reply as soon as I am available.
| Feedback | Comment | From Buyer | Time |
| --- | --- | --- | --- |
PlayerAuctions makes it safe to buy from our members by securing your payment and guaranteeing delivery.
Buyer creates order and send payment to PlayerAuctions
PlayerGuardian secures payment
Seller completes delivery within delivery guarantee
Buyer confirm delivery
Seller receives disbursement
Option 1: In-game, Face to Face Delivery
Sellers will select this method of delivery if they intend to meet your character in-game with one of their own characters. Usually a seller will coordinate a time and location in-game to meet your character.
Tips:
Be sure to confirm the time to account for time zone differences
Confirm which Shard or Server the delivery is to take place in case your game world has more than one.
Never, under any circumstances, return gold, item, etc. to the delivery character if ever asked. In the event the seller asks you to, please take A screenshot and report this to PlayerAuctions Customer Support.
Option 2: In-game Mailbox delivery.
Some sellers will select the option to deliver gold or items directly to an in-game mailbox. This option is less popular for larger Games like WoW, but is still viable amongst other games. This option can be convenient for smaller orders because you do not need to coordinate time of delivery.
Low Prices: Prices set by other players or PowerSellers on PlayerAuctions are significantly lower than the high markups you would find on expensive retail sites.
Guaranteed Security: PlayerAuctions is quite simply the most secure place to buy and sell MMO game assets. Through PlayerGuardian, you are 100% guaranteed full and as-described delivery, or your money back.
Reliable Delivery Speed: PlayerAuctions calculates each seller's average delivery speed from the seller's latest successfully completed deliveries, which gives you a clear idea of how fast the seller will deliver your order.
To see how quickly the seller may deliver your order, refer to the seller's delivery guarantee period, which is their promise to complete delivery within a certain timeframe after your payment is securely sent to PlayerAuctions and is successfully verified. Each seller sets their delivery guarantee period independent of PlayerAuctions. In the event that the seller is not able to complete the delivery within their guaranteed time, you may cancel the order without penalty for a hassle-free refund from PlayerAuctions.
PlayerAuctions guarantees that the seller will deliver your order, or your money back. The overwhelming majority of transactions through our site occur successfully. As for the very exceptional cases, you can rest assured that they have been carefully considered by our systems and processes, and we are well prepared to handle them in the rare event that they do occur. Read more.
PlayerGuardian Buyer Protections
PlayerAuctions is the most secure place to buy and sell MMO game assets. Our proprietary security technology, PlayerGuardian, keeps you, your payments, and your trades protected and private. The protections below are provided to all PlayerAuctions buyers.
Guaranteed Payment Security
Convenient & Worry-Free Trading
A Secure, Trusted Trading Community
Guaranteed Full and As-Described Delivery, or Your Money Back
Guaranteed Seller On-Time Delivery, or Your Money Back
Information Privacy
PlayerAuctions After Sale 100% Support Guarantee
Transparent Seller Service Ratings
Bank-Level Data Security
Read more