Albion Online Accounts for Sale - Albion Account Marketplace
Albion Online gives you more freedom than most MMOs, as it's a sandbox game rather than theme park-esque ones like World of Warcraft and Final Fantasy XIV. If you don't have the time and energy to start from the ground up, you can buy an Albion Online account from sellers instead.
SELL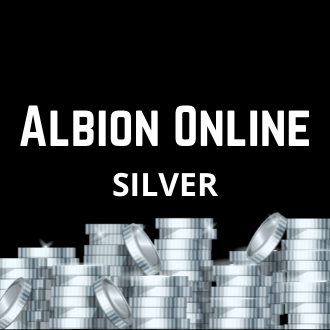 Albion Online Gameplay
The best way to describe Albion is to mention the things that make it unique. First, it's the first completely truly cross-platform game in the genre. That means Windows, Android, iOS, and even Linux. The second is that it's a sandbox MMORPG. Rather than give players a fixed class that is inherent to the character, the character's abilities are tied to their equipment, as well as the Destiny Board.
The Destiny Board is one of the more complex elements of the game, as it replaces the traditional leveling system. Rather than gain EXP which will then translate into a numerical level, players will be unlocking the nodes of the Destiny Board, which is done by completing certain tasks. Unlocking a node grants specific bonuses.
There are multiple paths on the Destiny Node, each of which corresponds to a particular body of endeavor in the game. The primary one is the Adventurer Path, whose higher tiers are automatically unlocked simply by playing. The other paths, however, such as Combat and Crafting, will require players to do specific tasks to unlock nodes and get the bonuses that correspond with them.
Other than freedom in character progression, Albion Online also offers much freedom in exploration. Adventurers can go anywhere, anytime, provided that they have the means to do so and face the dangers on the way and in these places.
Finally, with the game being an MMORPG, it has much focus on player-driven content and aspects. The biggest of this is the game's economy. Through crafting and trade, players drive this important aspect of the game. Not everyone will get to shape the economy, but all players are affected by it, especially those reliant on trade.
Another is the PVP, which is a huge part of the game. Some would even say that it's the point of it. Aside from the regular PVP where players simply compete on who's the best, players can also engage in conquering territories. These important areas, which grant important materials, are conquered by guilds.
Guilds, on the other hand, are more than just groups that conquer territories. While most guilds are geared for that content, some help each other out in other things such as crafting and trade. Some are even chill guilds that are only about adventuring and hanging out.
Albion Online Accounts for Sale
The biggest reason for players to buy an Albion Account is to cut the much grind needed in the game, which takes much time, effort, and attention. With so many hours needed to be competitive whether, in combat and crafting, it's understandable for them to wish to skip all the grind and just get in on what they want to do. This is true not just for those that just want to get in on the crafting and trading, but more so for those that no longer want the tediousness of leveling skills and go straight to PvP. On the other hand, some players want to buy Albion accounts that are in the special editions of the game, as they typically come with many perks that cannot be found in-game.
Types of Albion Accounts Players Can Buy
There are all sorts of accounts players can buy, and their choice on which can depend on wants and needs. First is the Albion veteran account, which has high levels of crafting and gathering. Aside from players buying one for personal use, some would buy one for their guild to improve their collective strength.
There is also the Albion Legendary Founder account, which is a limited-edition account. There is no other way to get it and its add-on bonuses without purchasing one. Last but not least is a smurf account, which you can use if you want a fresh start.
What is the Usual Price of an Albion Online Account
Many elements affect the price of an Albion Account. The first is the character's or characters' progression in the Destiny Board. , amount of in-game gold, and quantity and kind of rare items especially best-in-slot gear. The worth of these items in real-life currency directly adds up to the account's price, so the higher the gold or the better the items are in the account As for the Albion Legendary Founder account, its add-on bonuses further add to the price.
Buyers need to know that while sellers are advised to put reasonable prices on their offers, they have the freedom to put any price on them as well. It's then up to the buyer to weigh whether the offer is worth the money.
Based on the total ratings of 1815 orders in the past year
PlayerAuctions makes it safe to buy video game currencies from our members by securing your payment and guaranteeing delivery.
Buyer creates order and send payment to PlayerAuctions
PlayerGuardian secures payment
Seller completes delivery within delivery guarantee
Buyer confirm delivery
Seller receives disbursement
Option 1: In-game, Face to Face Delivery
Sellers will select this method of delivery if they intend to meet your character in-game with one of their own characters. Usually a seller will coordinate a time and location in-game to meet your character.
Tips:
Be sure to confirm the time to account for time zone differences
Confirm which Shard or Server the delivery is to take place in case your game world has more than one.
Never, under any circumstances, return gold, item, etc. to the delivery character if ever asked. In the event the seller asks you to, please take A screenshot and report this to PlayerAuctions Customer Support.
Option 2: In-game Mailbox delivery.
Some sellers will select the option to deliver gold or items directly to an in-game mailbox. This option is less popular for larger Games like WoW, but is still viable amongst other games. This option can be convenient for smaller orders because you do not need to coordinate time of delivery.
Low Prices: Prices set by other players or PowerSellers on PlayerAuctions are significantly lower than the high markups you would find on expensive retail sites.
Guaranteed Security: PlayerAuctions is quite simply the most secure place to buy and sell MMO game assets. Through PlayerGuardian, you are 100% guaranteed full and as-described delivery, or your money back.
Reliable Delivery Speed: PlayerAuctions calculates each seller's average delivery speed from the seller's latest successfully completed deliveries, which gives you a clear idea of how fast the seller will deliver your order.
To see how quickly the seller may deliver your order, refer to the seller's delivery guarantee period, which is their promise to complete delivery within a certain timeframe after your payment is securely sent to PlayerAuctions and is successfully verified. Each seller sets their delivery guarantee period independent of PlayerAuctions. In the event that the seller is not able to complete the delivery within their guaranteed time, you may cancel the order without penalty for a hassle-free refund from PlayerAuctions.
PlayerAuctions guarantees that the seller will deliver your order, or your money back. The overwhelming majority of transactions through our site occur successfully. As for the very exceptional cases, you can rest assured that they have been carefully considered by our systems and processes, and we are well prepared to handle them in the rare event that they do occur. Read more.
About Albion Online Silver
What Gold is Used For? – As Well As Silver
In Albion, gold is the premium currency that allows you to buy Premium, which helps you level up faster and grants you access to other QOL features. It's also used to buy other cosmetic items. Silver, on the other hand, is used to buy consumables and gear.
Making Silver and Gold
Making Silver in Albion Online is something that doesn't necessarily have a single method that you can rely on. There are various ways to earn, such as:
Albion Online Silver Farming (2019) – This is the most popular method of earning Silver. There are many ways it's done and can be quite reliable, but it takes much time.
Market Trading – Engaging in the buying and selling of items is a more efficient way to earn Silver. However, it can be quite tricky to do so.
Buying Silver – By buying from your fellow players, you get to save much time as well as money because they sell it at a cheaper price. As a bonus, you get to help out your fellow players!
Almost the same thing applies in gold, except for the fact that it cannot be farmed and instead has to be bought either from official channels or indirectly through other players.
PlayerGuardian Buyer Protections
PlayerAuctions is the most secure place to buy and sell MMO game assets. Our proprietary security technology, PlayerGuardian, keeps you, your payments, and your trades protected and private. The protections below are provided to all PlayerAuctions buyers.
Guaranteed Payment Security
Convenient & Worry-Free Trading
A Secure, Trusted Trading Community
Guaranteed Full and As-Described Delivery, or Your Money Back
Guaranteed Seller On-Time Delivery, or Your Money Back
Information Privacy
PlayerAuctions After Sale 100% Support Guarantee
Transparent Seller Service Ratings
Bank-Level Data Security
Read more