Buy Phantasy Star Online 2 Meseta – PSO2 Market
Tired of not getting the items & weapons that you want? Why not buy Phantasy Online 2 Meseta from one of our trusted sellers here at PlayerAuctions? This way, you can get as much currency as you need to buy all the items and weapons you need. Say goodbye to grinding and say hello to your shiny new weapons!
SELL
Brian_Fantana
184612674
Best price among sellers with a fair amount of ratings and feedback score.
MRXTHEGAMER
184713021
Best price among sellers with a fair amount of ratings and feedback score.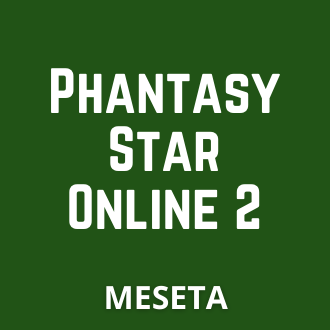 How Do I Buy PSO2 Meseta?
To purchase the type of Phantasy Star Online 2 Meseta that you want, simply follow these steps:
Register/login as a buyer.
Select the offer that you would like to purchase and send the payment to our system first. In the meantime, we will contact the seller for you.
Coordinate with the seller where and when you will be meeting with them in the game.
Meet with the seller in-game and receive the desired amount and type of currency that you purchased.
Once you're satisfied with the transaction, confirm to our system so we can proceed to pay the seller.
Currencies in Phantasy Star Online 2
Trying to stock up on currency in Phantasy Star Online 2 can be a challenge, especially if you have two characters or more in active use. It's understandable that you'd resort to buying PSO2 currency with real money if you don't want to take too long to get a certain amount of it. There are three types of currency in Phantasy Star Online 2 that you should familiarize yourself with: Meseta, Arcs Cash, and FUN. Knowing more about these three currencies will not only help you know which items or weapons to buy with each currency, but to also prevent you from not making any hasty decisions when buying them.
What is Meseta?
Meseta is the most important currency in not only in PSO2, but for the previous title as well. This universal currency is what's commonly used in most of the Phantasy Star games. Be it for weapons or mags, Meseta is what you'll need in terms of currency. You can store Meseta in the bank and hold up to 9,999,999 Meseta in your pocket. This type of currency can be obtained by slaying monsters, completing quests, and opening containers that are scattered around the world. All in all, Meseta is the currency that makes the world of Phantasy Star Online 2 go round and its importance is undeniable.
What is Arcs Cash?
Arcs Cash is Phantasy Star Online 2's premium currency. In other words, it's the currency you need to spend real money to acquire. Getting Arcs Cash has some perks to it, but ultimately, it doesn't give any advantages to the player. Arcs Cash is commonly used to get access to additional customization features for your character. If you're not satisfied with how your character is looking, then getting Arcs Cash should remedy that pretty quickly. It can also be used to create and maintain more than one character slot. This is important because, in Phantasy Star Online 2, you can have a maximum of three characters that you can swap with ease it. Besides that, Sega has been doing a great job of trying to implement Arcs Cash without hindering players that don't use them.
What is FUN?
FUN is like a point system type of currency that you get just by simply playing the game. By logging in, you automatically get FUN points! You can also collect them if you have a friend that uses your character as an AI support in one of their quests. Another clever move that Sega did to motivate players to collect FUN points is that you can also acquire them by spending Arcs Cash, the premium currency that we just talked about. Complimenting or encouraging other players by liking their social networks in the game can also net you some FUN points. FUN points can be used to purchase unique items such as music that you can play in your My Room (it's basically your in-game house). Hair accessories such as different hairstyles, pins, and all sorts of knick-knacks can also be purchased with FUN points if you want to make your character more personalized.
Based on the total ratings of 84 orders in the past year
Fast delivery, professional salesmen.
90 M PSO2 Meseta
09/18/2022
Amazing seller! Super quick and super kind as well. Thanks again :)
40 M PSO2 Meseta
09/18/2022
Fast delivery! Quick response!.... I cant complain....
80 M PSO2 Meseta
09/11/2022
Helpful communication and fast response.
100 M PSO2 Meseta
09/11/2022
PlayerAuctions makes it safe to buy video game currencies from our members by securing your payment and guaranteeing delivery.
Buyer creates order and send payment to PlayerAuctions
PlayerGuardian secures payment
Seller completes delivery within delivery guarantee
Buyer confirm delivery
Seller receives disbursement
Option 1: In-game, Face to Face Delivery
Sellers will select this method of delivery if they intend to meet your character in-game with one of their own characters. Usually a seller will coordinate a time and location in-game to meet your character.
Tips:
Be sure to confirm the time to account for time zone differences
Confirm which Shard or Server the delivery is to take place in case your game world has more than one.
Never, under any circumstances, return gold, item, etc. to the delivery character if ever asked. In the event the seller asks you to, please take A screenshot and report this to PlayerAuctions Customer Support.
Option 2: In-game Mailbox delivery.
Some sellers will select the option to deliver gold or items directly to an in-game mailbox. This option is less popular for larger Games like WoW, but is still viable amongst other games. This option can be convenient for smaller orders because you do not need to coordinate time of delivery.
Low Prices: Prices set by other players or PowerSellers on PlayerAuctions are significantly lower than the high markups you would find on expensive retail sites.
Guaranteed Security: PlayerAuctions is quite simply the most secure place to buy and sell MMO game assets. Through PlayerGuardian, you are 100% guaranteed full and as-described delivery, or your money back.
Reliable Delivery Speed: PlayerAuctions calculates each seller's average delivery speed from the seller's latest successfully completed deliveries, which gives you a clear idea of how fast the seller will deliver your order.
To see how quickly the seller may deliver your order, refer to the seller's delivery guarantee period, which is their promise to complete delivery within a certain timeframe after your payment is securely sent to PlayerAuctions and is successfully verified. Each seller sets their delivery guarantee period independent of PlayerAuctions. In the event that the seller is not able to complete the delivery within their guaranteed time, you may cancel the order without penalty for a hassle-free refund from PlayerAuctions.
PlayerAuctions guarantees that the seller will deliver your order, or your money back. The overwhelming majority of transactions through our site occur successfully. As for the very exceptional cases, you can rest assured that they have been carefully considered by our systems and processes, and we are well prepared to handle them in the rare event that they do occur. Read more.
PlayerGuardian Buyer Protections
PlayerAuctions is the most secure place to buy and sell MMO game assets. Our proprietary security technology, PlayerGuardian, keeps you, your payments, and your trades protected and private. The protections below are provided to all PlayerAuctions buyers.
Guaranteed Payment Security
Convenient & Worry-Free Trading
A Secure, Trusted Trading Community
Guaranteed Full and As-Described Delivery, or Your Money Back
Guaranteed Seller On-Time Delivery, or Your Money Back
Information Privacy
PlayerAuctions After Sale 100% Support Guarantee
Transparent Seller Service Ratings
Bank-Level Data Security
Read more
Select server and Faction