Buy & Sell PoE Silver Coins - Path of Exile Market
The path of an exile is a daunting one. Earn your redemption through the harsh and unforgiving landscapes of Wraeclast! Aside from exalted orbs, orb of fusing, chaos orb, mirror of Kalandra and all the unique items, you can obtain PoE Silver Coins without worry or hassle on the Path of Exile Market. With PlayerAuctions, your transactions are sure to be safe and secure. P2P trading has never been this easy!
SELL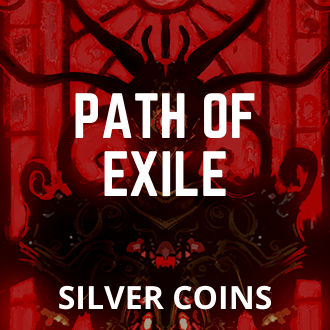 Buy Path of Exile Silver Coins
Yes, it has happened. PoE silver coins have been introduced to POE. There has been ongoing debate as to what their value will be, and if there might be a sudden currency crash if these coins suddenly get sold off. People think that people might hunt for them so that they can quickly buy a legendary: If everyone suddenly buys what they want, then there could be a crash in silver coin value... but it is unlikely. Everyone isn't suddenly going to find legendaries at the same time, and some people will want to hang onto some coins for safe keeping.
Path of Exile Trading Market!
Have you done some silver coin farming and you are now looking to sell your coins? Then this is the place to do it. You can register as a seller and set the price at what you think is appropriate. This could be highly interesting as the game starts out, as you could make a lot of money if you are smart. if, however, you are finding it hard to find those special chests that are now spawning in ascendance, then fear not, you can utilize PlayerAuctions.
What can we use POE Silver Coins for?
You can use them to buy unique items, and as they are a new currency they will likely be a big interest in them over the next few weeks. Whenever something new like this drops, it will always shake things up, especially as it isn't just going to be a cake walk getting these coins. They are the Perandus family treasure, and you will have to fight off their guardians to get to them.
If you want to buy silver coins but are having trouble, then feel free to contact our friendly staff at any time through Twitter or Facebook. We have been operating in the digital asset trading business for over fifteen years and we pride ourselves in our customer service.
PlayerAuctions will keep your transaction safe and hold all money in escrow until transactions are confirmed by both parties. if you are looking for a great place to buy cheap PoE silver coins, this is the place. Happy trading!
PlayerAuctions makes it safe to buy video game currencies from our members by securing your payment and guaranteeing delivery.
Buyer creates order and send payment to PlayerAuctions
PlayerGuardian secures payment
Seller completes delivery within delivery guarantee
Buyer confirm delivery
Seller receives disbursement
Option 1: In-game, Face to Face Delivery
Sellers will select this method of delivery if they intend to meet your character in-game with one of their own characters. Usually a seller will coordinate a time and location in-game to meet your character.
Tips:
Be sure to confirm the time to account for time zone differences
Confirm which Shard or Server the delivery is to take place in case your game world has more than one.
Never, under any circumstances, return gold, item, etc. to the delivery character if ever asked. In the event the seller asks you to, please take A screenshot and report this to PlayerAuctions Customer Support.
Option 2: In-game Mailbox delivery.
Some sellers will select the option to deliver gold or items directly to an in-game mailbox. This option is less popular for larger Games like WoW, but is still viable amongst other games. This option can be convenient for smaller orders because you do not need to coordinate time of delivery.
Low Prices: Prices set by other players or PowerSellers on PlayerAuctions are significantly lower than the high markups you would find on expensive retail sites.
Guaranteed Security: PlayerAuctions is quite simply the most secure place to buy and sell MMO game assets. Through PlayerGuardian, you are 100% guaranteed full and as-described delivery, or your money back.
Reliable Delivery Speed: PlayerAuctions calculates each seller's average delivery speed from the seller's latest successfully completed deliveries, which gives you a clear idea of how fast the seller will deliver your order.
To see how quickly the seller may deliver your order, refer to the seller's delivery guarantee period, which is their promise to complete delivery within a certain timeframe after your payment is securely sent to PlayerAuctions and is successfully verified. Each seller sets their delivery guarantee period independent of PlayerAuctions. In the event that the seller is not able to complete the delivery within their guaranteed time, you may cancel the order without penalty for a hassle-free refund from PlayerAuctions.
PlayerAuctions guarantees that the seller will deliver your order, or your money back. The overwhelming majority of transactions through our site occur successfully. As for the very exceptional cases, you can rest assured that they have been carefully considered by our systems and processes, and we are well prepared to handle them in the rare event that they do occur. Read more.
About Path of Exile Silver Coins
It's not very often that a game developer hits a home run and gets its very first title ever named PC Game of the Year, but that's just what happened when Grinding Gear Games released the critically acclaimed RPG Path of Exile in 2013. Expanding on the third person action adventure RPG format that games like Diablo made famous, Path of Exile added ultramodern graphics and a more realistic look than the recent Diablo III, instantly earning it a rabid fan base.
One major reason for that success is Path of Exile's free-to-play nature, as Path of Exile costs nothing to pick up. The game makes its money from microtransactions, which means it's up to you how much you'd like to invest in it.
In terms of gameplay, Path of Exile is much more Diablo II than III, with a lot of fast-paced play, and even icons and a user interface that heavily borrows from the series. Questing is similar to Diablo, involving heavy combat in vast dungeons filled to the brim with baddies, but PoE makes it easy to join up in parties by hosting the game on servers that players can connect to and party up to take on dungeons together with ease.
Seven classes are available in this RPG, which are a bit different from the regular class names, with the Duelist, Marauder, Shadow, Ranger, Witch and Templar available for play at the beginning, and the Scion unlocked later. In more traditional RPG manner, however, each of these is focused on one of the three main attributes of Dexterity, Intelligence or Strength. These focuses make it easier for the player to invest in the skills that fall under them, but PoE gives players a lot of freedom to customize their characters by allowing the player to invest in any skill, even if it doesn't fit their core attribute.
Buy POE Perandus Coins: A Highly Unique System
Something that really makes Path of Exile stand out from almost all other games, especially role-playing games, is its unique currency system. POE currency is not based on a system of money or anything that you'd typically recognize as money; instead, it uses crafting items with various values to represent its money, and these are either used to upgrade items in the game, or to sell for other such currency items, or to trade to other players for items or currency items.
It's a bit confusing, but essentially it makes random drops VERY important in Path of Exile, as monsters don't just drop piles of cash, but instead drop POE items of different values, as well as regular items that you can trade in for currency items.
One thing that makes this even more interesting is that currency in POE isn't all about stocking up on piles of it to then buy something; lots of times, you actually want to keep currency items in order to use them to upgrade your items. Using different Path of Exile items, you can add certain attributes to your usable items like weapons and armor to make them better.
That being said, you can also use those currency items to trade for even better weapons and armor, which makes the POE system quite a complicated system to learn!
Skip the Difficult Stuff and Use PlayerAuctions.com
With Path of Exile having such an abnormal and complex currency system, it can be very difficult to actually get what you want in the game when it comes to the currency items you need. Whether it's to use them to upgrade your items, or to buy new ones, it's going to take you a lot of grinding and hoping before you get your loadout just the way you want it.
With that in mind, we'd like to present you with PlayerAuctions, a site where you can contact Path of Exile pros and buy POE silver coins with real money! This takes the long, hard slog out of playing, allowing you to get just what you want right away. Think about it: if you could just buy POE silver coins, you could easily upgrade your entire arsenal to be just as awesome as you like, taking none of the fun away from the game while cutting out a lot of the annoying stuff.
Best of all, it's safe to buy POE silver coins at PlayerAuctions.com, as we have a special set of systems in place specifically to protect both you and the POE pros in your transactions. For one, we keep your money in escrow until the transaction is complete, and for another, we use a special Power Seller system to make sure you can see which POE sellers have the best reputations around. You can also feel secure at checkout with our awesome PlayerGuardian system in place to protect your information, and our live customer support is always on hand to help you out.
If you're a POE pro yourself, we'd like to invite you to come and sell your currency on our site yourself! Take a look at our awesome site, and see just how much those unused items can be worth to other players in real world money.
PlayerAuctions is the premiere website for connecting pros to players all over the world, and we know you'll find what you're looking for here, so take a good look today and see what's out there. If gaming's your thing, we think you'll like what you see.
PlayerGuardian Buyer Protections
PlayerAuctions is the most secure place to buy and sell MMO game assets. Our proprietary security technology, PlayerGuardian, keeps you, your payments, and your trades protected and private. The protections below are provided to all PlayerAuctions buyers.
Guaranteed Payment Security
Convenient & Worry-Free Trading
A Secure, Trusted Trading Community
Guaranteed Full and As-Described Delivery, or Your Money Back
Guaranteed Seller On-Time Delivery, or Your Money Back
Information Privacy
PlayerAuctions After Sale 100% Support Guarantee
Transparent Seller Service Ratings
Bank-Level Data Security
Read more