Buy No Man's Sky Units - NMS Currency Market
Units are the lifeblood of every player in No Man's Sky. This is because they are used to purchase a variety of items in this exploration game, including starships, freighters, and much more. With the number of planets being almost limitless in No Man's Sky, players are going to need as much of it as they can get.
SELL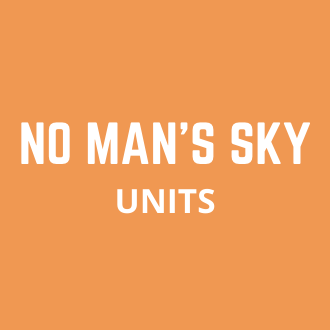 No Man's Sky Units, aka NMS Currency
No Man's Sky is one of the most hyped sandbox games of 2016 for PC. Developed by indie company, Hello Games, No Man's Sky boasts an infinite number of hours just exploring the near-endless planets found in the massive universe of the game. With literally trillions of planets to explore, secure, mine, and map, there is virtually no end to the game of No Man's Sky.
To be specific, there are 18 quintillion planets in No Man's Sky that are just waiting to be explored. The very concept of the game is for players to be able to map out as much as they can, fight off hostile primitive life on planets, survive the various climates and harsh temperatures of said planets, and trade with various NPCs they may come across in order to make tons of No Man's Sky units.
To be able to explore the universe further, players have to ensure that they're able to farm for No Man's Sky currency in order to be able to upgrade their primary protection, the exosuit, and be able to afford bigger, better, and faster ships. One way players can do this is by submitting information about the planets they explore to The Atlas. Each upload of information will grant them No Man's Sky units, blueprints, materials, and a whole slew of other stuff to continue on their epic exploration.
But players can't just go all willy-nilly through the planets; there are some rules that must be followed and breaking them has consequences. One notable example is that killing too many lifeforms or taking too many resources from a planet will draw the attention of robots that roam around the universe, seemingly put in place to keep the planets in balance.
Buy No Man's Sky Units for Cheap!
But, again, everything is going to be way harder if players don't have access to tons of No Man's Sky units. They certainly won't be able to level their exosuits and buy ships as fast, making it much more difficult to find the center of the universe. What's the fastest way to do this? Buy No Man's Sky units, or have them farmed for you! Fortunately, there's an amazing place just for that!
Based on the total ratings of 86 orders in the past year
Delivery speed was as expected, Communicated well. All was there in the end.
1100 M No-Mans-Sky Units
11/21/2023
Great communication. If you have a busy schedule this is the place to be! :)
300 M No-Mans-Sky Units
09/11/2023
Amazing service. Fast. Respectful
800 M No-Mans-Sky Units
09/11/2023
Best seller on the market. High praises always!
1200 M No-Mans-Sky Units
08/31/2023
PlayerAuctions makes it safe to buy video game currencies from our members by securing your payment and guaranteeing delivery.
Buyer creates order and send payment to PlayerAuctions
PlayerGuardian secures payment
Seller completes delivery within delivery guarantee
Buyer confirm delivery
Seller receives disbursement
Option 1: In-game, Face to Face Delivery
Sellers will select this method of delivery if they intend to meet your character in-game with one of their own characters. Usually a seller will coordinate a time and location in-game to meet your character.
Tips:
Be sure to confirm the time to account for time zone differences
Confirm which Shard or Server the delivery is to take place in case your game world has more than one.
Never, under any circumstances, return gold, item, etc. to the delivery character if ever asked. In the event the seller asks you to, please take A screenshot and report this to PlayerAuctions Customer Support.
Option 2: In-game Mailbox delivery.
Some sellers will select the option to deliver gold or items directly to an in-game mailbox. This option is less popular for larger Games like WoW, but is still viable amongst other games. This option can be convenient for smaller orders because you do not need to coordinate time of delivery.
Low Prices: Prices set by other players or PowerSellers on PlayerAuctions are significantly lower than the high markups you would find on expensive retail sites.
Guaranteed Security: PlayerAuctions is quite simply the most secure place to buy and sell MMO game assets. Through PlayerGuardian, you are 100% guaranteed full and as-described delivery, or your money back.
Reliable Delivery Speed: PlayerAuctions calculates each seller's average delivery speed from the seller's latest successfully completed deliveries, which gives you a clear idea of how fast the seller will deliver your order.
To see how quickly the seller may deliver your order, refer to the seller's delivery guarantee period, which is their promise to complete delivery within a certain timeframe after your payment is securely sent to PlayerAuctions and is successfully verified. Each seller sets their delivery guarantee period independent of PlayerAuctions. In the event that the seller is not able to complete the delivery within their guaranteed time, you may cancel the order without penalty for a hassle-free refund from PlayerAuctions.
PlayerAuctions guarantees that the seller will deliver your order, or your money back. The overwhelming majority of transactions through our site occur successfully. As for the very exceptional cases, you can rest assured that they have been carefully considered by our systems and processes, and we are well prepared to handle them in the rare event that they do occur. Read more.
A Rundown of What Units Are & Why Gamers Buy No Man's Sky Units
Units are a form of currency that is used in No Man's Sky to purchase resources such as starships, elements, multi-tools, technology, and Exosuits. These resources serve as an integral part of the game; players can't survive without them. As such, there's a constant demand for more Units.
There are multiple ways of earning the currency such as by uploading one's discoveries to the Atlas or trading resources, but as expected with games that have a universe's worth of content to explore, players always need more, whether it is for exploration or crafting purposes. As such, some gamers opt to purchase Units from third-party marketplaces that specialize as a platform for trading in-game assets. Money is tight in No Man's Sky. Players always have that new Exosuit expansion to pay for or ship to buy. Of course, one can never forget about the pets that they must feed either. The point is, if a player wants to do well in No Man's Sky, then they're going to need a lot of resources.
Three Forms of Currency in No Man's Sky
While Units can be considered the main currency in No Man's Sky, there are three types of currency available in the game besides Units. There's also Quicksilver and Nanites.
Units are the most common since it's the currency that's used the most. It is often regarded as the most important currency.
The Quicksilver currency, on the other hand, can only be spent on the Quicksilver Synthesis Companion which is in the Space Anomaly.
Then there are the Nanites which are also called the Nanite Cluster. This alternative currency can be used to purchase blueprints from Upgrade Module and Blueprint Traders. They can also be used to upgrade multi-tools and starships to a higher class. As a result, they're highly valuable to specialist traders.
PlayerGuardian Buyer Protections
PlayerAuctions is the most secure place to buy and sell MMO game assets. Our proprietary security technology, PlayerGuardian, keeps you, your payments, and your trades protected and private. The protections below are provided to all PlayerAuctions buyers.
Guaranteed Payment Security
Convenient & Worry-Free Trading
A Secure, Trusted Trading Community
Guaranteed Full and As-Described Delivery, or Your Money Back
Guaranteed Seller On-Time Delivery, or Your Money Back
Information Privacy
PlayerAuctions After Sale 100% Support Guarantee
Transparent Seller Service Ratings
Bank-Level Data Security
Read more
PlayerAuctions is an independent player-to-player marketplace for buying and selling virtual video game property. PlayerAuctions is NOT endorsed by, directly affiliated with, maintained, authorized, or sponsored by No Man's Sky or its trademark owner.
Select server and Faction