Buy Fractured Online Gold – Fractured Gold Shop
Adventurers will need tons of resources to create various equipment and structures in a bustling city sprawl or in a lively village. While players might have trouble getting the materials they need, they can always buy Fracture Online gold from a trusted seller to acquire much-needed items from vendors. Don't let the lack of ingredients slow down progress in becoming a governor!
SELL
AaUnchainedGold
201545687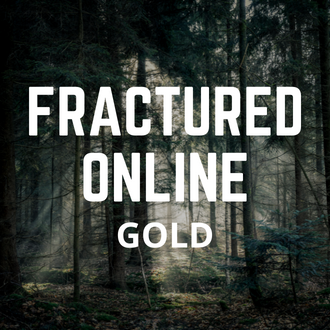 Why Buy Fracture Online Gold?
As a sandbox MMORPG, players get to dictate their destiny in the world of Fracture Online. To become strong and influential, adventurers will need many resources to create various weapons, armor, and structures. Players can also use these materials to further develop settlements alongside their guildmates. Unfortunately, getting these items is not cheap and has many competitions.
Depending on which world players land in, harvesting and trading materials may not be as easy as they think. Dimensions populated by Demons and Wildfolks can have extremely competitive scenes for resource gathering. However, if players have enough gold in their pocket, they can buy them from vendors and not worry about lacking ingredients.
Adventurers can buy Fracture Online gold from an online marketplace to solve all their problems with resources. Aside from materials, players can purchase various equipment with all their riches and become the strongest player in the settlement. Establish your position as the governor and protect that seat with abundant wealth and power.
What To Buy with Fracture Online Gold?
Gold is essential in Fracture Online since most of the items and structures in the game can only be bought or crafted. Money is also crucial in city development, especially if their friends or guild are the owners. There are tons of things players can do in the game but knowing which ones to prioritize is the best way to progress.
For players who are an eager craftsman, they should focus on buying resources for crafting. There are tons of materials that can be used for creating items, so players should prioritize acquiring the rarest ones. Here are the materials that should stockpile:
Ores
Copper Ingot
Bronze Ingot
Blood Iron Ingot
Electrum Ingot
Gold Ingot
Hepatizon Ingot
Mithril Ingot
Moon Steel Ingot
Orichalcum Ingot
Silver Ingot
Iron Ingot
Sun Steel Ingot
Tin Ingot
Platinum Ingot
Shadium Ingot
Sulfurite Ingot
Shadow Steel Ingot
Leather
Light Animal Leather
Direwolf Leather
Warg Leather
Ghoul Leather
Forest Troll Leather
Mountain Troll Leather
Sea Troll Leather
Tough Animal Leather
Grizzly Leather
Mammoth Leather
Polar Bear Leather
Clothing
Linen Weave
Cotton Cloth
Spider Silk Cloth
Primal Weave
Wool Cloth
Mammoth Wool Cloth
Ghastly Spider Silk Fabric
Rabbit Wool Cloth
Winterspine Weave
Minerals
Flawless Diamond
Flawless Emerald
Flawless Ruby
Flawless Sapphire
Flawless Topaz
If you are a person who prefers to buy items, then you should know which weapons or armor will best suits best. The quality of equipment in Fracture Online depends on the material used to craft them. The better the item used, the more stats and abilities. For players are looking to use their gold to buy gear, then they should get ones composed of these materials:
Sun Steel Ingot
Tin Ingot
Platinum Ingot
Shadium Ingot
Sulfurite Ingot
Shadow Steel Ingot
Grizzly Leather
Mammoth Leather
Polar Bear Leather
Ghastly Spider Silk Fabric
Rabbit Wool Cloth
Winterspine Weave
Based on the total ratings of 20 orders in the past year
Quick and Easy
80000 Fractured-Online Gold
11/26/2023
Very fast and nice
100000 Fractured-Online Gold
11/26/2023
Quick and easy, would recommend
80000 Fractured-Online Gold
11/26/2023
super seller
300000 Fractured-Online Gold
11/26/2023
PlayerAuctions makes it safe to buy video game currencies from our members by securing your payment and guaranteeing delivery.
Buyer creates order and send payment to PlayerAuctions
PlayerGuardian secures payment
Seller completes delivery within delivery guarantee
Buyer confirm delivery
Seller receives disbursement
Option 1: In-game, Face to Face Delivery
Sellers will select this method of delivery if they intend to meet your character in-game with one of their own characters. Usually a seller will coordinate a time and location in-game to meet your character.
Tips:
Be sure to confirm the time to account for time zone differences
Confirm which Shard or Server the delivery is to take place in case your game world has more than one.
Never, under any circumstances, return gold, item, etc. to the delivery character if ever asked. In the event the seller asks you to, please take A screenshot and report this to PlayerAuctions Customer Support.
Option 2: In-game Mailbox delivery.
Some sellers will select the option to deliver gold or items directly to an in-game mailbox. This option is less popular for larger Games like WoW, but is still viable amongst other games. This option can be convenient for smaller orders because you do not need to coordinate time of delivery.
Low Prices: Prices set by other players or PowerSellers on PlayerAuctions are significantly lower than the high markups you would find on expensive retail sites.
Guaranteed Security: PlayerAuctions is quite simply the most secure place to buy and sell MMO game assets. Through PlayerGuardian, you are 100% guaranteed full and as-described delivery, or your money back.
Reliable Delivery Speed: PlayerAuctions calculates each seller's average delivery speed from the seller's latest successfully completed deliveries, which gives you a clear idea of how fast the seller will deliver your order.
To see how quickly the seller may deliver your order, refer to the seller's delivery guarantee period, which is their promise to complete delivery within a certain timeframe after your payment is securely sent to PlayerAuctions and is successfully verified. Each seller sets their delivery guarantee period independent of PlayerAuctions. In the event that the seller is not able to complete the delivery within their guaranteed time, you may cancel the order without penalty for a hassle-free refund from PlayerAuctions.
PlayerAuctions guarantees that the seller will deliver your order, or your money back. The overwhelming majority of transactions through our site occur successfully. As for the very exceptional cases, you can rest assured that they have been carefully considered by our systems and processes, and we are well prepared to handle them in the rare event that they do occur. Read more.
PlayerGuardian Buyer Protections
PlayerAuctions is the most secure place to buy and sell MMO game assets. Our proprietary security technology, PlayerGuardian, keeps you, your payments, and your trades protected and private. The protections below are provided to all PlayerAuctions buyers.
Guaranteed Payment Security
Convenient & Worry-Free Trading
A Secure, Trusted Trading Community
Guaranteed Full and As-Described Delivery, or Your Money Back
Guaranteed Seller On-Time Delivery, or Your Money Back
Information Privacy
PlayerAuctions After Sale 100% Support Guarantee
Transparent Seller Service Ratings
Bank-Level Data Security
Read more
PlayerAuctions is an independent player-to-player marketplace for buying and selling virtual video game property. PlayerAuctions is NOT endorsed by, directly affiliated with, maintained, authorized, or sponsored by Fractured Online or its trademark owner.
Select server and Faction