Buy FFXI Gil - Final Fantasy XI Gil Shop
FFXI Gil is generally easy to come by, but when someone is trying to buy an expensive item, it can turn into a grindfest for the currency. Making Gil in Final Fantasy XI can be a tedious task that not all players want to get into, simply because it takes too much time and energy.
SELL
king2009
189646642
Best price among sellers with a fair amount of ratings and feedback score.
DeliveryBoyXI
189484222
Best price among sellers with a fair amount of ratings and feedback score.
xaniko
189643635
Best price among sellers with a fair amount of ratings and feedback score.
gamesgod
189267269
Best price among sellers with a fair amount of ratings and feedback score.
gamesgod
189267270
Best price among sellers with a fair amount of ratings and feedback score.
gamesgod
189267271
Best price among sellers with a fair amount of ratings and feedback score.
gamesgod
189267272
Best price among sellers with a fair amount of ratings and feedback score.
gamesgod
189267273
Best price among sellers with a fair amount of ratings and feedback score.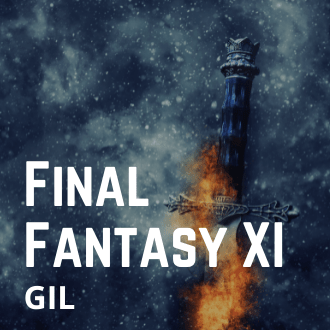 How to Get FFXI Gil to Last?
Getting FFXI Gil at a marketplace is easy, but the same can't be said when it comes to getting it through the process of farming. One of the biggest obstacles of FFXI is making a good amount of Gil in order to purchase the goods that a player needs. Gamers can easily spend thousands of Gil in such a short amount of time. So while buyers can easily buy Gil, burning a hole in their pocket isn't exactly a situation they would want to experience. As such, here are some tips that buyers do on how to save FFXI Gil.
FF11 Gil Farming 2019-present: Know the Best Locations & Craft
Farming up Gil currency is the seller's job, but it won't hurt to do a bit of it to avoid going completely broke within a day. Players can take up jobs such as Crafting and Goldsmithing by making accessories from jewels. These pose a high price at the local market, so it's not a bad hobby to get into. If gamers prefer killing enemies, they can try their hand at dungeons with enemies that are known to drop a lot of loot. Enemies also give players Gil once they die, varying from monster to monster. For example, killing a Gigas in Xarcabard would give players about 200-300 Gil if they have a Gilfinder.
How to Make GGl Last Longer: Be Cheap
First and foremost, avoid buying anything that one can get cheaper from the NPCs in towns. Some of the items include weapons like swords, shields, daggers, staves, and more. It's always important to visit the local shops beforehand before checking out the Auction House. However, the Auction House (AH) can be a player's friend as well, so don't get intimidated by it. Players can spot great deals here at times, especially high-level gear. But if someone is still starting out, it's better that they stay away from it until they have gathered enough Gil of their own.
Check Promos of FF11 Gil for Sale
There are a lot of sellers here who are more than willing to accommodate a buyer's needs. What's more, there are sellers that are in every FFXI server that buyers can pick from. So no matter where they are, gamers are sure to find a seller to give them some much-needed Gil. Sellers here may also lower their prices due to an abundance of Gil in stock or perhaps due to special day sales during the holidays. Just think — one can get more than one million Gil for just a dollar! There are also volume discounts for sellers, so if players buy in bulk, they'll will be able to enjoy special discounts. It's up to the players to scout for sellers who have the cheapest rates.
Finish the Storyline
Doing quests that relate to the story of the game not only rewards players with FFXI Gil, but it also helps them level up their character as well. By finishing the storyline, players will more or less be at level 99 and accumulate hundreds of thousands of Gil. Enjoy the world of Vana'diel, make friends with other players, form a party to take down a strong boss, all the while earning FFXI Gil. So loosen up a bit and have some fun!
Based on the total ratings of 1705 orders in the past year
I was able to communicate with the seller anytime I needed. great service
200 M FFXI Gil
01/26/2023
very fast thank you
100 M FFXI Gil
01/25/2023
quick delivery!
200 M FFXI Gil
01/24/2023
Within ten mins, no issues at all
30 M FFXI Gil
01/24/2023
PlayerAuctions makes it safe to buy video game currencies from our members by securing your payment and guaranteeing delivery.
Buyer creates order and send payment to PlayerAuctions
PlayerGuardian secures payment
Seller completes delivery within delivery guarantee
Buyer confirm delivery
Seller receives disbursement
Option 1: In-game, Face to Face Delivery
Sellers will select this method of delivery if they intend to meet your character in-game with one of their own characters. Usually a seller will coordinate a time and location in-game to meet your character.
Tips:
Be sure to confirm the time to account for time zone differences
Confirm which Shard or Server the delivery is to take place in case your game world has more than one.
Never, under any circumstances, return gold, item, etc. to the delivery character if ever asked. In the event the seller asks you to, please take A screenshot and report this to PlayerAuctions Customer Support.
Option 2: In-game Mailbox delivery.
Some sellers will select the option to deliver gold or items directly to an in-game mailbox. This option is less popular for larger Games like WoW, but is still viable amongst other games. This option can be convenient for smaller orders because you do not need to coordinate time of delivery.
Low Prices: Prices set by other players or PowerSellers on PlayerAuctions are significantly lower than the high markups you would find on expensive retail sites.
Guaranteed Security: PlayerAuctions is quite simply the most secure place to buy and sell MMO game assets. Through PlayerGuardian, you are 100% guaranteed full and as-described delivery, or your money back.
Reliable Delivery Speed: PlayerAuctions calculates each seller's average delivery speed from the seller's latest successfully completed deliveries, which gives you a clear idea of how fast the seller will deliver your order.
To see how quickly the seller may deliver your order, refer to the seller's delivery guarantee period, which is their promise to complete delivery within a certain timeframe after your payment is securely sent to PlayerAuctions and is successfully verified. Each seller sets their delivery guarantee period independent of PlayerAuctions. In the event that the seller is not able to complete the delivery within their guaranteed time, you may cancel the order without penalty for a hassle-free refund from PlayerAuctions.
PlayerAuctions guarantees that the seller will deliver your order, or your money back. The overwhelming majority of transactions through our site occur successfully. As for the very exceptional cases, you can rest assured that they have been carefully considered by our systems and processes, and we are well prepared to handle them in the rare event that they do occur. Read more.
PlayerGuardian Buyer Protections
PlayerAuctions is the most secure place to buy and sell MMO game assets. Our proprietary security technology, PlayerGuardian, keeps you, your payments, and your trades protected and private. The protections below are provided to all PlayerAuctions buyers.
Guaranteed Payment Security
Convenient & Worry-Free Trading
A Secure, Trusted Trading Community
Guaranteed Full and As-Described Delivery, or Your Money Back
Guaranteed Seller On-Time Delivery, or Your Money Back
Information Privacy
PlayerAuctions After Sale 100% Support Guarantee
Transparent Seller Service Ratings
Bank-Level Data Security
Read more
PlayerAuctions is an independent player-to-player marketplace for buying and selling virtual video game property. PlayerAuctions is NOT endorsed by, directly affiliated with, maintained, authorized, or sponsored by Final Fantasy XI or its trademark owner.
Select server and Faction