Buy Elite Dangerous Credits - Elite Money Market
Is it an elite game? You bet! Is it filled with dangerous missions? Definitely! Go on full light speed and unravel the mysteries of deep space on Elite Dangerous. Fill your virtual pockets with Elite money to go on space adventures, trading sprees, and explore each planet's surface in the Odyssey expansion! Get your Elite Dangerous credits (CR) now!
SELL
om4o
202006702
Best deal among sellers with a fair amount of ratings and feedback score.
MLBNA
201963919
Best deal among sellers with a fair amount of ratings and feedback score.
startrader
201707585
Best deal among sellers with a fair amount of ratings and feedback score.
startrader
201707578
Best deal among sellers with a fair amount of ratings and feedback score.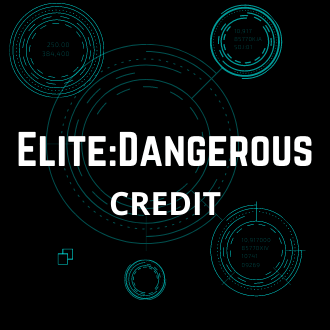 Get Elite Dangerous Credit for Cheap
Space dogfighting? Yes, please! Elite: Dangerous is a trading and flight simulator set in space and developed by Frontier Developments. This game resembles EVE Online, but with more personal involvement in combat. Established in the first-person, take your spaceship and shoot down AI foes and other players and compete for dominance in the universe.
Elite's biggest portrayal is the 1:1 scale open galaxy on the Milky Way. This game is No Man's Sky but delivers well on the gameplay side of things. Again, similar to EVE Online, player actions affect the overall narrative of the game since it goes on through the years. You can be the star of the game as long as you piss off enough people and shake the right hands. Besides, you've got to know a thing or two about dogfighting to survive in the first place. Elite: Dangerous is one of the more phenomenal MMOs without the strict vanilla rules of old school MMOs, such as Runescape or World of Warcraft. To make things even better and add more exploration to the game, the Elite Dangerous Odyssey expansion allows players to land their ships on planets and explore their surfaces!
Elite Dangerous Money Making at Your Fingertips
Become specialized at dogfighting or be a social savant. At the end of the day, it's all about the Elite Dangerous credits. Comparable to EVE Online, the trading and player-driven economy of the gameplay is a significant part of your success as a space wayfarer. Elite Dangerous money making can be a terrible aspect to grasp due to the real-life economics involved that every player needs to understand if they want to make it big.
Unfortunately, it can be hard for a newbie to catch up to the veterans. Some of the seasoned players have fantastic ships and gear. Elite Dangerous fast money isn't something that can easily exist in a newbie's play through, and he or she may end up failing more than anticipated. Fortunately, there's a way to bypass this steep learning curve and the hardcore grind: by finding a safe and reliable place to buy Elite Dangerous credits. Fortunately, there's no need to look further since you've stumbled upon PlayerAuctions!
Buy Elite Dangerous Credits Here!
PlayerAuctions is the biggest and best gaming marketplace in the world. Leading the industry since 1999, we've grown to over a million members trading online game-related stuff every day. To buy or sell something on PlayerAuctions, simply find the best deal for what you desire from one of the thousands of reliable sellers on our site.
Our PlayerGuardian technology keeps the information of our users safe. With the PowerSeller system, players can verify the reputation of our online sellers and write reviews. Our customer support team is available to help if you run into a road block .
Conquer the Milky Way with Elite Dangerous credits today!
Based on the total ratings of 248 orders in the past year
fast and good!
3000 M Elite-Dangerous Credit
11/28/2023
Awesome ship name
2000 M Elite-Dangerous Credit
11/07/2023
Great service fast, easy, and quick :)
3000 M Elite-Dangerous Credit
11/05/2023
Fantastic service, well recomended. Thank you
1500 M Elite-Dangerous Credit
11/04/2023
PlayerAuctions makes it safe to buy video game currencies from our members by securing your payment and guaranteeing delivery.
Buyer creates order and send payment to PlayerAuctions
PlayerGuardian secures payment
Seller completes delivery within delivery guarantee
Buyer confirm delivery
Seller receives disbursement
Option 1: In-game, Face to Face Delivery
Sellers will select this method of delivery if they intend to meet your character in-game with one of their own characters. Usually a seller will coordinate a time and location in-game to meet your character.
Tips:
Be sure to confirm the time to account for time zone differences
Confirm which Shard or Server the delivery is to take place in case your game world has more than one.
Never, under any circumstances, return gold, item, etc. to the delivery character if ever asked. In the event the seller asks you to, please take A screenshot and report this to PlayerAuctions Customer Support.
Option 2: In-game Mailbox delivery.
Some sellers will select the option to deliver gold or items directly to an in-game mailbox. This option is less popular for larger Games like WoW, but is still viable amongst other games. This option can be convenient for smaller orders because you do not need to coordinate time of delivery.
Low Prices: Prices set by other players or PowerSellers on PlayerAuctions are significantly lower than the high markups you would find on expensive retail sites.
Guaranteed Security: PlayerAuctions is quite simply the most secure place to buy and sell MMO game assets. Through PlayerGuardian, you are 100% guaranteed full and as-described delivery, or your money back.
Reliable Delivery Speed: PlayerAuctions calculates each seller's average delivery speed from the seller's latest successfully completed deliveries, which gives you a clear idea of how fast the seller will deliver your order.
To see how quickly the seller may deliver your order, refer to the seller's delivery guarantee period, which is their promise to complete delivery within a certain timeframe after your payment is securely sent to PlayerAuctions and is successfully verified. Each seller sets their delivery guarantee period independent of PlayerAuctions. In the event that the seller is not able to complete the delivery within their guaranteed time, you may cancel the order without penalty for a hassle-free refund from PlayerAuctions.
PlayerAuctions guarantees that the seller will deliver your order, or your money back. The overwhelming majority of transactions through our site occur successfully. As for the very exceptional cases, you can rest assured that they have been carefully considered by our systems and processes, and we are well prepared to handle them in the rare event that they do occur. Read more.
About Elite Dangerous Credit
Space is believed to be the final frontier. Perhaps it is. However, space travel is exclusively for a small niche of elite astronauts. If you want to roam in the cosmos you can experiment with video games. Good thing there are some games that focus on space travel. However, not many outer space-type gamers are "up there." So, if you're having trouble finding a good sci-fi space sim, then we have a recommendation for you: Elite Dangerous. Enjoy the game now by getting some currency.
Credits in the Elite Dangerous Odyssey Expansion
In May 2021, Frontier Developments released their latest expansion for the game - Odyssey. The Odyssey expansion for Elite Dangerous brought along a whole new aspect of gameplay in allowing gamers to touchdown on planets and run around their surfaces.
Where some players might decide to buy Credits for the Odyssey expansion relates to another new feature to the game. These are Concourses. Concourses are new areas that act as public common rooms where players can meet, talk, go on missions, and, perhaps most importantly, buy and sell commodities. These new areas are sure to demand a lot of attention and foot traffic from players, so some are stocking up and buying Elite Dangerous Credits before heading out there to ensure they can buy anything and everything that they need before flying out into the depths of space.
Elite Dangerous Money: A Galaxy of Possibilities
What is unknown to many gamers, especially younger space sim enthusiasts, is that Elite Dangerous is the latest edition of a long-running series. In fact, the first game was the benchmark of space sims during the 80s. Now, thirty years into the future (the present), the franchise finally launches its first MMO, an important detail that many prospective players won't get simply by looking at the game's promotional materials.
Imagine this: zipping across space, engaging in dogfights, and doing missions in the Milky Way with other players. Sounds awesome, right? To top it off, the brains behind this game are the makers of the legendary Elite space sim, and players get Elite Dangerous.
So, what sets the game apart from the majority of space-sim MMO's out there? Well, for Elite Dangerous, you don't just "live with" other space people in a galaxy that resembles the real thing. Players decide the economy and politics of the game, as player's collective actions and decisions affect the balance of power among the three parties: (1) Empire of Achenar, (2) Galactic Federation, and (3) Alliance of Independent Systems.
The three groups are continuously locked in conflict. Other than running their errands that can make them more powerful, players must contribute to their respective group's war effort and join in galaxy-wide challenges. After all, these problems decide the power of each division. Players should do their part if they want to have a vast selection of advantages over players of other factions.
Elite Dangerous Credit Farming: More Ways Than One
However, it's not enough for players to simply be there during group challenges, as their presence alone won't lead to victory. Similarly, this is just as true with personal in-game endeavors (it's not enough that you try to do them). To engage in either or both in the best and easiest way possible, you'll need a powerful ship with expensive items. You are going to need Elite Dangerous money.
There are ways to earn currency. Some include doing various missions, mining asteroids, exploring different locations, trading, and becoming a bounty hunter, which are great methods for Elite Dangerous credit farming. The problem, however, is that earning in-game money takes lots of time. After all, you're not going to have a chunk of Elite Dangerous easy credits overnight by easily doing the activities. Earning currency becomes more problematic when you don't have the time, effort, and resources to play the game.
Thankfully, there's a fast way to make money by getting Elite Dangerous buy credits from third-party sellers. Just do a simple Google search, and you'll find some. Be careful, though because some of them are involved in scamming. Still, this is the most convenient way to do some Elite Dangerous money making. Just pay extra attention to who you're working with, and you'll be okay. If you want to play it safe and have peace of mind, then stay with PlayerAuctions.
Elite Dangerous Money Making: Easy Credits Right Here
PlayerAuctions, a player to player trading site, provide gamers a safe and convenient place to buy and sell things related to online games. We have accounts, items, currency, and so on. If you want to buy Elite Dangerous credits, you've come to the right place.
We always ensure the security of our client's personal details with our PlayerGuardian system. We have a five-tier PowerSeller system, which allows our buyers to check our seller's onsite reputation. The guide is a big help in knowing which sellers are the most reliable. Also, don't hesitate to contact our customer support team via email.
The Milky Way is a crazy place. Time flies, and so will you! However, with some Elite Dangerous money from PlayerAuctions, we can help you stay grounded in space. Let us help you conquer the galaxy!
PlayerGuardian Buyer Protections
PlayerAuctions is the most secure place to buy and sell MMO game assets. Our proprietary security technology, PlayerGuardian, keeps you, your payments, and your trades protected and private. The protections below are provided to all PlayerAuctions buyers.
Guaranteed Payment Security
Convenient & Worry-Free Trading
A Secure, Trusted Trading Community
Guaranteed Full and As-Described Delivery, or Your Money Back
Guaranteed Seller On-Time Delivery, or Your Money Back
Information Privacy
PlayerAuctions After Sale 100% Support Guarantee
Transparent Seller Service Ratings
Bank-Level Data Security
Read more
PlayerAuctions is an independent player-to-player marketplace for buying and selling virtual video game property. PlayerAuctions is NOT endorsed by, directly affiliated with, maintained, authorized, or sponsored by Elite:Dangerous or its trademark owner.
Select server and Faction