Buy Digimon Masters Gold - DMO Currency Market
Although Digimon are definitely the star of the show in Digimon Masters, it's also important for players to have a good amount of Digimon Masters Tera. There are many ways gamers obtain this main currency, one of which is to buy Digimon Masters Tera from those that are selling.
SELL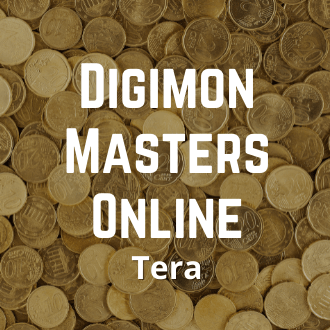 What is Digimon Masters
Digimon Masters is a free-to-play MMORPG developed by Move Games. While Pokemon games have a single-player game world that use online features to allow its players to interact – battles, trades, and other activities, Digimon Masters has an open world where players not only see one another, but also talk, trade, form parties, and even fight one another. This gives the game a sense of liveliness and community that online lobbies couldn't.
Another element of the game that gives it life would be Digimon walking with their tamers. In most Pokemon and even some Digimon games, the latter are hidden. While this has not made the games any less enjoyable or taken away anything from the gameplay, having it has definitely added to the game's charm and atmosphere. Mainline Pokmeon players have been asking for this feature to come back ever since it was featured in Pokemon Gold and Silver.
The last but definitely not the least of the game's selling points would be how it ties with the Digimon shows. Aside from featuring a wide plethora of Digimon and previously unique means of Digivolution such as Armor and Jogress Digivolution.
Why Gamers Buy Digimon Masters Tera
Currency has been a central feature of long-running games for quite some time, and Digimon Masters is no exception. Nothing is free, and so is raising and training Digimon, as tamers need items, which in turn cost in-game currency: Tera. While it's mostly used to buy items from NPCs, it can also be used to buy items from other players. However, because items in player trades are significantly more important and potent meta-wise because of their effects, it only follows that they are significantly more expensive.
Among these items, the most frequently sought after are Digi-Eggs. For those already familiar with the lore, Digi-Egss are used by tamers for Armor Digivolution. However, unlike the show, where Armor Digivolution is more powerful than a Champion but below Ultimate, the power of an Armor-Digivolved is in between that of an Ultimate and a Mega. Power aside, Armor Digivolution is a rather popular choice because they are iconic favorites from the show.
There are many other tradeable items that fetch very high prices. Players that want or need them but neither have the time or the means to obtain it themselves usually just choose to buy them, but the high prices usually prevent them from doing so. Instead, they can grind for Digimon Masters Tera, but this takes much time. There have even been times when the item has already been bought by the time the player is done farming.
For that, one of the fastest ways some gamers obtain the needed amount is to buy Digimon Masters Tera from other players. Also, other than buying Digimon Masters Tera in order to get a specific item, some also buy to ensure that they always have enough pocket money. This is not just for a running budget, but also in case they find something that they would like to buy.
While sellers can decide the price of a Digimon Masters Tera, its actual value depends on current supply and demand. For those looking to buy, it is important to look at those factors, as well as the price from other sellers.
Based on the total ratings of 9 orders in the past year
Seller was pretty good about communicating
400 Digimon-Masters Tera
05/26/2023
This seller is a very awesome person
500 Digimon-Masters Tera
02/05/2023
a very honest and good seller
1000 Digimon-Masters Tera
02/04/2023
PlayerAuctions makes it safe to buy video game currencies from our members by securing your payment and guaranteeing delivery.
Buyer creates order and send payment to PlayerAuctions
PlayerGuardian secures payment
Seller completes delivery within delivery guarantee
Buyer confirm delivery
Seller receives disbursement
Option 1: In-game, Face to Face Delivery
Sellers will select this method of delivery if they intend to meet your character in-game with one of their own characters. Usually a seller will coordinate a time and location in-game to meet your character.
Tips:
Be sure to confirm the time to account for time zone differences
Confirm which Shard or Server the delivery is to take place in case your game world has more than one.
Never, under any circumstances, return gold, item, etc. to the delivery character if ever asked. In the event the seller asks you to, please take A screenshot and report this to PlayerAuctions Customer Support.
Option 2: In-game Mailbox delivery.
Some sellers will select the option to deliver gold or items directly to an in-game mailbox. This option is less popular for larger Games like WoW, but is still viable amongst other games. This option can be convenient for smaller orders because you do not need to coordinate time of delivery.
Low Prices: Prices set by other players or PowerSellers on PlayerAuctions are significantly lower than the high markups you would find on expensive retail sites.
Guaranteed Security: PlayerAuctions is quite simply the most secure place to buy and sell MMO game assets. Through PlayerGuardian, you are 100% guaranteed full and as-described delivery, or your money back.
Reliable Delivery Speed: PlayerAuctions calculates each seller's average delivery speed from the seller's latest successfully completed deliveries, which gives you a clear idea of how fast the seller will deliver your order.
To see how quickly the seller may deliver your order, refer to the seller's delivery guarantee period, which is their promise to complete delivery within a certain timeframe after your payment is securely sent to PlayerAuctions and is successfully verified. Each seller sets their delivery guarantee period independent of PlayerAuctions. In the event that the seller is not able to complete the delivery within their guaranteed time, you may cancel the order without penalty for a hassle-free refund from PlayerAuctions.
PlayerAuctions guarantees that the seller will deliver your order, or your money back. The overwhelming majority of transactions through our site occur successfully. As for the very exceptional cases, you can rest assured that they have been carefully considered by our systems and processes, and we are well prepared to handle them in the rare event that they do occur. Read more.
PlayerGuardian Buyer Protections
PlayerAuctions is the most secure place to buy and sell MMO game assets. Our proprietary security technology, PlayerGuardian, keeps you, your payments, and your trades protected and private. The protections below are provided to all PlayerAuctions buyers.
Guaranteed Payment Security
Convenient & Worry-Free Trading
A Secure, Trusted Trading Community
Guaranteed Full and As-Described Delivery, or Your Money Back
Guaranteed Seller On-Time Delivery, or Your Money Back
Information Privacy
PlayerAuctions After Sale 100% Support Guarantee
Transparent Seller Service Ratings
Bank-Level Data Security
Read more
PlayerAuctions is an independent player-to-player marketplace for buying and selling virtual video game property. PlayerAuctions is NOT endorsed by, directly affiliated with, maintained, authorized, or sponsored by Digimon Masters Online or its trademark owner.
Select server and Faction