Buy Aion Kinah - Aion Online Gold Market
Aion Kinah has many uses. Besides being able to acquire skins, pets, and house decors to jazz up the interior of your accommodation. players can also use it to get better weapons and armor to slay monsters. No doubt, having a substantial amount of currency for Aion Online makes doing certain things easier.
SELL
rdklz
201881400
Best deal among sellers with a fair amount of ratings and feedback score.
rdklz
201881412
Best deal among sellers with a fair amount of ratings and feedback score.
nika9009
201976335
Best deal among sellers with a fair amount of ratings and feedback score.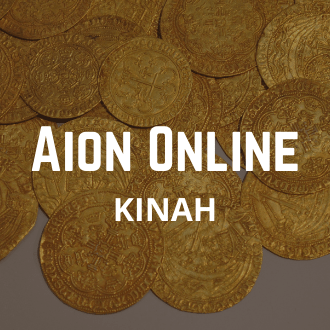 Gamers Want to Buy Aion Kinah
When there's a popular game like Aion with economy, the currency becomes popular and demand for it rises. As demand for Kinah rises, those with large amounts sometimes decide to let a portion of it go online to other gamers who want to buy Aion Kinah. Buyers are always on the lookout to buy cheap Aion Kinah too, so will often take their time when browsing through offers to try and find the best deal that suits them.
What is Aion Kinah?
Kinah is the main currency in Aion and is used by both the Asmodians and Elyos. This currency is central to the game as it allows the purchase of numerous items, services, and transportation between areas and regions. Without sufficient Kinah, progression in the game can be rather challenging. Luckily, there are several ways to gain Kinah throughout your journey, whether it's through looting or and selling those resources or straight up completing quests for rewards. The world of Atreia has been shattered and it is up to brave players to survive in the wake of the Cataclysm. Regardless if you're Asmodian or Elyos however, you'll need Aion Kinah to get around. Money makes the world go round, and the same can be applied to the world in Aion Online.
Cool Items Players Can Buy With Kinah
Flight Wings

Flight is probably the thing which has drawn most people to play the game. The idea of soaring high above the clouds on a pair of white or black-feathered wings sounds so much like a universally appealing one. However, there are different types of wings, and all of them come in different appearances and levels. Customizing and finding the flight wings that you want to get can cost you millions of Kinah, especially if your character level is quite high. Splurging on a nice pair of flight wings is the usual go-to option of players who have an abundance of Kinah, and it's easy to see why.

Enchantment Stones

Enchantment Stones are special consumables used for enchanting an item. There are two types of enchantment stones: PvE and PvP stones. They can only be used on their respective type of gear, boosting their respective stats. If you want to up the ante of your gear, investing on enchantment stones is the way to go.
The Beauty of Aion Kinah
Whether someone is a tanky Templar, or a skilled Assassin, getting Aion Kinah takes a lot of time. But the beauty of this currency is that it has the ability to turn someone's character so powerful that some may even consider them to be sort of an endgame boss encounter. It is, after all, the main currency in the game that runs the economy. Without an economy in an online massively multiplayer game, people will eventually leave. With in-game currency, people have a reason to trade with others. People crave the joy of purchasing an overly expensive item for their gear even if it took weeks for them to acquire that amount of Kinah. This addicting rush is what makes the Kinah of Aion Online so accessible yet always in demand.
Based on the total ratings of 15 orders in the past year
+++++ very fast delivery
10000 M Aion Kinah
10/13/2023
as always +++++
10000 M Aion Kinah
10/04/2023
fast delivery!
5000 M Aion Kinah
09/27/2023
+++++ Really fast delivery
2000 M Aion Kinah
09/23/2023
PlayerAuctions makes it safe to buy video game currencies from our members by securing your payment and guaranteeing delivery.
Buyer creates order and send payment to PlayerAuctions
PlayerGuardian secures payment
Seller completes delivery within delivery guarantee
Buyer confirm delivery
Seller receives disbursement
Option 1: In-game, Face to Face Delivery
Sellers will select this method of delivery if they intend to meet your character in-game with one of their own characters. Usually a seller will coordinate a time and location in-game to meet your character.
Tips:
Be sure to confirm the time to account for time zone differences
Confirm which Shard or Server the delivery is to take place in case your game world has more than one.
Never, under any circumstances, return gold, item, etc. to the delivery character if ever asked. In the event the seller asks you to, please take A screenshot and report this to PlayerAuctions Customer Support.
Option 2: In-game Mailbox delivery.
Some sellers will select the option to deliver gold or items directly to an in-game mailbox. This option is less popular for larger Games like WoW, but is still viable amongst other games. This option can be convenient for smaller orders because you do not need to coordinate time of delivery.
Low Prices: Prices set by other players or PowerSellers on PlayerAuctions are significantly lower than the high markups you would find on expensive retail sites.
Guaranteed Security: PlayerAuctions is quite simply the most secure place to buy and sell MMO game assets. Through PlayerGuardian, you are 100% guaranteed full and as-described delivery, or your money back.
Reliable Delivery Speed: PlayerAuctions calculates each seller's average delivery speed from the seller's latest successfully completed deliveries, which gives you a clear idea of how fast the seller will deliver your order.
To see how quickly the seller may deliver your order, refer to the seller's delivery guarantee period, which is their promise to complete delivery within a certain timeframe after your payment is securely sent to PlayerAuctions and is successfully verified. Each seller sets their delivery guarantee period independent of PlayerAuctions. In the event that the seller is not able to complete the delivery within their guaranteed time, you may cancel the order without penalty for a hassle-free refund from PlayerAuctions.
PlayerAuctions guarantees that the seller will deliver your order, or your money back. The overwhelming majority of transactions through our site occur successfully. As for the very exceptional cases, you can rest assured that they have been carefully considered by our systems and processes, and we are well prepared to handle them in the rare event that they do occur. Read more.
To make MMORPGs enjoyable and successful requires lots of quality content. Despite having smooth and beautiful graphics, an intelligent combat system, a rich lore, and a vast catalog of items and monsters, it won't be able to last. The game doesn't have enough content to keep its players coming back for more. Not many MMO titles took that to heart, but Aion Online did, so it shouldn't come as a surprise that the game has managed to last and remain relevant to its target audience. With high content in Aion Kinah, players can be in it for the long haul.
How Aion Kinah Impacts the Game's Story
Similar to content in other MMOs, Aion is rooted in the game's tradition, which gives it a serious tone. With the destruction of the world of Atreia looming once again, the two races (the Elyon and Asmodae) are struggling to survive. The only hope for salvation, however, lies in an artifact that will spare whichever race it controls and destroy the other. The Elyon and Asmodae are locked in bitter conflict with each other.To exert superiority over the other race, heroes from both groups try to be more powerful. So, whichever side players choose, they will have access to the same classes: the Warrior, Scout, Mage, and Priest. The classes fill the role of a familiar MMORPG class archetype. All can choose between two more advanced characters (Gladiator or Templar for the Warrior, Ranger or Assassin for the Scout, Spiritmaster and Sorcerer for the Mage, and Cleric and Chanter for the Priest). With advanced classes, players can have specialized characters. Other than choosing classes and leveling up their skills and attributes, players must equip their characters with the best gear possible. Gear is achievable from NPCs and quests or crafting.
The Elyon and Asmodae are contesting for the lands around the Tower of Eternity, otherwise known as the key to salvation for one reason: to establish dominance. There are expansive world maps, dungeons, and special zones, such as Iluma and Norsvold. Seize control of these places and gain a much-needed advantage in the war against the opposing race. So what impact does Kinah make to Aion Online? In Aion, there is so much to do. And what do nations need in the time of war? Currency. Money. As the "protagonist" of this whirlwind of a story, players naturally get stuck in a rut. How can one buy decent gear for protection without Kinah? What about consumables? And most importantly, what about the furniture? Kidding aside, Kinah is extremely relevant to Aion Online and its campaign. At the end of the day, players accumulate Aion Kinah to make their characters more powerful, and purchasing special items certainly helps with that.
Getting Kinah Quick and Easy
After all the fighting against players or monsters, heroes can engage in crafting (weaponsmithing, armorsmithing, handcrafting, tailoring, alchemy, and cooking). The professions contribute not only to a new item in one's inventory, but also a proper way for them to earn Kinah, as many crafted items get good prices. Other than making things for yourself or for others to buy, you can also make them just to practice crafting.
PlayerGuardian Buyer Protections
PlayerAuctions is the most secure place to buy and sell MMO game assets. Our proprietary security technology, PlayerGuardian, keeps you, your payments, and your trades protected and private. The protections below are provided to all PlayerAuctions buyers.
Guaranteed Payment Security
Convenient & Worry-Free Trading
A Secure, Trusted Trading Community
Guaranteed Full and As-Described Delivery, or Your Money Back
Guaranteed Seller On-Time Delivery, or Your Money Back
Information Privacy
PlayerAuctions After Sale 100% Support Guarantee
Transparent Seller Service Ratings
Bank-Level Data Security
Read more
PlayerAuctions is an independent player-to-player marketplace for buying and selling virtual video game property. PlayerAuctions is NOT endorsed by, directly affiliated with, maintained, authorized, or sponsored by Aion Online or its trademark owner.
Select server and Faction