2K Total Ironman - End Game Iron - Loaded Bank (Rares) - Ironman Account - I Am Original Owner
I Want to Sell
RuneScape - Old School-Main OSRS Server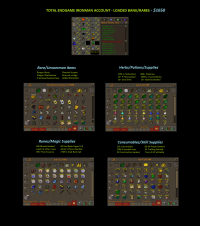 Dec-11-2022 14:59:38 PM

940 time(s)

24 Hours

Lvl 1

30-Day Seller Performance

Seller Lvl 1
Member since 2014

Total orders

OSRS
account reviews

Total rating

OSRS
account rating

Total orders: 1,687

Member since: 2014

5.0

RuneScape - Old School account : Seller Rating

(646)
1. Check out and complete the payment
2. Receive an email with the Game Account details
3. Log in to the Game Account and verify description
4. Confirm the delivery
5. Seller gets paid
THIS ACCOUNT LISTING IS FOR A BEAUTIFUL END GAME IRONMAN, WITH A LOADED BANK - HIGH TOTAL + MUCH MORE
CURIOUS ABOUT WHERE YOUR ACCOUNTS ARE COMING FROM?

Scroll to the bottom to read the "About Us" section, so you can know with full transparency and certainty where, and from who you accounts are coming from!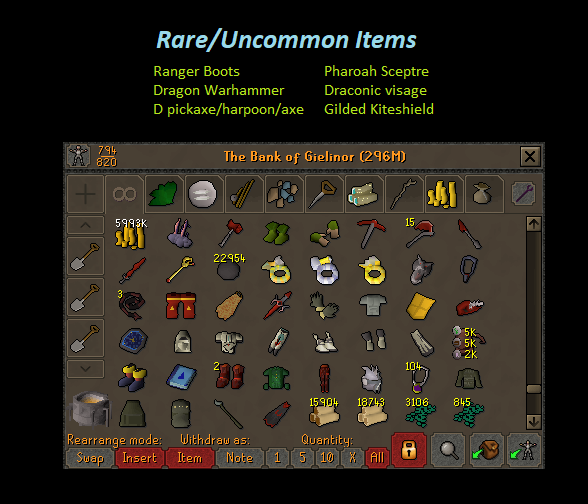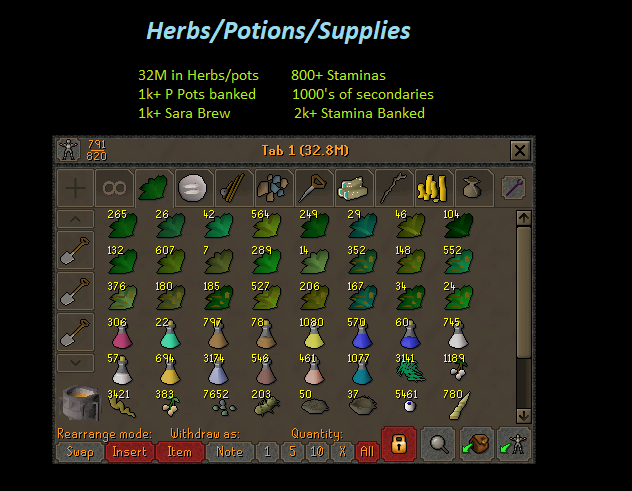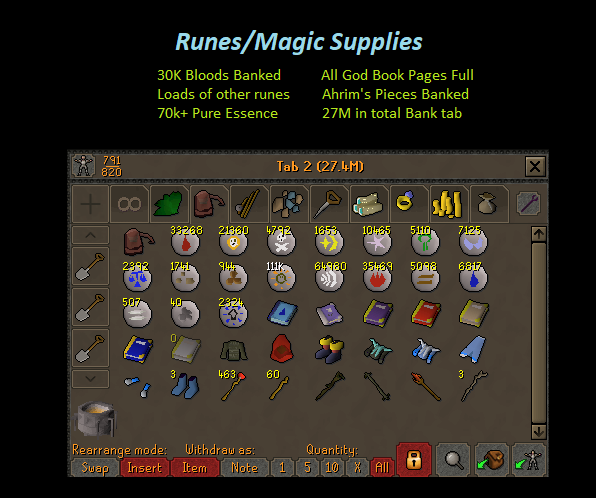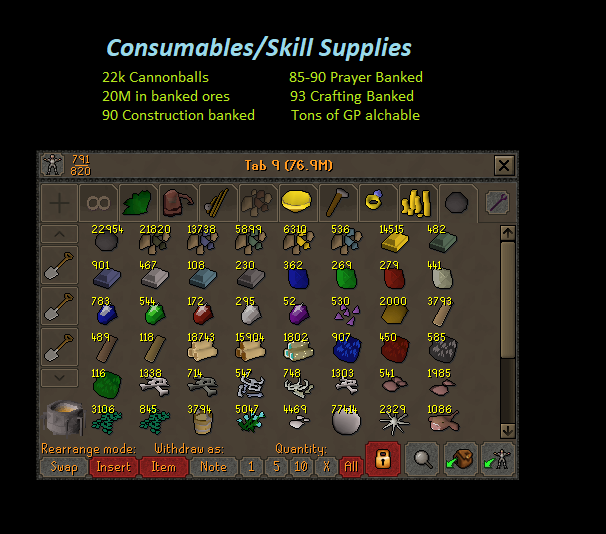 Are you unsure if the account or power leveling service you are purchasing is safe? Do you hate the idea of spending money with the big question in the back of your mind saying "am I going to get scammed by this person I don't even know"?
In the past as a player, when I purchased services myself I had these same questions in the back of my mind every time, and on many occasions I did end up getting scammed, as a lot of customers unfortunately have. I think every customer should have peace of mind when purchasing either a new account, or a leveling service on an account they have put a lot of their own time into and don't want it to get banned by something shady such as botting, or disregard for safety.
In order to give you the best peace of mind possible prior to your purchase, I will let you know who I am, who will be on your account, safety measures that are taken,
a
nd any information that will help give you some reasurrance.
I am 28 years old and from the USA. I spent ages 17 to 22 in the Us Marines, of which most of my time was spent in the middle east and Asia. From age 22+ I have been working in the automotive industry in sales, finance and marketing. I am an old school player (started in classic at a very young age), and as of 4 years ago began playing again. When I purchased services or accounts myself, I noticed there was lack of reassurance and safety when purchasing products/services (such a lack that if it existed in any other business operation it would surely fail and get shut down). Due to this lack of safety with most websites/providers I decided to spend some of my freetime creating a side business/hobby in this marketplace, as I could bring 100% safety to all orders and completely eliminate any risk of safety with all sales/services. About 1.5 years ago I fully launched, and hired full time workers (every worker is a real worker, they don't play the game themselves, and they work full time out of an office with computers, are monitored, etc). With my workers, there is a 0% chance of botting, scamming, etc. I found a huge risk of service providers is when they don't have the resources to hire real workers they will resort to hiring players, who will end up scamming eventually, botting on accounts when getting lazy, etc. My operation is ran extremely safely, and when I say there is a 0% chance of a scam occuring, I must really emphasize the 0% because I don't think it exists anywhere else.
When you order from me, you are ordering from an American with a high regard to integrity and honesty, and your accounts/services purchased will always be handled with 100% safety. You don't have to wonder if you are ordering from a Chinese individual with 100 people crammed in a sweatshop, who have no regard to safety whatsoever - and have the lingering thought if your account is safe the entire purchase.
If you have any questions about my account sales, services offered, or any other inquiries feel free to PM anytime! I will respond as soon as possible! Thanks, and hope to hear from you soon!
| Feedback | Comment | From Buyer | Time |
| --- | --- | --- | --- |
PlayerAuctions makes it safe to buy from our members by securing your payment and guaranteeing delivery.
Buyer creates order and send payment to PlayerAuctions
PlayerGuardian secures payment
Seller completes delivery within delivery guarantee
Buyer confirm delivery
Seller receives disbursement
Option 1: In-game, Face to Face Delivery
Sellers will select this method of delivery if they intend to meet your character in-game with one of their own characters. Usually a seller will coordinate a time and location in-game to meet your character.
Tips:
Be sure to confirm the time to account for time zone differences
Confirm which Shard or Server the delivery is to take place in case your game world has more than one.
Never, under any circumstances, return gold, item, etc. to the delivery character if ever asked. In the event the seller asks you to, please take A screenshot and report this to PlayerAuctions Customer Support.
Option 2: In-game Mailbox delivery.
Some sellers will select the option to deliver gold or items directly to an in-game mailbox. This option is less popular for larger Games like WoW, but is still viable amongst other games. This option can be convenient for smaller orders because you do not need to coordinate time of delivery.
Low Prices: Prices set by other players or PowerSellers on PlayerAuctions are significantly lower than the high markups you would find on expensive retail sites.
Guaranteed Security: PlayerAuctions is quite simply the most secure place to buy and sell MMO game assets. Through PlayerGuardian, you are 100% guaranteed full and as-described delivery, or your money back.
Reliable Delivery Speed: PlayerAuctions calculates each seller's average delivery speed from the seller's latest successfully completed deliveries, which gives you a clear idea of how fast the seller will deliver your order.
To see how quickly the seller may deliver your order, refer to the seller's delivery guarantee period, which is their promise to complete delivery within a certain timeframe after your payment is securely sent to PlayerAuctions and is successfully verified. Each seller sets their delivery guarantee period independent of PlayerAuctions. In the event that the seller is not able to complete the delivery within their guaranteed time, you may cancel the order without penalty for a hassle-free refund from PlayerAuctions.
PlayerAuctions guarantees that the seller will deliver your order, or your money back. The overwhelming majority of transactions through our site occur successfully. As for the very exceptional cases, you can rest assured that they have been carefully considered by our systems and processes, and we are well prepared to handle them in the rare event that they do occur. Read more.
PlayerGuardian Buyer Protections
PlayerAuctions is the most secure place to buy and sell MMO game assets. Our proprietary security technology, PlayerGuardian, keeps you, your payments, and your trades protected and private. The protections below are provided to all PlayerAuctions buyers.
Guaranteed Payment Security
Convenient & Worry-Free Trading
A Secure, Trusted Trading Community
Guaranteed Full and As-Described Delivery, or Your Money Back
Guaranteed Seller On-Time Delivery, or Your Money Back
Information Privacy
PlayerAuctions After Sale 100% Support Guarantee
Transparent Seller Service Ratings
Bank-Level Data Security
Read more