Buy IMVU Credits - IMVU Currency Market
IMVU Credits can be used for a number of things, but the most important aspect of them is that players can use them to purchase clothing and accessories. Clothes in general is a great way to further personalize a player's 3d avatar in IMVU. There's a large role-playing scene in IMVU, so it's best to have a plethora of clothes.
SELL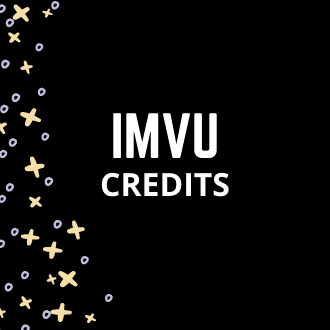 About IMVU Credits
IMVU, as a social platform, lets users interact with other users through the use of avatars. As with other MMOs, to customize avatars players need IMVU Credits. Earning Credits for free requires activities like watching videos, inviting friends, or answering surveys. This process can take some time, making it inconvenient for office workers or students.
Through the online marketplace, gamers can get their IMVU Credits in a snap. No need to watch tedious videos or answer endless surveys. All it takes is just a few clicks, and players can finally dress up their avatar in the most fashionable clothing.
About Buying IMVU Credits
Player-to-player trading is the exchange of real money for virutal goods or related services. That said, it's a big attractor of scammers and fraudsters due to its impersonal nature. It would be hard to find someone through the internet without the requisite skills or knowledge, after all. Each transaction carries inherent risks. Plus, with so many choices out there, buyers tend to become confused as to where is the best place for them to get in-game assets. While there are a variety of ways players can earn Credits without having to spend real money, it's unfortunately not enough for them to buy a sizeable amount of items for their Avatar in the Catalog. Thus, some of them turn to getting IMVU credits in all sorts of other alternative ways such as purchasing the currency at a premium price.
Based on the total ratings of 1910 orders in the past year
Best credit market i found so far
100 K IMVU Credits
01/27/2023
The seller stay in contact and does great job! Customer service is perfect! Thx!
130 K IMVU Credits
01/27/2023
Perfect seller
69 K IMVU Credits
01/26/2023
Very pleasant seller, fast delivery and bonus coins to account. Thank you!!
130 K IMVU Credits
01/25/2023
PlayerAuctions makes it safe to buy video game currencies from our members by securing your payment and guaranteeing delivery.
Buyer creates order and send payment to PlayerAuctions
PlayerGuardian secures payment
Seller completes delivery within delivery guarantee
Buyer confirm delivery
Seller receives disbursement
Option 1: In-game, Face to Face Delivery
Sellers will select this method of delivery if they intend to meet your character in-game with one of their own characters. Usually a seller will coordinate a time and location in-game to meet your character.
Tips:
Be sure to confirm the time to account for time zone differences
Confirm which Shard or Server the delivery is to take place in case your game world has more than one.
Never, under any circumstances, return gold, item, etc. to the delivery character if ever asked. In the event the seller asks you to, please take A screenshot and report this to PlayerAuctions Customer Support.
Option 2: In-game Mailbox delivery.
Some sellers will select the option to deliver gold or items directly to an in-game mailbox. This option is less popular for larger Games like WoW, but is still viable amongst other games. This option can be convenient for smaller orders because you do not need to coordinate time of delivery.
Low Prices: Prices set by other players or PowerSellers on PlayerAuctions are significantly lower than the high markups you would find on expensive retail sites.
Guaranteed Security: PlayerAuctions is quite simply the most secure place to buy and sell MMO game assets. Through PlayerGuardian, you are 100% guaranteed full and as-described delivery, or your money back.
Reliable Delivery Speed: PlayerAuctions calculates each seller's average delivery speed from the seller's latest successfully completed deliveries, which gives you a clear idea of how fast the seller will deliver your order.
To see how quickly the seller may deliver your order, refer to the seller's delivery guarantee period, which is their promise to complete delivery within a certain timeframe after your payment is securely sent to PlayerAuctions and is successfully verified. Each seller sets their delivery guarantee period independent of PlayerAuctions. In the event that the seller is not able to complete the delivery within their guaranteed time, you may cancel the order without penalty for a hassle-free refund from PlayerAuctions.
PlayerAuctions guarantees that the seller will deliver your order, or your money back. The overwhelming majority of transactions through our site occur successfully. As for the very exceptional cases, you can rest assured that they have been carefully considered by our systems and processes, and we are well prepared to handle them in the rare event that they do occur. Read more.
Decking Out One's Avatar With IMVU Credits
IMVU is a social/virtual world where players can modify their avatar by changing their clothes or face, hairstyles, and accessories. They can meet other players and do a range of activities with them. The game has an item shop of approximately 30 million different clothing and accessories. Gear ranges from ball gowns and formal wear to bikinis and swims stuff, and street fits to cosplay. There's also the option to make the avatar a human with animal features, including tails or ears.
Money (known as ""credits"") is needed to buy apparel. Two types of credits exist: (1) promo and (2) normal. Promo credits are only for buying from the shop, while normal credits let players trade or give gifts. How to get IMVU credits is a different story.
Easy Ways to Get IMVU Credits
One way is the 30-day daily login rewards for new players. After, they have to find other ways to gain credits. The login rewards provide promo credits, including a bonus item, every fifth day of consecutive logins. If a day is missed, there's no way to get the rewards for that day. Other methods of earning IMVU credits consist of buying a prepaid card and redeeming it in the game. Also, players can achieve credits by completing offers, watching videos, reviewing player-created items, or inviting a friend. However, some offers may grant thousands of credits, but it takes a while to receive, and watching videos is time-consuming.
Luckily, there are alternatives that buyers can opt to do such as purchasing IMVU Credit with the use of real money. It's not for everyone, but all means, but it's something to at least keep at the back of their mind should they be no other options left for them. Gamers will have to keep in mind that they'll only be able to get average credits (not promo credits) by purchasing them from players. Promo credits are untradeable, so players must earn them, fair and square.
Anyhow, be on the lookout when buying because there are sites with people who offer IMVU credits. Who to trust is hard. Scammers are online looking for prey to fall into their traps. Fraudsters are improving by figuring out new ways to cover their real intentions. It gets harder to recognize the honest traders from the false ones. Good thing there's the online marketplace, where at least a seller's reputation is obvious.
PlayerGuardian Buyer Protections
PlayerAuctions is the most secure place to buy and sell MMO game assets. Our proprietary security technology, PlayerGuardian, keeps you, your payments, and your trades protected and private. The protections below are provided to all PlayerAuctions buyers.
Guaranteed Payment Security
Convenient & Worry-Free Trading
A Secure, Trusted Trading Community
Guaranteed Full and As-Described Delivery, or Your Money Back
Guaranteed Seller On-Time Delivery, or Your Money Back
Information Privacy
PlayerAuctions After Sale 100% Support Guarantee
Transparent Seller Service Ratings
Bank-Level Data Security
Read more
PlayerAuctions is an independent player-to-player marketplace for buying and selling virtual video game property. PlayerAuctions is NOT endorsed by, directly affiliated with, maintained, authorized, or sponsored by IMVU or its trademark owner.
Select server and Faction