Buy EVE ISK - EVE Currency Market
Grinding EVE ISK is always time-consuming and rarely enjoyable, which is why many players choose to buy ISK directly from other players. ISK is the official currency of EVE Online and is considered by many to be essential if a player wants to continue enjoying what the game has to offer.
SELL
EXE_Zeldris
187565920
Best price among sellers with a fair amount of ratings and feedback score.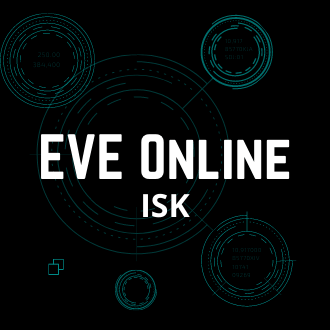 How ISK is Important to EVE Online
EVE Online has a very steep learning curve. Players could waste a lot of time and effort and not make much progress. This goes the same for getting ISK. ISK is the official currency of EVE Online and can be used in a number of ways. For the most part, ISK is used to purchase ships and upgrade parts to further power up a player's ship. ISK can also be used as a capital that players need in order to start a Corporation. Living the luxurious life in New Eden is but a dream for many since ISK is fairly hard to come by in a sense that players don't get as much when risking their life and limb for it.
Getting ISK for EVE Online
While pilots can get EVE ISK for free in the game, it often takes a very long time, regardless if players farm it or earn it through the market. When a player buys ISK, however, they can save a lot of time. Time that can be used on other fun activities. Instead of boring grinding, players can buy their favorite ship and explore New Eden.
There are a number of ways of getting ISK in EVE Online without totally burning out in an instant like a shooting star. For one, players can start mining. Mining is one the first activities that new players do in EVE Online to earn ISK. There are three types of mining that can be done: gas mining, ore mining, and ice mining. Gas mining is perhaps the most basic of the three since it is the process of where a player simply gathers ore throughout the Asteroid Belts scattered around New Eden. Gas mining is a tad more complicated since it's an advanced type of mining where players will have to mine in interstellar gas clouds. Ice mining is perhaps the most profitable of them all, but it can be time consuming as there are time intervals when doing this method.
Based on the total ratings of 1411 orders in the past year
QUICK AND EASY MANY THANKS
5000 M EVE ISK
12/05/2022
Fast and complete, would recommend.
7000 M EVE ISK
12/01/2022
Perfect delivery in less than ten minutes
9000 M EVE ISK
12/01/2022
Everything went great buy would buy from again!!!!
5000 M EVE ISK
12/01/2022
PlayerAuctions makes it safe to buy video game currencies from our members by securing your payment and guaranteeing delivery.
Buyer creates order and send payment to PlayerAuctions
PlayerGuardian secures payment
Seller completes delivery within delivery guarantee
Buyer confirm delivery
Seller receives disbursement
Option 1: In-game, Face to Face Delivery
Sellers will select this method of delivery if they intend to meet your character in-game with one of their own characters. Usually a seller will coordinate a time and location in-game to meet your character.
Tips:
Be sure to confirm the time to account for time zone differences
Confirm which Shard or Server the delivery is to take place in case your game world has more than one.
Never, under any circumstances, return gold, item, etc. to the delivery character if ever asked. In the event the seller asks you to, please take A screenshot and report this to PlayerAuctions Customer Support.
Option 2: In-game Mailbox delivery.
Some sellers will select the option to deliver gold or items directly to an in-game mailbox. This option is less popular for larger Games like WoW, but is still viable amongst other games. This option can be convenient for smaller orders because you do not need to coordinate time of delivery.
Low Prices: Prices set by other players or PowerSellers on PlayerAuctions are significantly lower than the high markups you would find on expensive retail sites.
Guaranteed Security: PlayerAuctions is quite simply the most secure place to buy and sell MMO game assets. Through PlayerGuardian, you are 100% guaranteed full and as-described delivery, or your money back.
Reliable Delivery Speed: PlayerAuctions calculates each seller's average delivery speed from the seller's latest successfully completed deliveries, which gives you a clear idea of how fast the seller will deliver your order.
To see how quickly the seller may deliver your order, refer to the seller's delivery guarantee period, which is their promise to complete delivery within a certain timeframe after your payment is securely sent to PlayerAuctions and is successfully verified. Each seller sets their delivery guarantee period independent of PlayerAuctions. In the event that the seller is not able to complete the delivery within their guaranteed time, you may cancel the order without penalty for a hassle-free refund from PlayerAuctions.
PlayerAuctions guarantees that the seller will deliver your order, or your money back. The overwhelming majority of transactions through our site occur successfully. As for the very exceptional cases, you can rest assured that they have been carefully considered by our systems and processes, and we are well prepared to handle them in the rare event that they do occur. Read more.
EVE Online, developed by CCP games, is a player-driven, open world sandbox that focuses much more on the interaction between players and the events that occur around them. Featuring a space setting, players take flight on stylized and customized ships, combating other players as they search the galaxy for resources, allies, and, unexpectedly, drama.
EVE Online is one of those games that isn't too popular in terms of mainstream appeal due to its intrinsically different MMO meta. As most folks know, combat is always the highlight and priority of most MMO gamers, so EVE Online falls short for most people due to its slow speed. However, what most people don't realize is that the combat is the most cerebral that anyone will ever experience in videogame format. Combined with drop-dead gorgeous graphics, ship combat in EVE is like playing a game of Chess mixed with some Battleship, Pokemon, and a good ol' active time battle-based RPG. Spacing control, movement precision, patience, knowledge of the game's current spread of ships, and strategic offensives are all part of what makes EVE's combat a cathartic experience.
The Frontier Spirit is key to succeeding in EVE Online as the game requires players to explore the endless depths of space through more than 5000 massive star systems and 2500 randomly accessible wormhole systems that can take them anywhere at any time and reveal tons of secrets and experiences. Mining, Manufacturing, and Trading play big parts in the player-driven, free market economy of the game and works hand in hand with the significance of exploration. Just like in real life, the corporations (guilds) that players join get stronger when they have better traders and combatants in their hierarchy as they are able to gain more EVE ISK to purchase powerful ship upgrades and influence over the rest of the game world of EVE Online.
Get A Head Start in EVE Online
This instantly implies that, the more EVE ISK a player have, the more power and influence they have. There is no "farming" for EVE ISK but, as stated earlier, players must learn how the market works if they want to earn any currency at all. Some may also opt to turn to piracy, attacking unsuspecting trade ships, both player and NPC, in forlorn trade routes, mainstream routes, and even in high-security areas for their bountiful stash of valuables. Gamers can be the suave businessman, the nasty pirate, the money-loyal mercenary, the business innovator, or the wandering soul mining and bartering at the lowest level; it doesn't matter who they want to be because EVE Online is pretty much a free-for-all for how each indidivual wants the game to be played.
Considering the age of the game, it can be quite daunting for a new player to penetrate the already well-established status quo of EVE at present. Even a returning player will find it difficult to get back into the groove because EVE is, ironically, fast paced in the realm of economy and influence.
Not only that, but EVE has a subscription system similar to many other MMOs like Final Fantasy XIV and SWTOR. It becomes even more daunting to keep playing when there's a $15 dollar a month overhead that gamers have to take into account. Fortunately, with EVEPlex, an item in-game that allows players to have 30 days of subscription time, can be bought for EVE Isk in-game. To buy EVE Plex with EVE Isk is cheaper than buying the subscription outright from the official website. So gamers can opt to buy Isk to purchase Plex in-game and have way more currency left over for other things in the game. It's just a no-brainer if one wants to be smart about their money.
EVE Ships, Plex and Isk are up for Grabs!
Players can get a whole lot of other stuff in EVE that can give them a distinct advantage over the competition like EVE ships, parts, and even high-level accounts!
ISK can be used to purchase battleships, equipment, PLEX, and even skill points that players can use to acquire skills that can lead them to having an advantage in certain situations. Basically, almost everything can be bought with ISK. Earning decent money to buy ships and enjoy the game is all part of the experience that makes EVE Online great. Farming methods are abundant and veterans are always finding new ways on how to get more ISK efficiently. Despite the not-so-large playerbase compared to other online gamers, the future of EVE Online is looking as bright as the sun.
PlayerGuardian Buyer Protections
PlayerAuctions is the most secure place to buy and sell MMO game assets. Our proprietary security technology, PlayerGuardian, keeps you, your payments, and your trades protected and private. The protections below are provided to all PlayerAuctions buyers.
Guaranteed Payment Security
Convenient & Worry-Free Trading
A Secure, Trusted Trading Community
Guaranteed Full and As-Described Delivery, or Your Money Back
Guaranteed Seller On-Time Delivery, or Your Money Back
Information Privacy
PlayerAuctions After Sale 100% Support Guarantee
Transparent Seller Service Ratings
Bank-Level Data Security
Read more
Select server and Faction