*** 1300+ CP Account | 6 Max Leveled Characters | Big Craft Bag | 10 Million+ Gold | Master Crafter ***
I Want to Sell
Elder Scrolls Online-PC-North America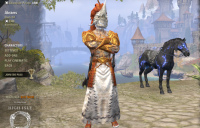 Dec-19-2022 22:43:34 PM

24 time(s)

Instant

30-Day Seller Performance

Total orders

Elder Scrolls Online
account reviews

Total rating

Elder Scrolls Online
account rating

Total orders: 1

Member since: 2018

0.0

Elder Scrolls Online account : Seller Rating

(0)
1. Check out and complete the payment
2. Receive an email with the Game Account details
3. Log in to the Game Account and verify description
4. Confirm the delivery
5. Seller gets paid
1300+CP
All 6 Classes Leveled/Maxed w/ necessary skills leveled (Mages, Fighters, Psijic, Assault, Support, Vampire, Werewolf etc…)
Master Crafter (All Professions 50 / All Traits Researched)
Endgame PvE and PvP Characters
Craft Bag w/ Lots of Materials (Including Dreugh Wax, Tempering Alloy, Chromium Plating, Rosin, and more)
13.7 Million+ Gold
1.4 Million+ Alliance Points
1 Alliance Change Token
100k + Tel Var Stones
2600+ Crowns
200+ Gems
400+ Bank Space (After ESO Plus)
Banker – Ezabi (Cat)
Merchant – Fezez (Cat)
Mounts (Mount Speed All 60) (Some with Stamina + Capacity)
Variety of Exotic, Flying, Daedric Pets
5 Mythics
Sets: Too much to list out. 40% of my sets are Gold, 60% are Purple
Characters: All Daggerfall Covenant – All w/ Alchemy – 50
Nightblade – High Elf – 50 (Master Crafter)
Scrying/Excavation – 9/10
Fighters, Mages Guild, Psijic, Undaunted, Assault, Support – Maxed
All Crafting Professions – 50
All Traits Researched
All Class Skills – 50
180 Skill Points
Sorcerer – High Elf – 50 (Main PvE)
Fighters, Mages Guild, Psijic, Undaunted, Assault, Support – Maxed
All Class Skills – 50
Almost All Weapon Skills – 50
170 Skill Points
Dragonknight – Dark Elf – 50 (Main PvP/Prior Tank)
Fighters, Mages Guild, Psijic, Undaunted, Assault, Support – Maxed
All Class Skills – 50
All Weapon Skills – 50
Vampire – 10 (Max)
Armor Skills – 50
Campaign Rank – 16
161 Skill Points
Necromancer – Orc – 50 – (Main PvP/Prior PvE DPS)
Fighters, Mages Guild, Psijic, Undaunted, Assault, Support – Maxed
All Class Skills – 50
Almost All Weapon Skills – 50
Vampire – 10 (Max)
Armor Skills – 50
Campaign Rank -17
166 Skill Points
Templar – Breton – 50 (PvE/PvP Healer)
Fighters, Mages Guild, Psijic, Undaunted, Assault, Support – Maxed
All Class Skills – 50
Vampire – 10 (Max)
143 Skill Points
Warden – Breton – 50 (Newest Character)
Mages Guild – Maxed
All Class Skills – 50
Vampire – 10 (Max)
118 Skill Points
Mounts: Alliance War Horse, Noweyr Steed, Rahd-M'athra, Sorrel Horse, Hollowjack Rider Senche, Hailcinder Vale Elk, Baandari Dwarven Spider, Tuxedo Bear.
Non-Combat Pets: Scorion Pyreling, Slate-Skinned Daedrat, Stonefire Scamp, WickerFright Banekin, Blue Dragon Imp, Bright Moons Lunar Moth, Green Dragon Imp, Long-Winged Bat, Monarch Butterfly, Scintillant Dovah-Fly, Shadowswift Bat, Vampiric Dragon Imp, Alinor Ringtail, Dusky Fennec Fox, Echalette, Frostbite Spider, Gloomspore Bear Cub, Heartland Brindle Badger, Ice-Glow Salamander, Icebound Dwarven Spider, Jackal, Masked Bear Cub, New Moon Wolf Pup, Noweyr Pony, Pedlar Pack Spider, Prong-Eared Odd-Eyed Cat, Rihad Coffee Scorpion, Senche-Serval Kitten, Striped Senche-Panther Cub, Twighlight Striped Lynx, Unholy Glow Bone Dragon, Verdigris Haj Mota, Abecean Ratter Cat, Alik'r Dune-Hound, Alliance War Dog, Senchal Striped Cat.
Emotes: Angry Dust Off, Bite Me, Bright Moons Greeting, Bull horns, Chaos Ball Boom, Desert Rain Kata, Festival Beggar, Festive Treats, Flower Fling, GoutFang Kata, Let There Be Lichen!, Play Esraj, Play Tiny Violin Whispering Claw Kata, Wickerman Mishap.
Hats: Alliance Rider Hood, Arkthzand Anfractuosity Shroud, Ayleid Royal Crown, Blackmarrow Necro-Turban, Crown of Misrule, Dibella's Doll Mask Khajiiti, Graverobber's Appraising Hood, Nightmare Daemon Mask Khajiiti, Oblivion Explorer's Headwrap, Psijic Skullcap, Rajhin's Cat Mask, Renegade Dragon Priest Mask, Thicketman Spectre Mask, Vosh Rakh Ceremonial Mask, Werewolf Hunter Hat, Winter Corsage Broadbrim, Winter Garland Broadbrim, Winter Wreath Broadbrim.
Costumes: Alliance Rider Outfit, Ancestral Honor Garments, Blacksmith, Breton Hero Amor, Cavalier Of the Sworn Oath, Centurion Dress Armor, Covenant Scout, Cyrod Gentry's Town Gown, Dark Seducer, Dark Shaman, Doeskin-And-Chamois Woods Wear, Elder Council Tunic and Sash, Fishfolk Work Wear, Golden Saint, Grim Harvester, Imperial Chancellor, Kinlord's Alinor Attire, Lion Guard Knight, Mages Guild Formal Robes, Mannimarco, Moon-Sugar Festival Suit, Morthal Jarl Finery, Nobal Clan-Chief, Old Orsinium Sentry, Queen's-Eye Spymaster, Regalia of the Orsimer King, Royal Court Jester, Rumare Waterfront Casual Wear, Shrike's Nocturnal Frock, Timbercrow Wanderer, Toxin Doctor, Trinimac's Penitent Knight, Vengeance Day Dress.
Skins: Fabrication Sheath, Meridian Purified, Peryite's Afflicted.
Personalities: Assassin, Brassy Assassin, Heroic, Jester, Zombie.
Polymorphs: Factotum, Maelstrom Baron, Skeleton.
Mythics: Markyn Ring of Majesty, Ring of the Wild Hunt, Malacath's Band of Brutality, Torc of Tonal Constancy, Thrassian Stranglers
** This is about 80% of what I have. The last 20% are sets and I have at least 50-100+ Sets so I am not listing it all out lol. I was very serious about PvE and PvP content so I always had best in slot for the timeline that I played. Therefore, getting new items should be a breeze. **
| Feedback | Comment | From Buyer | Time |
| --- | --- | --- | --- |
PlayerAuctions makes it safe to buy from our members by securing your payment and guaranteeing delivery.
Buyer creates order and send payment to PlayerAuctions
PlayerGuardian secures payment
Seller completes delivery within delivery guarantee
Buyer confirm delivery
Seller receives disbursement
Option 1: In-game, Face to Face Delivery
Sellers will select this method of delivery if they intend to meet your character in-game with one of their own characters. Usually a seller will coordinate a time and location in-game to meet your character.
Tips:
Be sure to confirm the time to account for time zone differences
Confirm which Shard or Server the delivery is to take place in case your game world has more than one.
Never, under any circumstances, return gold, item, etc. to the delivery character if ever asked. In the event the seller asks you to, please take A screenshot and report this to PlayerAuctions Customer Support.
Option 2: In-game Mailbox delivery.
Some sellers will select the option to deliver gold or items directly to an in-game mailbox. This option is less popular for larger Games like WoW, but is still viable amongst other games. This option can be convenient for smaller orders because you do not need to coordinate time of delivery.
Low Prices: Prices set by other players or PowerSellers on PlayerAuctions are significantly lower than the high markups you would find on expensive retail sites.
Guaranteed Security: PlayerAuctions is quite simply the most secure place to buy and sell MMO game assets. Through PlayerGuardian, you are 100% guaranteed full and as-described delivery, or your money back.
Reliable Delivery Speed: PlayerAuctions calculates each seller's average delivery speed from the seller's latest successfully completed deliveries, which gives you a clear idea of how fast the seller will deliver your order.
To see how quickly the seller may deliver your order, refer to the seller's delivery guarantee period, which is their promise to complete delivery within a certain timeframe after your payment is securely sent to PlayerAuctions and is successfully verified. Each seller sets their delivery guarantee period independent of PlayerAuctions. In the event that the seller is not able to complete the delivery within their guaranteed time, you may cancel the order without penalty for a hassle-free refund from PlayerAuctions.
PlayerAuctions guarantees that the seller will deliver your order, or your money back. The overwhelming majority of transactions through our site occur successfully. As for the very exceptional cases, you can rest assured that they have been carefully considered by our systems and processes, and we are well prepared to handle them in the rare event that they do occur. Read more.
PlayerGuardian Buyer Protections
PlayerAuctions is the most secure place to buy and sell MMO game assets. Our proprietary security technology, PlayerGuardian, keeps you, your payments, and your trades protected and private. The protections below are provided to all PlayerAuctions buyers.
Guaranteed Payment Security
Convenient & Worry-Free Trading
A Secure, Trusted Trading Community
Guaranteed Full and As-Described Delivery, or Your Money Back
Guaranteed Seller On-Time Delivery, or Your Money Back
Information Privacy
PlayerAuctions After Sale 100% Support Guarantee
Transparent Seller Service Ratings
Bank-Level Data Security
Read more