Buy D2R Gold Coins – Diablo 2 Resurrected Gold Market
Ahh, Gold. The quintessential measure of riches in the world of Diablo 2: Resurrected. Gold is used to purchase conveniences such as keys, scrolls, and potions. More than its practicality, gold is also used for repairing equipment, or for gambling if a player wants to try their luck in getting rare items. In simpler terms, you can't live without it.
SELL
applegold
201900392
Best deal among sellers with a fair amount of ratings and feedback score.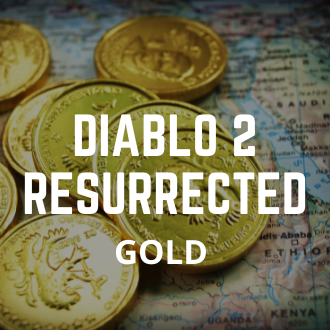 Why Do Buyers Buy Diablo 2 Resurrected Gold?
The world of Diablo 2 can be a harsh one. Gamers will have to battle an insane amount of enemies in their quest to track down the Dark Wanderer and find out what happened to Diablo himself, as well as Baal and Mephisto—as if the dark overlord himself isn't enough! On top of the constant trudge to get better equipment, gear sets, and higher progression with your character, accumulating insane amounts of gold is also a viable strategy. After all, gold is what gets you the game's necessities: from the basics such as life-saving potions, to dungeon essentials like scrolls or keys (that could net you more gold, by the way), it's safe to say that any adventurer won't go very far without a hefty amount of gold by his side. And in case you didn't know yet, gold also allows you to do some gambling; if you're feeling lucky, you could bag home a few good equips. Let's not forget: gold is also needed to repair your equipment.
Buyers may choose to buy Diablo 2 gold to make their experience much easier. Take note though, the game's challenge isn't lost—the thrill of questing is still very much there. Having gold readily on hand provides various benefits and conveniences, and allows players to focus on other facets of the game instead, such as farming better equips, conquering difficult dungeons, or simply progressing through the story. Some players dedicate weekends or days on end when it comes to farming gold. Having a sure stock of it ensures you don't get into a bottleneck, being stuck penniless for important items. Anytime you're feeling lucky to do some gambling, have ruined equipment that needs some TLC, or if you're just raring to go for some dungeon spelunking, your stash of gold will be waiting to make your questing a little bit easier and fun.
Based on the total ratings of 6 orders in the past year
Very easy to communicate and swift delievery.
20 M Diablo-2-Resurrected Gold
11/24/2023
Super quick and very good communication, just perfect
5 M Diablo-2-Resurrected Gold
07/30/2023
Fast Service!
5 M Diablo-2-Resurrected Gold
04/02/2023
PlayerAuctions makes it safe to buy video game currencies from our members by securing your payment and guaranteeing delivery.
Buyer creates order and send payment to PlayerAuctions
PlayerGuardian secures payment
Seller completes delivery within delivery guarantee
Buyer confirm delivery
Seller receives disbursement
Option 1: In-game, Face to Face Delivery
Sellers will select this method of delivery if they intend to meet your character in-game with one of their own characters. Usually a seller will coordinate a time and location in-game to meet your character.
Tips:
Be sure to confirm the time to account for time zone differences
Confirm which Shard or Server the delivery is to take place in case your game world has more than one.
Never, under any circumstances, return gold, item, etc. to the delivery character if ever asked. In the event the seller asks you to, please take A screenshot and report this to PlayerAuctions Customer Support.
Option 2: In-game Mailbox delivery.
Some sellers will select the option to deliver gold or items directly to an in-game mailbox. This option is less popular for larger Games like WoW, but is still viable amongst other games. This option can be convenient for smaller orders because you do not need to coordinate time of delivery.
Low Prices: Prices set by other players or PowerSellers on PlayerAuctions are significantly lower than the high markups you would find on expensive retail sites.
Guaranteed Security: PlayerAuctions is quite simply the most secure place to buy and sell MMO game assets. Through PlayerGuardian, you are 100% guaranteed full and as-described delivery, or your money back.
Reliable Delivery Speed: PlayerAuctions calculates each seller's average delivery speed from the seller's latest successfully completed deliveries, which gives you a clear idea of how fast the seller will deliver your order.
To see how quickly the seller may deliver your order, refer to the seller's delivery guarantee period, which is their promise to complete delivery within a certain timeframe after your payment is securely sent to PlayerAuctions and is successfully verified. Each seller sets their delivery guarantee period independent of PlayerAuctions. In the event that the seller is not able to complete the delivery within their guaranteed time, you may cancel the order without penalty for a hassle-free refund from PlayerAuctions.
PlayerAuctions guarantees that the seller will deliver your order, or your money back. The overwhelming majority of transactions through our site occur successfully. As for the very exceptional cases, you can rest assured that they have been carefully considered by our systems and processes, and we are well prepared to handle them in the rare event that they do occur. Read more.
About Diablo 2 Resurrected Gold
3 Easy Ways to Farm D2R Gold Coins
We have three easy recommendations that would surely help aspiring sellers of gold for Diablo 2: Resurrected.
Play a class you are most comfortable with - It goes without saying that farming for gold would veer towards a class you are most comfortable with. Remember, this part is less about role-playing nor trying experimental builds with other classes. Gold farming will be a monotonous process, but it doesn't have to be drab; play a class that you enjoy a lot so you can endure long hours, acquiring this important commodity.
Party up with other players - It's simple, really. When you party up with other players, you stay alive longer. That means more uptime doing the farming. Other players will back you up against mob encounters and the more you have with you, the better your chances are against hell's minions.
Stock up on those keys - Yes, if you have to go back to towns, do it. Always carry a good amount with you when you're about to enter a dungeon. This ensures you always have the means to open chests, and as we know, chests will always provide a good amount of gold in the long run. This is what we had in mind when we said you need gold to make more gold.
However you choose to do it, or if you ever choose to even do it, just avoid being burned out. Take breaks. Rome wasn't built in a day, and it's very much the same when it comes to your gold "bank account" in Diablo 2: Resurrected.
PlayerGuardian Buyer Protections
PlayerAuctions is the most secure place to buy and sell MMO game assets. Our proprietary security technology, PlayerGuardian, keeps you, your payments, and your trades protected and private. The protections below are provided to all PlayerAuctions buyers.
Guaranteed Payment Security
Convenient & Worry-Free Trading
A Secure, Trusted Trading Community
Guaranteed Full and As-Described Delivery, or Your Money Back
Guaranteed Seller On-Time Delivery, or Your Money Back
Information Privacy
PlayerAuctions After Sale 100% Support Guarantee
Transparent Seller Service Ratings
Bank-Level Data Security
Read more
PlayerAuctions is an independent player-to-player marketplace for buying and selling virtual video game property. PlayerAuctions is NOT endorsed by, directly affiliated with, maintained, authorized, or sponsored by Diablo 2 Resurrected or its trademark owner.
Select server and Faction