Buy & Sell Tree of Savior Silver - ToS Currency Market
The true spiritual successor to the classic Korean MMORPG Ragnarok Online, Tree of Savior boasts of pretty, unique, and colorful art direction, a job system that offers a wide plethora of classes, and a simple yet effective combat system suited for grinds. Rather than crudely grinding away, why not buy Tree of Savior silver from us here at PlayerAuctions?
SELL
Darn! There Are No Offers...But Wait.
Did you know we have over 200 games available for trading? Here are our most popular ones:
Want To Be the First to Sell?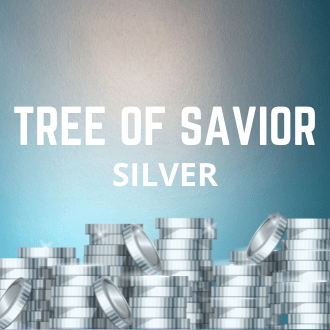 How Do I Buy Cheap Tree of Savior Silver Coins?
Register/log in and select the offer you want and send the payment through our system.
Wait for the seller to deliver the item to you or receive the ToF silver immediately if the seller has instant delivery.
Check if the silver has been officially sent to your ToF account.
Confirm payment once more on our system to let the seller get paid.
Get to Know the Tree of Savior Currency
Like any other roleplaying game, currency is crucial for the overall economy. After all, money makes the world go 'round. All the gamers in Tree of Savior are trying their best to collect as much silver as possible. There's no doubt that the easiest way to acquire enough of it is purchasing it directly here at PlayerAuctions, but let's take a look at just exactly what Tree of Savior Silver is and what you can do with it, as well as other types of currencies.
What is ToS Silver?
Just what is Tos gold and what can you buy with it you might ask? Well for starters, Tree of Savior Silver is considered the official currency of the game. You can use it to buy just about anything in the Tree of Savior, be it items, weapons, and more. While you can buy almost anything in the game with silver, there are some limited and exclusive items that you can only buy with Tree of Savior Points, or TP for short.
What is TP?
TP are Tree of Savior Points that you can use in each server. They are points you can use to change your team or character name, as well as purchase exclusive items that you can't acquire any other way. TP can be obtained by accumulating free TP over time as event rewards, by purchasing TP via PlayerAuctions, or through the TP Merchant. There's one TP Merchant in each city and you can purchase Tokens and other consumable items from them.
Besides the TP Merchant, you can also use Exchange Medals to buy items from the Exchange Shop. You can earn Exchange Medals by swapping items you've obtained through Goddess' Blessed Cube. You can purchase Goddess' Blessed Cube from the TP Shop. Upon using the cube, you can barter the items inside it for Medals. Like TP, there are certain items that are exclusive only to the Exchange, Shop like costumes.
Tips for Buying ToS Silver
While you can buy as much ToS silver as you want here at PlayerAuctions, we have some tips for you to maximize your money. Here are some things that you should be mindful of when buying ToF silver:
1. Check the Server
Hold up! Before you check out, aren't you forgetting something? Always check which server the seller is in before buying anything. For example, if you're from the USA, then be sure to search the NA server – Klaipeda on the page. Remember to select which server you're from to receive the ToS silver accordingly.
2. Buy in Bulk
Here at PlayerAuctions, we offer a volume discount for bulk buyers. Sellers here often offer a special discount when you buy more than the average Joe. So go big or go home, buy as much silver as you need and save a lot of money as opposed to buying only a small amount per transaction! ToS silver can easily come and go especially with the game having all kinds of unique items like skins and costumes for your character, making it ideal for you to buy a lot more silver than normal for sudden price drops in the market.
Based on the total ratings of 14 orders in the past year
delivered fast and safe! thx u
500 M Tree-of-Savior Silver
11/27/2022
Quick seller! Efficient and communicative
1782 M Tree-of-Savior Silver
08/04/2022
Excellent communication and swift delivery
495 M Tree-of-Savior Silver
07/26/2022
Instant, absolutely the best, perfect!!
298 M Tree-of-Savior Silver
07/01/2022
PlayerAuctions makes it safe to buy video game currencies from our members by securing your payment and guaranteeing delivery.
Buyer creates order and send payment to PlayerAuctions
PlayerGuardian secures payment
Seller completes delivery within delivery guarantee
Buyer confirm delivery
Seller receives disbursement
Option 1: In-game, Face to Face Delivery
Sellers will select this method of delivery if they intend to meet your character in-game with one of their own characters. Usually a seller will coordinate a time and location in-game to meet your character.
Tips:
Be sure to confirm the time to account for time zone differences
Confirm which Shard or Server the delivery is to take place in case your game world has more than one.
Never, under any circumstances, return gold, item, etc. to the delivery character if ever asked. In the event the seller asks you to, please take A screenshot and report this to PlayerAuctions Customer Support.
Option 2: In-game Mailbox delivery.
Some sellers will select the option to deliver gold or items directly to an in-game mailbox. This option is less popular for larger Games like WoW, but is still viable amongst other games. This option can be convenient for smaller orders because you do not need to coordinate time of delivery.
Low Prices: Prices set by other players or PowerSellers on PlayerAuctions are significantly lower than the high markups you would find on expensive retail sites.
Guaranteed Security: PlayerAuctions is quite simply the most secure place to buy and sell MMO game assets. Through PlayerGuardian, you are 100% guaranteed full and as-described delivery, or your money back.
Reliable Delivery Speed: PlayerAuctions calculates each seller's average delivery speed from the seller's latest successfully completed deliveries, which gives you a clear idea of how fast the seller will deliver your order.
To see how quickly the seller may deliver your order, refer to the seller's delivery guarantee period, which is their promise to complete delivery within a certain timeframe after your payment is securely sent to PlayerAuctions and is successfully verified. Each seller sets their delivery guarantee period independent of PlayerAuctions. In the event that the seller is not able to complete the delivery within their guaranteed time, you may cancel the order without penalty for a hassle-free refund from PlayerAuctions.
PlayerAuctions guarantees that the seller will deliver your order, or your money back. The overwhelming majority of transactions through our site occur successfully. As for the very exceptional cases, you can rest assured that they have been carefully considered by our systems and processes, and we are well prepared to handle them in the rare event that they do occur. Read more.
PlayerGuardian Buyer Protections
PlayerAuctions is the most secure place to buy and sell MMO game assets. Our proprietary security technology, PlayerGuardian, keeps you, your payments, and your trades protected and private. The protections below are provided to all PlayerAuctions buyers.
Guaranteed Payment Security
Convenient & Worry-Free Trading
A Secure, Trusted Trading Community
Guaranteed Full and As-Described Delivery, or Your Money Back
Guaranteed Seller On-Time Delivery, or Your Money Back
Information Privacy
PlayerAuctions After Sale 100% Support Guarantee
Transparent Seller Service Ratings
Bank-Level Data Security
Read more
PlayerAuctions is an independent player-to-player marketplace for buying and selling virtual video game property. PlayerAuctions is NOT endorsed by, directly affiliated with, maintained, authorized, or sponsored by Tree of Savior or its trademark owner.
Select server and Faction