Buy Star Trek Online Energy Credits - STO EC Currency Shop
Strengthen the 200-year galactic tradition by buying Star Trek Online Credits. The marketplace has currency including STO Energy Credits. Instead of grinding, buyers could choose to purchase STO Credits, become the most elite Starfleet officer, and explore uncharted territory in space. Enjoy STO with the new riches!
SELL
vladimirpalermo
187328290
Best price among sellers with a fair amount of ratings and feedback score.
Cigon
187038529
Best price among sellers with a fair amount of ratings and feedback score.
applegold
187336900
Best price among sellers with a fair amount of ratings and feedback score.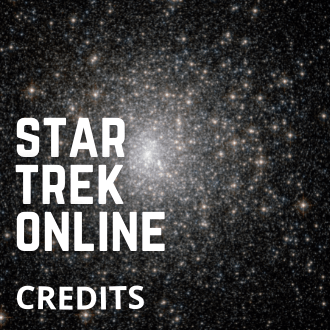 All About Star Trek Online Currencies
All games with some kind of trading will end up having currency. While some would stick to one kind, some games have multiple kinds for different functions. Players can use each one to exchange for various goods and services. There can be some overlap between the goods these currencies can be exchanged for, though a majority is mutually exclusive.
Star Trek Online is no different and uses a few different currency systems. Here they are and their function
Energy Credits - The general use currency. Used for a variety of sales for goods and services. The most common currency seen in the game. Comparable to gold for most other games.
Reputation Marks - Used to start reputation projects. Of course, that faction's Marks should be used for their projects. It's impossible to use another faction's marks to start a project. Obtained by doing Task Force Operations (TFOs) and Daily Bonus Mark rewards.
Fleet Assets - There are two kinds. The first, Fleet Marks, is earned from TFOs. These are used in Fleet Projects which reward Fleet Credits, the second kind. The latter can be spent on Fleet-related purchases or upgrades.
Dilithium - Can be earned as Ore from various sources. Ores can be refined into Refined Dilithium which is the only thing that can be exchanged for starships or Zen.
Lobi Crystals - Comes from Lockboxes, may be used to exchange on the Lobi Crystal Consortium.
Zen - The premium currency bought with real-world money. Used for various special items for this game and other Perfect World Games.
Why Buy STO Energy Credits and Other Currency
Like in real life, earning money is no easy task. Even in-game, players should put in the effort to earn. Whether that's by doing tasks or by trading with others, there's no denying that it takes time for the riches to accumulate. The problem is, not everyone has the time to spend on doing those repetitive, tedious tasks to earn virtual currency.
It can be a variety of reasons, from needing to study to prioritizing something other than playing a video game. Whatever their reason is, buying STO currency is the easiest way to get the currency they need. They don't have to waste time on grinding and farming them, letting them get onto what they want to do.
The best place for these trades is the online marketplace. Security ensures no foul play butts into the trade. The community keeps goods and services flowing, as there's always a buyer and seller for every kind of offer. Lastly, everything on the marketplace is quite cheap because of the lack of subscription fees.
With that, it's time to enjoy having more than enough currency in the game. Have fun playing Star Trek Online!
Based on the total ratings of 1364 orders in the past year
Great service
700 M STO Credits
11/27/2022
Order went great, apologies for not closing properly, did not remember to
2000 M STO Credits
11/24/2022
im a happy man
700 M STO Credits
11/21/2022
Five Stars isn't high enough. My Preferred seller !! A+++
700 M STO Credits
11/21/2022
PlayerAuctions makes it safe to buy video game currencies from our members by securing your payment and guaranteeing delivery.
Buyer creates order and send payment to PlayerAuctions
PlayerGuardian secures payment
Seller completes delivery within delivery guarantee
Buyer confirm delivery
Seller receives disbursement
Option 1: In-game, Face to Face Delivery
Sellers will select this method of delivery if they intend to meet your character in-game with one of their own characters. Usually a seller will coordinate a time and location in-game to meet your character.
Tips:
Be sure to confirm the time to account for time zone differences
Confirm which Shard or Server the delivery is to take place in case your game world has more than one.
Never, under any circumstances, return gold, item, etc. to the delivery character if ever asked. In the event the seller asks you to, please take A screenshot and report this to PlayerAuctions Customer Support.
Option 2: In-game Mailbox delivery.
Some sellers will select the option to deliver gold or items directly to an in-game mailbox. This option is less popular for larger Games like WoW, but is still viable amongst other games. This option can be convenient for smaller orders because you do not need to coordinate time of delivery.
Low Prices: Prices set by other players or PowerSellers on PlayerAuctions are significantly lower than the high markups you would find on expensive retail sites.
Guaranteed Security: PlayerAuctions is quite simply the most secure place to buy and sell MMO game assets. Through PlayerGuardian, you are 100% guaranteed full and as-described delivery, or your money back.
Reliable Delivery Speed: PlayerAuctions calculates each seller's average delivery speed from the seller's latest successfully completed deliveries, which gives you a clear idea of how fast the seller will deliver your order.
To see how quickly the seller may deliver your order, refer to the seller's delivery guarantee period, which is their promise to complete delivery within a certain timeframe after your payment is securely sent to PlayerAuctions and is successfully verified. Each seller sets their delivery guarantee period independent of PlayerAuctions. In the event that the seller is not able to complete the delivery within their guaranteed time, you may cancel the order without penalty for a hassle-free refund from PlayerAuctions.
PlayerAuctions guarantees that the seller will deliver your order, or your money back. The overwhelming majority of transactions through our site occur successfully. As for the very exceptional cases, you can rest assured that they have been carefully considered by our systems and processes, and we are well prepared to handle them in the rare event that they do occur. Read more.
Star Trek has long been an important part of geek culture for decades. What started as an immensely popular science fiction series in the 60s spawned TV show and movie trilogy spinoffs, merchandise worth thousands of dollars, and many video games. Star Trek Online (STO) is an MMO that lets players explore the universe figuratively, fight Klingons, and collect STO Energy credits, and build ships.
The Importance of STO Energy Credits for Players
Farming STO Energy Credits is not the most exciting thing a player can do, unfortunately. And with no quick and easy way to earn credits, every day can feel like a slog for the gamers that just want to have enough credits to get them through the game. Thankfully, there are third-party marketplaces out there that have sellers for Star Trek Online credits where buyers can purchase them. As player-to-player online marketplaces continue to mushroom, players will get to have an easier time getting the battlecruiser of their dreams. Gone are the days where they will have to waste their time just to grind for credits. Strap in, and enjoy the ride. With STO energy credits by their side, gamers will be able to get all sorts of powerful ships in just a few clicks.
Star Trek Online Energy Credits: Where to Use Them
Many things have set STO apart from other MMO games, especially since it's based on a widely, recognized sci-fi franchise. There are three primary classes: tactical, engineer, and science officer. Similar to other MMOs, each class fills a particular role. The first one (tactical officer), is about combat: doing damage in many ways and fighting is what this class is designed to perform. The second class (the engineer) is STO's support. They help increase the damage output of the tactical officers, heal fellow players, and repair ships. The engineer is a must-have for every party. The last role (the science officer) is a combination of both the tactical officer and the engineer, which is a jack-of-all-trades-master-of-none type. With a science officer, players can deal damage, heal, repair, and buff.
In addition to a rather simple yet fitting three-class system, the game is unique because of the two modes: Ground and Space. For the Ground Mode, players can explore planets on foot and take on enemies. Space Mode, on the other hand, is where players travel and engage in galactic battles with other ships, and players need to make their ships the best as much as possible.
For players to equip their characters with the best gear and to build a solid ship, they need to have Star Trek Online Credits (game currency). STO gives players more opportunity to farm for STO credits.
Earning STO Credits Our Way: The Easy Way
First off, people can sell beam tech upgrades because they only require uncommon materials, which are fairly inexpensive costing them 7,500 STO Energy Credits. Sellers can sell over 30,000 energy credits, so that's twice or even triple the profit.
Dilithium is a great way to make energy credits for purchasing ships, weapons, and deflectors, and shields. Crafting materials can also be traded for Zen. In turn, Zen can be used to buy keys, which are then sold for credits.
Another way to earn credits in the game is by selling Contraband, an item that is worth 2000 energy credits. To obtain this particular item, players can either engage in a wide variety of duty officer assignments with Hangar (Advanced Orion Slavers), which can steal Contraband from other ships. Do note, however, that this does not work in the PvP mode.
There are many other methods to farm Energy Credits in the game, but they have their drawbacks. They're easy to do and require lots of time before they become profitable. Thankfully, there is always a third option for players that don't necessarily have all the time in the world, and that is getting cheap STO credits from an online source.
Many sites are available for players to buy STO credits from. So, if a player needs some or even a good chunk, then they don't have to worry about not being able to purchase some. The problem, however, is choosing which third-party marketplace they ought to choose to get their fix. These days, it's hard to tell which online marketplaces have the cheapest rates.
"
PlayerGuardian Buyer Protections
PlayerAuctions is the most secure place to buy and sell MMO game assets. Our proprietary security technology, PlayerGuardian, keeps you, your payments, and your trades protected and private. The protections below are provided to all PlayerAuctions buyers.
Guaranteed Payment Security
Convenient & Worry-Free Trading
A Secure, Trusted Trading Community
Guaranteed Full and As-Described Delivery, or Your Money Back
Guaranteed Seller On-Time Delivery, or Your Money Back
Information Privacy
PlayerAuctions After Sale 100% Support Guarantee
Transparent Seller Service Ratings
Bank-Level Data Security
Read more
Select server and Faction