COLLECTOR'S + VETERAN-TIER PVP ACC! LEVEL 50 MYSTIC! 199M EXP! 321+ LEGENDARY! 1024+ SHINY | APEX LEGENDS | 4 LEGENDS 100% IV | SHINY ASH PIKACHU
I Want to Sell
Pokémon Go-Main Server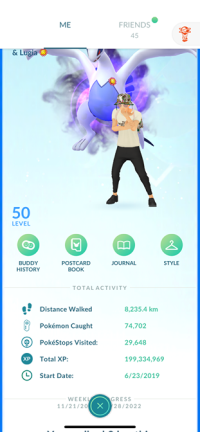 Dec-26-2022 11:37:42 AM

29 time(s)

Instant

Lvl 2

30-Day Seller Performance

Seller Lvl 2
Member since 2020

Total orders

Pokemon Go
account reviews

Total rating

Pokemon Go
account rating

Total orders: 488

Member since: 2020

5.0

Pokémon Go account : Seller Rating

(231)
1. Check out and complete the payment
2. Receive an email with the Game Account details
3. Log in to the Game Account and verify description
4. Confirm the delivery
5. Seller gets paid
[COLLECTOR'S + VETERAN PVP ACCOUNT!]
[SUPER RUSH SALE! PRICE DROPPED TO 399$ FROM 400$]
[PURCHASING THIS ACCOUNT MEANS YOU'RE GUARANTEED WITH THE BEST LINE-UPS FOR PVP!]
SPECIAL FEATURES:
- ACCOUNT CREATED IN 2019. SAFE WITHOUT BANS OR WARNINGS. WITH ACCUMULATED 199 MILLIONS OF EXP!
-CONTAINS GODLY LISTS OF CURATED 321+ LEGENDARIES AND MYTHICAL, AND ALMOST COMPLETE LEGENDARIES! INCLUDING :
LOTS OF LUCKY, SHINY, SHADOW, OR PERFECT LEGENDARIES!
4 LEGENDARIES WITH 100% IV! (EACH HAS 0.02% ENCOUNTER RATE!) :
YVELTAL, REGISTEE, REGICE
SHINY 100% IV ENTEI (ULTRA RARE! HAS 0.001% ENCOUNTER RATE!)
INCLUDES SHADOW HO-OH + SHADOW APEX LUGIA HIGH CP BEST BUDDY! (ULTRA RARE + VERY EXPENSIVE TO POWER UP, STRONGEST LEGENDARY IN THE GAME! WITH BONUS ATTACK FROM BEST BUDDY!)
-1024+ SHINY POKEMON IN COLLECTION, AND 207+ PERFECT IV (100% IV). WITH 52+ LUCKY POKEMON, AND 359+ POKEMON WITH SPECIAL STATUS OR MOVE! READY FOR GYM BATTLES, COLLECTOR'S EDITION!
- ULTRA TEAM! TONS OF MAX CP AND 90-100% IV AND 3000-4000+ CP AND PERFECT IV POKEMON INCLUDING LEGENDARIES! DESTROY RAIDS AND GYM BATTLES!

- EXCLUSIVE EXCLUSIVE EVENT POKEMON : ALMOST ALL MYTHICALS COMPLETE! AND OTHER VARIOUS SUPER RARE SHINY EVENT POKEMONS
EXCLUSIVE MYTHICALS : HOOPA, ZARUDE, JIRACHI, VICTINI, MEW, SHINY CELEBI, ETC!
- EXCLUSIVE PVP GLADION POSE!
-LOTS OF SHINY HATCHED / BABY POKEMON! (WORTH 80$)
-LOTS OF SHINY COSTUME! (WORTH 200$) .
-EXCLUSIVE ULTRA RARE SHINY PIKACHU ASH HAT (WORTH 100$) + SHINY PIKACHU WITH PICNIC COSTUME (WORTH 65$)
-LOTS OF SHINY SHADOW POKEMON!
* STARDUST: 1.200.000
* SHINY POKEMON (1024)
* LEGENDARY & MYTHICAL (321)
* PERFECT IV POKEMON (207)
* @SPECIAL + LUCKY POKEMON (359+ 52)
* POKEMON SLOTS (2400)
* ITEM SLOTS (1950)
*SHADOW POKEMON (159)
PM ME IF YOU WANT MORE SCREENSHOTS :)
Why you have to choose ProMarketPlay / VictusStore :
- Est. in 2020, We have been trading for over 2 years and over 500+ accounts TRADED SUCCESSFULLY!
- Instant and SUPER FAST delivery!
- We deliver the right accounts, as described !
More info ? PM Me! :)
-POKEMON GO FAQ-
A :Why do we only provide a high level and high quality account?
To reach level 50, you need a total of minimum 176 MILLIONS OF EXP. that takes years of grinding. Even if you're a HARDCORE player, you'll still need at least 12 months to LEVEL 50 BECAUSE OF THE EXTREME CHALLENGES!
Not even to mention all of the exclusive and great pokemon only come on rare occasions and can't be find in the wild.
It also takes tons of raid passes and hundreds of dollars to even do raids to get legendaries.
We provide the most efficient way for our customer to enjoy those features with just a couple of hundred bucks without even trying.
Just check our review to find our customer's testimonies.
A : So, is buying a level 50 account worth the money?
Definitely! It is so worth it, if you grind to level 50 yourselves, you'd have to spend tons of lucky eggs worth HUNDREDS of dollars. also in addition, to power up your pokemons, you need MILLIONS of stardust which is very time consuming.
On the way to reach level 40, you will need to spend at least 600+$ JUST FOR POKEMON SLOT, BAG SLOT, OR EVEN LUCKY EGGS, INCENSE , RAID PASSES AND STAR PIECE. You'd spend at least 1200$+ to reach level 50!
Why do you choose the hard way if we provide you the easy way? :)
| Feedback | Comment | From Buyer | Time |
| --- | --- | --- | --- |
PlayerAuctions makes it safe to buy from our members by securing your payment and guaranteeing delivery.
Buyer creates order and send payment to PlayerAuctions
PlayerGuardian secures payment
Seller completes delivery within delivery guarantee
Buyer confirm delivery
Seller receives disbursement
Option 1: In-game, Face to Face Delivery
Sellers will select this method of delivery if they intend to meet your character in-game with one of their own characters. Usually a seller will coordinate a time and location in-game to meet your character.
Tips:
Be sure to confirm the time to account for time zone differences
Confirm which Shard or Server the delivery is to take place in case your game world has more than one.
Never, under any circumstances, return gold, item, etc. to the delivery character if ever asked. In the event the seller asks you to, please take A screenshot and report this to PlayerAuctions Customer Support.
Option 2: In-game Mailbox delivery.
Some sellers will select the option to deliver gold or items directly to an in-game mailbox. This option is less popular for larger Games like WoW, but is still viable amongst other games. This option can be convenient for smaller orders because you do not need to coordinate time of delivery.
Low Prices: Prices set by other players or PowerSellers on PlayerAuctions are significantly lower than the high markups you would find on expensive retail sites.
Guaranteed Security: PlayerAuctions is quite simply the most secure place to buy and sell MMO game assets. Through PlayerGuardian, you are 100% guaranteed full and as-described delivery, or your money back.
Reliable Delivery Speed: PlayerAuctions calculates each seller's average delivery speed from the seller's latest successfully completed deliveries, which gives you a clear idea of how fast the seller will deliver your order.
To see how quickly the seller may deliver your order, refer to the seller's delivery guarantee period, which is their promise to complete delivery within a certain timeframe after your payment is securely sent to PlayerAuctions and is successfully verified. Each seller sets their delivery guarantee period independent of PlayerAuctions. In the event that the seller is not able to complete the delivery within their guaranteed time, you may cancel the order without penalty for a hassle-free refund from PlayerAuctions.
PlayerAuctions guarantees that the seller will deliver your order, or your money back. The overwhelming majority of transactions through our site occur successfully. As for the very exceptional cases, you can rest assured that they have been carefully considered by our systems and processes, and we are well prepared to handle them in the rare event that they do occur. Read more.
PlayerGuardian Buyer Protections
PlayerAuctions is the most secure place to buy and sell MMO game assets. Our proprietary security technology, PlayerGuardian, keeps you, your payments, and your trades protected and private. The protections below are provided to all PlayerAuctions buyers.
Guaranteed Payment Security
Convenient & Worry-Free Trading
A Secure, Trusted Trading Community
Guaranteed Full and As-Described Delivery, or Your Money Back
Guaranteed Seller On-Time Delivery, or Your Money Back
Information Privacy
PlayerAuctions After Sale 100% Support Guarantee
Transparent Seller Service Ratings
Bank-Level Data Security
Read more