Buy Neverwinter Astral Diamonds - NW Currency Market
Feel the icy embrace of Neverwinter! The action and adventure never stops in the Forgotten Realms. Raise your character assets through Neverwinter Astral Diamonds via PlayerAuctions. Adventure, glory, and immortality beckon to you. Stock up on NW currency and rise above the paralyzing frost!
SELL
Cooniee
167230108
$4.500 / M Astral Diamond
applegold
167251655
$5.800 / M Astral Diamond
eren3888
166259746
$4.600 / M Astral Diamond
Hersheys
166947134
$5.000 / M Astral Diamond
Boncea
167245220
$5.660 / M Astral Diamond
HotsOnEpic
166910145
$5.000 / M Astral Diamond
Quickly
166125340
$7.000 / M Astral Diamond
applegold
167251656
$7.900 / M Astral Diamond
safe_fast
166968549
$7.850 / M Astral Diamond
jappe66
167248482
$6.650 / M Astral Diamond
applegold
167251654
$6.900 / M Astral Diamond
makesecond
166981950
$6.660 / M Astral Diamond
safe_fast
166968558
$6.660 / M Astral Diamond
cheaprsgolds
166961963
$6.670 / M Astral Diamond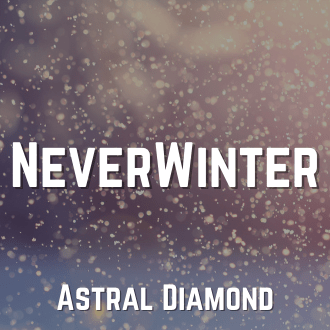 Feel the Power of Neverwinter Astral Diamonds Today!
Neverwinter has several currencies players can use in-game. Zen and gold are two of these and the most important. If you want to be powerful in the game then you need to have Zen and gold. To get both of these you need to have a lot of Neverwinter Astral Diamonds. Thankfully, PlayerAuctions can help you there. Through our marketplace you can buy Astral Diamonds at friendly player to player prices. Best of all, with over 1 million members, you can be sure to find someone selling them at the price you want. You can also buy Neverwinter gold too!
What are Neverwinter Astral Diamonds?
They are a special currency in the game. It is used to buy items from the Auction House and can be converted into Zen. Having plenty of Astral Diamonds will allow you to buy the most powerful items in the game. Best of all, you save time and have more fun!
Already have a lot of Astral Diamonds, but not a lot of money? Sell them on the PlayerAuctions marketplace! Our marketplace always has players willing to buy Neverwinter Astral Diamonds. We will help you turn your digital treasures into real world cash. Earn money the fun and easy way!
Trade Neverwinter Astral Diamonds with peace of mind
Transacting with other players through the PlayerAuctions marketplace is safe and secure. Thanks to our PlayerGuardian Trading Protections, we ensure that all Neverwinter gold and Astral Diamonds offers are genuine and that each purchase has been delivered before disbursement is issued.
There are so many reasons why trading at PlayerAuctions makes perfect sense. We offer the best prices for Neverwinter Astral Diamonds and provide our friendly community with multiple payment options and 24 x 7 Customer Support. We have been keeping our members and their trades safe since 1999 and are a BCA accredited company.
If you have questions, concerns or suggestions, please do not hesitate to contact us. You can reach us through our 24x7 Customer Support, email, or fax. Happy trading!
Based on the total ratings of 51 orders in the past 30 days
PlayerAuctions makes it safe to buy video game currencies from our members by securing your payment and guaranteeing delivery.
Buyer creates order and send payment to PlayerAuctions
PlayerGuardian secures payment
Seller completes delivery within delivery guarantee
Buyer confirm delivery
Seller receives disbursement
Option 1: In-game, Face to Face Delivery
Sellers will select this method of delivery if they intend to meet your character in-game with one of their own characters. Usually a seller will coordinate a time and location in-game to meet your character.
Tips:
Be sure to confirm the time to account for time zone differences
Confirm which Shard or Server the delivery is to take place in case your game world has more than one.
Never, under any circumstances, return gold, item, etc. to the delivery character if ever asked. In the event the seller asks you to, please take A screenshot and report this to PlayerAuctions Customer Support.
Option 2: In-game Mailbox delivery.
Some sellers will select the option to deliver gold or items directly to an in-game mailbox. This option is less popular for larger Games like WoW, but is still viable amongst other games. This option can be convenient for smaller orders because you do not need to coordinate time of delivery.
Low Prices: Prices set by other players or PowerSellers on PlayerAuctions are significantly lower than the high markups you would find on expensive retail sites.
Guaranteed Security: PlayerAuctions is quite simply the most secure place to buy and sell MMO game assets. Through PlayerGuardian, you are 100% guaranteed full and as-described delivery, or your money back.
Reliable Delivery Speed: PlayerAuctions calculates each seller's average delivery speed from the seller's latest successfully completed deliveries, which gives you a clear idea of how fast the seller will deliver your order.
To see how quickly the seller may deliver your order, refer to the seller's delivery guarantee period, which is their promise to complete delivery within a certain timeframe after your payment is securely sent to PlayerAuctions and is successfully verified. Each seller sets their delivery guarantee period independent of PlayerAuctions. In the event that the seller is not able to complete the delivery within their guaranteed time, you may cancel the order without penalty for a hassle-free refund from PlayerAuctions.
PlayerAuctions guarantees that the seller will deliver your order, or your money back. The overwhelming majority of transactions through our site occur successfully. As for the very exceptional cases, you can rest assured that they have been carefully considered by our systems and processes, and we are well prepared to handle them in the rare event that they do occur. Read more.
About Never Winter Astral Diamond
In some MMORPGs, there is a form of currency that is separate from the usual gold or staple currency. Neverwinter is one of these; and in the game they're called Astral Diamonds. Neverwinter Astral Diamonds are important for a wide variety of reasons, so it's vital to know where and how to gather them. To get these necessary bits of info, read on.
Neverwinter Astral Diamonds – Rough Astral Diamonds
Gold is used to buy items and equipment; astral diamonds are too. However, these diamonds can't be passed from one player to another, and they are the main currency that players use to purchase and sell items in the auction house. In fact, the most powerful equipment, which are important for endgame content, are bought using this particular form of currency.
There are many ways to obtain astral diamonds, and rightfully so. However, do note that you can only earn up to thirty-six thousand astral diamonds per day. This applies to all methods, except selling in the Auction House. There are two forms of astral diamonds: the regular form, which can be spent and be acquired; and rough astral diamonds, which have to be refined first in order to become regular astral diamonds. And if you don't plan to spend any real-life money to purchase astral diamonds or zen, which can be traded in for astral diamonds, then the only option you have would be refining rough astral diamonds. Thankfully, there are two ways to obtain rough astral diamonds, so it's up to you which one you'd rely one.
The first one would be through salvaging Items. After the release of the Fury of the Feywild module, the first ever major update of Neverwinter, players have been given the option to "salvage" epic equipment pieces that are level 60 and above and have "Salvageable" written on their tool tip. By doing so, the equipment is destroyed and then yields a number of rough astral diamonds. The other way would be by finishing skirmishes and dungeons, as well as in competing PVP. Either way, the important thing is that you gain rough astral diamonds, and later on get to refine them to get regular, spendable rough astral diamonds. Do note, however, that the regular astral diamonds that will be the result of the refinement is still counted on the thirty-six thousand astral diamond limit that is set daily.
Astral Diamonds: How To Gather
Next would be obtaining regular astral diamonds. To obtain them, you can sell items in the auction house. But don't just stick to selling, as you can gain more astral diamonds by buying out certain items that are sold cheap, and then selling them for a much higher price. Because you now control the supply, you will be able to dictate the price of that particular item. Another way would be selling zen, currency which is bought from the game itself using actual money, in the Astral Diamond Exchange, a system that allows players to trade their zen for astral diamonds. The exchange depends on the players' desired rate, but there is a limit: 1 zen can cost 50 astral diamonds minimum, and 500 astral diamonds max. In addition, players can also trade in up to 5000 zen max. You can also give idols to Rhix, an NPC that informs about and gives players specific rewards for certain actions and events. Depending on the lockbox which your idol came from, you can get up to 40000 to 50000 astral diamonds.
Last but definitely not least would be one of the best and fastest ways to this much-needed resource: to buy astral diamonds from online marketplaces. There is, however, a problem here: there are a lot of players and sites that are scams. Thankfully, PlayerAuctions, one of the most legit online player-to-player trading platforms there is, and we are here to help.
PlayerAuctions – Buy Astral Diamonds From Us
PlayerAuctions is the best place there is for your astral diamonds fix. We don't sell Neverwinter Astral diamonds per se; rather, we give you the option to choose from which players you buy from.
We deal with both buyers and sellers, and we take good care of both. For buyers, to ensure their security, we have put in place our PlayerGuardian system, which protects our buyers' sensitive information. In addition, we have a five-tier Power Seller system, allowing buyers to check the reputation of sellers. And to give our sellers the reward they deserve, we charge zero dollars on our registration fee, and we charge much lower seller costs compared to other sites. And whichever of the two you are, you can contact our live customer service if you encounter any problems.
On the other hand, if you play games other than Neverwinter and would like to either buy or sell assets, you can check out our catalog and see if we provide services for your game of choice.
We at PlayerAuctions make sure that you have what you need. And if it's Neverwinter Astral Diamonds you want, then we have it here. So stick with us, and you'll never lack anything in your Neverwinter endeavors.
PlayerGuardian Buyer Protections
PlayerAuctions is the most secure place to buy and sell MMO game assets. Our proprietary security technology, PlayerGuardian, keeps you, your payments, and your trades protected and private. The protections below are provided to all PlayerAuctions buyers.
Guaranteed Payment Security
Convenient & Worry-Free Trading
A Secure, Trusted Trading Community
Guaranteed Full and As-Described Delivery, or Your Money Back
Guaranteed Seller On-Time Delivery, or Your Money Back
Information Privacy
PlayerAuctions After Sale 100% Support Guarantee
Transparent Seller Service Ratings
Bank-Level Data Security
Read more