Buy Neverwinter Astral Diamonds - NW Currency Market
Feel the icy embrace of Neverwinter! The action and adventure never stops in the Forgotten Realms. For those who need to raise character assets, they can do so by buying Neverwinter Astral Diamonds from other players. Adventure, glory, and immortality beckons, so stock up on NW currency and rise above the paralyzing frost!
SELL
playersbruh
190006797
$4.500 / M Astral Diamond
eren3888
189986741
Best price among sellers with a fair amount of ratings and feedback score.
$3.800 / M Astral Diamond
wutrad
189965939
$4.000 / M Astral Diamond
Hersheys
189920909
$4.000 / M Astral Diamond
Cigon
189634157
$4.000 / M Astral Diamond
BestSpeed
189899970
$4.000 / M Astral Diamond
applegold
190013508
$6.000 / M Astral Diamond
safe_fast
189765727
$9.000 / M Astral Diamond
applegold
190013509
$11.000 / M Astral Diamond
sonrichtiger
189983019
Best price among sellers with a fair amount of ratings and feedback score.
$5.664 / M Astral Diamond
KSCERATO
190022734
$5.600 / M Astral Diamond
safe_fast
189974253
$5.780 / M Astral Diamond
applegold
190013507
$6.000 / M Astral Diamond
cheaprsgolds
189873591
$6.150 / M Astral Diamond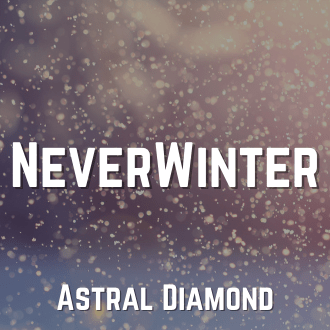 Feel the Power of Neverwinter Astral Diamonds Today!
Neverwinter has several currencies players can use in-game. Zen and gold are two of these and the most important. Players want to be powerful in the game then you need to have Zen and gold. To get both of these, they need to have a lot of Neverwinter Astral Diamonds. Thankfully, they can buy from fellow players.
What are Neverwinter Astral Diamonds?
They are a special currency in the game. It is used to buy items from the Auction House and can be converted into Zen. Having plenty of Astral Diamonds will allow players to buy the most powerful items in the game. Best of all, you save time and have more fun.
On the other hand, players that already have a lot of Astral Diamonds but want to make money can sell them to fellow players.
The Price of Neverwinter Astral Diamonds
Sellers can put any price on Neverwinter Astral Diamonds. It is, however, recommended that they follow current pricing trends to ensure that buyers will choose to buy from them. Likewise, buyers are encouraged to go for sellers with fairer prices.
Based on the total ratings of 639 orders in the past year
Always reliable
10 M Never-Winter Astral Diamond
02/04/2023
Item delivered as stated, decent speed. Will use again!
10 M Never-Winter Astral Diamond
02/04/2023
Absolutely perfect thank you!
50 M Never-Winter Astral Diamond
02/01/2023
Perfect as always, thank you!
10 M Never-Winter Astral Diamond
01/29/2023
PlayerAuctions makes it safe to buy video game currencies from our members by securing your payment and guaranteeing delivery.
Buyer creates order and send payment to PlayerAuctions
PlayerGuardian secures payment
Seller completes delivery within delivery guarantee
Buyer confirm delivery
Seller receives disbursement
Option 1: In-game, Face to Face Delivery
Sellers will select this method of delivery if they intend to meet your character in-game with one of their own characters. Usually a seller will coordinate a time and location in-game to meet your character.
Tips:
Be sure to confirm the time to account for time zone differences
Confirm which Shard or Server the delivery is to take place in case your game world has more than one.
Never, under any circumstances, return gold, item, etc. to the delivery character if ever asked. In the event the seller asks you to, please take A screenshot and report this to PlayerAuctions Customer Support.
Option 2: In-game Mailbox delivery.
Some sellers will select the option to deliver gold or items directly to an in-game mailbox. This option is less popular for larger Games like WoW, but is still viable amongst other games. This option can be convenient for smaller orders because you do not need to coordinate time of delivery.
Low Prices: Prices set by other players or PowerSellers on PlayerAuctions are significantly lower than the high markups you would find on expensive retail sites.
Guaranteed Security: PlayerAuctions is quite simply the most secure place to buy and sell MMO game assets. Through PlayerGuardian, you are 100% guaranteed full and as-described delivery, or your money back.
Reliable Delivery Speed: PlayerAuctions calculates each seller's average delivery speed from the seller's latest successfully completed deliveries, which gives you a clear idea of how fast the seller will deliver your order.
To see how quickly the seller may deliver your order, refer to the seller's delivery guarantee period, which is their promise to complete delivery within a certain timeframe after your payment is securely sent to PlayerAuctions and is successfully verified. Each seller sets their delivery guarantee period independent of PlayerAuctions. In the event that the seller is not able to complete the delivery within their guaranteed time, you may cancel the order without penalty for a hassle-free refund from PlayerAuctions.
PlayerAuctions guarantees that the seller will deliver your order, or your money back. The overwhelming majority of transactions through our site occur successfully. As for the very exceptional cases, you can rest assured that they have been carefully considered by our systems and processes, and we are well prepared to handle them in the rare event that they do occur. Read more.
About Never Winter Astral Diamond
In some MMORPGs, there is a form of currency that is separate from the usual gold or staple currency. Neverwinter is one of these; and in the game they're called Astral Diamonds. Neverwinter Astral Diamonds are important for a wide variety of reasons, so it's vital to know where and how to gather them. To get these necessary bits of info, read on.
Neverwinter Astral Diamonds – Rough Astral Diamonds
Gold is used to buy items and equipment; astral diamonds are, too. However, these diamonds can't be passed from one player to another, and they are the main currency that players use to purchase and sell items in the Auction House. In fact, the most powerful equipment, which are important for endgame content, are bought using this particular form of currency.
There are many ways to obtain Astral Diamonds, and rightfully so. However, do note that players can only earn up to thirty-six thousand Astral Diamonds per day. This applies to all methods, except selling in the Auction House. There are two forms of Astral Diamonds: the regular form, which can be spent and be acquired; and Rough Astral Diamonds, which have to be refined first in order to become regular Astral Diamonds. If a player doesn't plan to spend any real-life money to purchase Astral Diamonds or zen, which can be traded in for Astral Diamonds, then the only option is to refine Rough Astral Diamonds. Thankfully, there are two ways to obtain Rough Astral Diamonds, so it's up to the player which one they will rely on.
The first one would be through salvaging Items. After the release of the Fury of the Feywild module, the first ever major update of Neverwinter, players have been given the option to "salvage" epic equipment pieces that are level 60 and above and have "Salvageable" written on their tool tip. By doing so, the equipment is destroyed and then yields a number of rough astral diamonds. The other way would be by finishing skirmishes and dungeons, as well as when competing in PVP. Either way, the important thing is to gain Rough Astral Diamonds, and later on get to refine them to get regular, spendable Rough Astral Diamonds. Do note, however, that the regular Astral Diamonds that will be the result of the refinement is still counted on the thirty-six thousand Astral Diamond limit that is set daily.
Astral Diamonds: How To Gather
Next would be obtaining regular Astral Diamonds. To obtain them, sell items in the Auction House. But don't just stick to selling, as it's possible to gain more Astral Diamonds by buying out certain items that are sold cheap, and then selling them for a much higher price. With the control of the supply on the player's hands, he or she will be able to dictate the price of that particular item. Another way would be selling zen, currency which is bought from the game itself using actual money, in the Astral Diamond Exchange, a system that allows players to trade their zen for Astral Diamonds. The exchange depends on the players' desired rate, but there is a limit: 1 zen can cost 50 Astral Diamonds minimum, and 500 Astral Diamonds max. In addition, players can also trade in up to 5000 zen max. and can also give idols to Rhix, an NPC that informs about and gives players specific rewards for certain actions and events. Depending on the lockbox which the idol came from, the player can get up to 40000 to 50000 Astral Diamonds.
Last but definitely not least would be one of the best and fastest ways to this much-needed resource: to buy Astral Diamonds from fellow players. This is a fast and easy method, not to mention cheap.
PlayerGuardian Buyer Protections
PlayerAuctions is the most secure place to buy and sell MMO game assets. Our proprietary security technology, PlayerGuardian, keeps you, your payments, and your trades protected and private. The protections below are provided to all PlayerAuctions buyers.
Guaranteed Payment Security
Convenient & Worry-Free Trading
A Secure, Trusted Trading Community
Guaranteed Full and As-Described Delivery, or Your Money Back
Guaranteed Seller On-Time Delivery, or Your Money Back
Information Privacy
PlayerAuctions After Sale 100% Support Guarantee
Transparent Seller Service Ratings
Bank-Level Data Security
Read more
PlayerAuctions is an independent player-to-player marketplace for buying and selling virtual video game property. PlayerAuctions is NOT endorsed by, directly affiliated with, maintained, authorized, or sponsored by NeverWinter or its trademark owner.
Select server and Faction