Buy & Sell NeoPoints - Neopets NP Currency Market
Since its initial release almost 20 years ago, Neopets has seen countless updates and incarnations. Explore the fun possibilities that NeoPets offers today and make the most of this game by scoring some NeoPets NP currency for yourself. PlayerAuctions is just the place for you to get NeoPoints.
SELL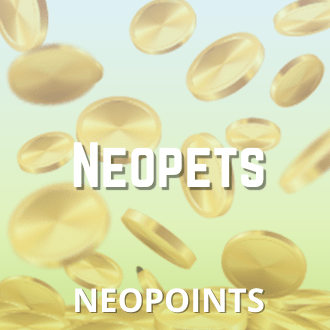 Want to buy Neopoints at great prices?
You have stumbled across a great page to find Neopoints for sale. Here our sellers offer Neopoints at prices below the market rate, and you can take advantage of the available offers. Checking back regularly can be useful if you want to buy Neopoints, as prices tend to fluctuate. If you have already conquered Neopets and you think you can offer some Neopoints to other players, then feel free to open a sellers account with us and get started. We ill be more than happy to help you set up your shop and get you started earning real money.
Is it safe?
PlayerAuctions is the safest place online for this kind of digital asset exchange. We have been protecting the transactions of gamers for over 15 years and our reputation as a reliable platform for trade continues to grow. Obviously, you should always be careful online and, if a deal seems too good to be true, then it is worth bringing to our attention. We are happy to help you out and we have Customer Support running around the clock. So if you want to buy Neopoints but can't, contact us! :) We also have active Facebook and Twitter pages so feel free to drop us a message if you have any queries.Happy trading!
Based on the total ratings of 150 orders in the past year
PlayerAuctions makes it safe to buy video game currencies from our members by securing your payment and guaranteeing delivery.
Buyer creates order and send payment to PlayerAuctions
PlayerGuardian secures payment
Seller completes delivery within delivery guarantee
Buyer confirm delivery
Seller receives disbursement
Option 1: In-game, Face to Face Delivery
Sellers will select this method of delivery if they intend to meet your character in-game with one of their own characters. Usually a seller will coordinate a time and location in-game to meet your character.
Tips:
Be sure to confirm the time to account for time zone differences
Confirm which Shard or Server the delivery is to take place in case your game world has more than one.
Never, under any circumstances, return gold, item, etc. to the delivery character if ever asked. In the event the seller asks you to, please take A screenshot and report this to PlayerAuctions Customer Support.
Option 2: In-game Mailbox delivery.
Some sellers will select the option to deliver gold or items directly to an in-game mailbox. This option is less popular for larger Games like WoW, but is still viable amongst other games. This option can be convenient for smaller orders because you do not need to coordinate time of delivery.
Low Prices: Prices set by other players or PowerSellers on PlayerAuctions are significantly lower than the high markups you would find on expensive retail sites.
Guaranteed Security: PlayerAuctions is quite simply the most secure place to buy and sell MMO game assets. Through PlayerGuardian, you are 100% guaranteed full and as-described delivery, or your money back.
Reliable Delivery Speed: PlayerAuctions calculates each seller's average delivery speed from the seller's latest successfully completed deliveries, which gives you a clear idea of how fast the seller will deliver your order.
To see how quickly the seller may deliver your order, refer to the seller's delivery guarantee period, which is their promise to complete delivery within a certain timeframe after your payment is securely sent to PlayerAuctions and is successfully verified. Each seller sets their delivery guarantee period independent of PlayerAuctions. In the event that the seller is not able to complete the delivery within their guaranteed time, you may cancel the order without penalty for a hassle-free refund from PlayerAuctions.
PlayerAuctions guarantees that the seller will deliver your order, or your money back. The overwhelming majority of transactions through our site occur successfully. As for the very exceptional cases, you can rest assured that they have been carefully considered by our systems and processes, and we are well prepared to handle them in the rare event that they do occur. Read more.
Throughout the years, there have been many digitalpet gadgets (Tomagatchi) and games. There are, however, only a handful whichare browser based. Many people think less of games if they are browser based.But don't let people stop you from trying out this rather fun digitalpet place.
Neopets, however, isn't just avideo game, it is a virtual terrarium, where players feed, take care of, and doall sorts of things with their virtual Neopet. Upon entering the game universe,players are directed to first design and select their first neopet from amongstthe selection of different species, for which there are over 42 choicesavailable. Players can diversify their neopet by color, personality traits, andeven down to the level of detailing their combat stats.
After you're done creating yourNeopet, you can now enjoy the different things the game has to offer. Pro-tiphowever; to make the most of your experience in Neopets, you need to develop astrategy and set time aside to acquire Neopoints, the in-game currency. Afterall, much like in real life, many things in Neopia don't come free.And while these items are not necessarily needed by you or your Neopet, they domake the game a lot more fun.
There are a fewways to play Neopets in order to gain additional neopoints:
Turmac Roll – once you hit thescore that is above 250, you should send your score. In addition, if you wereable to make your turmac slow enough that it almost comes to a standstill,(press the left arrow) you will have better chances of obtaining a rare berrythat will get you even more points. Two for one.
Fashion Fever – in thisparticular game, there's no need for you to actually dress up thepets for the points. All you need to do is start the game – and thenfinish it by clicking the end button right away. You'll get 300Neopoints every time you'll be doing this; that meansyou'll be getting a total of 900 Neopoints. And by sending thepicture of your Neopet to your e-mail, you'll be getting 100Neopoints; you can then do it thrice for a total of 300 Neopoints. All in all,just by doing this, you can get 1200 Neopoints; how about that?
Bouncy Supreme – in this game,you have to send your score once it reaches 1200 so that you can have 1000Neopoints which is the highest amount you can get in the game. Do it thrice inone day, and you'll be able to earn a whopping 3000 Neopoints.
These are just a few of the games Neopetsowners can play in order to earn Neopoints. There's also the FeaturedGame of the Day. This changes on a daily basis, so be on the lookout for this,as the Featured Game of the Day gives twice the Neopoints than other games.
If you are short on time however likemost gamers, you can opt to purchase neopoints directly from other gamers whoare willing to sell. Simply by paying for it with cash, you can have theNeopoints you want in an instant. The problem with this, however, is that notall Neopoints sellers that can be found online are worth the trust. Butdon't worry, because our sellers in PlayerAuctions definitely are,since after being in operation for more than 15 years, we've spentour fair share of time vetting our sellers and keeping only the best onesaround.
PlayerAuctions is a player-to-playeronline trading platform. It's a place where online gamers buy andsell items, services, currency, and accounts that are related to online games;of course, Neopoints are also being bought and sold here. So if you need some,then you need not look further.
To ensure that our clients'personal info is kept secure, we have put in place the PlayerGuardian system.And to help our buyers find trustworthy sellers, we have a five-tier PowerSeller system, where our sellers' on-site reputation can be checkedby anyone. And finally, our customer support are morethan willing and capable to assist in any issue our members may encounter.
PlayerGuardian Buyer Protections
PlayerAuctions is the most secure place to buy and sell MMO game assets. Our proprietary security technology, PlayerGuardian, keeps you, your payments, and your trades protected and private. The protections below are provided to all PlayerAuctions buyers.
Guaranteed Payment Security
Convenient & Worry-Free Trading
A Secure, Trusted Trading Community
Guaranteed Full and As-Described Delivery, or Your Money Back
Guaranteed Seller On-Time Delivery, or Your Money Back
Information Privacy
PlayerAuctions After Sale 100% Support Guarantee
Transparent Seller Service Ratings
Bank-Level Data Security
Read more