Buy LotRO Gold - Lord of The Rings Online Gold Shop
Dare to take up thy burden and bear the One Ring to rule them all. Players can get their fill of LotRO gold so long as they put in the work for it. If there's one thing that beings who live in the world of LOTR love, it's gold. Who doesn't love a shiny, shimmering, and splendid gold coin that can bring about the riches and the finest of wares?
SELL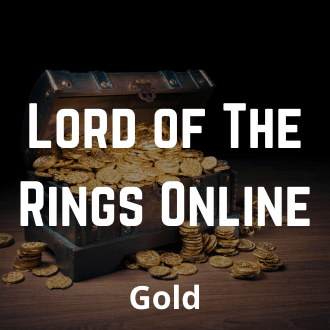 Getting Gold for Lord of the Rings Online
Money makes the world go round. As for "Middle-Earth," well, let's just say its currency counterpart and gold wasn't a big issue lore-wise because the elves had so much funding that "The Fellowship" didn't even dent their bank. For everyone else who resisted the Dark Lord Sauron, gold was an important resource, as the war effort didn't run on charity. If you don't believe it, try asking the heroes of Lord of the Rings Online about how vital LoTRO gold is to them.
LoTRO Gold: Why Players Need It
The game's setting, being based on JRR Tolkien's most popular and most epic high fantasy novel trilogy, needs no introduction. However, here's the role that players will be playing in the game: a hero that aids "The Fellowship" in finishing their quest and fighting many battles against Sauron across "Middle-Earth."
As a nifty bonus, they will have the chance to explore "Middle-Earth" in a way that those who have read the novel or watched the movies couldn't experience. After all, none of them can say that they had fought orcs and goblins, but LoTRO players definitely can.
To be able to do cool things, players are going to need LoTRO gold. After all, they are must-haves for items and for adventuring because they help gamers survive adventures across "Middle-Earth." If players need a boost, they're going to have to get some LoTRO gold. There are many ways to earn LoTRO gold. The most common method would be through regular grinding and questing. Another is by selling crafting materials and/or reputation tokens, which both fetch good prices with other players. Finally, there's of course the option to buy from trusted sellers, fellow explorers of Middle-Earth who have high amounts of it, to make the buyer's experience in LoTRO much easier and smoother.
Based on the total ratings of 67 orders in the past year
Will use Again fantastic service and speed.
3000 LOTRO Gold
11/11/2022
As advertised.
6000 LOTRO Gold
11/07/2022
Very quick delivery, would definitely recommend this service to others!
1250 LOTRO Gold
08/25/2022
PlayerAuctions makes it safe to buy video game currencies from our members by securing your payment and guaranteeing delivery.
Buyer creates order and send payment to PlayerAuctions
PlayerGuardian secures payment
Seller completes delivery within delivery guarantee
Buyer confirm delivery
Seller receives disbursement
Option 1: In-game, Face to Face Delivery
Sellers will select this method of delivery if they intend to meet your character in-game with one of their own characters. Usually a seller will coordinate a time and location in-game to meet your character.
Tips:
Be sure to confirm the time to account for time zone differences
Confirm which Shard or Server the delivery is to take place in case your game world has more than one.
Never, under any circumstances, return gold, item, etc. to the delivery character if ever asked. In the event the seller asks you to, please take A screenshot and report this to PlayerAuctions Customer Support.
Option 2: In-game Mailbox delivery.
Some sellers will select the option to deliver gold or items directly to an in-game mailbox. This option is less popular for larger Games like WoW, but is still viable amongst other games. This option can be convenient for smaller orders because you do not need to coordinate time of delivery.
Low Prices: Prices set by other players or PowerSellers on PlayerAuctions are significantly lower than the high markups you would find on expensive retail sites.
Guaranteed Security: PlayerAuctions is quite simply the most secure place to buy and sell MMO game assets. Through PlayerGuardian, you are 100% guaranteed full and as-described delivery, or your money back.
Reliable Delivery Speed: PlayerAuctions calculates each seller's average delivery speed from the seller's latest successfully completed deliveries, which gives you a clear idea of how fast the seller will deliver your order.
To see how quickly the seller may deliver your order, refer to the seller's delivery guarantee period, which is their promise to complete delivery within a certain timeframe after your payment is securely sent to PlayerAuctions and is successfully verified. Each seller sets their delivery guarantee period independent of PlayerAuctions. In the event that the seller is not able to complete the delivery within their guaranteed time, you may cancel the order without penalty for a hassle-free refund from PlayerAuctions.
PlayerAuctions guarantees that the seller will deliver your order, or your money back. The overwhelming majority of transactions through our site occur successfully. As for the very exceptional cases, you can rest assured that they have been carefully considered by our systems and processes, and we are well prepared to handle them in the rare event that they do occur. Read more.
In the magical yet dangerous world of "Middle-Earth," there are those who possess troves of fortune. There are the elves, whose lengthy lives allows them to possess great wealth throughout the eons, and "Smaug," a dragon who is as greedy as he is powerful. Then, there are Lord of The Rings Online players who farmed more than their fair share of LoTRO gold.
Lord of the Rings Online: Rich Lore, Gameplay, and LoTRO Gold
Farming gold isn't the focus of Lord of the Rings Online. Instead, one should view gold as a resource. The true essence of the visuals and virtual "Middle-Earth" is a game where Lord of The Rings and/or MMORPG fans can both enjoy.
The game, which is heavily inspired by the movie trilogy based on JRR Tolkien's novels of the same name, puts players in the shoes of heroes who were destined to play a great role near the end of the Third Age. It was a time in "Middle-Earth" when the "Dark Lord Sauron" has once again risen from his slumber and has set his eyes on the continent. Poised to stop him are the free people of "Middle-Earth:" humans, elves, and dwarves.
The true heart of this resistance against this great evil, however, is a rag-tag party. There is elven prince "Legolas," the dwarf warrior, "Gimli," the wise wizard, "Gandalf" the Grey, human nobles, "Boromir and "Aragorn," and the hobbits, "Merry," "Pippin," and "Samwise." More importantly, the hero of the story is "Frodo Baggins." Regardless of what the adaptation of the lore is, whether it's the movie, the novels, or this particular game, the characters will always be the center of the lore. If that's the case, then what is the role of the player? Simple: to follow and help these chosen heroes.
There's more to the game than just being "Frodo" and befriending many faceless helpers because they'll be a hero. By exploring "Middle-Earth's" wondrous lands and fighting every force of evil along the way, players will be able to make a name for themselves. Since this is a Lord of the Rings game, they will have to choose between the four races: Elves, Men, Dwarves, or Hobbits. Each race has its traits and available classes that give it a certain advantage. Choosing a race should not only be dependent on their looks, but on what they offer gameplay-wise.
As an MMO game, you won't be alone. Join thousands of players who are also looking to make their names on the pages of "Middle-Earth's" history, with the many quests and conquests that you can take on in the continent.
Cheap LoTRO Gold for Your Quest
Adventuring across "Middle-Earth" and fighting evil, both alone and with the other fellow heroes are amazing and enjoyable endeavors. To be successful in the undertakings of Lord of the Rings, it's important to have a decent amount of LoTRO gold since players are going to need it to purchase items. They provide defensive, offensive, and supportive capabilities that are necessary for any battle. LoTRO gold is a vital resource, and knowing how to farm it is a must.
Perhaps the most widely accepted way of obtaining LoTRO gold is with good-old grinding and questing. Next would be by selling crafting materials and/or reputation tokens to other players, as they are highly sought after, and therefore, worth lots of gold. These methods are reliable ways to earn LoTRO gold, but they do take quite some time before they get you loads of stuff. So, if players want to earn as much as Smaug in a snap, they can buy LoTRO gold from other players.
PlayerGuardian Buyer Protections
PlayerAuctions is the most secure place to buy and sell MMO game assets. Our proprietary security technology, PlayerGuardian, keeps you, your payments, and your trades protected and private. The protections below are provided to all PlayerAuctions buyers.
Guaranteed Payment Security
Convenient & Worry-Free Trading
A Secure, Trusted Trading Community
Guaranteed Full and As-Described Delivery, or Your Money Back
Guaranteed Seller On-Time Delivery, or Your Money Back
Information Privacy
PlayerAuctions After Sale 100% Support Guarantee
Transparent Seller Service Ratings
Bank-Level Data Security
Read more
Select server and Faction