Buy Lineage 2 Adena - L2 Adena Shop
Having been played by over 14 million players, it's safe to say that the Lineage saga holds a special place in the pantheon of MMORPGs. A player can easily elevate their experience if they have enough Lineage 2 Adena, the game's official in-game currency. With enough currency, players will always be ready to face the danger that awaits them.
SELL
Darn! There Are No Offers...But Wait.
Did you know we have over 200 games available for trading? Here are our most popular ones:
Want To Be the First to Sell?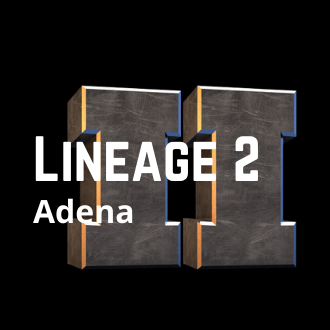 Cheap Lineage 2 Adena for Sale
As the world became a global village and pen-and-paper RPGs evolved to video games, the east, particularly South Korea, has tried its hand at the human-elf-orc medieval fantasy world role-playing game trope. And perhaps one of the best and earliest examples of that success would be NCSoft's popular MMORPG, Lineage; it was even successful enough to spawn a sequel that has been enjoyed by a lot of players, and many of them even purchased Lineage II Adena so that they can experience the game to the fullest.
Why Lineage Adena Is Important
In the game, players are brought to a fantasy world on the verge of a great war. Its three greatest powers, the newly formed kingdom of Aden, the old and powerful military superpower that is the Elmore Kingdom, and the kingdom of Gracia of the west, have been locked in their own respective struggles.
Because of this chaos ensuing all over the land, the people have been in deep trouble. Only the heroes – the players – are able to rise up and fend for themselves, or even seize power and dictate the fate of the land. Players do so by choosing who they will be – humans, elves, orcs, dwarves, dark elves, and khamael - and class, whose selection is limited by race. After deciding on which race and class, players will then make their characters much stronger by leveling up and equipping them with the necessary items.
These items can be obtained by either hunting for them, crafting them, or buying them, either by gold or Lineage 2 Adena.
What is Lineage 2 Adena Worth
The price of Lineage 2 Adena depends on the current demand for it, as well as the price its being sold by sellers. It is important for buyers to know this so that they can know when to buy and where to buy Lineage 2 Adena from. It's best to check current offers by sellers from Lineage 2 marketplaces to get a feel on the market's current price.
PlayerAuctions makes it safe to buy video game currencies from our members by securing your payment and guaranteeing delivery.
Buyer creates order and send payment to PlayerAuctions
PlayerGuardian secures payment
Seller completes delivery within delivery guarantee
Buyer confirm delivery
Seller receives disbursement
Option 1: In-game, Face to Face Delivery
Sellers will select this method of delivery if they intend to meet your character in-game with one of their own characters. Usually a seller will coordinate a time and location in-game to meet your character.
Tips:
Be sure to confirm the time to account for time zone differences
Confirm which Shard or Server the delivery is to take place in case your game world has more than one.
Never, under any circumstances, return gold, item, etc. to the delivery character if ever asked. In the event the seller asks you to, please take A screenshot and report this to PlayerAuctions Customer Support.
Option 2: In-game Mailbox delivery.
Some sellers will select the option to deliver gold or items directly to an in-game mailbox. This option is less popular for larger Games like WoW, but is still viable amongst other games. This option can be convenient for smaller orders because you do not need to coordinate time of delivery.
Low Prices: Prices set by other players or PowerSellers on PlayerAuctions are significantly lower than the high markups you would find on expensive retail sites.
Guaranteed Security: PlayerAuctions is quite simply the most secure place to buy and sell MMO game assets. Through PlayerGuardian, you are 100% guaranteed full and as-described delivery, or your money back.
Reliable Delivery Speed: PlayerAuctions calculates each seller's average delivery speed from the seller's latest successfully completed deliveries, which gives you a clear idea of how fast the seller will deliver your order.
To see how quickly the seller may deliver your order, refer to the seller's delivery guarantee period, which is their promise to complete delivery within a certain timeframe after your payment is securely sent to PlayerAuctions and is successfully verified. Each seller sets their delivery guarantee period independent of PlayerAuctions. In the event that the seller is not able to complete the delivery within their guaranteed time, you may cancel the order without penalty for a hassle-free refund from PlayerAuctions.
PlayerAuctions guarantees that the seller will deliver your order, or your money back. The overwhelming majority of transactions through our site occur successfully. As for the very exceptional cases, you can rest assured that they have been carefully considered by our systems and processes, and we are well prepared to handle them in the rare event that they do occur. Read more.
There is an abundance of MMORPGs that feature a medieval fantasy world full of races, magic, and heroes. But in that particular genre full of titles with that setting, there are only a few that stand out. One of those games would be Lineage II, which is the sequel to Lineage, one of the first MMOs. The game was also developed by NCSoft, one of the most prolific MMO game studios in South Korea. In this follow-up, there are a lot of things players can enjoy — even more for players who have Lineage II Adena.
Lineage II Adena – Having It Is a Must
Lineage II is set in a world that is on the brink of collapse, as its three most powerful kingdoms – the newly formed kingdom of Aden, the old and powerful military superpower that is the Elmore Kingdom, and the kingdom of Gracia of the west – are all locked in internal conflict.
This has led to chaos across the land, subjecting the people to suffering. There are, however, a handful of them who has risen above the situation and took it upon themselves to save the land. Players fill the shoes of these heroes, and it is up to them to decide which race – humans, elves, orcs, dwarves, dark elves, and khamael - and class, which in turn is limited by the race they belong to. Once players have decided their race and class, they will then have to make their character more powerful by leveling it up and giving them the necessary items.
There are many ways these items can be obtained. One way is through crafting them, which is a great method to go with – if you have time on your hands, that is, as this requires gathering the necessary materials and the actual crafting, which can take a lot of hours or even a day or two. Another way is by buying them through L2 Adena. The downside to this, however, is that gold has to be farmed, and doing so can also take as much time as crafting, if not more.
Doing dailies and creating other characters is also a great alternative in making L2 Adena gold.
Then there is the Lineage II Prestige Pack, which can be bought from the official Lineage II site. Unlike the other packs that offer more XP and drops, this particular pack, on the other hand, give holders a Prestige Rune, which increases Lineage 2 Adena drop by 100%.
How to Get Lineage II Adena? Buy It
Botting has also been a method that has been used, as it allows players to farm Lineage II gold without even having to play the game. This is often used by players who would rather not play Lineage II if playing means farming, and while this provides the intended effect, botting is terrible for the economy — it artificially bloats inflation. Botting is not only an offense that is punishable by banning, but also easily detectable by admins. Heed our advice: DO NOT ever do botting.
An alternative to this is having the account piloted by another Lineage II player. It's as fast or arguably much faster than relying on a bot. Players can also buy Lineage II Adena from trusted sellers at marketplaces. We urge buyers to check the online marketplace first for trustworthy amenities and security features.
PlayerGuardian Buyer Protections
PlayerAuctions is the most secure place to buy and sell MMO game assets. Our proprietary security technology, PlayerGuardian, keeps you, your payments, and your trades protected and private. The protections below are provided to all PlayerAuctions buyers.
Guaranteed Payment Security
Convenient & Worry-Free Trading
A Secure, Trusted Trading Community
Guaranteed Full and As-Described Delivery, or Your Money Back
Guaranteed Seller On-Time Delivery, or Your Money Back
Information Privacy
PlayerAuctions After Sale 100% Support Guarantee
Transparent Seller Service Ratings
Bank-Level Data Security
Read more
PlayerAuctions is an independent player-to-player marketplace for buying and selling virtual video game property. PlayerAuctions is NOT endorsed by, directly affiliated with, maintained, authorized, or sponsored by Lineage 2 or its trademark owner.
Select server and Faction