MSK Carry (Mythic Weapons/Mythic Storm King Carry) ANY POWER LEVEL - Fortnite Save The World/READ Description!
I Want to Sell
Fortnite-All Servers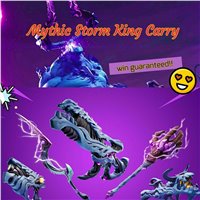 x 1 MSK Carry (Mythic Weapons)

| Quantity | Discount | Savings |
| --- | --- | --- |

Feb-20-2023 21:40:47 PM

53 time(s)

48 Hours

30-Day Seller Performance

Total orders

Fortnite
items reviews

Total rating

Fortnite
items rating

Total orders: 184

Member since: 2021

4.9

Fortnite items : Seller Rating

(156)
$ 10.00
Buy 0 MSK Carry (Mythic Weapons)
and get 0 off!
1. Buyer creates order and send payment to PlayerAuctions
2. PlayerGuardian secures payment
3. Seller completes delivery within delivery guarantee
4. Buyer confirm delivery
5. Seller receives disbursement
GET YOUR MYTHIC WEAPONS NOW!
Mythic Weapons can not be dropped in the game, the ONLY way to get them for yourself is to defeat the Mythic Storm King when you have the quest. (Read the requirements below). This listing is NOT TO BUY the mythic weapon, but to buy a carry that will take you to pass the Mythic Storm King quest in order to get your mythic weapons.
We are an experienced MSK carrier team who can carry you to defeat the Mythic Storm King to get your Mythic Weapons. We have carried over 2000 carries so you can just sit back and relax and let us defeat The MSK for you!
Important notes:
One purchase is for ONE person.
In order to be eligible to get the mythic weapons, you must meet ALL of these requirements:
You must have completed Twine Peak Storm Shield Defense 5. If you need help with your Storm Shield Defense (SSD), check out my SSD carry offer.

You must have the Storm King Quest in your Quests Log (For the first time, it appears as King Me Quest), and if it's not your first time, it will appear in Weekly Challenges)

You must have completed your Prequest (the quests are in 140+ zones). If you haven't completed your Prequest, purchase the offer Prequest+MSK (check my other offer)

If all 3 above are done, at the moment of carry you must make sure again you have the Quest that says: Eliminate/Defeat The Mythic Storm King (mind the weekly reset).
We are

not responsible

if you do not get your mythic weapon after we carry you just because you forget those requirements above.
After you purchase the bundle, please message me to arrange the schedule. (Our timezone is GMT +1 and GMT +3)
We are normally available to carry around 6 pm to max. 10 pm CET (Central European Time) throughout the days. On the weekends and holidays, the schedule might change. If you can't be flexible and cooperate with our schedule, please don't purchase.



In the beginning, as an additional option, I can give you starter weapons that you can use in MSK such as:
De-atomizer 9000, The Potshot, Surround Pound, and/or Ear Splitter. (Upon request Only)
After we defeat the MSK, you should get ONE of these mythic Weapons:
Storm King's Fury (melee hardware)
Storm King's Ravager (melee sword)
Storm King's Onslaught (pistol)
Storm King's Scourge (Assault Rifle)
Storm King's Wrath (Explosive)
If I don't respond within about 15 minutes, I'm probably not online / sleeping / not home or delivering to another customer. Please be patient. I try to work as fast as one person possibly can.
✔️Please Note: I record EVERY transaction for security purposes. :)
✔ I always have my microphone on during the delivery to make communication easier in the game. You don't have to have your microphone on during the MSK, but if you still need to do the prequest with us, you must be able to hear me/us to give you the instruction of what you're supposed to do.

✔️Please message me if you have any further questions which are not answered here.

✔️Spamming, Impatient, Toxic users will be refunded and blocked from future purchases.
🔴DELIVERS TO ALL PLATFORMS 🔴
| Feedback | Comment | From Buyer | Time |
| --- | --- | --- | --- |
PlayerAuctions makes it safe to buy from our members by securing your payment and guaranteeing delivery.
Buyer creates order and send payment to PlayerAuctions
PlayerGuardian secures payment
Seller completes delivery within delivery guarantee
Buyer confirm delivery
Seller receives disbursement
Option 1: In-game, Face to Face Delivery
Sellers will select this method of delivery if they intend to meet your character in-game with one of their own characters. Usually a seller will coordinate a time and location in-game to meet your character.
Tips:
Be sure to confirm the time to account for time zone differences
Confirm which Shard or Server the delivery is to take place in case your game world has more than one.
Never, under any circumstances, return gold, item, etc. to the delivery character if ever asked. In the event the seller asks you to, please take A screenshot and report this to PlayerAuctions Customer Support.
Option 2: In-game Mailbox delivery.
Some sellers will select the option to deliver gold or items directly to an in-game mailbox. This option is less popular for larger Games like WoW, but is still viable amongst other games. This option can be convenient for smaller orders because you do not need to coordinate time of delivery.
Low Prices: Prices set by other players or PowerSellers on PlayerAuctions are significantly lower than the high markups you would find on expensive retail sites.
Guaranteed Security: PlayerAuctions is quite simply the most secure place to buy and sell MMO game assets. Through PlayerGuardian, you are 100% guaranteed full and as-described delivery, or your money back.
Reliable Delivery Speed: PlayerAuctions calculates each seller's average delivery speed from the seller's latest successfully completed deliveries, which gives you a clear idea of how fast the seller will deliver your order.
To see how quickly the seller may deliver your order, refer to the seller's delivery guarantee period, which is their promise to complete delivery within a certain timeframe after your payment is securely sent to PlayerAuctions and is successfully verified. Each seller sets their delivery guarantee period independent of PlayerAuctions. In the event that the seller is not able to complete the delivery within their guaranteed time, you may cancel the order without penalty for a hassle-free refund from PlayerAuctions.
PlayerAuctions guarantees that the seller will deliver your order, or your money back. The overwhelming majority of transactions through our site occur successfully. As for the very exceptional cases, you can rest assured that they have been carefully considered by our systems and processes, and we are well prepared to handle them in the rare event that they do occur. Read more.
PlayerGuardian Buyer Protections
PlayerAuctions is the most secure place to buy and sell MMO game assets. Our proprietary security technology, PlayerGuardian, keeps you, your payments, and your trades protected and private. The protections below are provided to all PlayerAuctions buyers.
Guaranteed Payment Security
Convenient & Worry-Free Trading
A Secure, Trusted Trading Community
Guaranteed Full and As-Described Delivery, or Your Money Back
Guaranteed Seller On-Time Delivery, or Your Money Back
Information Privacy
PlayerAuctions After Sale 100% Support Guarantee
Transparent Seller Service Ratings
Bank-Level Data Security
Read more