Buy & Sell Blade and Soul Gold - BnS Currency Market
Looking to buy Blade and Soul gold? You are in the right place. PlayerAuctions is your best choice for trading BnS gold. Buyers are guaranteed delivery, and sellers are fully protected against payment fraud. Use the drop down menu below to find your server and the right amount of BnS gold.
SELL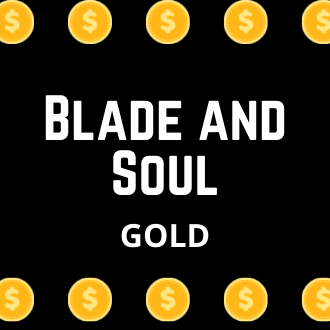 Buying Cheap Blade and Soul gold at PlayerAuctions
In Blade and Soul, it's imperative that you get the rhythm and flow of combat. Next to that is what kind of gear and how much gold you have. The latter matters because it's what you use to buy gear as well as consumable items.
Why Buy Blade and Soul Gold?
There are many ways to get Blade and Soul gold. The most common one is through the motions of farming. There are many ways to do this, but the least boring ones involve raids and the 20th floor of Mushin Tower, from which can make you around 100-150 gold per hour. On top of raiding and other PVE content, you can also sell whatever loot you don't need from there. Surprisingly, this can give you quite the boost to get you the money you need.
However, if you have neither the time nor the patience for that, then your best bet is buying Blade and Soul gold from other players. This will help you save time, so you can focus on endgame PVE content and PVP. There are lots of cheap Blade and Soul gold sellers here at PlayerAuctions, so it's up to you which one you'd give your money to.
How to Buy BnS Gold via PlayerAuctions
Buying Blade and Soul gold is easy! Simply log in or register, and then choose the offer you want. After that, you'll need to chat with the seller. It's important that you discuss the time, date, and method of exchange. Once the trade has taken place, confirm the delivery with us to formally close the deal. Congratulations! You now have the Blade and Soul gold you need.
So what are you waiting for? It's time to go shopping!
Based on the total ratings of 48 orders in the past year
Lightning delivery and perfect service as always
1000000 Blade-Soul Gold
12/01/2023
Fast delivery and Excellent Service
1000000 Blade-Soul Gold
10/13/2023
Lightning delivery and exceptional service
1000000 Blade-Soul Gold
10/06/2023
Fast service and delivery
1000000 Blade-Soul Gold
10/01/2023
PlayerAuctions makes it safe to buy video game currencies from our members by securing your payment and guaranteeing delivery.
Buyer creates order and send payment to PlayerAuctions
PlayerGuardian secures payment
Seller completes delivery within delivery guarantee
Buyer confirm delivery
Seller receives disbursement
Option 1: In-game, Face to Face Delivery
Sellers will select this method of delivery if they intend to meet your character in-game with one of their own characters. Usually a seller will coordinate a time and location in-game to meet your character.
Tips:
Be sure to confirm the time to account for time zone differences
Confirm which Shard or Server the delivery is to take place in case your game world has more than one.
Never, under any circumstances, return gold, item, etc. to the delivery character if ever asked. In the event the seller asks you to, please take A screenshot and report this to PlayerAuctions Customer Support.
Option 2: In-game Mailbox delivery.
Some sellers will select the option to deliver gold or items directly to an in-game mailbox. This option is less popular for larger Games like WoW, but is still viable amongst other games. This option can be convenient for smaller orders because you do not need to coordinate time of delivery.
Low Prices: Prices set by other players or PowerSellers on PlayerAuctions are significantly lower than the high markups you would find on expensive retail sites.
Guaranteed Security: PlayerAuctions is quite simply the most secure place to buy and sell MMO game assets. Through PlayerGuardian, you are 100% guaranteed full and as-described delivery, or your money back.
Reliable Delivery Speed: PlayerAuctions calculates each seller's average delivery speed from the seller's latest successfully completed deliveries, which gives you a clear idea of how fast the seller will deliver your order.
To see how quickly the seller may deliver your order, refer to the seller's delivery guarantee period, which is their promise to complete delivery within a certain timeframe after your payment is securely sent to PlayerAuctions and is successfully verified. Each seller sets their delivery guarantee period independent of PlayerAuctions. In the event that the seller is not able to complete the delivery within their guaranteed time, you may cancel the order without penalty for a hassle-free refund from PlayerAuctions.
PlayerAuctions guarantees that the seller will deliver your order, or your money back. The overwhelming majority of transactions through our site occur successfully. As for the very exceptional cases, you can rest assured that they have been carefully considered by our systems and processes, and we are well prepared to handle them in the rare event that they do occur. Read more.
Blade and Soul is becoming a fan-favourite MMORPG games. It is essentially for people who enjoy dabbling in the martial arts and adventure category. You get to choose between four races at the start of the game - Gon, Jin, Kun or Lyn - and then you can customise your character according to your specifications. This is a popular aspect of the game, the customisation techniques are one of the most extensive ever created. People enjoy the way they can customise and operate the wardrobe collection - the only thing better than punching someone is punching someone whilst dressed to the nines.
There were some middling reviews for this game at first. Some players who tried it felt like the game environment was outdated, but many players don't want to try it simply because they are too invested in other games. Another reason is that a lot of players are heavily attached to fast-paced action MMOs.
Recently, however, more good comments about the game have emerged from the woodwork. Players have called the combat system a 'breath of fresh air in the MMO market' and the Player vs Player and Player vs Environment systems "highly developed" and "constantly being expanded"
The majority of people consider the graphics excellent. Also the fact that it is free to play is definitely an advantage to the game. And whilst most find the quests uninspired, the combat more than makes up for it. It's not one of those games where you can win by 'clicking' really fast - there is a certain amount of skill required to get somewhere in the game.
Cheap Blade and Soul Gold
However, as with most free to play games, there's always a catch. As most of you know, for Blade and Soul, gold is the currency. And while with some games you can get away with not having any of the currency, for most hardcore gamers - and for those of us that are really competitive - that simply isn't an option.
Blade & Soul gold is utilised in many activities in the game but it's mainly used for upgrading your weapons. The crafting system for Blade and Soul requires that you purchase, acquire or build materials. Now obviously it's gonna take ages to build or acquire all the materials you need, which is where Blade & Soul gold comes into play.
Now we would of course recommend that you buy BnS gold, but if you insist on acquiring it, there are a few places you can find it. Firstly, bns gold is most commonly found in the dungeons. The monsters in the daily dungeons drop a lot of gold and it's fairly easy to pick up. The second way to acquire gold is to use the crafting system. It's simple to use the open market to sell items you have crafted. And the last place to acquire gold is the Auction House. How that works - for those of you who don't know - is you can auction off any valuable you come across in the game. The trick to obtaining the most Blade and Soul gold is to find an item that is high in demand but in low supply.
As mentioned previously, many people prefer to buy Blade and Soul gold. There are tons of websites you can visit to gold as it's quite a popular game. Which means there are also tons of scams out there, so it's very important to steer clear of any shady websites and to find one that protects you. An excellent example of a legitimate website would be ours, Player Auctions.
Buy Blade and Soul Gold on PlayerAuctions
Player Auctions is exactly what it sounds like - a place players sell to other players. The advantages of this is that you aren't buying directly from a website so the prices are lower than what you would normally pay. We have a great system in place for buyers and sellers and we have effectively found a way to protect both parties using an escrow system - similar to eBay's. We have live customer support and an active online community. With over 400,000 members, you will be sure to find great deals and opportunities for sales.
To buy blade and Soul gold you simply have to choose the offer you want and click 'buy now'. Checkout is fast, easy, effective and safe and we have a great mechanism in place called PlayerGuardian which protects you, the buyer. You can also check out our 5 tier 'Power Seller' system. Basically, if you're a bit sceptical towards buying from just anyone, you can view their 'reputation' on the site. 'Power Sellers' are verified sellers, which should give you more peace of mind for your first purchase.
Another thing we love about our site is that it's great for the sellers too! There are no registration fees to become a seller, and it's completely free. Sellers costs are cut down dramatically compared to other sites. We think it's pointless to belong to a whole bunch of different sites to make purchases for different games. Player Auctions doesn't only deal with cheap Blade and Soul gold, you can buy and sell multiple game assets on the site for various popular games. So happy trading!
PlayerGuardian Buyer Protections
PlayerAuctions is the most secure place to buy and sell MMO game assets. Our proprietary security technology, PlayerGuardian, keeps you, your payments, and your trades protected and private. The protections below are provided to all PlayerAuctions buyers.
Guaranteed Payment Security
Convenient & Worry-Free Trading
A Secure, Trusted Trading Community
Guaranteed Full and As-Described Delivery, or Your Money Back
Guaranteed Seller On-Time Delivery, or Your Money Back
Information Privacy
PlayerAuctions After Sale 100% Support Guarantee
Transparent Seller Service Ratings
Bank-Level Data Security
Read more
PlayerAuctions is an independent player-to-player marketplace for buying and selling virtual video game property. PlayerAuctions is NOT endorsed by, directly affiliated with, maintained, authorized, or sponsored by Blade and Soul or its trademark owner.
Select server and Faction