Buy ArcheAge Gold - ArcheAge Online Gold Market
Protect the classes in the city of Auroria with cheap ArcheAge Gold. ArcheAge gold also lets you buy all the gear, cosmetics, and other odds and ends you need. Find the most reputable sellers and get your gold for a smooth adventure. Enjoy the game and enjoy spending your ArcheAge gold!
SELL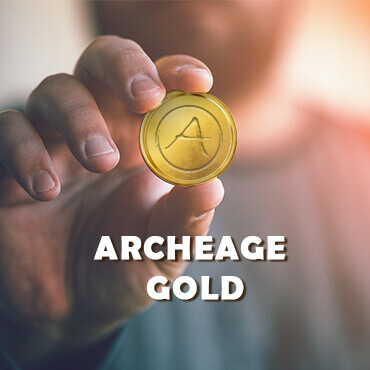 About ArcheAge Gold
Gold is the primary currency of ArcheAge. Players use it to buy things on the Auction House or spend it on NPC services. Like any other MMO, currency is the main force of the economy, and is even more important in a 'sandpark' game like ArcheAge.
In this game, the player drives the economy. Without gold, they can't make more gold. One of the easier ways to get gold is to go on raids and sell off the loot you get. However, even if you don't like getting into combat or raiding, you can craft things to sell. Everything can be crafted in this game.
First, you have to earn your starting capital, though. You'll find guides upon guides of gold farming methods which you can use to start your business. Otherwise, you can still use it to bolster your profits. Yet, the fastest way to catch up in riches is to buy ArcheAge gold.
Get ArcheAge Gold for Sale
Gold farming can get tedious and boring. It's also very time consuming, so you can't rely on it for the long-term. The solution to get competitive easily is for buyers to buy ArcheAge gold from online sellers.
Of course, that involves player-to-player trading, which can be a big risk. Not only can your account be banned, but also some sensitive data can be stolen. That can be your identity or your money!
Be sure to study the risks or seek legal counsel before participating in this kind of transaction. Keep yourself safe, and only trade with reputable online sellers.
Based on the total ratings of 7 orders in the past year
PlayerAuctions makes it safe to buy video game currencies from our members by securing your payment and guaranteeing delivery.
Buyer creates order and send payment to PlayerAuctions
PlayerGuardian secures payment
Seller completes delivery within delivery guarantee
Buyer confirm delivery
Seller receives disbursement
Option 1: In-game, Face to Face Delivery
Sellers will select this method of delivery if they intend to meet your character in-game with one of their own characters. Usually a seller will coordinate a time and location in-game to meet your character.
Tips:
Be sure to confirm the time to account for time zone differences
Confirm which Shard or Server the delivery is to take place in case your game world has more than one.
Never, under any circumstances, return gold, item, etc. to the delivery character if ever asked. In the event the seller asks you to, please take A screenshot and report this to PlayerAuctions Customer Support.
Option 2: In-game Mailbox delivery.
Some sellers will select the option to deliver gold or items directly to an in-game mailbox. This option is less popular for larger Games like WoW, but is still viable amongst other games. This option can be convenient for smaller orders because you do not need to coordinate time of delivery.
Low Prices: Prices set by other players or PowerSellers on PlayerAuctions are significantly lower than the high markups you would find on expensive retail sites.
Guaranteed Security: PlayerAuctions is quite simply the most secure place to buy and sell MMO game assets. Through PlayerGuardian, you are 100% guaranteed full and as-described delivery, or your money back.
Reliable Delivery Speed: PlayerAuctions calculates each seller's average delivery speed from the seller's latest successfully completed deliveries, which gives you a clear idea of how fast the seller will deliver your order.
To see how quickly the seller may deliver your order, refer to the seller's delivery guarantee period, which is their promise to complete delivery within a certain timeframe after your payment is securely sent to PlayerAuctions and is successfully verified. Each seller sets their delivery guarantee period independent of PlayerAuctions. In the event that the seller is not able to complete the delivery within their guaranteed time, you may cancel the order without penalty for a hassle-free refund from PlayerAuctions.
PlayerAuctions guarantees that the seller will deliver your order, or your money back. The overwhelming majority of transactions through our site occur successfully. As for the very exceptional cases, you can rest assured that they have been carefully considered by our systems and processes, and we are well prepared to handle them in the rare event that they do occur. Read more.
A Sandpark is the hybrid between Sandbox and Theme Park MMOs that are designed to flesh out a sand box, open world experience, all the while maintaining the tried and true, organized structures of Theme Park MMOs. Only one game has managed that and that is ArcheAge.
If you haven't heard of the game, ArchAge is an MMORPG developed by Korean developer Jake Song (former developer of Lineage) and his development company, XL Games. As a much touted and hyped title, as well as being one of the biggest games in Korea, ArchAge made its way to the West with the same level of hype.
ArcheAge features an almost limitless and zoneless world; a world where players are free to roam and explore at their leisure. As it was said earlier, this Sandpark also includes the structured elements of Theme Park MMOs such as dungeons, raids, and even certain open world bosses. The game takes the best of both worlds. With a combat system that is a mix of traditional tab-targeting and action MMO meta, ArcheAge takes its innovation to the next level by letting players engage in competitive, open-world PvP combat that can range from small scale skirmishes to full-on guild wars comprised of hundreds. But players are not only limited to personal PvP combat – that's just the tip of the iceberg. Players are also able to partake in epic sea battles with custom built ships to protect, or plunder, the seas in search for ArcheAge gold or other valuables to add to their power.
But the greatest feature of ArcheAge is its handling of its economy. Due to the sandbox nature of the game, the economy is something that you can make a killing off with for gold. With nearly every item in the game craft-able, there is a heavy industry in place, which… for players who do not have the time to grind, can still keep up with their interests if they buy ArcheAge gold. Through claiming land, building personal and guild castles, and sheer hard labor, players are able to increase their power base through a number of means like actual farming, and gathering raw materials for trade in the several provinces of the game, all of which are simply done to amass more and more gold.
ArcheAge Gold – The Key to Victory
To be perfectly straight with you – you can't win in ArcheAge if you're piss-poor. Scouring all sorts of ArcheAge forums, you will find PLENTY of resources on how to mine, craft, and trade your way to the top if managing a large sum of gold is your goal. This can be extremely helpful for those players who enjoy meta-gaming in SandBox games. Having a hefty sum of ArcheAge gold allows you to buy anything… or anyone… towards whatever end goal you may have. If you're broke, forget about raising an army to fight off or invade the lands of enemy guilds, you won't be able to upgrade your personal equipment due to the lack of crafting materials and other items that can only be obtained by trading with other players, and you certainly won't be able to afford your land and castle's upkeep.
Some folks have claimed that ArcheAge is P2W more than any other game before or after it. To a degree, that's true, but only because folks like taking the easy way out and purchase the necessities from Trion's cash shop rather than farming for it or purchasing said items via gold from other players.
This is definitely not always the case. You can still compete with folks with fatter wallets by increasing your wealth in the game in a timely manner.
Cash shop-savvy players know that they can spend a lot in a month for the basic amenities in their everyday grind. Recent cash to gold conversion rates indicate that, if those amenities they buy in the cash shop were, instead, bought directly from other players, they'd save at least half the money they would actually spend. Some sites provide the very services needed to connect buyers and sellers together in a player to player driving marketplace.
ArcheAge is a ripe game to dominate! Get your gold now and start conquering the seven seas!
PlayerGuardian Buyer Protections
PlayerAuctions is the most secure place to buy and sell MMO game assets. Our proprietary security technology, PlayerGuardian, keeps you, your payments, and your trades protected and private. The protections below are provided to all PlayerAuctions buyers.
Guaranteed Payment Security
Convenient & Worry-Free Trading
A Secure, Trusted Trading Community
Guaranteed Full and As-Described Delivery, or Your Money Back
Guaranteed Seller On-Time Delivery, or Your Money Back
Information Privacy
PlayerAuctions After Sale 100% Support Guarantee
Transparent Seller Service Ratings
Bank-Level Data Security
Read more
PlayerAuctions is an independent player-to-player marketplace for buying and selling virtual video game property. PlayerAuctions is NOT endorsed by, directly affiliated with, maintained, authorized, or sponsored by ArcheAge Online or its trademark owner.
Select server and Faction