Buy Animal Crossing: New Horizons Bells – ACNH Money Market
The catalog of Animal Crossing: New Horizons is just getting bigger, and that means more bells to spend on. Besides the usual items such as furniture for homes, Bells can be used to buy tools like nets, shovels and more in Nook's Cranny. Players can't get enough of this currency, with some even going as far as to buy Animal Crossing: New Horizons bells.
SELL
elymbmx
198694536
Best deal among sellers with a fair amount of ratings and feedback score.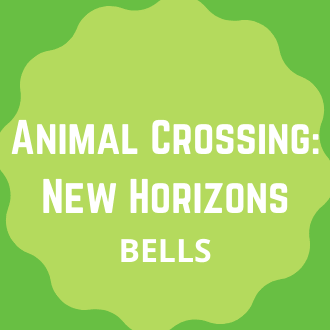 What are Bells?
Bells are the official currency that's used in all Animal Crossing games. There are plenty of uses for this coveted currency. The reason as to why the coins are called Bells are still in question, but some say that it's because of the sounds they produce when you take them in and out of your pocket. When doing so, players make the jiggling noises that are similar to many coins clattering inside a rucksack or cloth. It's impossible to fully enjoy what Animal Crossing: New Horizons has to offer without the use of Bells. After all, it is the main currency that players can purchase to improve their island even more.
Things Gamers Know Before They Buy Animal Crossing: New Horizons Bells
Animal Crossing: New Horizons limits the number of Bells that players can carry at once. As a result, they are limited to just 99,999 Bells in their wallets, while the remaining amount will turn into money bags which will then be transferred to their pockets. Players who are planning on buying more than 100,000 bells will make space in their pockets to ensure that they have enough room to hold all of the money bags that they purchased.
What Players Can Do With Bells
Bells are the official currency used in the Animal Crossing games. Granted they look like coins more than bells, these charming circular goldies have many uses when it comes to building up an island.
Here are some things that all players should consider spending their bells on in Animal Crossing: New Horizons:
An Animal Crossing game wouldn't be complete without you having to pay off your housing loan! If you plan on expanding your housing into a much more comfortable place to stay in, then you can simply ask Tom Nook inside the Residential Services about transforming your housing. At the start of the game, you'll only have a tent with a camping cot inside to sleep on. While it's free and all, Animal Crossing is a game about kindness and improving what's given to you. Upgrading your house also improves the living areas of your fellow islanders as well. Like you, they start off with a tent, but as you progress, they'll be pushed to have their own pad as well. As you add more space and in the future, rooms, into your home, your house loan also increases. In fact, your loan can even reach up to 2 million bells! So it's never too early to start saving up.
Sure your home is the size of a mansion, but what's the point of it all if you don't personalize it? A home in Animal Crossing: New Horizons is essentially a blank canvas that you can paint on—with decor that is. Decorations are another staple in Animal Crossing games, and there are a number of ways for you to get them. Whether it's stuff for your dining room or around the yard, there are no limits on how you can jazz up your home. Decorations can be obtained through many different ways. For one, you can purchase limited-time items in Nook's Cranny with bells. The decors there rotate daily, so you're constantly going to get a fresh selection of items to buy. Another option is to use your Nook Miles to purchase decorations. Note that the options are somewhat limited, but they have some decent rugs for you to put into your bedroom.
Besides decorations, another way to further personalize your character and island is to look the part! Animal Crossing is a life simulator game, and as such, it's important to look spiffy-- especially when you have visitors coming by. Just like when it comes to decorations, you can buy some clothes with Nook Miles, albeit they're all Nook-themed. Luckily for you, The Able Sisters will open up shop on your island! If you're not familiar with The Able Sisters, think Nook's Cranny—but instead of decors and tools, they sell clothes and accessories instead. It's easy to spend all of your bells here, especially if you're the type of person that likes to change outfits every single day.
Based on the total ratings of 42 orders in the past year
awesome, will use again!!
1000 M Animal-Crossing-NH Bells
09/24/2023
Great to work with and are with you every step of the way. Quick to deliver
1000 M Animal-Crossing-NH Bells
09/17/2023
Awesome seller, as advertised and more! :)
1000 M Animal-Crossing-NH Bells
09/07/2023
Really Fast!
1000 M Animal-Crossing-NH Bells
08/30/2023
PlayerAuctions makes it safe to buy video game currencies from our members by securing your payment and guaranteeing delivery.
Buyer creates order and send payment to PlayerAuctions
PlayerGuardian secures payment
Seller completes delivery within delivery guarantee
Buyer confirm delivery
Seller receives disbursement
Option 1: In-game, Face to Face Delivery
Sellers will select this method of delivery if they intend to meet your character in-game with one of their own characters. Usually a seller will coordinate a time and location in-game to meet your character.
Tips:
Be sure to confirm the time to account for time zone differences
Confirm which Shard or Server the delivery is to take place in case your game world has more than one.
Never, under any circumstances, return gold, item, etc. to the delivery character if ever asked. In the event the seller asks you to, please take A screenshot and report this to PlayerAuctions Customer Support.
Option 2: In-game Mailbox delivery.
Some sellers will select the option to deliver gold or items directly to an in-game mailbox. This option is less popular for larger Games like WoW, but is still viable amongst other games. This option can be convenient for smaller orders because you do not need to coordinate time of delivery.
Low Prices: Prices set by other players or PowerSellers on PlayerAuctions are significantly lower than the high markups you would find on expensive retail sites.
Guaranteed Security: PlayerAuctions is quite simply the most secure place to buy and sell MMO game assets. Through PlayerGuardian, you are 100% guaranteed full and as-described delivery, or your money back.
Reliable Delivery Speed: PlayerAuctions calculates each seller's average delivery speed from the seller's latest successfully completed deliveries, which gives you a clear idea of how fast the seller will deliver your order.
To see how quickly the seller may deliver your order, refer to the seller's delivery guarantee period, which is their promise to complete delivery within a certain timeframe after your payment is securely sent to PlayerAuctions and is successfully verified. Each seller sets their delivery guarantee period independent of PlayerAuctions. In the event that the seller is not able to complete the delivery within their guaranteed time, you may cancel the order without penalty for a hassle-free refund from PlayerAuctions.
PlayerAuctions guarantees that the seller will deliver your order, or your money back. The overwhelming majority of transactions through our site occur successfully. As for the very exceptional cases, you can rest assured that they have been carefully considered by our systems and processes, and we are well prepared to handle them in the rare event that they do occur. Read more.
About Animal Crossing NH Bells
What Players Buy Animal Crossing Bells for
When it comes to Animal Crossing: New Horizons, there's always something a player can do. Whether it be tidying up their island to make it look prettier or completing some tasks to earn Nook Miles Points, New Horizons is all about enjoying the mundanity of it all. From an outside perspective, one might think of the usual list of things to do in Animal Crossing to be a bit boorish and underwhelming when compared to an action-packed video game that's all about beating up the bad guys. It's understandable to think those things for the people that have never touched an Animal Crossing game before, but in reality, that's where its charm lies. Players won't be able to do everything in the game within just a day. Everything in New Horizons takes patience--be it waiting for their trees to grow and bear fruit or Nook's Cranny to stock up on some new goodies. Everything in Animal Crossing: New Horizons has to be taken step by step, and that's why players get Animal Crossing Bells for it.
What Can Players Get for Cheap Animal Crossing Bells
Bells are the number one currency across all the franchises of Animal Crossing. Players can see it in past Animal Crossing games as well as in its mobile game, Pocket Camp. For New Horizons, there are several things that players can get in exchange for Bells.
Tools

For players that are starting, there's a chance that they'll rely heavily on the tools that their Nook's Cranny will be selling. So just what are these tools? These tools are what's used to catch the wildlife that is part of every player's island. Depending on which hemisphere a player is located in, they can catch different kinds of critters and marine lifeforms based on what their season is. For example, within a certain month, players of the northern hemisphere can catch sturgeons by their riverside while the southern hemisphere players will mostly have salmon on their stream. The availability of each of these critters is seasonal, hence why it's common for players to be constantly busy filling up their museum. The tools that players will ultimately need in these situations are the fishing rod and net. There are many tiers available for both tools, but Nook's Cranny sells the lowest and mid-tier ones. The higher-tier ones, on the other hand, are only craftable through the use of certain materials and ores. While the low-tier and mid-tier tools are also craftable, resources are not always on the player's side. There are times when the materials needed to craft certain tools are scarce; this is why buying them off of Nook's Cranny is a better alternative. Just keep in mind the lifespan of these tools--the low-tier ones tend to break easily. But hey, with just a few bells, players can purchase a spare one easily.

Indoor & Outdoor Items

Perhaps the point that is mainly focused on by players in ACNH is its items. Items in Animal Crossing: New Horizons is of abundance. The sheer number of items that are in the game is always increasing thanks to the updates that Nintendo provides almost every month. There are two general types of items in New Horizons: indoor and outdoor. Indoor items mostly consist of furniture and decorations that are made to be inside a player's home. Wall decors are also a part of this type. Outdoor items, on the other hand, are often put on the player's island or even outside their home. They can also beautify the front porch of their villagers' houses through these types of items. While players can put outdoor items inside their home, some indoor items such as wall-type ones can't be put outside. The rest of the indoor items, however, are eligible to be part of the outdoor decor. The great thing about Animal Crossing is that players can make do with their island in whatever way they like it. Going for a trash island theme? How about an aquatic-themed island? They can very well do that so long as they have the right items for the job.
Why Buyers Buy Bells for Animal Crossing: New Horizons
There are always buyers looking to buy ACNH bells, and the reason being is that there's always something new to the table. As many players know, there are always updates that are being given by Nintendo--and for free! There's no doubt that New Horizons will be supported by Nintendo for many years until the end of the lifespan of the Nintendo Switch. These updates are mainly made up of limited-time events and celebrations of certain games. This, of course, means new items that players can get. An example would be for the 35th anniversary of Mario where Nintendo has released a bunch of new items and furniture that players can put on their island in commemoration of the many successful years of Mario.
PlayerGuardian Buyer Protections
PlayerAuctions is the most secure place to buy and sell MMO game assets. Our proprietary security technology, PlayerGuardian, keeps you, your payments, and your trades protected and private. The protections below are provided to all PlayerAuctions buyers.
Guaranteed Payment Security
Convenient & Worry-Free Trading
A Secure, Trusted Trading Community
Guaranteed Full and As-Described Delivery, or Your Money Back
Guaranteed Seller On-Time Delivery, or Your Money Back
Information Privacy
PlayerAuctions After Sale 100% Support Guarantee
Transparent Seller Service Ratings
Bank-Level Data Security
Read more
PlayerAuctions is an independent player-to-player marketplace for buying and selling virtual video game property. PlayerAuctions is NOT endorsed by, directly affiliated with, maintained, authorized, or sponsored by Animal Crossing: New Horizons or its trademark owner.
Select server and Faction