Buy & Sell Metin 2 Yang - Metin2 Currency Market
Fight for sheer survival as a warrior, shaman, ninja, sura, or wolfman. To help you increase your chances against waves upon waves of undead hordes, make sure to get your fill of Metin2 Yang. PlayerAuctions has all the reputable online sellers in our listing to help you raise or sell Metin 2 currency.
SELL
Darn! There Are No Offers...But Wait.
Did you know we have over 200 games available for trading? Here are our most popular ones:
Want To Be the First to Sell?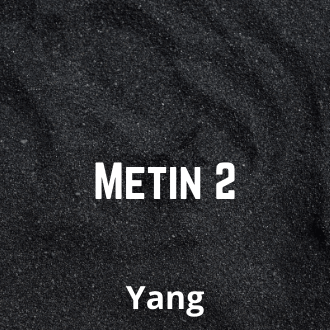 Buy Metin 2 Yang Today
There are only a handful of MMOs that use Eastern lore and culture as their inspiration. For many MMO players and enthusiasts, there must be more Metlin 2 type games, as there is a sense of uniqueness and mystique that Oriental cultures have. Then again, more isn't always better because there is already a gem of an MMO in that limited collection. There is no other than Metin 2, a game heavily influenced by Chinese mythology. You'll be a hero who fights monsters, wield legendary arms, and gather Metin 2 Yang.
Metin 2 Yang: Why You Need It?
The game is set in a chaotic era, as a great disease has spread across the land that has caused a huge kingdom to split into three warring states. Despite the great fear that swept the land, there were heroes who took it upon themselves to rise above the darkness of the time. Players fill the roles of these heroes from a particular class: Warrior, Shaman, Ninja, Sura, and Wolfman. All of the classes have a play style, pros and cons, and a role to play that is completely unique to them, so it's vital for players – you – to choose the one you would like an excel with.
After choosing a class, players have to level up their chosen character, learn new and better skills, and get better equipment. To do the final stage, it's important for players to gather Metin Yang. There are many ways, but the fastest one would be through buying them online since there are many sites and players who sell Metin 2 Yang online.
The problem is that many of them are scammers and phishers. However, that shouldn't stop you from are buying Metin 2 Gold, as there are still reputable sellers on the worldwide web. One of those would be us: PlayerAuctions.
PlayerAuctions: Get Metin 2 Gold Here
PlayerAuctions is a player-to-player online trading platform. Our site hosts anything related to online games, be it accounts, items, or even in-game currency, including Metin 2 Yang. So, if you are in need of it, there's no place to buy some than here.
We know how important our clients' private details are, so a PlayerGuardian system is put in place, which guarantees their security. To help our buyers in finding trustworthy sellers, we have a five-tier PowerSeller system, which they use as a reference to check our sellers' on-site reputation. Lastly, should our clients encounter any issue, we have a customer support that is trained to resolve them.
There's no other game like Metin 2, so enjoy it to the fullest, and to do so, it's important to have Metin 2 Yang. You already know where to get it: at PlayerAuctions.
PlayerAuctions makes it safe to buy video game currencies from our members by securing your payment and guaranteeing delivery.
Buyer creates order and send payment to PlayerAuctions
PlayerGuardian secures payment
Seller completes delivery within delivery guarantee
Buyer confirm delivery
Seller receives disbursement
Option 1: In-game, Face to Face Delivery
Sellers will select this method of delivery if they intend to meet your character in-game with one of their own characters. Usually a seller will coordinate a time and location in-game to meet your character.
Tips:
Be sure to confirm the time to account for time zone differences
Confirm which Shard or Server the delivery is to take place in case your game world has more than one.
Never, under any circumstances, return gold, item, etc. to the delivery character if ever asked. In the event the seller asks you to, please take A screenshot and report this to PlayerAuctions Customer Support.
Option 2: In-game Mailbox delivery.
Some sellers will select the option to deliver gold or items directly to an in-game mailbox. This option is less popular for larger Games like WoW, but is still viable amongst other games. This option can be convenient for smaller orders because you do not need to coordinate time of delivery.
Low Prices: Prices set by other players or PowerSellers on PlayerAuctions are significantly lower than the high markups you would find on expensive retail sites.
Guaranteed Security: PlayerAuctions is quite simply the most secure place to buy and sell MMO game assets. Through PlayerGuardian, you are 100% guaranteed full and as-described delivery, or your money back.
Reliable Delivery Speed: PlayerAuctions calculates each seller's average delivery speed from the seller's latest successfully completed deliveries, which gives you a clear idea of how fast the seller will deliver your order.
To see how quickly the seller may deliver your order, refer to the seller's delivery guarantee period, which is their promise to complete delivery within a certain timeframe after your payment is securely sent to PlayerAuctions and is successfully verified. Each seller sets their delivery guarantee period independent of PlayerAuctions. In the event that the seller is not able to complete the delivery within their guaranteed time, you may cancel the order without penalty for a hassle-free refund from PlayerAuctions.
PlayerAuctions guarantees that the seller will deliver your order, or your money back. The overwhelming majority of transactions through our site occur successfully. As for the very exceptional cases, you can rest assured that they have been carefully considered by our systems and processes, and we are well prepared to handle them in the rare event that they do occur. Read more.
Only a few MMOs draw inspiration from Eastern lore and culture. A shame, as these cultures have beautiful and unique design philosophy, as well as rich mythos which they can draw a lot of inspiration from. And among that small number of Oriental-themed MMO titles is Metin 2, which is a great example of the particular sub-subgenre. Be a hero, fight monsters, and collect Metin 2 Yang – there's so much fun to be had in this game.
Why You Should Get Metin 2 Yang
Many years before the events of the game, there was only one empire on a continent. For a time, people who lived in it were experiencing peace and tranquility. But the golden age they enjoyed made them ignorant to the deadly diseases that were spreading across the land, which eventually reached their kingdom. Its citizens were either afflicted by the disease or attacked by wild beasts that carry it, and those who died by either means became undead. Later on, these undead, which were difficult to slay, became innumerable because the disease has already spread so greatly. These creatures became a scourge upon the kingdom and caused it to be divided into three, where pit against one another, continuously fought for survival.
The game is then set in that world's chaotic present age. Living in those times are the heroes, which the players fill the shoes of. As one of the individuals who will not only carve their own future but also that of the splintered kingdom, players, and that also means you, will be given the chance to choose among the five available classes: Warrior, Shaman, Ninja, Sura, and Wolfman, with the last one being the most recent addition, which was in 2014. The Warrior is the strong and tough melee class, the Shaman is the more magic-oriented one, the Ninja is the swift and deadly DPS, the Sura is the more well-rounded melee class, and the Wolfman has the ability to transform to a beast.Each of these classes have their own play style, advantages, and disadvantages, so it's important for you to choose which one you think would suit you best.
The mechanics of Metin2 are very much like other MMO games. It uses a hack-and-slash system, where the players can either use space to make the character attack, or make them do auto-attack, which will make the character attack until either it or its target dies. In addition, players can use skills by assigning them to hotkeys.
Get M2 Yang Easy, Fast, and Cheap
By engaging in battle, players are rewarded with experience points (EXP) every time they kill a mob and/or completes a mission from an NPC. In addition, by doing so, they also gain Metin2 Yang, which is the game's currency. Just like in other MMOs, M2 yang is used to buy items and equipment, which are important for players because it makes them fare better in combat.
There are many ways players can earn M2 Yang. Other than simply killing monsters, another way is by doing Metin hunting. A good place to start is the Mountain, where level 55 metins can be collected. Soul Stones, Stones +3 and +4, and books can also be found there, and they also are worth a good amount of M2 Yang. Demon tower is also a good location, as it has Blessing scrolls, and Gold treasure box+. And lastly, if you're not into going to dungeons, you can always try mining.
But regardless of which in-game method you choose, there is still the undeniable fact that all of them require a lot of time and effort – something not a lot of players have the luxury of. Thankfully, there is always another way for players to earn Metin2 gold – by buying M2 yang. If you buy M2 yang, you can save on the time farming it, and instead use it to do the many other things the game offers.
Still, one problem remains: where do you find a reputable Metin 2 yang seller? It's a legitimate concern, as there are lots of sites that do not actually sell M2 yang, but instead are scamming and phishing sites. Thankfully, there are still some sites that can be trusted. Obviously if you are reading this, you've found your way to PlayerAuctions, which, happens to be the longest running secured player to player marketplace still in existence (many, have come and gone over the years).
PlayerAuctions: Best Place to Get M2 Yang
PlayerAuctions is a player-to-player online trading platform, and we've been securing trades since 1999 for gamers. It's where players buy and sell all things online games-related, such as items, accounts, and even currency, including M2 Yang. So if you want to buy M2 yang, then this is the perfect place for you.
To ensure that our clients' personal details remain secure, we have installed a PlayerGuardian system on our site. And to help our buyers in finding a trustworthy seller to transact, we have the five-tier PowerSeller system, which they can use to check our sellers' on-site reputation. And lastly, we have a customer support team that has been trained to resolve any issue our clients encounter.
Metin 2 is a uniquely made MMORPG. So you better give it a shot. And if you do, then make sure you have much-needed M2 yang. And where should you get it? Nowhere else but here, PlayerAuctions.
PlayerGuardian Buyer Protections
PlayerAuctions is the most secure place to buy and sell MMO game assets. Our proprietary security technology, PlayerGuardian, keeps you, your payments, and your trades protected and private. The protections below are provided to all PlayerAuctions buyers.
Guaranteed Payment Security
Convenient & Worry-Free Trading
A Secure, Trusted Trading Community
Guaranteed Full and As-Described Delivery, or Your Money Back
Guaranteed Seller On-Time Delivery, or Your Money Back
Information Privacy
PlayerAuctions After Sale 100% Support Guarantee
Transparent Seller Service Ratings
Bank-Level Data Security
Read more