Buy Habbo Credits & Coins - Habbo Gold Market
For those looking to purchase Habbo Credits (aka, Habbo Coins) and Gold Bars, sellers are the best choice for trading Habbo Money. From there, they can choose to buy everything they want and need – from clothes to furniture in the game and enjoy this unique experience the way it's always meant to be.
SELL
Leon4302
187284762
Best price among sellers with a fair amount of ratings and feedback score.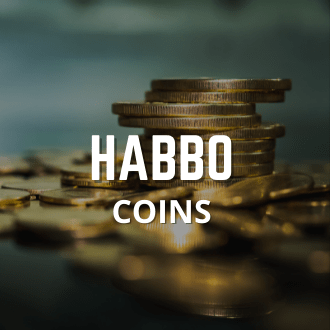 Buy Habbo Credits and Coins Cheap
Those that want to have the coolest furniture to make their room in Habbo look awesome need Habbo Coins to get them. Same is true for those that don't have enough Habbo Credits to get that wicked throne to complete their fantasy themed room. Thankfully, they can either keep on playing until they get the amount they need, or they can buy Habbo coins from other players for a lower price.
What Players Can Get With Habbo Currency
Credits are the main currency used in Habbo, and there's a lot that players can choose to purchase if they have enough of it. The Credits are what gamers can use to pay for extras in the Hotel, such as furniture for their guest room or even pets. However, regardless of whether they have Credits or not, in Habbo everyone is entirely welcome and free to join! Credits are only there to offer 'extras', including, but not limited to:
Habbo Club – Players can buy a Habbo Club membership with their Credits that go for 14 days or longer, depending on what their option is. By having an HC membership, they get to have access to gifts and exclusive clothes that can't be found anywhere else.
Habbo Exchange – Players can choose to exchange their Credits for special Credit furniture which they can then trade to other Habbos.
Group Furniture – Group Flags and Group Banners are part of this category. Since it's easy to great a Group in Habbo, it's normal for a bunch of players to meet up in one space, making Group Furniture of great importance.
Furniture – This is arguably the main reason why players get Credits. Players can buy furniture – or furni for short – to decorate their room and create whatever they like. With so much furni available from the Shop, the sky's the limit when it comes to choosing what design to go with.
Pets/Pet Accessories – Having a furry friend nearby is certainly a nice addition to anyone's room. There are a lot of pets that can be found in the Shop, and if players want to dress them up, they can do so by purchasing pet accessories.
Based on the total ratings of 1306 orders in the past year
Quick, reliable and all round just the best available
1000 Habbo Coins
11/25/2022
Thanks fast
1900 Habbo Coins
11/25/2022
fast, and efficient
950 Habbo Coins
11/25/2022
Speedy, patient and helpful A+ seller
10000 Habbo Coins
11/24/2022
PlayerAuctions makes it safe to buy video game currencies from our members by securing your payment and guaranteeing delivery.
Buyer creates order and send payment to PlayerAuctions
PlayerGuardian secures payment
Seller completes delivery within delivery guarantee
Buyer confirm delivery
Seller receives disbursement
Option 1: In-game, Face to Face Delivery
Sellers will select this method of delivery if they intend to meet your character in-game with one of their own characters. Usually a seller will coordinate a time and location in-game to meet your character.
Tips:
Be sure to confirm the time to account for time zone differences
Confirm which Shard or Server the delivery is to take place in case your game world has more than one.
Never, under any circumstances, return gold, item, etc. to the delivery character if ever asked. In the event the seller asks you to, please take A screenshot and report this to PlayerAuctions Customer Support.
Option 2: In-game Mailbox delivery.
Some sellers will select the option to deliver gold or items directly to an in-game mailbox. This option is less popular for larger Games like WoW, but is still viable amongst other games. This option can be convenient for smaller orders because you do not need to coordinate time of delivery.
Low Prices: Prices set by other players or PowerSellers on PlayerAuctions are significantly lower than the high markups you would find on expensive retail sites.
Guaranteed Security: PlayerAuctions is quite simply the most secure place to buy and sell MMO game assets. Through PlayerGuardian, you are 100% guaranteed full and as-described delivery, or your money back.
Reliable Delivery Speed: PlayerAuctions calculates each seller's average delivery speed from the seller's latest successfully completed deliveries, which gives you a clear idea of how fast the seller will deliver your order.
To see how quickly the seller may deliver your order, refer to the seller's delivery guarantee period, which is their promise to complete delivery within a certain timeframe after your payment is securely sent to PlayerAuctions and is successfully verified. Each seller sets their delivery guarantee period independent of PlayerAuctions. In the event that the seller is not able to complete the delivery within their guaranteed time, you may cancel the order without penalty for a hassle-free refund from PlayerAuctions.
PlayerAuctions guarantees that the seller will deliver your order, or your money back. The overwhelming majority of transactions through our site occur successfully. As for the very exceptional cases, you can rest assured that they have been carefully considered by our systems and processes, and we are well prepared to handle them in the rare event that they do occur. Read more.
For most things, you need money; that's why you get an education, and later on a job. And even if you do get a regular 9-to-5, there are still a lot of things in this world that are out of your budget. Good thing that video games give us the freedom to do things we could never do in our own lives. One of them would be Habbo, a virtual chat game that gives you options on your activities, apparel, and even your own pad. However, just like in real life, you can only do so much in Habbo without Habbo credits.
Habbo Credits: What You Can Do Without It
But hey, it's not all about the money. It's also, more importantly, about living the good life, and Habbo lets you experience just as much of it as you can. Without spending a single digit of Habbo coins, players can choose from limited fashion options – shirts, pants, footwear, and hairdos – as well as pieces of furniture and other decorations for your hotel room. Heck, you can even choose how big you want your hotel room to be. But don't just stay cooped in your room, as there's more to Habbo than just how you look and where you live; it's also about getting out and about.
For starters, you can go out of your room and talk to other players and explore the world by going to other virtual chatrooms; each of which give players something different to do. There is the Welcome Lounge, where you can chill and mingle with other people; the club, where you can dance and drink; and of course, the game room, where you can, as the name suggests, play a wide variety of games to either pass the time or earn a few rewards. There are many other places that you can check out, even ones far from the usual cityscape: you can even go as far as the North Pole in the Polar Bear Habitat Bundle Room.
Earning Habbo Coins The Right Way
Because the game has so many features to keep you preoccupied, you may wish that you were living the life of your Habbo avatar. And if you already think that the Habbo world is your oyster, then imagine how much bigger and freer it would be if you had Habbo coins, or any other currency from the game. That is why, even though Habbo is completely free, it'd be best if you got some extra Habbo credits.
If you want to earn Habbo coins, you can do the following things:
Participate in offers and surveys – in order to do this, go to the "Earn Credits" page under the "Credits" tab of the official Habbo site.
Play Games – only in Habbo do you play instead of work and yet you can earn coins like this. However, not all games will yield coins; those that do are the following: Falling Furni, Don't Hit My Wall, Trivia, and Bingo.
Get an in-game Job – much like in real life, you can get a job in Habbo. The compensation, however, is quite low because you're not really doing a job; you're still playing. If you can earn even just one furniture, that's enough, as you can sell it for Habbo credits.
However, players that don't want to do any of those things can buy Habbo credits, Habbo coins, and Habbo gold bars from sellers.
PlayerGuardian Buyer Protections
PlayerAuctions is the most secure place to buy and sell MMO game assets. Our proprietary security technology, PlayerGuardian, keeps you, your payments, and your trades protected and private. The protections below are provided to all PlayerAuctions buyers.
Guaranteed Payment Security
Convenient & Worry-Free Trading
A Secure, Trusted Trading Community
Guaranteed Full and As-Described Delivery, or Your Money Back
Guaranteed Seller On-Time Delivery, or Your Money Back
Information Privacy
PlayerAuctions After Sale 100% Support Guarantee
Transparent Seller Service Ratings
Bank-Level Data Security
Read more
Select server and Faction