Buy & Sell Ragnarok Online Zeny – RO Market
Experience one of the long-standing MMOs in the gaming community without the necessary fuss by getting Ragnarok Online Zenys to get you that much needed gear to aid you on whatever job you choose for your avatar.
SELL
Darn! There Are No Offers...But Wait.
Did you know we have over 200 games available for trading? Here are our most popular ones:
Want To Be the First to Sell?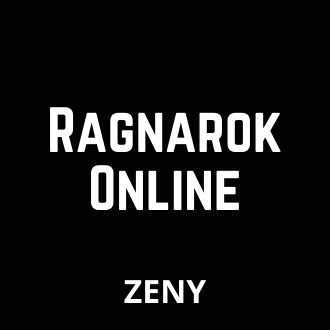 The True Long-Lasting MMO is Ragnarok Online
Back before the massiveness of WoW and the complications of the ARPG, there was a simpler time where stats and character advancement was all a player ever needed. Ragnarok Online (RO), a classic in the MMO genre, spearheaded the industry with its anime stylistics, simple but fun combat system, and deep character building mechanic. Developed by Gravity, Ragnarok took the online world by storm with its simple premise of kill-monsters-and-farm-loot. No story, no cheeky gimmicks, just plain old smash and grab in both PvE and PvP. RO certainly stand the test of time.
The Grind for Ragnarok Online Zeny is Real
RO, however, suffers from the same gameplay hassles that many of its contemporaries had at the time – grinding. There is no worse grind than the Korean MMO kind, and RO does that to a tee. Farming for experience can become a staggering chore of killing monster after monster only to receive a few slivers of xp on your level bar. It also goes without saying that gear can get tricky to attain due to the lopsided RNG, though this does not take away as to how fantastic a game like RO is.
Fortunately, you can bypass the RNG of most things by simply having lots of Ro zeny at your disposal. This iconic currency can come from the lowliest of monsters to the biggest of threats found in RO's world. Zeny can become a pain to farm because of the high costs of a game that's almost twenty years old, inflated beyond measure as any other aging MMO would suffer. That's not a problem, however, since you can just buy your zeny online so that you don't have to worry about wasting time!
Money is Power, and RO Zeny is King
Zeny is topnotch, and everybody knows it. From monster cards to equipment upgrades, you can virtually buy anything that doesn't get nailed to the ground in RO. It's also a key component to the arsenal of any pro RO player and will always with relevancy regardless of the new content that comes in. If you've got a busy work or school life, you might want to consider buying RO zeny with us. It will surely make your gaming experience easier and a heck of a lot more fun.
PlayerAuctions makes it safe to buy video game currencies from our members by securing your payment and guaranteeing delivery.
Buyer creates order and send payment to PlayerAuctions
PlayerGuardian secures payment
Seller completes delivery within delivery guarantee
Buyer confirm delivery
Seller receives disbursement
Option 1: In-game, Face to Face Delivery
Sellers will select this method of delivery if they intend to meet your character in-game with one of their own characters. Usually a seller will coordinate a time and location in-game to meet your character.
Tips:
Be sure to confirm the time to account for time zone differences
Confirm which Shard or Server the delivery is to take place in case your game world has more than one.
Never, under any circumstances, return gold, item, etc. to the delivery character if ever asked. In the event the seller asks you to, please take A screenshot and report this to PlayerAuctions Customer Support.
Option 2: In-game Mailbox delivery.
Some sellers will select the option to deliver gold or items directly to an in-game mailbox. This option is less popular for larger Games like WoW, but is still viable amongst other games. This option can be convenient for smaller orders because you do not need to coordinate time of delivery.
Low Prices: Prices set by other players or PowerSellers on PlayerAuctions are significantly lower than the high markups you would find on expensive retail sites.
Guaranteed Security: PlayerAuctions is quite simply the most secure place to buy and sell MMO game assets. Through PlayerGuardian, you are 100% guaranteed full and as-described delivery, or your money back.
Reliable Delivery Speed: PlayerAuctions calculates each seller's average delivery speed from the seller's latest successfully completed deliveries, which gives you a clear idea of how fast the seller will deliver your order.
To see how quickly the seller may deliver your order, refer to the seller's delivery guarantee period, which is their promise to complete delivery within a certain timeframe after your payment is securely sent to PlayerAuctions and is successfully verified. Each seller sets their delivery guarantee period independent of PlayerAuctions. In the event that the seller is not able to complete the delivery within their guaranteed time, you may cancel the order without penalty for a hassle-free refund from PlayerAuctions.
PlayerAuctions guarantees that the seller will deliver your order, or your money back. The overwhelming majority of transactions through our site occur successfully. As for the very exceptional cases, you can rest assured that they have been carefully considered by our systems and processes, and we are well prepared to handle them in the rare event that they do occur. Read more.
PlayerGuardian Buyer Protections
PlayerAuctions is the most secure place to buy and sell MMO game assets. Our proprietary security technology, PlayerGuardian, keeps you, your payments, and your trades protected and private. The protections below are provided to all PlayerAuctions buyers.
Guaranteed Payment Security
Convenient & Worry-Free Trading
A Secure, Trusted Trading Community
Guaranteed Full and As-Described Delivery, or Your Money Back
Guaranteed Seller On-Time Delivery, or Your Money Back
Information Privacy
PlayerAuctions After Sale 100% Support Guarantee
Transparent Seller Service Ratings
Bank-Level Data Security
Read more