Buy MapleStory 2 Mesos – MS2 Meso/Gold Market
MapleStory 2 takes all the good things about its predecessor and improves upon it—in full 3D fashion! Don't skip a beat! Earning MapleStory 2 Mesos is not as easy as it seems. Besides having to squander around and kill a lot of the adorable enemies, the cost of the items in the game just keeps getting bigger.
SELL
Darn! There Are No Offers...But Wait.
Did you know we have over 200 games available for trading? Here are our most popular ones:
Want To Be the First to Sell?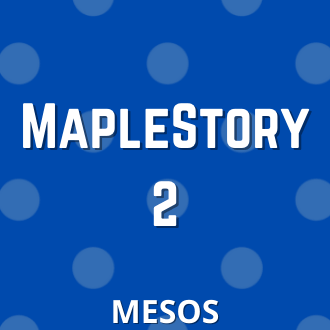 Fierce Competition for Mesos
Farming and grinding in MMORPGs require chunks of time and effort and MapleStory 2 is no exception. But that's not all to it! There's also fierce competition among players and there's a high chance that others will end up kill-stealing a player's mob and leaving them empty-handed after all the time and effort expended. Buying Mesos, on the other hand, provides players with instant benefits. MapleStory 2 is a "grindy" game that pretty much requires gamers to kill insane amounts of monsters just to keep leveling up.
Getting Mesos the Easy Way
Earning Mesos has always been a tedious task for many players, but much like in other MMORPGs, there are a lot of ways that can be used to make a profit. Killing monsters repeatedly is not just going to cut it anymore. Players will have to be resourceful and resort to all sorts of methods if they want to be able to even at least get a sizeable chunk of Mesos that can get them some much-needed gear or equipment. There are many ways to go about this, but there are some things that should be noted beforehand.
Firstly, not all methods necessarily have a high fun factor. Having fun is perhaps the most important detail of playing a game. If a player is not having fun, what is the point of playing MapleStory 2 in the first place? The fun factor is definitely subjective since different people perceive the concept of fun differently, but that is for the players to know. By doing methods that are actually fun for them, players can have a much easier time farming Mesos.
The second point is all about how much a player is willing to spend on Mesos — that's right. You can skip the grind and just buy MapleStory 2 Mesos from fellow players. This allows buyers to have an instant amount of Mesos they can use anytime on the good stuff. While yes, you can freely grind for it, not many people have the luxury of time, unfortunately, and buying Mesos from trusted sellers can allow players to fast-track their MapleStory 2 experience.
PlayerAuctions makes it safe to buy video game currencies from our members by securing your payment and guaranteeing delivery.
Buyer creates order and send payment to PlayerAuctions
PlayerGuardian secures payment
Seller completes delivery within delivery guarantee
Buyer confirm delivery
Seller receives disbursement
Option 1: In-game, Face to Face Delivery
Sellers will select this method of delivery if they intend to meet your character in-game with one of their own characters. Usually a seller will coordinate a time and location in-game to meet your character.
Tips:
Be sure to confirm the time to account for time zone differences
Confirm which Shard or Server the delivery is to take place in case your game world has more than one.
Never, under any circumstances, return gold, item, etc. to the delivery character if ever asked. In the event the seller asks you to, please take A screenshot and report this to PlayerAuctions Customer Support.
Option 2: In-game Mailbox delivery.
Some sellers will select the option to deliver gold or items directly to an in-game mailbox. This option is less popular for larger Games like WoW, but is still viable amongst other games. This option can be convenient for smaller orders because you do not need to coordinate time of delivery.
Low Prices: Prices set by other players or PowerSellers on PlayerAuctions are significantly lower than the high markups you would find on expensive retail sites.
Guaranteed Security: PlayerAuctions is quite simply the most secure place to buy and sell MMO game assets. Through PlayerGuardian, you are 100% guaranteed full and as-described delivery, or your money back.
Reliable Delivery Speed: PlayerAuctions calculates each seller's average delivery speed from the seller's latest successfully completed deliveries, which gives you a clear idea of how fast the seller will deliver your order.
To see how quickly the seller may deliver your order, refer to the seller's delivery guarantee period, which is their promise to complete delivery within a certain timeframe after your payment is securely sent to PlayerAuctions and is successfully verified. Each seller sets their delivery guarantee period independent of PlayerAuctions. In the event that the seller is not able to complete the delivery within their guaranteed time, you may cancel the order without penalty for a hassle-free refund from PlayerAuctions.
PlayerAuctions guarantees that the seller will deliver your order, or your money back. The overwhelming majority of transactions through our site occur successfully. As for the very exceptional cases, you can rest assured that they have been carefully considered by our systems and processes, and we are well prepared to handle them in the rare event that they do occur. Read more.
The Ins and Outs of MapleStory 2 Game Play
While MapleStory 2 freely borrows features from its original incarnation, it is nothing like its predecessor; and that's a good thing! The most noticeable difference is that MapleStory 2 takes players in for a much more immersive 3D experience! While a good chunk of the original game's NPCs, locations, and mobs do make a return, they do so with unique twists and changes that add a fresh take to MS2. It is an economically-driven game that affords players with a host of possibilities, thanks to its robust economy.
The Almighty MapleStory Meso Market
As with any other MMORPG, players will need to make a substantial amount of in-game currency early on if they are to make it far. MapleStory 2's economy is a thriving one, and it revolves around the Meso (or MapleStory gold). Meso is MapleStory's prevailing in-game currency. With plenty of chances to earn Mesos in the free market, however, they won't need to grind much.
Leveling up and getting better equipment is all tied to getting more mesos. The more in-game currency a player has, the better off they will be. Thankfully, NSquare (Along with Nexon and NCSoft) developers have made it easy for players to line their virtual pockets with Mesos. We're talking about the Daily "Get Rich" Missions! All three missions entail traveling around the Maple World to attack mobs. They take no more than an average of 10-15 minutes to complete, and they can yield players a return of about 200-400K Mesos per character! Now if that isn't worth getting into, we don't know what is!
MapleStory: How to Make Mesos
Grinding for Mesos can be tiresome in MapleStory 2. If players know what they are doing, it's not as hard as in the original game. Plus, there are more ways and 'MapleStory Meso Guides' out there to help players make Mesos in MapleStory 2. Here are a few ways to earn Mesos. Be warned, however, that these methods involve time, effort, and maybe even a bit of luck.
The Storyline

– Following a linear pattern and sticking to the game's storyline can earn gamers cash in MapleStory 2. There are better ways of earning money though and the storyline can be a bit of a time sink even if it does supplement their income as they level up their character.

Daily Quests

– These quests reset every day, with 6 different sub-sets of daily missions. The missions are quite easy to complete. Aside from the Meso Box, players also get rewarded with experience and mission points. The bad thing is that they will need luck on their side as drops are chance-based.

Epic Gear

– Sure, the drop-rate for epic gear may be a bit rare so there is a bit of luck involved in this. However, should gamers be fortunate enough to acquire some and not have an immediate need for them, then sell them! Again, epic gear and pets are hard to come by so they just might end up wasting time with nothing to show for it in the end.

Potion Solvents

– Used to craft snare items in the game, potion solvents are in high demand among players. However, remember that the market can change in MapleStory 2 and what works today in terms of Meso-making may not necessarily be such a good idea come tomorrow. The catch? Players have to wait for them to drop via mobs. Good luck with that.
PlayerGuardian Buyer Protections
PlayerAuctions is the most secure place to buy and sell MMO game assets. Our proprietary security technology, PlayerGuardian, keeps you, your payments, and your trades protected and private. The protections below are provided to all PlayerAuctions buyers.
Guaranteed Payment Security
Convenient & Worry-Free Trading
A Secure, Trusted Trading Community
Guaranteed Full and As-Described Delivery, or Your Money Back
Guaranteed Seller On-Time Delivery, or Your Money Back
Information Privacy
PlayerAuctions After Sale 100% Support Guarantee
Transparent Seller Service Ratings
Bank-Level Data Security
Read more