Buy Forza Horizon 5 Credits – FH5 Credit Market
Much like the previous games in the series, credits play an important factor in Forza Horizon 5 since it's the go-to currency for players to buy the latest cars, install upgrades, or revamp the aesthetics of their vehicle. Needless to say, gamers won't get anything done in Mexico if they don't start jazzing up their ride.
SELL
ForzaFastCR4U
201864920
Best deal among sellers with a fair amount of ratings and feedback score.
aalgames
201769435
Best deal among sellers with a fair amount of ratings and feedback score.
ForzaFastCR4U
201864927
Best deal among sellers with a fair amount of ratings and feedback score.
aalgames
201769437
Best deal among sellers with a fair amount of ratings and feedback score.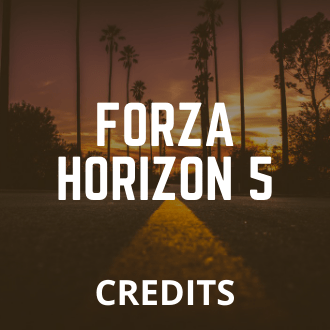 Buy Forza Horizon 5 Credits to Get the Best Cars, Characters, and More
As the name suggests, Forza Horizon 5 Credits refers to the official game currency used for the latest entry in the Forza series. These credits can be used by players to purchase accessories, characters, vehicles, and many more. In this jam-packed, adrenaline-rushing, racing world, if players don't have enough of the currency to buy better vehicles, it'll be difficult for them to get outstanding achievements. Getting first place in races is fun and all, but the heart of the game lies in being able to customize and acquire the many cars in the game. Players can truly deck everything out--from the color of their car down to the type of wheels that they want to sport.
Of course, let's not forget about the wide array of vehicles available in Forza Horizon 5. Forza Horizon 5 has over 500 cars to collect, where some of the most formidable and fastest vehicles can burn a hole in a player's pocket. As a result, players have to either grind races to afford the best cars or purchase the currency from a third-party marketplace.
Enjoying the Sights Without Worrying About Being Poor
Usually, players can get credits by selling the idle vehicles in their garage, reaching career milestones, and completing the tasks that the game gives out to them. The thing is though, accumulating currency through these methods isn't very high. Plus, there's the fact that after the honeymoon period of the initial release of FH5, players will want to pay more attention to the game experience instead of just grinding to obtain more Forza Horizon 5 Credits. But if they were to buy the currency from a marketplace they no longer have to worry about where they'll get the funds for the next upgrade of their car.
Forza Horizon 5 is based on a fictional image of Mexico and has the largest map in the Forza Horizon series by far. Being 50% larger than Forza Horizon 4, there's a lot for players to take in--the beaches, active crater volcanoes, and ancient Mayan temples are a sight to behold. It would be a shame for them not to enjoy their time with the game just because they're strapped for credits.
Based on the total ratings of 589 orders in the past year
Great seller, everything as described.
2000 M Forza-Horizon-5 Credits
11/27/2023
Very fast delivery and very helpful
3000 M Forza-Horizon-5 Credits
11/26/2023
Actually very impressed that everything went so well. very easy, professional
3000 M Forza-Horizon-5 Credits
11/16/2023
Good communication and quick delivery
3500 M Forza-Horizon-5 Credits
11/16/2023
PlayerAuctions makes it safe to buy video game currencies from our members by securing your payment and guaranteeing delivery.
Buyer creates order and send payment to PlayerAuctions
PlayerGuardian secures payment
Seller completes delivery within delivery guarantee
Buyer confirm delivery
Seller receives disbursement
Option 1: In-game, Face to Face Delivery
Sellers will select this method of delivery if they intend to meet your character in-game with one of their own characters. Usually a seller will coordinate a time and location in-game to meet your character.
Tips:
Be sure to confirm the time to account for time zone differences
Confirm which Shard or Server the delivery is to take place in case your game world has more than one.
Never, under any circumstances, return gold, item, etc. to the delivery character if ever asked. In the event the seller asks you to, please take A screenshot and report this to PlayerAuctions Customer Support.
Option 2: In-game Mailbox delivery.
Some sellers will select the option to deliver gold or items directly to an in-game mailbox. This option is less popular for larger Games like WoW, but is still viable amongst other games. This option can be convenient for smaller orders because you do not need to coordinate time of delivery.
Low Prices: Prices set by other players or PowerSellers on PlayerAuctions are significantly lower than the high markups you would find on expensive retail sites.
Guaranteed Security: PlayerAuctions is quite simply the most secure place to buy and sell MMO game assets. Through PlayerGuardian, you are 100% guaranteed full and as-described delivery, or your money back.
Reliable Delivery Speed: PlayerAuctions calculates each seller's average delivery speed from the seller's latest successfully completed deliveries, which gives you a clear idea of how fast the seller will deliver your order.
To see how quickly the seller may deliver your order, refer to the seller's delivery guarantee period, which is their promise to complete delivery within a certain timeframe after your payment is securely sent to PlayerAuctions and is successfully verified. Each seller sets their delivery guarantee period independent of PlayerAuctions. In the event that the seller is not able to complete the delivery within their guaranteed time, you may cancel the order without penalty for a hassle-free refund from PlayerAuctions.
PlayerAuctions guarantees that the seller will deliver your order, or your money back. The overwhelming majority of transactions through our site occur successfully. As for the very exceptional cases, you can rest assured that they have been carefully considered by our systems and processes, and we are well prepared to handle them in the rare event that they do occur. Read more.
PlayerGuardian Buyer Protections
PlayerAuctions is the most secure place to buy and sell MMO game assets. Our proprietary security technology, PlayerGuardian, keeps you, your payments, and your trades protected and private. The protections below are provided to all PlayerAuctions buyers.
Guaranteed Payment Security
Convenient & Worry-Free Trading
A Secure, Trusted Trading Community
Guaranteed Full and As-Described Delivery, or Your Money Back
Guaranteed Seller On-Time Delivery, or Your Money Back
Information Privacy
PlayerAuctions After Sale 100% Support Guarantee
Transparent Seller Service Ratings
Bank-Level Data Security
Read more
PlayerAuctions is an independent player-to-player marketplace for buying and selling virtual video game property. PlayerAuctions is NOT endorsed by, directly affiliated with, maintained, authorized, or sponsored by Forza Horizon 5 or its trademark owner.
Select server and Faction