Fall Guys Kudos – Fall Guys: Ultimate Knockout Kudo Market
Take the crown stylishly! Get some Fall Guys Kudos and customize your little bean dude with the cutest, quirkiest skin you can find! Remember to trade with only trustworthy sellers in a reliable online marketplace. Have fun slipping, sliding, and bouncing your way through obstacle courses!
SELL
Darn! There Are No Offers...But Wait.
Did you know we have over 200 games available for trading? Here are our most popular ones:
Want To Be the First to Sell?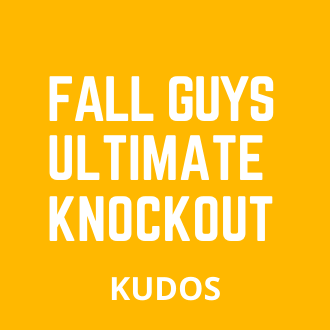 Why You Should Get Fall Guys Kudos (PC, Mobile, PS4, Xbox One, and Switch)
Since Fall Guys is still a relatively new game, there are still tons of updates to be had, which means more knick-knacks to collect. Kudos is the base currency of Fall Guys and is what is used to buy almost everything in the game. From costumes to personify your character even more down to some emotes you can use to express yourself to other people online, Kudos is king for the Fall Guys game. Getting Kudos is definitely a big plus. Say you've been playing the game for more than just a few hours now and you still don't have at least one skin to your name — while you can totally play the game without spending a dime, wouldn't it cool to have a few costumes to mix up your look every now and then?
What's more, Kudos can be used to purchase the game's battle pass. Battle passes can be seen in almost every type of gaming genre, so you've probably heard of them. These passes give you all sorts of nifty rewards as you progress through the game. Win or lose, you'll be gaining a bit of XP for every round that you play. Most of the time, these battle passes usually start off by giving you an exclusive seasonal skin that can only be obtained by purchasing the passes themselves. A battle pass is only worth about a few Kudos or so, so you're not going to break the bank either if you want to purchase Kudos solely for the seasonal battle passes.
Customizing Your Character with Kudos
As it stands, you can use Kudos to tweak your character every now and then. These purple coins aren't as elusive as Crowns, so you're sure to find a seller or two offering it. There are many ways to customize your character.
Here are some of the items that you can purchase with Kudos:
Color and Pattern

The color is basically what dictates the look of your characters. Want to turn your green character into bright red with a smidge of white? You can do so with the power of colors. They're not as popular as some of the items here since they only change the color of your character and not necessarily what they're wearing, but if you want to personalize your character in the cheapest way possible, then this is it.

The pattern is where you can change how the colors will look together in your character. These aren't anything special but they look great when paired with color skins. If you have some change to spare, consider smooshing some colors and a pattern together to make the perfect combo.

Face

If you want to really mix up how you look, then consider getting some face skins. Not only can it alter your character's expression, but it'll change the color as well. There are a lot of looks that you can go with, so just take your pick!

Upper and Lower

The upper and lower costumes are, to put it simply, the top and bottom portion of your outfit. You can either choose to match your upper and lower costumes together or create a mishmash that you can truly call your own. These are the most popular of the bunch since they're like items that you can wear, but they can cost a lot depending on the costume's rarity.

Theatries

Threatries, better known as emotes, can help to express how you feel when playing a couple of matches with other people. Whether it's sadness from losing or happiness to let people see how ecstatic you are when you win an obstacle, emotes in Fall Guys make for a good laugh because of how silly-looking they are.
More kudos mean more choices for expressing yourself. So go out and run the courses in style! Enjoy Fall Guys Ulitmate Knockout!
PlayerAuctions makes it safe to buy video game currencies from our members by securing your payment and guaranteeing delivery.
Buyer creates order and send payment to PlayerAuctions
PlayerGuardian secures payment
Seller completes delivery within delivery guarantee
Buyer confirm delivery
Seller receives disbursement
Option 1: In-game, Face to Face Delivery
Sellers will select this method of delivery if they intend to meet your character in-game with one of their own characters. Usually a seller will coordinate a time and location in-game to meet your character.
Tips:
Be sure to confirm the time to account for time zone differences
Confirm which Shard or Server the delivery is to take place in case your game world has more than one.
Never, under any circumstances, return gold, item, etc. to the delivery character if ever asked. In the event the seller asks you to, please take A screenshot and report this to PlayerAuctions Customer Support.
Option 2: In-game Mailbox delivery.
Some sellers will select the option to deliver gold or items directly to an in-game mailbox. This option is less popular for larger Games like WoW, but is still viable amongst other games. This option can be convenient for smaller orders because you do not need to coordinate time of delivery.
Low Prices: Prices set by other players or PowerSellers on PlayerAuctions are significantly lower than the high markups you would find on expensive retail sites.
Guaranteed Security: PlayerAuctions is quite simply the most secure place to buy and sell MMO game assets. Through PlayerGuardian, you are 100% guaranteed full and as-described delivery, or your money back.
Reliable Delivery Speed: PlayerAuctions calculates each seller's average delivery speed from the seller's latest successfully completed deliveries, which gives you a clear idea of how fast the seller will deliver your order.
To see how quickly the seller may deliver your order, refer to the seller's delivery guarantee period, which is their promise to complete delivery within a certain timeframe after your payment is securely sent to PlayerAuctions and is successfully verified. Each seller sets their delivery guarantee period independent of PlayerAuctions. In the event that the seller is not able to complete the delivery within their guaranteed time, you may cancel the order without penalty for a hassle-free refund from PlayerAuctions.
PlayerAuctions guarantees that the seller will deliver your order, or your money back. The overwhelming majority of transactions through our site occur successfully. As for the very exceptional cases, you can rest assured that they have been carefully considered by our systems and processes, and we are well prepared to handle them in the rare event that they do occur. Read more.
PlayerGuardian Buyer Protections
PlayerAuctions is the most secure place to buy and sell MMO game assets. Our proprietary security technology, PlayerGuardian, keeps you, your payments, and your trades protected and private. The protections below are provided to all PlayerAuctions buyers.
Guaranteed Payment Security
Convenient & Worry-Free Trading
A Secure, Trusted Trading Community
Guaranteed Full and As-Described Delivery, or Your Money Back
Guaranteed Seller On-Time Delivery, or Your Money Back
Information Privacy
PlayerAuctions After Sale 100% Support Guarantee
Transparent Seller Service Ratings
Bank-Level Data Security
Read more
PlayerAuctions is an independent player-to-player marketplace for buying and selling virtual video game property. PlayerAuctions is NOT endorsed by, directly affiliated with, maintained, authorized, or sponsored by Fall Guys: Ultimate Knockout or its trademark owner.
Select server and Faction