WotLK Gold for Sale – World of Warcraft: Wrath of the Lich King Gold Shop
Buy WoW Classic WotLK gold from a trusted marketplace at the best prices. Wrath Classic gold is in short supply - players should make sure to buy while prices are low. Browse thousands of offers from verified WotLK sellers with the best service. Stock is available on every WotLK Classic server with guaranteed offers and fast delivery.
Latest News: WoTLK Classic+ is releasing soon, which promises no gameplay changes but an update to visual fidelity, in line with those released in the Cataclysm expansion.
SELL
Veryreliable
202225312
Best deal among sellers with a fair amount of ratings and feedback score.
SovereignRendezvous
202223970
haidi1408
202072986
Best deal among sellers with a fair amount of ratings and feedback score.
haidi1408
202072993
Best deal among sellers with a fair amount of ratings and feedback score.
Veryreliable
202225319
Best deal among sellers with a fair amount of ratings and feedback score.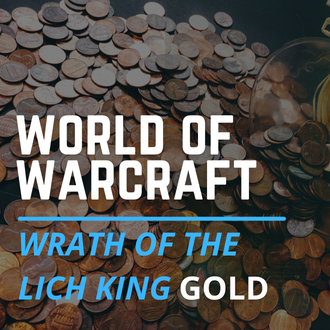 Buy Cheap WoW Classic WotLK Gold
With the addition of the Death Knight class and level cap increase, there's a lot for both new and old players to do in Wrath of the Lich King Classic. Besides doing quests and raids, they'll have to replace the gear they've accumulated from the Burning Crusade Classic expansion as well. If players want to make the process of acquiring the best gear and mounts easier, they can opt to buy WoW Classic WotLK gold to get everything they need for their character. BoE pre-raid BiS items will be easy to acquire with a healthy stockpile of gold.
Players on Fresh Servers Need WotLK Gold
Blizzard added "fresh start" servers for Wrath of the Lich King Classic to avoid making people feel like they're late to the party. These servers aim to let players create a new character from the ground up and build a community with people on the same boat, experiencing the WotLK expansion on an even footing.
Gold is crucial in WotLK Classic, especially for gamers starting World of Warcraft for the first time or planning to make a new character on a fresh start server. They'll need the currency to do even just the most basic things. For starters, they'll need to pay 1,000 gold to unlock Cold Weather Flying—this mechanic is needed if they want to get through the snowy terrain in Northrend. If they're thinking of using two talents for their character, they'll have to cough up another 1,000 gold to get a Dual Talent Specialization from a Class Trainer. Then if they want the Traveler's Tundra Mammoth to be able to carry more passengers, players need to have 20,000 just to get the mount.
WotLK End Game Progression is Gold-Gated
WotLK Classic will introduce a brand new tier of raiding and players who want to progress as efficiently as possible will want to browse WotLK Gold offers from trusted sellers. Critical progression gates such as consumables, pre-raid BiS gear, quests are locked behind resource constraints and have enough gold will be critical for players to unlock and progress through the endgame. Raid preparation is both time and resource intensive; not to mention the hard gold sinks such as Cold Weather Flying. WotLK was the expansion where gold inflation reached its apex and the presence of gold gating in the endgame was extremely prevalent, that being the case, buyers should stock up on enough gold to not lock themselves out of neccessary features.
Why Should Players Buy WotLK Classic Gold from an Online Marketplace
Instead of browsing obscure forums for WotLK Gold offers, players should instead check a trusted online marketplace for their gold requirements. Offers are backed by customer service, dispute mediation, and verification systems. Buyers can also enjoy fast delivery times - in under twenty minute - from fast sellers who have stock on every WotLK server, even the Fresh Start ones.
Based on the total ratings of 21649 orders in the past year
quick & easy
200000 WoW-Classic-WOTLK Gold
12/06/2023
Communicated and fulfilled order with no complications
10000 WoW-Classic-WOTLK Gold
12/06/2023
Always a great seller
100000 WoW-Classic-WOTLK Gold
12/05/2023
PlayerAuctions makes it safe to buy video game currencies from our members by securing your payment and guaranteeing delivery.
Buyer creates order and send payment to PlayerAuctions
PlayerGuardian secures payment
Seller completes delivery within delivery guarantee
Buyer confirm delivery
Seller receives disbursement
Option 1: In-game, Face to Face Delivery
Sellers will select this method of delivery if they intend to meet your character in-game with one of their own characters. Usually a seller will coordinate a time and location in-game to meet your character.
Tips:
Be sure to confirm the time to account for time zone differences
Confirm which Shard or Server the delivery is to take place in case your game world has more than one.
Never, under any circumstances, return gold, item, etc. to the delivery character if ever asked. In the event the seller asks you to, please take A screenshot and report this to PlayerAuctions Customer Support.
Option 2: In-game Mailbox delivery.
Some sellers will select the option to deliver gold or items directly to an in-game mailbox. This option is less popular for larger Games like WoW, but is still viable amongst other games. This option can be convenient for smaller orders because you do not need to coordinate time of delivery.
Low Prices: Prices set by other players or PowerSellers on PlayerAuctions are significantly lower than the high markups you would find on expensive retail sites.
Guaranteed Security: PlayerAuctions is quite simply the most secure place to buy and sell MMO game assets. Through PlayerGuardian, you are 100% guaranteed full and as-described delivery, or your money back.
Reliable Delivery Speed: PlayerAuctions calculates each seller's average delivery speed from the seller's latest successfully completed deliveries, which gives you a clear idea of how fast the seller will deliver your order.
To see how quickly the seller may deliver your order, refer to the seller's delivery guarantee period, which is their promise to complete delivery within a certain timeframe after your payment is securely sent to PlayerAuctions and is successfully verified. Each seller sets their delivery guarantee period independent of PlayerAuctions. In the event that the seller is not able to complete the delivery within their guaranteed time, you may cancel the order without penalty for a hassle-free refund from PlayerAuctions.
PlayerAuctions guarantees that the seller will deliver your order, or your money back. The overwhelming majority of transactions through our site occur successfully. As for the very exceptional cases, you can rest assured that they have been carefully considered by our systems and processes, and we are well prepared to handle them in the rare event that they do occur. Read more.
About WoW Classic WOTLK Gold
Why do Players Need WoW Classic WotLK Gold?
The grind has never been more arduous than in WoW Classic WotLK. Between
leveling professions
, acquiring pre-raid BiS,
consumables
, repairs and cold-weather flying players can often feel like they never have enough. These are some of the reasons players buy WoW Classic WotLK Gold, we'll go over each of them below. It's difficult for players to have too much WotLK Gold, there's just simply too many gold-sinks in place. Unless buyers want to invest dozens of hours purely in
gold-farming
, it's just not time efficient to do organically, which is why players take advantage of offers on trusted Wrath Gold marketplaces.
Professions
With the introduction of a new profession, Inscription, and the raising of profession level caps, leveling all professions have become significantly more expensive in WoW Classic WotLK. If players don't want to spend gold, they can choose to spend their time farming mats instead, which can be severely time prohibitive. Leveling just one profession to the level cap can take upwards of a day of continuous in-game playtime. Buyers can skip most of this grind by buying WoW Classic WotLK gold and simply purchasing the mats they require from the auction house.
Pre-Raid BiS
Prior to raiding, players can optimize their builds by attaining their class and roles pre-Raid BiS, that is to say, the best pre-raid
armor
and
weapons
they can acquire. Many parties and raid groups require pre-Raid BiS to participate in first raid teams. Players can ignore the grind, which can be extremely time intensive, by simply buying their pre-raid BiS gear with gold instead.
Consumables
From
flasks
to potions to foods, by WotLK Classic, consumables have been a core and required part of both raid builds and DPS rotations. Combat flasks are neccessary for certain classes to maximize their DPS during damage check phases in certain raids. With enrage timers more abundant than ever in WotLK Classic, any advantage players can get is needed. Buyers will never run out of consumables by buying WotLK Classic Gold from a trusted seller.
Cold Weather Flying
To fly in Northrend, players need to purchase Cold Weather Flying and the cost is a staggering 1,000 gold. Instead of grinding mobs and mats to sell on the Auction House in the hopes that the market isn't oversaturated, players can instead buy gold from a trusted seller directly and skip this lengthy grind. Northrend looks better from above.
PlayerGuardian Buyer Protections
PlayerAuctions is the most secure place to buy and sell MMO game assets. Our proprietary security technology, PlayerGuardian, keeps you, your payments, and your trades protected and private. The protections below are provided to all PlayerAuctions buyers.
Guaranteed Payment Security
Convenient & Worry-Free Trading
A Secure, Trusted Trading Community
Guaranteed Full and As-Described Delivery, or Your Money Back
Guaranteed Seller On-Time Delivery, or Your Money Back
Information Privacy
PlayerAuctions After Sale 100% Support Guarantee
Transparent Seller Service Ratings
Bank-Level Data Security
Read more
PlayerAuctions is an independent player-to-player marketplace for buying and selling virtual video game property. PlayerAuctions is NOT endorsed by, directly affiliated with, maintained, authorized, or sponsored by World of Warcraft: Wrath of the Lich King Classic or its trademark owner.
Select server and Faction