Buy Tibia Gold - Tibia Coins Market
Take a trip down memory lane and explore the wonders of one of the oldest MMORPGs ever to hit the market! Load your inventory with ample Tibia gold to boost your chances of success and elevate the overall gameplay. Check out the Tibia coins for popular servers like Antica, Secura, Nefera, Peloria, Gladera and more.
SELL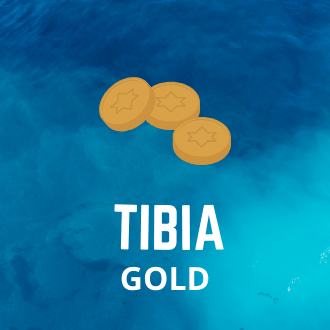 How to Get Your Tibia Gold?
Browse through the Tibia gold for sale offers in our marketplace. If an offer catches your eye, click on it, check out, and pay (You will need to register if you haven't yet). If the seller is online, they will send the gold parcel to your character directly within their delivery time, so make sure your server, faction and character name are all correctly written on the checkout page. Take note that communication between seller and buyer should be done via the onsite messenger or email for security purposes. Lastly, confirm the delivery so that our system will reimburse the seller.
Why Not Buy Cheap Tibia Gold?
You don't need to go through the hassle of endless grinding just to get precious Tibia coins. Get your coins the easy way: by dealing with a Tibia coins reseller from us. When you do this, you can focus on enjoying the gameplay experience that Tibia has to offer instead of constantly working to earn gold.
PlayerAuctions: The Best Place to Buy Tibia Gold
PlayerAuctions offers users with a worldwide network of like-minded gamers whose passion for Tibia is without equal, making it the best place to buy Tibia gold. By joining our community, you become privy to all the best deals. Most importantly, PlayerAuctions provides a safe haven for player-to-player trading courtesy of our PlayerGuardian system.
Based on the total ratings of 180 orders in the past year
Fast and easy :)
10000 K Tibia Gold
06/06/2023
recommended, no need to contact the seller :)
20000 K Tibia Gold
05/27/2023
perfect seller
30000 K Tibia Gold
05/16/2023
looking forward for more ,,great seller
5000 K Tibia Gold
05/16/2023
PlayerAuctions makes it safe to buy video game currencies from our members by securing your payment and guaranteeing delivery.
Buyer creates order and send payment to PlayerAuctions
PlayerGuardian secures payment
Seller completes delivery within delivery guarantee
Buyer confirm delivery
Seller receives disbursement
Option 1: In-game, Face to Face Delivery
Sellers will select this method of delivery if they intend to meet your character in-game with one of their own characters. Usually a seller will coordinate a time and location in-game to meet your character.
Tips:
Be sure to confirm the time to account for time zone differences
Confirm which Shard or Server the delivery is to take place in case your game world has more than one.
Never, under any circumstances, return gold, item, etc. to the delivery character if ever asked. In the event the seller asks you to, please take A screenshot and report this to PlayerAuctions Customer Support.
Option 2: In-game Mailbox delivery.
Some sellers will select the option to deliver gold or items directly to an in-game mailbox. This option is less popular for larger Games like WoW, but is still viable amongst other games. This option can be convenient for smaller orders because you do not need to coordinate time of delivery.
Low Prices: Prices set by other players or PowerSellers on PlayerAuctions are significantly lower than the high markups you would find on expensive retail sites.
Guaranteed Security: PlayerAuctions is quite simply the most secure place to buy and sell MMO game assets. Through PlayerGuardian, you are 100% guaranteed full and as-described delivery, or your money back.
Reliable Delivery Speed: PlayerAuctions calculates each seller's average delivery speed from the seller's latest successfully completed deliveries, which gives you a clear idea of how fast the seller will deliver your order.
To see how quickly the seller may deliver your order, refer to the seller's delivery guarantee period, which is their promise to complete delivery within a certain timeframe after your payment is securely sent to PlayerAuctions and is successfully verified. Each seller sets their delivery guarantee period independent of PlayerAuctions. In the event that the seller is not able to complete the delivery within their guaranteed time, you may cancel the order without penalty for a hassle-free refund from PlayerAuctions.
PlayerAuctions guarantees that the seller will deliver your order, or your money back. The overwhelming majority of transactions through our site occur successfully. As for the very exceptional cases, you can rest assured that they have been carefully considered by our systems and processes, and we are well prepared to handle them in the rare event that they do occur. Read more.
Tibia gold is somewhat difficult to farm. Save the thought of slaving the hours away in front of the computer and just get Tibia gold for sale here! What's so good about buying here at PlayerAuction is that the sellers offer volume discounts if you decide to buy more gold; the more you buy, the more you save! You can easily get hundreds of thousands of Tibia gold for just a dollar! Now isn't that a bargain? So, stop wasting hours upon hours trying to farm gold and get it the easy way instead.
How Do I Buy Tibia Gold for Sale?
To buy Tibia gold, just follow these five easy steps:
Select the offer that you want to purchase.
Register/log in as a buyer.
Send the payment to our system and we'll notify the seller immediately.
Coordinate with the seller regarding when and where to meet in-game to receive the Tibia gold.
Once you have received the gold, confirm the transaction to our system to send in the payment to the seller.
Tibia Gold Guide
If you want to earn even more gold besides buying here, we have some tips lined up for you to help keep your virtual pockets lined up.
Use the Market to Your Advantage
The Market is available in any city that has a depot. So, they are very much accessible. Learn the flow of the Market and you'll be filthy rich in no time at all. The key here is to resell. The art of reselling to earn money depends on you. While you have to invest your time and money first, it's a fast and profitable way to earn gold in the market. Study your server market, how much per item costs, and what the maximum price is. With this, you can buy items at low prices and subsequently sell them higher. For example, many players want to get rid of their loot quickly and don't bother visiting the Djinns or Rashid. That's where you come in and use that to your advantage. Offer a slightly lower price than the NPCs buy them for, and then go sell them yourself at a higher price. As long as you buy in bulk, you'll swim in gold in no time at all. Just remember that when doing so, you always have to monitor the items that you're reselling, especially when the economy fluctuates.
When It Comes to Tibia Gold, Farming is The Key
Farming consumes a lot of time. To not let your efforts go to waste, prioritize the collection of items that people want to buy. Examples of such high-demand items include Spider Silk, Chicken Feathers, or Ape Fur. These items are all outfit or add-on items, making them easy to sell (depending on the population and the server market). Sure, farming is a hard way to earn Tibia gold, but it is a surefire way to gain profit having to invest copious amounts of gold. At the same time, you'll get to earn experience points, skills, other items, and even gold for your farming efforts.
Get Tibia Gold by Doing Your Quests
The great thing about quests is that you get to decide when and how to do them. Some quests may require a group, while some can be done solo. For example, if your character has a relatively low level, you can do the Venore Daily Tasks Quest and Goblin Merchant Quest. Altogether, they'll give you 2,100 gold and plenty of experience points for your troubles. As you gain more levels, the more quests you will be able to do and the more money you'll be rewarded with.
PlayerGuardian Buyer Protections
PlayerAuctions is the most secure place to buy and sell MMO game assets. Our proprietary security technology, PlayerGuardian, keeps you, your payments, and your trades protected and private. The protections below are provided to all PlayerAuctions buyers.
Guaranteed Payment Security
Convenient & Worry-Free Trading
A Secure, Trusted Trading Community
Guaranteed Full and As-Described Delivery, or Your Money Back
Guaranteed Seller On-Time Delivery, or Your Money Back
Information Privacy
PlayerAuctions After Sale 100% Support Guarantee
Transparent Seller Service Ratings
Bank-Level Data Security
Read more
PlayerAuctions is an independent player-to-player marketplace for buying and selling virtual video game property. PlayerAuctions is NOT endorsed by, directly affiliated with, maintained, authorized, or sponsored by Tibia or its trademark owner.
Select server and Faction