Buy Star Citizen UEC & aUEC - Star Citizen Credit Market
Star Citizen is one of the most anticipated multi-faceted titles in gaming history. Be it the Hangar Module, Arena Commander, Star Marine, or Crusader gameplay, it promises hours of space trading and combat fun. Get sufficient Star Citizen credit here at PlayerAuctions—your one-stop online gaming shop. Click here if you are looking for aUEC.
SELL
AlexMercer00
201910034
Best deal among sellers with a fair amount of ratings and feedback score.
MrRaven
201912654
Best deal among sellers with a fair amount of ratings and feedback score.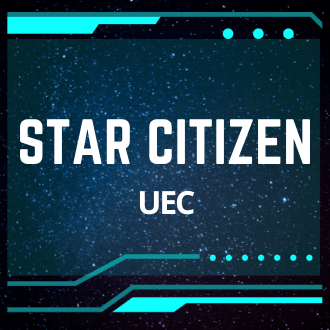 In A Galaxy this Big, You Better Buy Star Citizen UEC To Help You Get Ahead
Start Citizen is massive. The sheer scale of the game, coupled with impressive graphics for an MMO makes it one of the biggest releases of 2016, but what will the grind be like? Will some players suddenly advance to being galactic overlords while others struggle to even become Citizens. Many MMOs have trouble balancing out the casual and non casual players in a way that makes the gameplay fun, so will Star Citizen have the same trouble?
Give Yourself An Edge
Here at PlayerAuctions we offer you the ability to give yourself an edge by buying Star Citizen credits. With a bit of extra currency in your pocket, the chances of getting squeezed to the sidelines of the galaxy will reduce drastically. You can make a start in the game, perhaps become a citizen more quickly and start making a name for yourself. It is like Ancient Rome. If you aren't a citizen, you are nothing. So give yourself the head start.
Why PlayerAuctions?
We have been in the business for over fifteen years, we have seen games come and go, and we know how to securely get you currency from the right kind of players. Think of us as your little pit stop. You can fly over to us whenever you are running low or going through a rough patch and you don't want all your efforts to go wasted. We have our PlayerGaurdian protection that keeps your transaction free from and fraudulent sellers, and we hold your money in escrow so that it can be recalled if there is any problem with the transaction.Contact us if you have any burning questions. We are active on Facebook and Twitter and have customer support.
Based on the total ratings of 14070 orders in the past year
About an hour late but acceptable time frame. Decent communication, Thx :)
100 M Star-Citizen UEC
11/29/2023
FAST AS FUNK!
100 M Star-Citizen UEC
11/28/2023
fast delivery. thank you kind sir
10 M Star-Citizen UEC
11/28/2023
fast and reliable
40 M Star-Citizen UEC
11/28/2023
PlayerAuctions makes it safe to buy video game currencies from our members by securing your payment and guaranteeing delivery.
Buyer creates order and send payment to PlayerAuctions
PlayerGuardian secures payment
Seller completes delivery within delivery guarantee
Buyer confirm delivery
Seller receives disbursement
Option 1: In-game, Face to Face Delivery
Sellers will select this method of delivery if they intend to meet your character in-game with one of their own characters. Usually a seller will coordinate a time and location in-game to meet your character.
Tips:
Be sure to confirm the time to account for time zone differences
Confirm which Shard or Server the delivery is to take place in case your game world has more than one.
Never, under any circumstances, return gold, item, etc. to the delivery character if ever asked. In the event the seller asks you to, please take A screenshot and report this to PlayerAuctions Customer Support.
Option 2: In-game Mailbox delivery.
Some sellers will select the option to deliver gold or items directly to an in-game mailbox. This option is less popular for larger Games like WoW, but is still viable amongst other games. This option can be convenient for smaller orders because you do not need to coordinate time of delivery.
Low Prices: Prices set by other players or PowerSellers on PlayerAuctions are significantly lower than the high markups you would find on expensive retail sites.
Guaranteed Security: PlayerAuctions is quite simply the most secure place to buy and sell MMO game assets. Through PlayerGuardian, you are 100% guaranteed full and as-described delivery, or your money back.
Reliable Delivery Speed: PlayerAuctions calculates each seller's average delivery speed from the seller's latest successfully completed deliveries, which gives you a clear idea of how fast the seller will deliver your order.
To see how quickly the seller may deliver your order, refer to the seller's delivery guarantee period, which is their promise to complete delivery within a certain timeframe after your payment is securely sent to PlayerAuctions and is successfully verified. Each seller sets their delivery guarantee period independent of PlayerAuctions. In the event that the seller is not able to complete the delivery within their guaranteed time, you may cancel the order without penalty for a hassle-free refund from PlayerAuctions.
PlayerAuctions guarantees that the seller will deliver your order, or your money back. The overwhelming majority of transactions through our site occur successfully. As for the very exceptional cases, you can rest assured that they have been carefully considered by our systems and processes, and we are well prepared to handle them in the rare event that they do occur. Read more.
In 2011, there was a grand idea – the idea that MMOs could be more than just spurts of instanced combat and gear grinding. Yes, it was an idea that thought that MMOs' past simplistic categories of "theme park" or "sandbox" could be far greater than both if married in the right way. This is what Star Citizen is all about.
"A persistent Universe" is a grand thing to have. Star Citizen makes use of this idea, and roots it to realistic standards that everyone can enjoy. With more than a hundred different and unique worlds in a SINGLE star system, the sandbox exploration aspect of Star Citizen is undeniably the largest any game has ever seen. Explore hostile worlds and combat against native alien wildlife, fend off attacks from savage player raiders that want to steal everything you have, mine for minerals and other resources to play the market and gain as many United Earth Credits as possible; all of this is at the tip of your fingers. Star Citizen's universe is so massive that it is impossible for you to explore everything in a single game lifetime. All other MMOs pale in comparison to the massive and sprawling world that Star Citizen has to offer.
Most people would expect Star Citizen's combat to be lacking, as one would expect from a space simulator - like EVE - but this isn't at all the case. Star Citizen's combat system is one of the deepest that any MMO has had due to the duality between its first person shooter gameplay and spaceship combat.
Its FPS aspect is inspired by the likes of Rainbow Six, ARMA, Counter-Strike and Killzone, so you instantly know that the combat mechanics are very action oriented, fast-paced, and decisive. You could also throw in a bit of Borderlands in there due to the open universe it maintains. Complete with a horizontal leveling progression for the FPS aspect, it is as much an RPG as the next game, perhaps even more so due to its total disregard for the standard, vertical leveling.
The ship combat in Star Citizen is much more hands on than its predecessor, EVE Online, due to the developer being the proud creator of the critically acclaimed, Wing Commander. While ship upgrading should be a familiar sight to EVE veterans, the reflex-based and tactical knowledge match-up of space combat is a new experience for any gamer. Collect hundreds of types of ships and modify them whichever way you want. From decked out transport ships to ferocious, las cannon-wielding behemoths, there is no end to the types of ships you couldhave.
There is literally too much to do in Star Citizen and the only thing you really have to worry about is what role you'll be playing within its persistent borders. Will you be a pirate that pillages and loots the burned ships of other players? Will you choose to join the ranks of law abiding citizens and hunt down these treacherous pirates instead? If there's one role you can never go wrong with, that would be a businessman. That's because you can never go wrong with having a ton of Star Citizen Imperials.
Star Citizen UECs are the Key to Victory
Being "rich" isn't exactly a role, but it is a great status to have. Like all games, Star Citizen is still run by the immensely wealthy and their directives, goals, and morality are what is often followed by other players in the game. Who do you think run the biggest guilds and squadrons in the game? Who do you think dictates market prices and controls the flow of goods in the economy? It's always the richest players.
It's hard to gain your bearings when you plop into the game for the first time because there are a lot of things you have to get the hang of. While Star Citizen doesn't have an actual "grind" to get to the top, it still takes a lot of work to be recognizable in your community as a top influencer. To do that more easily, you do have the option to simply buy United Earth Credits instead. This way, you save a lot of time and you can consider that act as your nest egg that will steadily grow. You might have what it takes; you just needed some capital.
You also get to bypass some of the more nasty hassles like getting your meager haul of goods or StarCitizenUEC stolen by brigands or having to deal with ship maintenance due to your status as a newbie. There are so many reasons as to why you should buy UECs instead. But we understand; it's hard to find a trustworthy site that won't instantly scam you just because you wanted to buy UEC. Lucky, you can visit PlayerAuctions.
Buy Star Citizen Credits at PlayerAuctions
PlayerAuctions is the top choice of players across the globe. Being the number one site for buying and selling in-game items, currency, cd keys, and a lot of other stuff, PlayerAuctions is the only site for top tier MMO gamers. Trusted by 400 thousand players worldwide, you can't go wrong here.
If you want to buy Star Citizen UEC, then all it takes is a few simple steps to be well on your way to Star Citizen Domination. Look for your preferred game in the alphabetical listing located at the top of the site or use the search bar to look for your game. Then click on the "Currency" tab to find a long list of reliable and trustworthy sellers. Once you have found a good offer for Star Citizen Credits, proceed to checkout with your preferred payment method. Wait for your goods as displayed in the initial add and you're done!
With our top tier Player Guardian technology watching over your transaction, we will ensure that you will never be scammed by sellers and your entire experience will be safe, legit, and the best you'll ever have. If, on the off chance, something does go wrong, we have our amazing customer service team on standby for any concerns.
What are you waiting for, then? Buy United Earth Credits right now and go explore the galaxy of Star Citizen!
PlayerGuardian Buyer Protections
PlayerAuctions is the most secure place to buy and sell MMO game assets. Our proprietary security technology, PlayerGuardian, keeps you, your payments, and your trades protected and private. The protections below are provided to all PlayerAuctions buyers.
Guaranteed Payment Security
Convenient & Worry-Free Trading
A Secure, Trusted Trading Community
Guaranteed Full and As-Described Delivery, or Your Money Back
Guaranteed Seller On-Time Delivery, or Your Money Back
Information Privacy
PlayerAuctions After Sale 100% Support Guarantee
Transparent Seller Service Ratings
Bank-Level Data Security
Read more
PlayerAuctions is an independent player-to-player marketplace for buying and selling virtual video game property. PlayerAuctions is NOT endorsed by, directly affiliated with, maintained, authorized, or sponsored by Star Citizen or its trademark owner.
Select server and Faction