Buy Smite Gems – Smite Gem Market
Tired of playing the same God over and over again but just can't buy more? Players can buy Smite Gems and get instant access to more pantheons. Use the gems to buy Tsukuyomi or Bellona! Buy King Arthur a Pendragon skin or a Night Watch skin for Heimdallr. Buy more gods and cosmetics by acquiring more Smite Gems!
SELL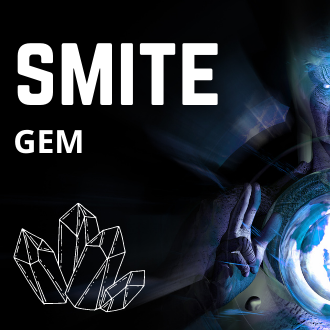 Buy Smite Gems for Sale to Unlock Cosmetics, Gods, and More
Gems are the premium currency used in Smite to unlock certain gods and cosmetic items for a player's character. With so many gods being added to the MOBA through updates, players find themselves scrambling for the required number of gems to have the latest god. Meanwhile, optional cosmetic gear is available for purchase; they don't offer any additional stat bonuses or whatnot, but they make the characters look great. If gamers want to secure themselves all of the latest goodies in Smite, they'll have to spend an absurd amount of Gems.
While players can earn Gems while playing the game, it's nearly not enough to cover their shopping list. If they're strapped on Gems, there's always the option to get what's needed by purchasing Gems from a third-party marketplace.
Gems vs. Favor: What's the Difference?
There are two currencies in Smite: Gems and Favor. Gems are the rarest of the two and can be purchased with real money. Players can get small amounts of it through daily logins and rewards, and it's the currency used for getting the "valuable stuff" in the game. If spent wisely, they can unlock more features during seasons and participate in exclusive game modes that would otherwise cost them money from buying in the in-game store.
Meanwhile, Favor can't be bought with real money; buyers must earn them by playing Smite. Thankfully, there are many ways to earn it, such as availing rewards, completing quests, etc. Compared to Gems, Favor isn't as impactful to the game since there's lots of stuff that players can't buy.
Spending Gems on A Battle Pass
If players want to get their money's worth on Smite, they can purchase Smite's seasonal Battle Pass for 600 Gems. Depending on their playtime, players can acquire skins and treasure chests that can easily be worth more than twice what they paid for the Battle Pass. But before doing so, they should make sure to check the date on when the season ends. If they purchase the Battle Pass just a few days after a new season arrives, they might not have enough time to complete it and get all the available rewards. It's recommended that players get the Battle Pass just as a season starts. That way, they have lots of time to spare.
Based on the total ratings of 5 orders in the past year
Great seller as always
24000 Smite Gem
08/19/2022
Even though it didn't work as intended the seller was very courtous.
8000 Smite Gem
08/18/2022
Fast and Easy, was skeptical at first my go to from now on!
8000 Smite Gem
08/18/2022
PlayerAuctions makes it safe to buy video game currencies from our members by securing your payment and guaranteeing delivery.
Buyer creates order and send payment to PlayerAuctions
PlayerGuardian secures payment
Seller completes delivery within delivery guarantee
Buyer confirm delivery
Seller receives disbursement
Option 1: In-game, Face to Face Delivery
Sellers will select this method of delivery if they intend to meet your character in-game with one of their own characters. Usually a seller will coordinate a time and location in-game to meet your character.
Tips:
Be sure to confirm the time to account for time zone differences
Confirm which Shard or Server the delivery is to take place in case your game world has more than one.
Never, under any circumstances, return gold, item, etc. to the delivery character if ever asked. In the event the seller asks you to, please take A screenshot and report this to PlayerAuctions Customer Support.
Option 2: In-game Mailbox delivery.
Some sellers will select the option to deliver gold or items directly to an in-game mailbox. This option is less popular for larger Games like WoW, but is still viable amongst other games. This option can be convenient for smaller orders because you do not need to coordinate time of delivery.
Low Prices: Prices set by other players or PowerSellers on PlayerAuctions are significantly lower than the high markups you would find on expensive retail sites.
Guaranteed Security: PlayerAuctions is quite simply the most secure place to buy and sell MMO game assets. Through PlayerGuardian, you are 100% guaranteed full and as-described delivery, or your money back.
Reliable Delivery Speed: PlayerAuctions calculates each seller's average delivery speed from the seller's latest successfully completed deliveries, which gives you a clear idea of how fast the seller will deliver your order.
To see how quickly the seller may deliver your order, refer to the seller's delivery guarantee period, which is their promise to complete delivery within a certain timeframe after your payment is securely sent to PlayerAuctions and is successfully verified. Each seller sets their delivery guarantee period independent of PlayerAuctions. In the event that the seller is not able to complete the delivery within their guaranteed time, you may cancel the order without penalty for a hassle-free refund from PlayerAuctions.
PlayerAuctions guarantees that the seller will deliver your order, or your money back. The overwhelming majority of transactions through our site occur successfully. As for the very exceptional cases, you can rest assured that they have been carefully considered by our systems and processes, and we are well prepared to handle them in the rare event that they do occur. Read more.
PlayerGuardian Buyer Protections
PlayerAuctions is the most secure place to buy and sell MMO game assets. Our proprietary security technology, PlayerGuardian, keeps you, your payments, and your trades protected and private. The protections below are provided to all PlayerAuctions buyers.
Guaranteed Payment Security
Convenient & Worry-Free Trading
A Secure, Trusted Trading Community
Guaranteed Full and As-Described Delivery, or Your Money Back
Guaranteed Seller On-Time Delivery, or Your Money Back
Information Privacy
PlayerAuctions After Sale 100% Support Guarantee
Transparent Seller Service Ratings
Bank-Level Data Security
Read more