Buy RuneScape Gold - RS3 GP Market
New players to RuneScape and returning veterans alike know that items cost a ton of RS3 gold these days. To have consistent success against bosses, gamers need hundreds of millions in RuneScape Gold. For this reason, some turn to buying gold rather than grinding it all themselves and turn to online marketplaces that have sellers with cheap RS3 gold. Play Old School? Find OSRS Gold here.
SELL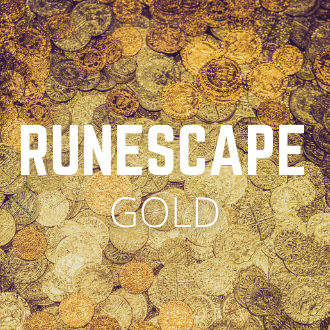 RuneScape Now on Steam
In what is sure to be a huge move for RuneScape, Steam has added the popular MMORPG to its library of games. While RuneScape's popularity has risen and fallen through the years, they've still managed to retain a steady number of loyal fans who have stayed true to the game. RuneScape's addition to Steam means that we're sure to see a big boost in popularity and players as it opens itself up to the huge community of gamers on Steam.
Whether you're a new player who's just found out about RuneScape through Steam and are looking to get a head start in the world of Gielinor, or you're a veteran, now is a great time to jump online!
Gamers Playing RuneScape Mobile on the Go
RuneScapers are finally able to take RS3 out and about with them with the release of RuneScape mobile. While there are still those who are interested in trading gold, they are not trying to buy RuneScape mobile gold, specifically, since the servers between the PC and Mobile versions of the game are shared. This means that players can jump seamlessly between the two platforms, and play with friends on different devices.
How Do Gamers Buy RuneScape Gold?
People who are interested in buying gold or other virtual property for RuneScape are given two options: they can take advantage of bonds and sell them on the Grand Exchange for RS3 gold, or they can trade for gold with another player. If a gamer chooses to trade or exchange with a gold seller, they will have to go through the process of communicating, meeting up with, and trading with the seller.
Buy RuneScape Gold
There are a number of ways RuneScape gold can be bought. Buyers have the option of buying from gold trading sites, or by finding sellers on forums and player to player marketplaces. Once a buyer finds a suitable place to buy gold, it's just a matter of looking for a seller or offer that suits their requirements and buying the offer.
The process of buying RuneScape virtual property includes communicating with a seller in order to ensure that both sides are clear on delivery instructions such as date, time, and location.
Where Do Gamers Buy RuneScape Gold?
The places where users buy RuneScape gold will generally be the site with the most users, for a number of reasons. One of which is that more sellers means more competition, which in turn, means lower prices as sellers compete to make sales.
What is RuneScape Gold Worth?
There is no fixed price on RuneScape gold. If you want to know the average selling price of RuneScape gold, you will have to either check sellers' offers, or use the Market Price Tracker. It's worth noting that as there is less gold in the OSRS economy, OSRS gold tends to be worth more than RS3 gold.
Based on the total ratings of 8795 orders in the past year
PlayerAuctions makes it safe to buy video game currencies from our members by securing your payment and guaranteeing delivery.
Buyer creates order and send payment to PlayerAuctions
PlayerGuardian secures payment
Seller completes delivery within delivery guarantee
Buyer confirm delivery
Seller receives disbursement
Option 1: In-game, Face to Face Delivery
Sellers will select this method of delivery if they intend to meet your character in-game with one of their own characters. Usually a seller will coordinate a time and location in-game to meet your character.
Tips:
Be sure to confirm the time to account for time zone differences
Confirm which Shard or Server the delivery is to take place in case your game world has more than one.
Never, under any circumstances, return gold, item, etc. to the delivery character if ever asked. In the event the seller asks you to, please take A screenshot and report this to PlayerAuctions Customer Support.
Option 2: In-game Mailbox delivery.
Some sellers will select the option to deliver gold or items directly to an in-game mailbox. This option is less popular for larger Games like WoW, but is still viable amongst other games. This option can be convenient for smaller orders because you do not need to coordinate time of delivery.
Low Prices: Prices set by other players or PowerSellers on PlayerAuctions are significantly lower than the high markups you would find on expensive retail sites.
Guaranteed Security: PlayerAuctions is quite simply the most secure place to buy and sell MMO game assets. Through PlayerGuardian, you are 100% guaranteed full and as-described delivery, or your money back.
Reliable Delivery Speed: PlayerAuctions calculates each seller's average delivery speed from the seller's latest successfully completed deliveries, which gives you a clear idea of how fast the seller will deliver your order.
To see how quickly the seller may deliver your order, refer to the seller's delivery guarantee period, which is their promise to complete delivery within a certain timeframe after your payment is securely sent to PlayerAuctions and is successfully verified. Each seller sets their delivery guarantee period independent of PlayerAuctions. In the event that the seller is not able to complete the delivery within their guaranteed time, you may cancel the order without penalty for a hassle-free refund from PlayerAuctions.
PlayerAuctions guarantees that the seller will deliver your order, or your money back. The overwhelming majority of transactions through our site occur successfully. As for the very exceptional cases, you can rest assured that they have been carefully considered by our systems and processes, and we are well prepared to handle them in the rare event that they do occur. Read more.
RuneScape 3 Gameplay
RuneScape is a fantasy RPG that launched in 2001 as a browser-based point-and-click adventure. Over the years, the game has received numerous overhauls, with the most recent major update being the launch of RuneScape 3. RuneScape 3 introduced a revamped combat system, tons of new minigames, and reworks to several of the game's skills. Another significant facet of RuneScape 3 is the continued focus on endgame PVM content. There are over a dozen different bosses to fight, either on your own or with a group, and the drops from these bosses yield some of the highest amounts RuneScape 3 Gold of any items in the game. However, it requires some of the best gear in the game to be able to make bossing consistently profitable, and the best gear costs astronomical amounts of RS3 Gold itself.
Making RuneScape Gold and Its Importance
With RuneScape's storied history that spans longer than the length of a decade, it goes without saying that the in-game economy is vast and layered. And with time/action-based skill acquisition, RuneScape can be a very hard game to be competitive in if you are lacking in some very important leverage which can help keep you competitive… i.e., RS gold.
RuneScape Gold is perhaps more critical in RuneScape than it is in other RPGs. Some players spend all of their time in RuneScape standing in the Grand Exchange buying and selling items solely to increase their wealth. Some of these players don't even buy useful PVM gear with their wealth, but instead use RuneScape Gold to buy rare, cosmetic items to make their characters look cool while they stand around doing nothing – a practice affectionately referred to among the RuneScape community as "FashionScape." If you're one of those players, then you need more RSGP to buy that cool outfit you've been wanting.
On the other hand, you have the RuneScape players who want to carve through the most difficult PVM content the game has to offer, and these players need high-end gear. These players will need just as much money as the FashionScapers, though, because the best PVM gear costs about as much as the rare cosmetic items. Whatever you want to do in RuneScape, you need a substantial pile of RS Gold to do it.
With this being the case, you'll probably be wondering how to make money in RuneScape. Killing endgame bosses, referred to as 'bossing,' is far and away the best way to make RS3 GP. However, this is a bit of a catch 22 as you'll often need to raise hundreds of millions of RS Gold before you can afford the gear to be a good bosser. This leaves you with the option of collecting resources through skilling (fishing, mining, etc.) and selling them, which is a reliable but painfully slow method. You could also merch (buying items on the Grand Exchange low and then selling them high), but this also requires a bit of startup capital and comes with significant risk.
Avoiding Scams When Buying RuneScape Gold
When looking for RuneScape gold one of the primary concerns of buyers is to find a safe platform through which to trade. While there are many sources online for finding sellers, it's not always clear which ones are good and which ones are bad.
Buyers avoid scammers by checking a seller's feedback or reputation within the community by looking at ratings and comments made by previous customers. Sellers with a greater number of successful sales tend to be more trustworthy. Another thing they do is choose a marketplace that they think is reputable before looking for a seller.
PlayerGuardian Buyer Protections
PlayerAuctions is the most secure place to buy and sell MMO game assets. Our proprietary security technology, PlayerGuardian, keeps you, your payments, and your trades protected and private. The protections below are provided to all PlayerAuctions buyers.
Guaranteed Payment Security
Convenient & Worry-Free Trading
A Secure, Trusted Trading Community
Guaranteed Full and As-Described Delivery, or Your Money Back
Guaranteed Seller On-Time Delivery, or Your Money Back
Information Privacy
PlayerAuctions After Sale 100% Support Guarantee
Transparent Seller Service Ratings
Bank-Level Data Security
Read more