Buy Rocket League Credits – RL Credit Shop
By having a lot of Rocket League Credits, players can finally complete their blueprints and get exclusive cosmetic items that they've always wanted from the Item Shop. With lots of deals that happen in the in-game's store, it's easy to spend the currency in a blink of an eye. Time to tick off some items from that wish list!
SELL
playerfirst
187441810
Best price among sellers with a fair amount of ratings and feedback score.
playerfirst
187469287
Best price among sellers with a fair amount of ratings and feedback score.
GameWolfd
187526492
Best price among sellers with a fair amount of ratings and feedback score.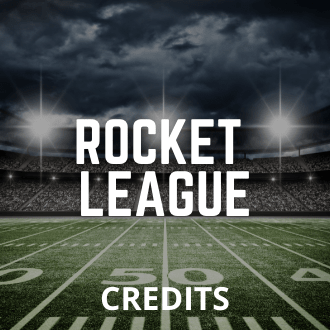 Buy Rocket League Credits to Complete Blueprints
Rocket League credits are the premium currency players buy with real money. These are then used for the Item Shop. The Item Shop is where they can purchase cosmetics without having to go through the seemingly unending randomness of farming blueprints.
Back then, Rocket League previously featured a Keys and Crates system, which is similar to the loot boxes of other online games. Players are always at the mercy of RNG when it came to opening Crates, and so the developers decided to replace the outdated system by giving players the option to buy anything that they want with Credits. This lead to unopened Crates being turned into 'unrevealed' blueprints and the Keys were converted into credits. While cosmetics in the game will now appear as blueprints that players use to piece the said cosmetic item together, they'll still need Credits for it. The good news is, the updated system takes away some of the randomness when it comes to getting items. But then again, the blueprints that players get still have that RNG ingrained.
What are Credits?
Credits are a currency in Rocket League that can be purchased from a player's specific platform marketplace. The currency can also be earned from the Rocket Pass, Rocket League's iteration of the modern-day Battle Pass. Credits are typically used to purchase items from the Item Shop or unlock Blueprints. Rocket League Credits are usually bought from the game's official Item Shop where they come in sets of 500, 1100, 3000, and 6500 Credits. However, for those that want to get Credits that don't come in those sets or just want a specific amount, they also have the option to avail the currency in marketplaces that specialize in dealing/trading in-game assets.
What Players Need to Know Before Getting the Currency
Blueprints and other tradeable items can be acquired in a lot of ways such as leveling up and availing event items using the designated event points/currency for a limited time. People often forget, however, that there's also the option of getting Credits to get more blueprints with the help of third-party marketplaces. Of course, they'd have to spend actual money to get what they want, but if they no longer have the time to farm blueprints in Rocket League, then it's an option that they can take.
Another thing that potential buyers ought to take note of is that when dealing with a seller, they should make sure that they match platforms with them. Rocket League does support cross-platform play, but to be able to trade, the buyer and the seller would still need matching consoles.
Finally, when doing any type of trading in Rocket League, players should always be mindful of the Trade Hold mechanic. When buying credits in the game, players will be subject to a Trade Hold for three days. During that time, they can't trade any of their credits nor items built or bought with the currency within that period. Besides that, all other items are not affected by the embargo. Only after once the three days are over will the Trade Hold be lifted and players can trade everything again.
Based on the total ratings of 768 orders in the past year
So fast- trader put jimmy johns to shame :)
4300 Rocket-League Credits
12/05/2022
Super quick and easy
8000 Rocket-League Credits
12/04/2022
Quick easy and exactly as promised. Ty.
10000 Rocket-League Credits
12/04/2022
Quick and easy
10000 Rocket-League Credits
12/03/2022
PlayerAuctions makes it safe to buy video game currencies from our members by securing your payment and guaranteeing delivery.
Buyer creates order and send payment to PlayerAuctions
PlayerGuardian secures payment
Seller completes delivery within delivery guarantee
Buyer confirm delivery
Seller receives disbursement
Option 1: In-game, Face to Face Delivery
Sellers will select this method of delivery if they intend to meet your character in-game with one of their own characters. Usually a seller will coordinate a time and location in-game to meet your character.
Tips:
Be sure to confirm the time to account for time zone differences
Confirm which Shard or Server the delivery is to take place in case your game world has more than one.
Never, under any circumstances, return gold, item, etc. to the delivery character if ever asked. In the event the seller asks you to, please take A screenshot and report this to PlayerAuctions Customer Support.
Option 2: In-game Mailbox delivery.
Some sellers will select the option to deliver gold or items directly to an in-game mailbox. This option is less popular for larger Games like WoW, but is still viable amongst other games. This option can be convenient for smaller orders because you do not need to coordinate time of delivery.
Low Prices: Prices set by other players or PowerSellers on PlayerAuctions are significantly lower than the high markups you would find on expensive retail sites.
Guaranteed Security: PlayerAuctions is quite simply the most secure place to buy and sell MMO game assets. Through PlayerGuardian, you are 100% guaranteed full and as-described delivery, or your money back.
Reliable Delivery Speed: PlayerAuctions calculates each seller's average delivery speed from the seller's latest successfully completed deliveries, which gives you a clear idea of how fast the seller will deliver your order.
To see how quickly the seller may deliver your order, refer to the seller's delivery guarantee period, which is their promise to complete delivery within a certain timeframe after your payment is securely sent to PlayerAuctions and is successfully verified. Each seller sets their delivery guarantee period independent of PlayerAuctions. In the event that the seller is not able to complete the delivery within their guaranteed time, you may cancel the order without penalty for a hassle-free refund from PlayerAuctions.
PlayerAuctions guarantees that the seller will deliver your order, or your money back. The overwhelming majority of transactions through our site occur successfully. As for the very exceptional cases, you can rest assured that they have been carefully considered by our systems and processes, and we are well prepared to handle them in the rare event that they do occur. Read more.
PlayerGuardian Buyer Protections
PlayerAuctions is the most secure place to buy and sell MMO game assets. Our proprietary security technology, PlayerGuardian, keeps you, your payments, and your trades protected and private. The protections below are provided to all PlayerAuctions buyers.
Guaranteed Payment Security
Convenient & Worry-Free Trading
A Secure, Trusted Trading Community
Guaranteed Full and As-Described Delivery, or Your Money Back
Guaranteed Seller On-Time Delivery, or Your Money Back
Information Privacy
PlayerAuctions After Sale 100% Support Guarantee
Transparent Seller Service Ratings
Bank-Level Data Security
Read more
Select server and Faction