Buy Revelation Gold Coins - Revelation Online Market
Make your dream a reality in the mythical earth with Revelation Coins! There is no planet without legends; it's time for you to become one. Grab yourself some RO currency from us, and for cheap. Dominate the wicked and enjoy the taste of victory!
SELL
Darn! There Are No Offers...But Wait.
Did you know we have over 200 games available for trading? Here are our most popular ones:
Want To Be the First to Sell?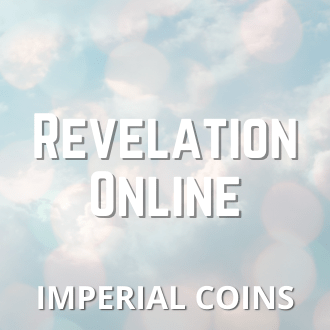 Revelation Gold, or Revelation Online Imperial Coins
The thing about MMORPGs is that you have to take the good with the bad. Well, more like go with the positive and ignore the negative so that you can enjoy the game. Instead of having to live with the pros and cons, why not play an MMO that takes all the right sides of as many MMOs as possible? It's not an original idea, and the result obviously won't be unique either, but as long as the final product works and plays like a charm, then it's all that matters. With Revelation Gold (known also as "Revelation Online Imperial coins", or just "Revelation Coins"), players can dig deeper into this breathtaking experience.
Explore the World with Revelation Coins
Revelation Online lets players live, fight, and grow in the beautiful world of Nuanor. Filled with incredible scenery (cliffs, forests, and mountains) as well as treacherous lands, this is a gorgeous and winding story of the hero and the realm. There's PvE content (monsters, dungeon raids, and quests), and PvP content (Nuanor has so much to offer). As an adventurer living in this fantastic world, players can choose between six main classes: (1) Gunslinger, (2) Blademaster, (3) Spiritshaper (a support spellcaster type), (4) Vanguard (a tank), (5) Swordmage, and (6) Occultist. All have their advantages, disadvantages, and play style, so players must choose wisely according to their preference and approach to battle.
To add to the rich offering that Revelation Online brings the game gives more options for players regarding controls. There are three control schemes that players can choose from: (1) a tab-targeting system similar World of Warcraft; (2) click-to-move (an old-school scheme that lets you go rogue-like); and (3) free aiming, which gives the game an action-MMO feel. With all of these options, you can get the Revelation Online gold experience on your terms.
There is no MMO, such as Revelation Online. For players who want to enjoy the game in a richer way, they can always see if there is currency for sale at PlayerAuctions. We have cheap Imperial coins.
Buy Revelation Online Coins Here
PlayerAuctions is a player to player trading platform. Players can buy and trade online game-related stuff, such as accounts, items, and RO Imperial coins!
To ensure that our client's info is safe, we have the PlayerGuardian system. As an additional security measure, our clients can utilize or five-tier PowerSeller system to check our seller's on-site reputation. Lastly, our live customer support team is willing to help and provide resolutions .
Get into Revelations Online! With PlayerAuctions, this excellent game with a breathtaking world will only get better. Elevate the game!
PlayerAuctions makes it safe to buy video game currencies from our members by securing your payment and guaranteeing delivery.
Buyer creates order and send payment to PlayerAuctions
PlayerGuardian secures payment
Seller completes delivery within delivery guarantee
Buyer confirm delivery
Seller receives disbursement
Option 1: In-game, Face to Face Delivery
Sellers will select this method of delivery if they intend to meet your character in-game with one of their own characters. Usually a seller will coordinate a time and location in-game to meet your character.
Tips:
Be sure to confirm the time to account for time zone differences
Confirm which Shard or Server the delivery is to take place in case your game world has more than one.
Never, under any circumstances, return gold, item, etc. to the delivery character if ever asked. In the event the seller asks you to, please take A screenshot and report this to PlayerAuctions Customer Support.
Option 2: In-game Mailbox delivery.
Some sellers will select the option to deliver gold or items directly to an in-game mailbox. This option is less popular for larger Games like WoW, but is still viable amongst other games. This option can be convenient for smaller orders because you do not need to coordinate time of delivery.
Low Prices: Prices set by other players or PowerSellers on PlayerAuctions are significantly lower than the high markups you would find on expensive retail sites.
Guaranteed Security: PlayerAuctions is quite simply the most secure place to buy and sell MMO game assets. Through PlayerGuardian, you are 100% guaranteed full and as-described delivery, or your money back.
Reliable Delivery Speed: PlayerAuctions calculates each seller's average delivery speed from the seller's latest successfully completed deliveries, which gives you a clear idea of how fast the seller will deliver your order.
To see how quickly the seller may deliver your order, refer to the seller's delivery guarantee period, which is their promise to complete delivery within a certain timeframe after your payment is securely sent to PlayerAuctions and is successfully verified. Each seller sets their delivery guarantee period independent of PlayerAuctions. In the event that the seller is not able to complete the delivery within their guaranteed time, you may cancel the order without penalty for a hassle-free refund from PlayerAuctions.
PlayerAuctions guarantees that the seller will deliver your order, or your money back. The overwhelming majority of transactions through our site occur successfully. As for the very exceptional cases, you can rest assured that they have been carefully considered by our systems and processes, and we are well prepared to handle them in the rare event that they do occur. Read more.
About Revelation Online Imperial Coins
Korean and American (and sometimes Japanese) game studios are usually behind the biggest names in the MMORPG scene. On the other hand, Chinese developers haven't gotten a big name into the genre, but there are always exceptions to the rule, and a good example is Revelation Online. The game is an innovative MMO that tries not only new things but also makes good use of many conventions in the subgenre. With Revelation Online gythil (It's now known as "Revelation Online Imperial coins"), players can truly enjoy the game to the fullest.
Revelation Online Imperial Coins is a Must-Have
Revelation Online players will find themselves in Nuanor, a Medieval Europe-inspired magical realm created by Wardens with possessive and immense power. Alas has been corrupted by a malevolent force called "The Darkness." Destined to save them and the world they created from this great and evil threat are the adventurers (the players).
Since the adventures have a destiny as the world's saviors, you'll be choosing from the following classes: Gunslinger, Blademaster, Spiritshaper (a support spellcaster type), Vanguard (tank), Swordmage, and Occultist. Each class has advantages and disadvantages, with a unique play style from the rest, so it's important for players to choose the class that they prefer. There are two control schemes available in the game (tab-targeting, point-and-click, and free aim). Choosing what's best depends on a player's style, needs, and class.
The difference of each class lies in not only their abilities and approach to battle but also the type of equipment that they can use. The gear gives them the necessary offensive, defensive, and supportive potential required to survive Revelation Online.
There are consumable items, which can be utilized by players on-the-fly to heal themselves or produce favorable effects that would aid them in battle. You get items by monster-slaying, raiding, questing, and crafting; they can also be bought using Revelation Online coins (the game's currency). Rather than resorting to tedious methods to get cash shop currency, you save time by collecting RO Imperial coins instead.
The Easy Way to Get Revelation Online Coins
You're probably wondering, "How do I get gythil or coins in Revelation Online?" First, by farming (going in dungeons, collecting loot, selling them to NPCs), which is an easy way to earn one's keep. The problem, however, is that it takes a long time to make a decent amount of Revelation Online gold with farming. A quicker alternative is to sell lots and crafted items to other players. The method requires having some knowledge of the in-game economy, and having certain techniques that many long-time players have mastered, preventing newer ones from making a good market.
The last way that you can get Revelation Online coins is from third-party online sources. Players can get the amount they want and need fast, saving them the hassle of farming. If you are in need of coins in a rapid and convenient way, then this is for you.
However, buying coins online has one drawback: there are lots of sites and players online who are scammers. Still, there are reputable seller's in the online gaming community. PlayerAuctions will help you find the best vendors.
Buy RO Imperial Coins Here
PlayerAuctions is a player to player trading platform. Players can buy and sell goods related to online games, such as items, accounts, and currency, including RO Imperial coins. So, if you're in need of some currency, then we've got you covered.
We understand how important security is to our clients, especially with their personal and account info, that's why we have put a PlayerGuardian system in place. To help our buyers in finding a seller who they can safely transact with, they can check our five-star PowerSeller system, where buyers can learn about our seller's onsite reputation. Last but not least, for our clients who have any inquiries or issues with our services or clients, we have a dedicated and highly trained live customer support team available .
Rather than farming for Revelation Online gold, you can buy some at PlayerAuctions! Save time and make some real in-game money.
PlayerGuardian Buyer Protections
PlayerAuctions is the most secure place to buy and sell MMO game assets. Our proprietary security technology, PlayerGuardian, keeps you, your payments, and your trades protected and private. The protections below are provided to all PlayerAuctions buyers.
Guaranteed Payment Security
Convenient & Worry-Free Trading
A Secure, Trusted Trading Community
Guaranteed Full and As-Described Delivery, or Your Money Back
Guaranteed Seller On-Time Delivery, or Your Money Back
Information Privacy
PlayerAuctions After Sale 100% Support Guarantee
Transparent Seller Service Ratings
Bank-Level Data Security
Read more
PlayerAuctions is an independent player-to-player marketplace for buying and selling virtual video game property. PlayerAuctions is NOT endorsed by, directly affiliated with, maintained, authorized, or sponsored by Revelation Online or its trademark owner.
Select server and Faction